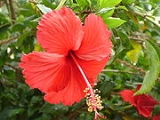 Organ (anatomy)
In
biology
Biology
Biology is a natural science concerned with the study of life and living organisms, including their structure, function, growth, origin, evolution, distribution, and taxonomy. Biology is a vast subject containing many subdivisions, topics, and disciplines...
, an
organ
' onMouseout='HidePop("57343")' href="/topics/Greek_language">Greek
Greek language
Greek is an independent branch of the Indo-European family of languages. Native to the southern Balkans, it has the longest documented history of any Indo-European language, spanning 34 centuries of written records. Its writing system has been the Greek alphabet for the majority of its history;...
ὄργανον,
organon
, "organ, instrument, tool") is a collection of
tissues
Tissue (biology)
Tissue is a cellular organizational level intermediate between cells and a complete organism. A tissue is an ensemble of cells, not necessarily identical, but from the same origin, that together carry out a specific function. These are called tissues because of their identical functioning...
joined in structural unit to serve a common function.
Usually there is a
main
tissue (
parenchyma
Parenchyma
Parenchyma is a term used to describe a bulk of a substance. It is used in different ways in animals and in plants.The term is New Latin, f. Greek παρέγχυμα - parenkhuma, "visceral flesh", f. παρεγχεῖν - parenkhein, "to pour in" f. para-, "beside" + en-, "in" + khein, "to pour"...
) and
sporadic
tissues (
stroma
Stroma (animal tissue)
In animal tissue, stroma refers to the connective, supportive framework of a biological cell, tissue, or organ.The stroma in animal tissue is contrasted with the parenchyma.Examples include:* Stroma of iris...
). The main tissue is the one that is unique for the specific organ. For example, main tissue in the
heart
Heart
The heart is a myogenic muscular organ found in all animals with a circulatory system , that is responsible for pumping blood throughout the blood vessels by repeated, rhythmic contractions...
is the myocardium, while sporadic are the nerves,
blood
Blood
Blood is a specialized bodily fluid in animals that delivers necessary substances such as nutrients and oxygen to the cells and transports metabolic waste products away from those same cells....
,
connective
Connective tissue
"Connective tissue" is a fibrous tissue. It is one of the four traditional classes of tissues . Connective Tissue is found throughout the body.In fact the whole framework of the skeleton and the different specialized connective tissues from the crown of the head to the toes determine the form of...
etc.. Functionally related organs often cooperate to form whole organ systems. Organs exist in all higher biological organisms, in particular they are not restricted to animals, but can also be identified in plants. An example of this is the
bladder
Bladder
Bladder usually refers to an anatomical hollow organBladder may also refer to:-Biology:* Urinary bladder in humans** Urinary bladder ** Bladder control; see Urinary incontinence** Artificial urinary bladder, in humans...
. In single-cell organisms like
bacteria
Bacteria
Bacteria are a large domain of prokaryotic microorganisms. Typically a few micrometres in length, bacteria have a wide range of shapes, ranging from spheres to rods and spirals...
, the
functional analogue
Analogy (biology)
An analogy is a trait or an organ that appears similar in two unrelated organisms. The cladistic term for the same phenomenon is homoplasy, from Greek for same form. Biological anologies are often the result of convergent evolution....
s of organs are called
organelle
Organelle
In cell biology, an organelle is a specialized subunit within a cell that has a specific function, and is usually separately enclosed within its own lipid bilayer....
s.
A organ is a visceral organ that is a hollow tube or pouch (as the
stomach
Stomach
The stomach is a muscular, hollow, dilated part of the alimentary canal which functions as an important organ of the digestive tract in some animals, including vertebrates, echinoderms, insects , and molluscs. It is involved in the second phase of digestion, following mastication .The stomach is...
or
intestine
Intestine
In human anatomy, the intestine is the segment of the alimentary canal extending from the pyloric sphincter of the stomach to the anus and, in humans and other mammals, consists of two segments, the small intestine and the large intestine...
) or that includes a cavity (as of the
heart
Heart
The heart is a myogenic muscular organ found in all animals with a circulatory system , that is responsible for pumping blood throughout the blood vessels by repeated, rhythmic contractions...
or
urinary bladder
Urinary bladder
The urinary bladder is the organ that collects urine excreted by the kidneys before disposal by urination. A hollow muscular, and distensible organ, the bladder sits on the pelvic floor...
).
Organ systems
Two or more organs working together in the execution of a specific body function form an Organ System (Biological System or Body System). The functions of organ systems often share significant overlap. For instance, the
nervous
Nervous system
The nervous system is an organ system containing a network of specialized cells called neurons that coordinate the actions of an animal and transmit signals between different parts of its body. In most animals the nervous system consists of two parts, central and peripheral. The central nervous...
and
endocrine system
Endocrine system
In physiology, the endocrine system is a system of glands, each of which secretes a type of hormone directly into the bloodstream to regulate the body. The endocrine system is in contrast to the exocrine system, which secretes its chemicals using ducts. It derives from the Greek words "endo"...
both operate via a shared organ, the
hypothalamus
Hypothalamus
The Hypothalamus is a portion of the brain that contains a number of small nuclei with a variety of functions...
. For this reason, the two systems are combined and studied as the neuroendocrine system. The same is true for the
musculoskeletal system
Musculoskeletal system
A musculoskeletal system is an organ system that gives animals the ability to move using the muscular and skeletal systems...
the relationship between the
muscular
Muscular system
The muscular system is the anatomical system of a species that allows it to move. The muscular system in vertebrates is controlled through the nervous system, although some muscles can be completely autonomous.- Muscles :...
and skeletal systems.
Plants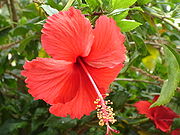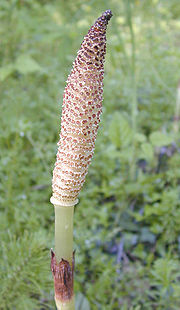 Organs of
plant
Plant
Plants are living organisms belonging to the kingdom Plantae. Precise definitions of the kingdom vary, but as the term is used here, plants include familiar organisms such as trees, flowers, herbs, bushes, grasses, vines, ferns, mosses, and green algae. The group is also called green plants or...
s can be divided into vegetative and reproductive. Vegetative plant organs are
root
Root
In vascular plants, the root is the organ of a plant that typically lies below the surface of the soil. This is not always the case, however, since a root can also be aerial or aerating . Furthermore, a stem normally occurring below ground is not exceptional either...
,
stem
Plant stem
A stem is one of two main structural axes of a vascular plant. The stem is normally divided into nodes and internodes, the nodes hold buds which grow into one or more leaves, inflorescence , conifer cones, roots, other stems etc. The internodes distance one node from another...
, and
leaf
Leaf
A leaf is an organ of a vascular plant, as defined in botanical terms, and in particular in plant morphology. Foliage is a mass noun that refers to leaves as a feature of plants....
. The reproductive organs are variable. In
angiosperms
Flowering plant
The flowering plants , also known as Angiospermae or Magnoliophyta, are the most diverse group of land plants. Angiosperms are seed-producing plants like the gymnosperms and can be distinguished from the gymnosperms by a series of synapomorphies...
, they are represented with the
flower
Flower
A flower, sometimes known as a bloom or blossom, is the reproductive structure found in flowering plants . The biological function of a flower is to effect reproduction, usually by providing a mechanism for the union of sperm with eggs...
,
seed
Seed
A seed is a small embryonic plant enclosed in a covering called the seed coat, usually with some stored food. It is the product of the ripened ovule of gymnosperm and angiosperm plants which occurs after fertilization and some growth within the mother plant...
and
fruit
Fruit
In broad terms, a fruit is a structure of a plant that contains its seeds.The term has different meanings dependent on context. In non-technical usage, such as food preparation, fruit normally means the fleshy seed-associated structures of certain plants that are sweet and edible in the raw state,...
. In
conifers
Pinophyta
The conifers, division Pinophyta, also known as division Coniferophyta or Coniferae, are one of 13 or 14 division level taxa within the Kingdom Plantae. Pinophytes are gymnosperms. They are cone-bearing seed plants with vascular tissue; all extant conifers are woody plants, the great majority being...
, the organ that bears the reproductive structures is called a
cone
Conifer cone
A cone is an organ on plants in the division Pinophyta that contains the reproductive structures. The familiar woody cone is the female cone, which produces seeds. The male cones, which produce pollen, are usually herbaceous and much less conspicuous even at full maturity...
. In other divisions of plants, the reproductive organs are called
strobili
Strobilus
A strobilus is a structure present on many land plant species consisting of sporangia-bearing structures densely aggregated along a stem. Strobili are often called cones, but many botanists restrict the use of the term cone to the woody seed strobili of conifers...
(in
Lycopodiophyta
Lycopodiophyta
The Division Lycopodiophyta is a tracheophyte subdivision of the Kingdom Plantae. It is the oldest extant vascular plant division at around 410 million years old, and includes some of the most "primitive" extant species...
) or simply gametophores (in
moss
Moss
Mosses are small, soft plants that are typically 1–10 cm tall, though some species are much larger. They commonly grow close together in clumps or mats in damp or shady locations. They do not have flowers or seeds, and their simple leaves cover the thin wiry stems...
es).
The vegetative organs are essential for maintaining the life of a plant. While there can be 11 organ systems in animals, there are far fewer in plants, where some perform the vital functions, such as
photosynthesis
Photosynthesis
Photosynthesis is a chemical process that converts carbon dioxide into organic compounds, especially sugars, using the energy from sunlight. Photosynthesis occurs in plants, algae, and many species of bacteria, but not in archaea. Photosynthetic organisms are called photoautotrophs, since they can...
, while the reproductive organs are essential in
reproduction
Plant sexuality
Plant sexuality covers the wide variety of sexual reproduction systems found across the plant kingdom. This article describes morphological aspects of sexual reproduction of plants....
. However, if there is
asexual
Asexual reproduction
Asexual reproduction is a mode of reproduction by which offspring arise from a single parent, and inherit the genes of that parent only, it is reproduction which does not involve meiosis, ploidy reduction, or fertilization. A more stringent definition is agamogenesis which is reproduction without...
vegetative reproduction
Vegetative reproduction
Vegetative reproduction is a form of asexual reproduction in plants. It is a process by which new individuals arise without production of seeds or spores...
, the vegetative organs are those that create the new generation of plants (see
clonal colony
Clonal colony
A clonal colony or genet is a group of genetically identical individuals that have grown in a given location, all originating vegetatively from a single ancestor. In plants, an individual in such a population is referred to as a ramet...
).
The three main organ systems in
vascular plant
Vascular plant
Vascular plants are those plants that have lignified tissues for conducting water, minerals, and photosynthetic products through the plant. Vascular plants include the clubmosses, Equisetum, ferns, gymnosperms and angiosperms...
s are the root,
shoot
Shoot
Shoots are new plant growth, they can include stems, flowering stems with flower buds, and leaves. The new growth from seed germination that grows upward is a shoot where leaves will develop...
and reproductive systems.
Animals
The organ level of organisation in
animal
Animal
Animals are a major group of multicellular, eukaryotic organisms of the kingdom Animalia or Metazoa. Their body plan eventually becomes fixed as they develop, although some undergo a process of metamorphosis later on in their life. Most animals are motile, meaning they can move spontaneously and...
s can be first detected in
flatworm
Flatworm
The flatworms, known in scientific literature as Platyhelminthes or Plathelminthes are a phylum of relatively simple bilaterian, unsegmented, soft-bodied invertebrate animals...
s and the more advanced
phyla
Phyla
Phyla, the plural of phylum, may refer to:* Phylum, a biological taxon between Kingdom and Class* Phylum , in linguistics, a large division of possibly related languagesPhyla, as a singular, may refer to:...
. The less-advanced
taxon
Taxon
|thumb|270px|[[African elephants]] form a widely-accepted taxon, the [[genus]] LoxodontaA taxon is a group of organisms, which a taxonomist adjudges to be a unit. Usually a taxon is given a name and a rank, although neither is a requirement...
s (like
Placozoa
Trichoplax
The Placozoa are a basal form of invertebrate. They are the simplest in structure of all non-parasitic multicellular animals . They are generally classified as a single species, Trichoplax adhaerens, although there is enough genetic diversity that it is likely that there are multiple,...
,
Porifera
and
Radiata
Radiata
The Radiata are the radially symmetric animals of the Eumetazoa subkingdom. The term Radiata has had various meanings in the history of classification...
) do not show consolidation of their tissues into organs.
List of mammalian organ systems
There are eleven major organ systems found in mammals.
Mammal
Mammal
Mammals are members of a class of air-breathing vertebrate animals characterised by the possession of endothermy, hair, three middle ear bones, and mammary glands functional in mothers with young...
s such as humans have a variety of organ systems. These specific systems are also widely studied in
human anatomy
Human anatomy
Human anatomy is primarily the scientific study of the morphology of the human body. Anatomy is subdivided into gross anatomy and microscopic anatomy. Gross anatomy is the study of anatomical structures that can be seen by the naked eye...
.
See also