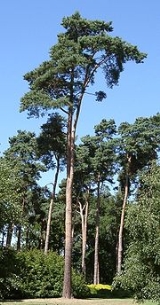 Vascular plant
Vascular plants
are those plants that have
lignified
Lignin
Lignin or lignen is a complex chemical compound most commonly derived from wood, and an integral part of the secondary cell walls of plants and some algae. The term was introduced in 1819 by de Candolle and is derived from the Latin word lignum, meaning wood...
tissues
Tissue (biology)
Tissue is a cellular organizational level intermediate between cells and a complete organism. A tissue is an ensemble of cells, not necessarily identical, but from the same origin, that together carry out a specific function. These are called tissues because of their identical functioning...
for conducting
water
Water
Water is a chemical substance with the chemical formula H2O. A water molecule contains one oxygen and two hydrogen atoms connected by covalent bonds. Water is a liquid at ambient conditions, but it often co-exists on Earth with its solid state, ice, and gaseous state . Water also exists in a...
, minerals, and photosynthetic products through the plant. Vascular plants include the clubmosses,
Equisetum
,
fern
Fern
A fern is any one of a group of about 12,000 species of plants belonging to the botanical group known as Pteridophyta. Unlike mosses, they have xylem and phloem . They have stems, leaves, and roots like other vascular plants...
s,
gymnosperm
Gymnosperm
The gymnosperms are a group of seed-bearing plants that includes conifers, cycads, Ginkgo, and Gnetales. The term "gymnosperm" comes from the Greek word gymnospermos , meaning "naked seeds", after the unenclosed condition of their seeds...
s (including conifers) and angiosperms (
flowering plant
Flowering plant
The flowering plants , also known as Angiospermae or Magnoliophyta, are the most diverse group of land plants. Angiosperms are seed-producing plants like the gymnosperms and can be distinguished from the gymnosperms by a series of synapomorphies...
s). Scientific names for the group include
Tracheophyta
and
Tracheobionta
.
Vascular plants are distinguished by two primary characteristics:
Vascular plants have vascular tissue

Vascular tissue

Vascular tissue is a complex conducting tissue, formed of more than one cell type, found in vascular plants. The primary components of vascular tissue are the xylem and phloem. These two tissues transport fluid and nutrients internally. There are also two meristems associated with vascular tissue:...


s which circulate resources through the plant.