White tie

White tie
is the most formal evening
dress code in Western fashion
Dress code (Western)
A dress code is a set of rules governing what garments may be worn together and in what setting. Examples of dress codes are combinations such as "smart casual", or "morning dress". A classification of these codes is normally made for varying levels of formality and times of day...
. It is worn to ceremonial occasions such as state dinners in some countries, as well as to very formal balls and evening weddings. The chief components for men are the black dress coat commonly known as an evening
tailcoat
Tailcoat
A tailcoat is a coat with the front of the skirt cut away, so as to leave only the rear section of the skirt, known as the tails. The historical reason coats were cut this way was to make it easier for the wearer to ride a horse, but over the years tailcoats of varying types have evolved into forms...
, white
bow tie
Bow tie
The bow tie is a type of men's necktie. It consists of a ribbon of fabric tied around the collar in a symmetrical manner such that the two opposite ends form loops. Ready-tied bow ties are available, in which the distinctive bow is sewn into shape and the band around the neck incorporates a clip....
, white
waistcoat
Waistcoat
A waistcoat or vest is a sleeveless upper-body garment worn over a dress shirt and necktie and below a coat as a part of most men's formal wear, and as the third piece of the three-piece male business suit.-Characteristics and use:...
and starched wing collar shirt, while women wear a suitable dress for the occasion, such as an
evening gown
Evening gown
An evening gown is a long flowing women's dress usually worn to a formal affair. It ranges from tea and ballerina to full-length. Evening gowns are often made of a luxury fabric such as chiffon, velvet, satin, or silk...
.
As evening dress, white tie is traditionally considered correct only after 6 p.m. although some etiquette authorities allow for it anytime after dark even if that means prior to 6 p.m. The equivalent formal attire for daytime events is called
morning dress
Morning dress
Morning dress is the daytime formal dress code, consisting chiefly for men of a morning coat, waistcoat, and striped trousers, and an appropriate dress for women...
. The less formal evening counterpart of white tie is
black tie
Black tie
Black tie is a dress code for evening events and social functions. For a man, the main component is a usually black jacket, known as a dinner jacket or tuxedo...
.
Men's clothes
Formal evening dress is strictly regulated, and properly consists of: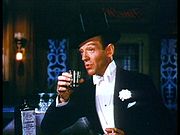 The waistcoat and bow tie are usually made of
cotton
Cotton
Cotton is a soft, fluffy staple fiber that grows in a boll, or protective capsule, around the seeds of cotton plants of the genus Gossypium. The fiber is almost pure cellulose. The botanical purpose of cotton fiber is to aid in seed dispersal....
marcella (known in the United States as "piqué"), although plain white or off-white silk bow ties and waistcoats are sometimes worn. Many menswear authorities today assert that the bottom of the waistcoat should not be visible below the front cutaway of the tailcoat. This has been the prevalent view in the United States since the 1920s, where actors such as Fred Astaire popularized the look of the unbroken black line from neck to feet which lengthened their silhouettes on-camera. The practice was also reinforced repeatedly by authorities dating back to at least World War I. and is adhered to in numerous fashion magazines dating back to at least the 1840s. However, since full evening dress is the most conservative form of men's dress, and has otherwise changed very little since the 1870s when the bottom of the waistcoat
was
visible below the cutaway of the tailcoat, some traditionalists (especially in Europe and among the aristocracy) tend to wear the waistcoat with its hem extending below the cutaway of the tailcoat by 1–2 cm. As for British royal authority on the matter, the waistcoat does not extend below the fronts. Worn either style, the waistcoat must cover the trouser waistline (which should
never
be seen).
The shirt should have a detachable stand up collar, with a plain but stiffly starched front, though shirts with attached collars are becoming more prevalent. Shirt fronts can be plain linen, plain cotton or cotton marcella.
Shirt stud
Shirt stud
A shirt stud is a decorative fastener that fits onto a buttonhole on the front of a pleated shirt, or onto the starched bib of a stiff-front shirt. Such shirts have special buttonholes solely for shirt studs....
s and cufflinks should be silver or white. A white pocket handkerchief and
boutonnière
Boutonniere
A boutonnière is a floral decoration worn by men, typically a single flower or bud. The word comes from the French word for buttonhole, which is the British term....
may be worn although in France both may not be worn simultaneously and the boutonnière is traditionally a
gardenia
Gardenia
Gardenia is a genus of 142 species of flowering plants in the coffee family, Rubiaceae, native to the tropical and subtropical regions of Africa, southern Asia, Australasia and Oceania....
). At occasions of state, and in the presence of royalty, state decorations are worn by those who have been awarded them: miniature
medal
Medal
A medal, or medallion, is generally a circular object that has been sculpted, molded, cast, struck, stamped, or some way rendered with an insignia, portrait, or other artistic rendering. A medal may be awarded to a person or organization as a form of recognition for athletic, military, scientific,...
s plus up to four breast stars, a narrow neck riband and a broad riband (sash).
The hat should be a black silk
top hat
Top hat
A top hat, beaver hat, high hat silk hat, cylinder hat, chimney pot hat or stove pipe hat is a tall, flat-crowned, broad-brimmed hat, predominantly worn from the latter part of the 18th to the middle of the 20th century...
which may be collapsible—a tradition which arose from the fact that opera houses traditionally lacked a cloak room to hand in a top hat. The overcoat should be a dark dress coat such as a Chesterfield overcoat, Inverness cloak, or opera cloak. White gloves were traditionally considered essential. A silk
scarf
Scarf
A scarf is a piece of fabric worn around the neck, or near the head or around the waist for warmth, cleanliness, fashion or for religious reasons. They can come in a variety of different colours.-History:...
and cane are optional extras.
At some state and heraldic occasions in Britain, black buckled
court shoe
Court shoe
Court shoes or pumps are shoes with a low-cut front and usually without a fastening. However, some have ankle straps...
s, knee-
breeches
Breeches
Breeches are an item of clothing covering the body from the waist down, with separate coverings for each leg, usually stopping just below the knee, though in some cases reaching to the ankles...
and silk
stocking
Stocking
A stocking, , is a close-fitting, variously elastic garment covering the foot and lower part of the leg. Stockings vary in color, design and transparency...
s are worn instead of trousers. This is particularly necessary where the
garter
Garter
Garter can refer to:*Garter , an item of clothing used to hold up stockings*Order of the Garter, the senior British order of chivalry*Ladies of the Garter , female members of the mediaeval Order of the Garter...
of the
Order of the Garter
Order of the Garter
The Most Noble Order of the Garter, founded in 1348, is the highest order of chivalry, or knighthood, existing in England. The order is dedicated to the image and arms of St...
is intended to be worn. If a Knight of the Garter wears breeches, he wears his garter under his left knee. Ladies of the Garter wear their garters above their left elbows.
Women's clothes
Although female dress is not as formally codified as that of men. Where white tie is prescribed, women are expected to wear full-length dresses such as
ball gown
Ball gown
A ball gown is worn for ballroom dancing and only the most formal social occasions according to rules of etiquette. It is traditionally a full-skirted gown reaching at least to the ankles, made of luxurious fabric, delicately and exotically trimmed. Most versions are cut off the shoulder with...
s. Dresses with lengths above the ankle (such as cocktail or tea-length dresses) are frowned upon and considered inappropriate. Depending on the formality of the event, bare shoulders may or may not be acceptable. Shawls and long gloves are common accessories. Women's gloves should be white and elbow-length and are never taken off until seated at a table. At the most formal balls, ball gowns are often required to be white. At hunt balls, ball gowns are often required to be black, white, silver or gold.
Where state decorations are worn it will usually be appropriate for royal and aristocratic women to wear
tiara
Tiara
A tiara is a form of crown. There are two possible types of crown that this word can refer to.Traditionally, the word "tiara" refers to a high crown, often with the shape of a cylinder narrowed at its top, made of fabric or leather, and richly ornamented. It was used by the kings and emperors of...
s.
Variations
Military
mess dress
Mess dress
Mess dress is the military term for the formal evening dress worn in the mess or at other formal occasions. It is also known as mess uniform and mess kit...
may also be seen at a white-tie event on appropriate occasions. At hunt balls (run by
fox hunting
Fox hunting
Fox hunting is an activity involving the tracking, chase, and sometimes killing of a fox, traditionally a red fox, by trained foxhounds or other scent hounds, and a group of followers led by a master of foxhounds, who follow the hounds on foot or on horseback.Fox hunting originated in its current...
clubs) members who are entitled to may wear a scarlet tailcoat. This hunt attire is colloquially known as "drinking pinks", to distinguish it from the "pinks" intended to be worn while riding. A hunt ball invitation in America would generally specify the dress code as "black tie, or scarlet if convenient".
National dress
When specified,
national costume
National costume
Folk costume expresses an identity through costume which usually to a geographic area or a period of time in history, but can also indicate social, marital and/or religious status...
may also be worn to white-tie functions.
Scottish Highland dress
As a specific example of national dress,
Scottish Highland
Scottish Highlands
The Highlands is an historic region of Scotland. The area is sometimes referred to as the "Scottish Highlands". It was culturally distinguishable from the Lowlands from the later Middle Ages into the modern period, when Lowland Scots replaced Scottish Gaelic throughout most of the Lowlands...
dress may also be worn by men at most white-tie events.
The traditional white-tie version of Highland dress consists of:
Formal kilt doublet in barathea or velvet— the regulation doublet, Montrose doublet, Sheriffmuir doublet, and Kenmore doublet are suitable in a variety of colours
Waistcoat

Waistcoat

A waistcoat or vest is a sleeveless upper-body garment worn over a dress shirt and necktie and below a coat as a part of most men's formal wear, and as the third piece of the three-piece male business suit.-Characteristics and use:...


in white marcella, tartan (to match the kilt), or the same material as the doublet; no waistcoat is worn with the Kenmore doublet
Kilt

Kilt

The kilt is a knee-length garment with pleats at the rear, originating in the traditional dress of men and boys in the Scottish Highlands of the 16th century. Since the 19th century it has become associated with the wider culture of Scotland in general, or with Celtic heritage even more broadly...


with formal kilt pin
White stiff-front shirt with wing collar and white, gold, or silver studs and cufflinks for the regulation doublet, or a white formal shirt and optional lace cuffs for the Montrose, Sheriffmuir, and Kenmore doublets
White lace

Lace

Lace is an openwork fabric, patterned with open holes in the work, made by machine or by hand. The holes can be formed via removal of threads or cloth from a previously woven fabric, but more often open spaces are created as part of the lace fabric. Lace-making is an ancient craft. True lace was...


jabot

Jabot (neckwear)

Jabot |bird's crop]]); alternatively a bird's croup or craw. Originally the term jabot referred to the frilling or ruffles decorating the front of a shirt...


; a black silk or white marcella bow tie may be worn in place of the jabot with the regulation doublet (highland wear often includes a black bow tie even at white-tie events)
Black formal shoes or black buckle brogues
Tartan

Tartan

Tartan is a pattern consisting of criss-crossed horizontal and vertical bands in multiple colours. Tartans originated in woven wool, but now they are made in many other materials. Tartan is particularly associated with Scotland. Scottish kilts almost always have tartan patterns...


or diced kilt hose
Silk garter flashes or garter ties
Silver-mounted Sporran

Sporran

The Sporran is a traditional part of male Scottish Highland dress. It is a pouch that performs the same function as pockets on the pocketless Scottish kilt....


in fur, sealskin, or hair with a silver chain belt
Black, silver-mounted, and jeweled sgian dubh

Sgian Dubh

The sgian-dubh is a small, singled-edged knife worn as part of traditional Scottish Highland dress along with the kilt. It is worn tucked into the top of the kilt hose with only the upper portion of the hilt visible...



Short belted plaid with silver plaid brooch (optional)
Scottish dirk

Dirk

A dirk is a short thrusting dagger, sometimes a cut-down sword blade mounted on a dagger hilt rather than a knife blade. It was historically used as a personal weapon for officers engaged in naval hand-to-hand combat during the Age of Sail.-Etymology:...


(optional)
Highland bonnet with badge (only worn out of doors)
Traditional white-tie Lowland dress is a variant of the normal white tie that includes tartan
trews
Trews
Trews are men's clothing for the legs and lower abdomen, a traditional form of tartan trousers from Scottish apparel...
rather than the usual trousers and may include a suitable kilt jacket or doublet instead of the tailcoat. Trews are often worn in summer and warm climes.
Appropriate occasions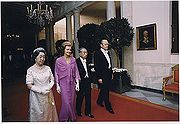 Britain
State dinner

State dinner

A state dinner is a dinner or banquet paid by a government and hosted by a head of state in his or her official residence in order to renew and celebrate diplomatic ties between the host country and the country of a foreign head of state or head of government who was issued an invitation. In many...


s (e.g. dinners with visiting heads of state

Head of State

A head of state is the individual that serves as the chief public representative of a monarchy, republic, federation, commonwealth or other kind of state. His or her role generally includes legitimizing the state and exercising the political powers, functions, and duties granted to the head of...


)
Some commemoration ball

Commemoration ball

A Commemoration ball is a formal ball held by one of the colleges of the University of Oxford in the 9th week of Trinity Term, the week after the end of the last Full Term of the academic year, which known as "Commemoration Week"...


s and May ball

May Ball

A May Ball is a ball at the end of the academic year that happens at any one of the colleges of the University of Cambridge. They are formal affairs, requiring evening dress, with ticket prices of around £65 to £200 , with some colleges selling tickets only in pairs...


s at old universities such as Durham, Oxford

University of Oxford

The University of Oxford is a university located in Oxford, United Kingdom. It is the second-oldest surviving university in the world and the oldest in the English-speaking world. Although its exact date of foundation is unclear, there is evidence of teaching as far back as 1096...


and Cambridge

University of Cambridge

The University of Cambridge is a public research university located in Cambridge, United Kingdom. It is the second-oldest university in both the United Kingdom and the English-speaking world , and the seventh-oldest globally...


.
Very formal evening weddings
Hunt balls
Carnival balls
Some balls during the London Season
the Lord Mayor of London's Mansion House Banquet (although Gordon Brown

Gordon Brown

James Gordon Brown is a British Labour Party politician who was the Prime Minister of the United Kingdom and Leader of the Labour Party from 2007 until 2010. He previously served as Chancellor of the Exchequer in the Labour Government from 1997 to 2007...


famously ignored the dress code whilst he was Chancellor of the Exchequer

Chancellor of the Exchequer

The Chancellor of the Exchequer is the title held by the British Cabinet minister who is responsible for all economic and financial matters. Often simply called the Chancellor, the office-holder controls HM Treasury and plays a role akin to the posts of Minister of Finance or Secretary of the...


.)
Formal Banquets in the City of London of the Livery Companies at either the Mansion House

Mansion House

Mansion House may refer to:* the official residences of the Mayor or Lord Mayor of various towns and cities in Great Britain and Ireland:** Mansion House, Dublin** Mansion House, London***See also Mansion House tube station on the London Underground...


, the Guildhall

Guildhall

A guildhall, or guild hall, is a building historically used by guilds for meetings and other purposes. It is also the official or colloquial name for many of these specific buildings, now often used as town halls or museums....


or in a Livery Hall.
International Standard and American Smooth ballroom dance competitions

DanceSport

Dancesport denotes competitive ballroom dancing, as contrasted to social or exhibition dancing. It is wheelchair dancesport where at least one of the dancers is in a wheelchair....



Christmas parties where the dress-code is "red carpet ready"
The dress coat is also part of other related codes, such as civilian day
court dress
Court uniform and dress
- Court dress :On formal royal occasions in monarchies the dress worn by those present is prescribed by official regulations.Court dress is worn by all men not entitled to court uniform or military uniform on all occasions of state where such are customarily worn...
in the royal court (in the United Kingdom). However, these alternatives are now being replaced by standard white tie for formal state occasions, such as for ambassadors at the
State Opening of Parliament
State Opening of Parliament
In the United Kingdom, the State Opening of Parliament is an annual event that marks the commencement of a session of the Parliament of the United Kingdom. It is held in the House of Lords Chamber, usually in November or December or, in a general election year, when the new Parliament first assembles...
.
United States
In the United States white tie has been replaced by black tie for many formal occasions such as evening weddings, the Academy Awards and even presidential inaugural balls. It is still occasionally seen at:
very formal balls

Ball (dance)

A ball is a formal dance. The word 'ball' is derived from the Latin word "ballare", meaning 'to dance'; the term also derived into "bailar", which is the Spanish and Portuguese word for dance . In Catalan it is the same word, 'ball', for the dance event.Attendees wear evening attire, which is...


and cotillion

Cotillion

In American usage, a cotillion is a formal ball and social gathering, often the venue for presenting débutantes during the débutante season – usually May through December. Cotillions are also used as classes to teach social etiquette, respect and common morals for the younger ages with the...


s
very formal evening wedding

Wedding

A wedding is the ceremony in which two people are united in marriage or a similar institution. Wedding traditions and customs vary greatly between cultures, ethnic groups, religions, countries, and social classes...


s
Artistic premieres or the opening of an art season in large cities, such as the opera or ballet.
Some Masonic events
In addition, musical conductors

Conducting

Conducting is the art of directing a musical performance by way of visible gestures. The primary duties of the conductor are to unify performers, set the tempo, execute clear preparations and beats, and to listen critically and shape the sound of the ensemble...


and members of an orchestra

Orchestra

An orchestra is a sizable instrumental ensemble that contains sections of string, brass, woodwind, and percussion instruments. The term orchestra derives from the Greek ορχήστρα, the name for the area in front of an ancient Greek stage reserved for the Greek chorus...


or symphony

Symphony

A symphony is an extended musical composition in Western classical music, scored almost always for orchestra. A symphony usually contains at least one movement or episode composed according to the sonata principle...


playing classical music often are dressed in white tie, as well as many college level choir

Choir

A choir, chorale or chorus is a musical ensemble of singers. Choral music, in turn, is the music written specifically for such an ensemble to perform.A body of singers who perform together as a group is called a choir or chorus...


s and glee club

Glee club

A glee club is a musical group or choir group, historically of male voices but also of female or mixed voices, which traditionally specializes in the singing of short songs—glees—by trios or quartets. In the late 19th Century it was very popular in most schools and was made a tradition...


s, and the occasional barbershop quartet.
Europe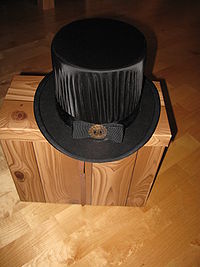 In
Austria
Austria
Austria , officially the Republic of Austria , is a landlocked country of roughly 8.4 million people in Central Europe. It is bordered by the Czech Republic and Germany to the north, Slovakia and Hungary to the east, Slovenia and Italy to the south, and Switzerland and Liechtenstein to the...
and elsewhere in
Continental Europe
Continental Europe
Continental Europe, also referred to as mainland Europe or simply the Continent, is the continent of Europe, explicitly excluding European islands....
there are many balls where white tie is worn; a notable example is the
Vienna Opera Ball
Vienna Opera Ball
The Vienna Opera Ball is an annual Austrian society event which takes place in the building of the Vienna State Opera on the Thursday preceding Ash Wednesday. Together with the New Year Concert, the Opera Ball is one of the highlights of the Viennese carnival season...
. In
Finland
Finland
Finland , officially the Republic of Finland, is a Nordic country situated in the Fennoscandian region of Northern Europe. It is bordered by Sweden in the west, Norway in the north and Russia in the east, while Estonia lies to its south across the Gulf of Finland.Around 5.4 million people reside...
and
Sweden
Sweden
Sweden , officially the Kingdom of Sweden , is a Nordic country on the Scandinavian Peninsula in Northern Europe. Sweden borders with Norway and Finland and is connected to Denmark by a bridge-tunnel across the Öresund....
as well as the
Netherlands
Netherlands
The Netherlands is a constituent country of the Kingdom of the Netherlands, located mainly in North-West Europe and with several islands in the Caribbean. Mainland Netherlands borders the North Sea to the north and west, Belgium to the south, and Germany to the east, and shares maritime borders...
many academic traditions (
disputation
Disputation
In the scholastic system of education of the Middle Ages, disputations offered a formalized method of debate designed to uncover and establish truths in theology and in sciences...
s, commencement ceremonies, and academic balls) still require white tie, even during day time. In these countries, academic traditions require a black waistcoat for day-time ceremonies. If no ladies without doctoral degree are present, it is customary to wear a black waistcoat even in the evening. For formal academic balls of
student union
Students' union
A students' union, student government, student senate, students' association, guild of students or government of student body is a student organization present in many colleges and universities, and has started appearing in some high schools...
s, student nations, and other student organizations,
couleur
Couleur
Couleur is the expression used in European Studentenverbindungen for the headgears and ribbons worn by members of these student societies....
is worn with the white tie. In
Finland
Finland
Finland , officially the Republic of Finland, is a Nordic country situated in the Fennoscandian region of Northern Europe. It is bordered by Sweden in the west, Norway in the north and Russia in the east, while Estonia lies to its south across the Gulf of Finland.Around 5.4 million people reside...
and
Sweden
Sweden
Sweden , officially the Kingdom of Sweden , is a Nordic country on the Scandinavian Peninsula in Northern Europe. Sweden borders with Norway and Finland and is connected to Denmark by a bridge-tunnel across the Öresund....
many weddings are white tie, as are the
Nobel Prize ceremony
Nobel Prize
The Nobel Prizes are annual international awards bestowed by Scandinavian committees in recognition of cultural and scientific advances. The will of the Swedish chemist Alfred Nobel, the inventor of dynamite, established the prizes in 1895...
and dinner occasions with the head of state. Doctors may wear their
doctoral headgear
Doctoral hat
A doctoral hat is a major part of the academic dress of Ph.D. recipients in Finland and Sweden. It is a silken top hat with a straight brim, although the hats of Finnish Doctors of Science have an up-turned brim. Generally the colour of the hat is black, although a few faculties use coloured...
instead of opera hats even for non-academic occasions. In some universities (most notably
Aalto University
Aalto University
Aalto University is a Finnish university established on January 1, 2010, by the merger of the Helsinki University of Technology, the Helsinki School of Economics, and the University of Art and Design Helsinki....
), doctoral regalia includes a black tailcoat with facings bearing the insignia of the university, embroidered in gold or silver. Doctors from these universities may wear this regalia at all occasions requiring white tie. On the other hand, doctoral
sword
Sword
A sword is a bladed weapon used primarily for cutting or thrusting. The precise definition of the term varies with the historical epoch or the geographical region under consideration...
s are not usually worn during normal white-tie occasions.
Japan
In
Japan
Japan
Japan is an island nation in East Asia. Located in the Pacific Ocean, it lies to the east of the Sea of Japan, China, North Korea, South Korea and Russia, stretching from the Sea of Okhotsk in the north to the East China Sea and Taiwan in the south...
, white tie, or a variant combining the bow tie with a black lounge suit, is worn for school graduation ceremonies by the school principal and the teachers of the graduating students; and also for certain government functions.
Related forms of dress
White ties were historically worn by clerics and in the professions that formerly were filled by priests and minor clerics. In various forms they are still worn as part of:
White ties are not usually worn with military
mess dress
Mess dress
Mess dress is the military term for the formal evening dress worn in the mess or at other formal occasions. It is also known as mess uniform and mess kit...
, where black ties are most often worn even with the most formal variants, though there are exceptions. In the
Royal Navy
Royal Navy
The Royal Navy is the naval warfare service branch of the British Armed Forces. Founded in the 16th century, it is the oldest service branch and is known as the Senior Service...
, mess dress requires a white waistcoat but a black tie.
See also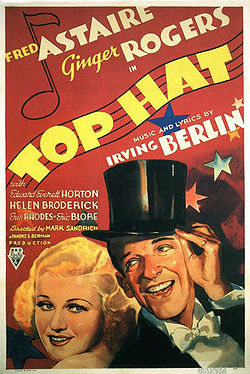 "Top Hat, White Tie and Tails

Top Hat, White Tie and Tails

"Top Hat, White Tie and Tails" is a popular song written by Irving Berlin for the 1935 film Top Hat, where it was introduced by Fred Astaire.The song title refers to the formal wear required on a party invitation, top hat, white tie, and a tailcoat....


", 1935 Irving Berlin

Irving Berlin

Irving Berlin was an American composer and lyricist of Jewish heritage, widely considered one of the greatest songwriters in American history.His first hit song, "Alexander's Ragtime Band", became world famous...


song celebrating invitation to a high class party. Written for the film Top Hat

Top Hat

Top Hat is a 1935 screwball comedy musical film in which Fred Astaire plays an American dancer named Jerry Travers, who comes to London to star in a show produced by Horace Hardwick . He meets and attempts to impress Dale Tremont to win her affection...


, it was introduced by Fred Astaire

Fred Astaire

Fred Astaire was an American film and Broadway stage dancer, choreographer, singer and actor. His stage and subsequent film career spanned a total of 76 years, during which he made 31 musical films. He was named the fifth Greatest Male Star of All Time by the American Film Institute...


wearing white-tie apparel.