 Nature (journal)
Nature
, first published on 4 November 1869, is ranked the world's most cited interdisciplinary
scientific journal
Scientific journal
In academic publishing, a scientific journal is a periodical publication intended to further the progress of science, usually by reporting new research. There are thousands of scientific journals in publication, and many more have been published at various points in the past...
by the Science Edition of the 2010
Journal Citation Reports
Journal Citation Reports
Journal Citation Reports is an annual publication by the Healthcare & Science division of Thomson Reuters. It has been integrated with the Web of Knowledge, by Thomson Reuters, and is accessed from the Web of Science to JCR Web. It provides information about academic journals in the sciences and...
. Most scientific journals are now highly specialized, and Nature is among the few journals (the other weekly journals
Science
Science (journal)
Science is the academic journal of the American Association for the Advancement of Science and is one of the world's top scientific journals....
and
Proceedings of the National Academy of Sciences
Proceedings of the National Academy of Sciences
The Proceedings of the National Academy of Sciences of the United States of America, usually referred to as PNAS, is the official journal of the United States National Academy of Sciences...
are also prominent examples) that still publish original research articles across a wide range of scientific fields. There are many fields of scientific research in which important new advances and original research are published as either articles or letters in Nature.
Research scientists are the primary audience for the journal, but summaries and accompanying articles are intended to make many of the most important papers understandable to scientists in other fields and the educated general public. Towards the front of each issue are
editorial
Editorial
An opinion piece is an article, published in a newspaper or magazine, that mainly reflects the author's opinion about the subject. Opinion pieces are featured in many periodicals.-Editorials:...
s, news and feature articles on issues of general interest to scientists, including current affairs, science funding, business, scientific ethics and research breakthroughs. There are also sections on books and arts. The remainder of the journal consists mostly of research articles, which are often dense and highly technical. Because of strict limits on the length of articles, often the printed text is actually a summary of the work in question with many details relegated to accompanying supplementary material on the journal's website.
In 2007 Nature (together with Science) received the
Prince of Asturias Award
Prince of Asturias Awards
The Prince of Asturias Awards are a series of annual prizes awarded in Spain by the Prince of Asturias Foundation to individuals, entities or organizations from around the world who make notable achievements in the sciences, humanities, and public affairs....
for Communications and Humanity.
Scientific magazines and journals preceding Nature
Nineteenth-century Britain was home to a great deal of scientific progress. Britain underwent enormous technological and industrial changes and advances particularly in the latter half of the 19th century. The most respected scientific journals of this time were the refereed journals of the
Royal Society
Royal Society
The Royal Society of London for Improving Natural Knowledge, known simply as the Royal Society, is a learned society for science, and is possibly the oldest such society in existence. Founded in November 1660, it was granted a Royal Charter by King Charles II as the "Royal Society of London"...
, which had published many of the great works from
Isaac Newton
Isaac Newton
Sir Isaac Newton PRS was an English physicist, mathematician, astronomer, natural philosopher, alchemist, and theologian, who has been "considered by many to be the greatest and most influential scientist who ever lived."...
,
Michael Faraday
Michael Faraday
Michael Faraday, FRS was an English chemist and physicist who contributed to the fields of electromagnetism and electrochemistry....
through to early works from
Charles Darwin
Charles Darwin
Charles Robert Darwin FRS was an English naturalist. He established that all species of life have descended over time from common ancestry, and proposed the scientific theory that this branching pattern of evolution resulted from a process that he called natural selection.He published his theory...
. In addition, during this period, the number of popular science periodicals doubled from the 1850s to the 1860s. According to the editors of these popular science magazines, the publications were designed to serve as "organs of science," in essence, a means of connecting the public to the scientific world.
Nature, first created in 1869, was not the first magazine of its kind. One journal to precede Nature was titled Recreative Science: A Record and Remembrancer of Intellectual Observation, which, created in 1859, began as a
natural history
Natural history
Natural history is the scientific research of plants or animals, leaning more towards observational rather than experimental methods of study, and encompasses more research published in magazines than in academic journals. Grouped among the natural sciences, natural history is the systematic study...
magazine and progressed to include more physical observational science and technical subjects and less natural history. The journal's name changed from its original title to Intellectual Observer: A Review of Natural History, Microscopic Research, and Recreative Science and then later to the Student and Intellectual Observer of Science, Literature, and Art. While Recreative Science had attempted to include more physical sciences such as
astronomy
Astronomy
Astronomy is a natural science that deals with the study of celestial objects and phenomena that originate outside the atmosphere of Earth...
and
archaeology
Archaeology
Archaeology, or archeology , is the study of human society, primarily through the recovery and analysis of the material culture and environmental data that they have left behind, which includes artifacts, architecture, biofacts and cultural landscapes...
, the Intellectual Observer broadened itself further to include literature and art as well. Similar to Recreative Science was the scientific journal titled Popular Science Review, created in 1862, which covered different fields of science by creating subsections titled 'Scientific Summary' or 'Quarterly Retrospect,' with book reviews and commentary on the latest scientific works and publications. Two other journals produced in England prior to the development of Nature were titled the Quarterly Journal of Science and Scientific Opinion, founded in 1864 and 1868, respectively. The journal most closely related to Nature in its editorship and format was titled The Reader, created in 1864; the publication mixed science with literature and art in an attempt to reach an audience outside of the scientific community, similar to Popular Science Review.
These similar journals all ultimately failed. The Popular Science Review was the longest to survive, lasting 20 years and ending its publication in 1881; Recreative Science ceased publication as the Student and Intellectual Observer in 1871. The Quarterly Journal, after undergoing a number of editorial changes, ceased publication in 1885. The Reader terminated in 1867, and finally, Scientific Opinion lasted a mere 2 years, until June 1870.
The creation of Nature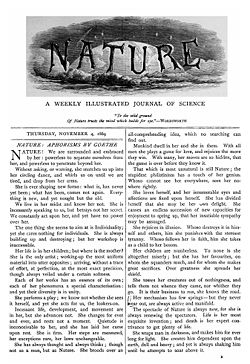 Not long after the conclusion of The Reader, a former editor, Norman Lockyer, decided to create a new scientific journal titled Nature, taking its name from a line by
William Wordsworth
William Wordsworth
William Wordsworth was a major English Romantic poet who, with Samuel Taylor Coleridge, helped to launch the Romantic Age in English literature with the 1798 joint publication Lyrical Ballads....
: "To the solid ground of nature trusts the Mind that builds for aye". First owned and published by
Alexander Macmillan
Alexander Macmillan (publisher)
Alexander Macmillan, , born in Irvine, Ayrshire, Scotland. He was a cofounder, in 1843, with his brother Daniel of Macmillan Publishers...
, Nature was similar to its predecessors in its attempt to "provide cultivated readers with an accessible forum for reading about advances in scientific knowledge." Janet Browne has proposed that "far more than any other science journal of the period, Nature was conceived, born, and raised to serve polemic purpose." Many of the early editions of Nature consisted of articles written by members of a group that called itself the
X Club
X Club
The X Club was a dining club of nine men who supported the theories of natural selection and academic liberalism in late 19th-century England. Thomas Henry Huxley was the initiator: he called the first meeting for November 3, 1864...
, a group of scientists known for having liberal, progressive, and somewhat controversial scientific beliefs relative to the time period. Initiated by Thomas Henry Huxley, the group consisted of such important scientists as
Joseph Dalton Hooker
Joseph Dalton Hooker
Sir Joseph Dalton Hooker OM, GCSI, CB, MD, FRS was one of the greatest British botanists and explorers of the 19th century. Hooker was a founder of geographical botany, and Charles Darwin's closest friend...
,
Herbert Spencer
Herbert Spencer
Herbert Spencer was an English philosopher, biologist, sociologist, and prominent classical liberal political theorist of the Victorian era....
, and
John Tyndall
John Tyndall
John Tyndall FRS was a prominent Irish 19th century physicist. His initial scientific fame arose in the 1850s from his study of diamagnetism. Later he studied thermal radiation, and produced a number of discoveries about processes in the atmosphere...
, along with another five scientists and mathematicians; these scientists were all avid supporters of Darwin's theory of evolution as
common descent
Common descent
In evolutionary biology, a group of organisms share common descent if they have a common ancestor. There is strong quantitative support for the theory that all living organisms on Earth are descended from a common ancestor....
, a theory which, during the latter-half of the 19th century, received a great deal of criticism among more conservative groups of scientists. Perhaps it was in part its scientific liberality that made Nature a longer-lasting success than its predecessors.
John Maddox
John Maddox
Sir John Royden Maddox, FRS was a British science writer. He was an editor of Nature for 22 years, from 1966–1973 and 1980-1995.-Career:...
, editor of Nature from 1966 to 1973 as well as from 1980 to 1995, suggested at a celebratory dinner for the journal's centennial edition that perhaps it was the journalistic qualities of Nature that drew readers in; "journalism" Maddox states, "is a way of creating a sense of community among people who would otherwise be isolated from each other. This is what Lockyer's journal did from the start." In addition, Maddox mentions that the financial backing of the journal in its first years by the Macmillan family also allowed the journal to flourish and develop more freely than scientific journals before it.
Nature in the 20th and early 21st centuries
Nature underwent a great deal of development and expansion during the 20th century, particularly during the latter half of the 90s.
Editors
Norman Lockyer, the founder of Nature, was a professor at Imperial College. He was succeeded in 1919 by Richard Gregory, the second editor of the journal. Gregory helped to establish Nature in the international scientific community. His obituary by the Royal Society stated: "Gregory was always very interested in the international contacts of science, and in the columns of Nature he always gave generous space to accounts of the activities of the International Scientific Unions." During the years 1945 to 1973, editorship of Nature changed three times, first in 1945 to A.J.V. Gale and
L.J.F. Brimble
L.J.F. Brimble
Lionel John Farnham Brimble was a botanist, author, Fellow of the Royal Society of Edinburgh and editor of Nature magazine.-Early life:...
(who in 1958 became the sole editor), then to John Maddox in 1965, and finally to David Davies in 1973. In 1980, Maddox returned as editor and retained his position until 1995.
Philip Campbell
Philip Campbell (scientist)
Philip Campbell is the editor-in-chief of the science journal, Nature, and of the Nature Publishing Group.-Education:Campbell graduated from the University of Bristol with a Bachelor of Science degree in aeronautical engineering in 1972...
has since become Editor-in-chief of all Nature publications.
Nature's expansion and development
In 1970, Nature first opened its Washington office; other branches opened in New York in 1985, Tokyo and Munich in 1987, Paris in 1989, San Francisco in 2001, Boston in 2004, and Hong Kong in 2005. Starting in the 1980s, the journal underwent a great deal of expansion, launching over ten new journals. These new journals comprise the Nature Publishing Group, which was created in 1999 and includes Nature, Nature Research Journals, Stockton Press Specialist Journals and Macmillan Reference (renamed NPG Reference).
In 1997, Nature created its own website, www.nature.com, and in 1999 Nature Publishing Group began its series of Nature Reviews. Some articles and papers are available for free on the Nature Web site. Others require the purchase of premium access to the site.
Nature claims a readership of about 424,000 total readers. The journal has a circulation of around 53,000 but studies have concluded that on average a single copy is shared by as many as 8 people.
On 30 October 2008, Nature endorsed an American presidential candidate for the first time when it supported
Barack Obama
Barack Obama
Barack Hussein Obama II is the 44th and current President of the United States. He is the first African American to hold the office. Obama previously served as a United States Senator from Illinois, from January 2005 until he resigned following his victory in the 2008 presidential election.Born in...
during his campaign in
America's 2008 presidential election
United States presidential election, 2008
The United States presidential election of 2008 was the 56th quadrennial presidential election. It was held on November 4, 2008. Democrat Barack Obama, then the junior United States Senator from Illinois, defeated Republican John McCain, the senior U.S. Senator from Arizona. Obama received 365...
.
Publishing in Nature
Having an article published in Nature is very prestigious, and the articles are often highly cited, which can lead to promotions, grant funding, and attention from the mainstream media. Because of these
positive feedback
Positive feedback
Positive feedback is a process in which the effects of a small disturbance on a system include an increase in the magnitude of the perturbation. That is, A produces more of B which in turn produces more of A. In contrast, a system that responds to a perturbation in a way that reduces its effect is...
effects, competition among scientists to publish in high-level journals like Nature and its closest competitor,
Science
Science (journal)
Science is the academic journal of the American Association for the Advancement of Science and is one of the world's top scientific journals....
, can be very fierce. Natures
impact factor
Impact factor
The impact factor, often abbreviated IF, is a measure reflecting the average number of citations to articles published in science and social science journals. It is frequently used as a proxy for the relative importance of a journal within its field, with journals with higher impact factors deemed...
, a measure of how many citations a journal generates in other works, was 36.101 in 2010 (as measured by
Thomson ISI
Institute for Scientific Information
The Institute for Scientific Information was founded by Eugene Garfield in 1960. It was acquired by Thomson Scientific & Healthcare in 1992, became known as Thomson ISI and now is part of the Healthcare & Science business of the multi-billion dollar Thomson Reuters Corporation.ISI offered...
), among the highest of any science journal.
As with most other professional scientific journals, articles undergo an initial screening by the editor, followed by
peer review
Peer review
Peer review is a process of self-regulation by a profession or a process of evaluation involving qualified individuals within the relevant field. Peer review methods are employed to maintain standards, improve performance and provide credibility...
(in which other scientists, chosen by the editor for expertise with the subject matter but who have no connection to the research under review, will read and critique articles), before publication. In the case of Nature, they are only sent for review if it is decided that they deal with a topical subject and are sufficiently ground-breaking in that particular field. As a consequence, the majority of submitted articles are rejected without review.
According to Natures original
mission statement
Mission statement
A mission statement is a statement of the purpose of a company or organization. The mission statement should guide the actions of the organization, spell out its overall goal, provide a path, and guide decision-making...
:
This was revised in 2000 to:
Landmark papers
Many of the most significant scientific breakthroughs in modern history have been first published in Nature. The following is a selection of scientific breakthroughs published in Nature, all of which had far-reaching consequences, and the citation for the article in which they were published.
Wave nature of particles —
The neutron

Neutron

The neutron is a subatomic hadron particle which has the symbol or , no net electric charge and a mass slightly larger than that of a proton. With the exception of hydrogen, nuclei of atoms consist of protons and neutrons, which are therefore collectively referred to as nucleons. The number of...


—
Nuclear fission

Nuclear fission

In nuclear physics and nuclear chemistry, nuclear fission is a nuclear reaction in which the nucleus of an atom splits into smaller parts , often producing free neutrons and photons , and releasing a tremendous amount of energy...


—
The structure of DNA

DNA

Deoxyribonucleic acid is a nucleic acid that contains the genetic instructions used in the development and functioning of all known living organisms . The DNA segments that carry this genetic information are called genes, but other DNA sequences have structural purposes, or are involved in...


—
First molecular protein

Protein

Proteins are biochemical compounds consisting of one or more polypeptides typically folded into a globular or fibrous form, facilitating a biological function. A polypeptide is a single linear polymer chain of amino acids bonded together by peptide bonds between the carboxyl and amino groups of...


structure (myoglobin

Myoglobin

Myoglobin is an iron- and oxygen-binding protein found in the muscle tissue of vertebrates in general and in almost all mammals. It is related to hemoglobin, which is the iron- and oxygen-binding protein in blood, specifically in the red blood cells. The only time myoglobin is found in the...


) —
Plate tectonics

Plate tectonics

Plate tectonics is a scientific theory that describes the large scale motions of Earth's lithosphere...


—
First cloning

Cloning

Cloning in biology is the process of producing similar populations of genetically identical individuals that occurs in nature when organisms such as bacteria, insects or plants reproduce asexually. Cloning in biotechnology refers to processes used to create copies of DNA fragments , cells , or...


of a mammal

Mammal

Mammals are members of a class of air-breathing vertebrate animals characterised by the possession of endothermy, hair, three middle ear bones, and mammary glands functional in mothers with young...


(Dolly the sheep

Dolly the Sheep

Dolly was a female domestic sheep, and the first mammal to be cloned from an adult somatic cell, using the process of nuclear transfer. She was cloned by Ian Wilmut, Keith Campbell and colleagues at the Roslin Institute near Edinburgh in Scotland...


) —
The human genome

Human genome

The human genome is the genome of Homo sapiens, which is stored on 23 chromosome pairs plus the small mitochondrial DNA. 22 of the 23 chromosomes are autosomal chromosome pairs, while the remaining pair is sex-determining...


—
Controversies
A series of five fraudulent papers by
Jan Hendrik Schön
Jan Hendrik Schön
The Schön scandal concerns German physicist Jan Hendrik Schön who briefly rose to prominence after a series of apparent breakthroughs with semiconductors that were later discovered to be fraudulent...
were published in Nature in the 2000–2001 period. The papers, about
superconductivity
Superconductivity
Superconductivity is a phenomenon of exactly zero electrical resistance occurring in certain materials below a characteristic temperature. It was discovered by Heike Kamerlingh Onnes on April 8, 1911 in Leiden. Like ferromagnetism and atomic spectral lines, superconductivity is a quantum...
, were revealed to contain falsified data and other scientific fraud. In 2003 the papers were retracted by Nature. The Schön Scandal was not limited to Nature. Other prominent journals such as
Science
Science (journal)
Science is the academic journal of the American Association for the Advancement of Science and is one of the world's top scientific journals....
and
Physical Review
Physical Review
Physical Review is an American scientific journal founded in 1893 by Edward Nichols. It publishes original research and scientific and literature reviews on all aspects of physics. It is published by the American Physical Society. The journal is in its third series, and is split in several...
also retracted Schön's papers.
Before publishing one of its most famous discoveries,
Watson and Crick
Watson and Crick
James D. Watson and Francis Crick were the two co-discoverers of the structure of DNA in 1953. They used x-ray diffraction data collected by Rosalind Franklin and proposed the double helix or spiral staircase structure of the DNA molecule...
's 1953 paper on the structure of DNA, Nature did not send the paper out for peer review at all.
John Maddox
John Maddox
Sir John Royden Maddox, FRS was a British science writer. He was an editor of Nature for 22 years, from 1966–1973 and 1980-1995.-Career:...
, Natures editor, stated that "the Watson and Crick paper was not peer-reviewed by Nature... the paper could not have been refereed: its correctness is self-evident. No referee working in the field ... could have kept his mouth shut once he saw the structure".
An earlier error occurred when
Enrico Fermi
Enrico Fermi
Enrico Fermi was an Italian-born, naturalized American physicist particularly known for his work on the development of the first nuclear reactor, Chicago Pile-1, and for his contributions to the development of quantum theory, nuclear and particle physics, and statistical mechanics...
submitted his breakthrough paper on the weak
interaction theory
Fermi's interaction
In particle physics, Fermi's interaction also known as Fermi coupling, is an old explanation of the weak force, proposed by Enrico Fermi, in which four fermions directly interact with one another at one vertex...
of
beta decay
Beta decay
In nuclear physics, beta decay is a type of radioactive decay in which a beta particle is emitted from an atom. There are two types of beta decay: beta minus and beta plus. In the case of beta decay that produces an electron emission, it is referred to as beta minus , while in the case of a...
. Nature turned down the paper because it was considered too remote from reality. Fermi's paper was published by
Zeitschrift für Physik
Zeitschrift für Physik
The European Physical Journal is a joint publication of EDP Sciences, Springer Science+Business Media, and the Società Italiana di Fisica...
in 1934, and finally published by Nature 5 years later, after Fermi's work had been widely accepted.
When
Paul Lauterbur
Paul Lauterbur
Paul Christian Lauterbur was an American chemist who shared the Nobel Prize in Physiology or Medicine in 2003 with Peter Mansfield for his work which made the development of magnetic resonance imaging possible.Dr...
and
Peter Mansfield
Peter Mansfield
Sir Peter Mansfield, FRS, , is a British physicist who was awarded the 2003 Nobel Prize in Physiology or Medicine for his discoveries concerning magnetic resonance imaging . The Nobel Prize was shared with Paul Lauterbur, who also contributed to the development of MRI...
won a
Nobel Prize in Physiology or Medicine
Nobel Prize in Physiology or Medicine
The Nobel Prize in Physiology or Medicine administered by the Nobel Foundation, is awarded once a year for outstanding discoveries in the field of life science and medicine. It is one of five Nobel Prizes established in 1895 by Swedish chemist Alfred Nobel, the inventor of dynamite, in his will...
for research initially rejected by Nature and published only after Lauterbur appealed the rejection, Nature acknowledged more of its own missteps in rejecting papers in an editorial titled "Coping with Peer Rejection":
Publication of Nature and related journals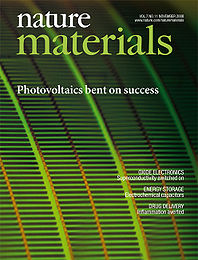 Nature is edited and published in the United Kingdom by
Nature Publishing Group
Nature Publishing Group
Nature Publishing Group is an international publishing company that publishes academic journals, online databases, and services across the life, physical, chemical and applied sciences and clinical medicine...
, a subsidiary of
Macmillan Publishers
Macmillan Publishers
Macmillan Publishers Ltd, also known as The Macmillan Group, is a privately held international publishing company owned by Georg von Holtzbrinck Publishing Group. It has offices in 41 countries worldwide and operates in more than thirty others.-History:...
which in turn is owned by the
Georg von Holtzbrinck Publishing Group
Georg von Holtzbrinck Publishing Group
Verlagsgruppe Georg von Holtzbrinck is a Stuttgart-based publishing holding company which owns publishing companies worldwide. Holtzbrinck has published everything from Salman Rushdie's Satanic Verses to classics by Agatha Christie, Jean-Paul Sartre, Ernest Hemingway and John Updike...
. Nature has offices in London, New York City, San Francisco, Washington, D.C.,
Boston
Boston
Boston is the capital of and largest city in Massachusetts, and is one of the oldest cities in the United States. The largest city in New England, Boston is regarded as the unofficial "Capital of New England" for its economic and cultural impact on the entire New England region. The city proper had...
, Tokyo, Hong Kong, Paris,
Munich
Munich
Munich The city's motto is "" . Before 2006, it was "Weltstadt mit Herz" . Its native name, , is derived from the Old High German Munichen, meaning "by the monks' place". The city's name derives from the monks of the Benedictine order who founded the city; hence the monk depicted on the city's coat...
, and
Basingstoke
Basingstoke
Basingstoke is a town in northeast Hampshire, in south central England. It lies across a valley at the source of the River Loddon. It is southwest of London, northeast of Southampton, southwest of Reading and northeast of the county town, Winchester. In 2008 it had an estimated population of...
. Nature Publishing Group also publishes other specialized journals including
Nature Neuroscience
Nature Neuroscience
Nature Neuroscience is a monthly scientific journal published by Nature Publishing Group. Its focus is original research papers relating specifically to neuroscience and was established in May 1998. According to the Journal Citation Reports, Nature Neuroscience has a 2009 impact factor of 14.345,...
,
Nature Biotechnology
Nature Biotechnology
Nature Biotechnology is an academic journal covering the science and business of biotechnology.Nature Biotechnology is a continuation of Bio/Technology , which was founded in 1983 and renamed in 1996. It is published monthly by the Nature Publishing Group, a division of Macmillan Publishers Ltd...
,
Nature Methods
Nature Methods
Nature Methods is an academic journal covering new techniques for science. It began in 2004. It is published monthly by the Nature Publishing Group, a division of Macmillan Publishers Ltd...
, the
Nature Clinical Practice
Nature Clinical Practice
Nature Clinical Practice may refer to any of the following journals:* Nature Reviews Cardiology* Nature Reviews Endocrinology* Nature Reviews Gastroenterology & Hepatology* Nature Reviews Nephrology* Nature Reviews Neurology...
series of journals,
Nature Structural & Molecular Biology
Nature Structural & Molecular Biology
Nature Structural & Molecular Biology is an academic journal publishing research articles, reviews, news and commentaries in structural biology and molecular biology, with an emphasis on papers that further a "functional and mechanistic understanding of how molecular components in a biological...
,
Nature Chemistry
Nature Chemistry
Nature Chemistry is a monthly, peer reviewed, scientific journal, which is published by Nature Publishing Group. It was first published in April of 2009. The editor in chief is Stuart Cantrill, a full-time, professional-editor employed by Nature Publishing Group.-Aims and scope:The focus for this...
, and the Nature Reviews series of journals.
Since 2005, each issue of Nature has been accompanied by a Nature Podcast featuring highlights from the issue and interviews with the articles' authors and the journalists covering the research. It is presented by Adam Rutherford and Kerri Smith, and features interviews with scientists on the latest research, as well as news reports from Nature's editors and journalists. It also incorporates regular slots called the 'PODium', a weekly 60-second opinion slot, and the 'Sound of Science', a regular slot featuring science-related music or other scientific audio recordings. It was formerly presented by
Chris Smith
Chris Smith, The Naked Scientist
Dr Chris Smith - "the Naked Scientist" - is a medical doctor and a clinical lecturer in virology at Cambridge University where he is a fellow of Queens' College...
of Cambridge and
The Naked Scientists
The Naked Scientists
The Naked Scientists is a one-hour audience-interactive science radio talk show broadcast live by the BBC in the East of England, nationally by BBC Radio 5 Live and internationally as a podcast. The programme was created and is edited by Cambridge University Pathology Department clinical lecturer...
.
In 2007, Nature Publishing Group began publishing Clinical Pharmacology & Therapeutics, "the official journal of the American Society of Clinical Pharmacology & Therapeutics" and Molecular Therapy, the American Society of Gene Therapy's official journal, as well as the International Society for Microbial Ecology (ISME) Journal. Nature Publishing Group launched Nature Photonics in 2007 and Nature Geoscience in 2008. Nature Chemistry published its first issue in April 2009.
Nature Publishing Group actively supports the self-archiving process and in 2002 was one of the first publishers to allow authors to post their contributions on their personal websites, by requesting an exclusive licence to publish, rather than requiring authors to transfer copyright. In December 2007, Nature Publishing Group introduced the Creative Commons attribution-non commercial-share alike unported licence for those articles in Nature journals that are publishing the primary sequence of an organism's genome for the first time. In 2008, a collection of articles from Nature was edited by John S. Partington under the title H. G. Wells in Nature, 1893–1946: A Reception Reader and published by Peter Lang.
External links