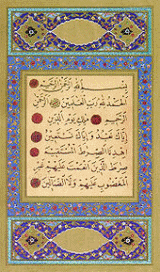 Islam
Topics
Islam
Timeline

Timeline
570 The Profit Muhammad is born in Mecca.
610 Muhammad receives his first vision in a cave near Mecca.
622 After being persecuted in Mecca, Muhammad and his followers settle in the nearby town of Yathrib (later known as Medina).
624 Muslim warriors attack Meccan caravans at Badr.
630 Muhammad peacefully returns to Mecca with a large number of followers.
633 Muhammad dies of an unknown illness in Mecca.
636 Battle of Yarmouk: Arab forces led by Khalid ibn al-Walid take control of Syria and Palestine away from the Byzantine Empire, marking the first great wave of Muslim conquests and the rapid advance of Islam outside Arabia.
636 Battle of Yarmouk: Arab forces led by Khalid ibn al-Walid take control of Syria and Palestine away from the Byzantine Empire, marking the first great wave of Muslim conquests and the rapid advance of Islam outside Arabia.
650 Caliph Uthman orders the orally transmitted revelations of Muhammad collected and recorded in the Quran.
655 Islman becins to spread throughout North Africa.
680 Battle of Karbala: Hussain bin Ali, the grandson of the Prophet Muhammad, is decapitated by forces under Caliph Yazid I. This is commemorated by Muslims as Aashurah.
694 Egica, a king of the Visigoths of Hispania, accuses Jews of aiding Muslims, sentencing all Jews to slavery.
711 Muslim armies enter Spain in the west and India in the east and take control of almost the entire Iberian Peninsula
732 Muslim armies are defeated at Potiers in France by Charles Martel.
732 Battle of Tours: Near Poitiers, France, the leader of the Franks, Charles Martel and his men, defeat a large army of Moors, stopping the Muslims from spreading into Western Europe. The governor of Cordoba, Abdul Rahman Al Ghafiqi, is killed during the battle.
878 Syracuse, Italy is captured by the Muslim sultan of Sicily.
1099 First Crusade: 15,000 starving Christian soldiers march in a religious procession around Jerusalem as its Muslim defenders look on.
1212 Battle of Las Navas de Tolosa: after Pope Innocent III calls European knights to a crusade, forces of Kings Alfonso VIII of Castile, Sancho VII of Navarre, Pedro II of Aragon and Afonso II of Portugal defeat those of the Berber Muslim leader Almohad, thus marking a significant turning point in the ''Reconquista'' and in the medieval history of Spain.
1332 Amda Seyon I, Emperor of Ethiopia begins his campaigns in the southern Muslim provinces.
1480 Battle of Otranto: Ottoman troops behead 800 Christians for refusing to convert to Islam.
1964 Hindu-Muslim rioting breaks out in the Indian city of Calcutta – now Kolkata – resulting in the deaths of more than 100 people.
1965 Pakistan's Islamic Ideology Advisory Committee recommends that Islamic Studies be made a compulsory subject for Muslim students from primary to graduate level.
1967 Dr. Zakir Hussain becomes the third President of India. He is the first Muslim President of the Indian Union. He holds this position until August 24, 1969.
1977 The Hanafi Muslim Siege: In a thirty-nine hour standoff, armed Hanafi Muslims seize three Washington, D.C., buildings, killing two and taking 149 hostage.
1979 In Kabul, Muslims kidnap the American ambassador to Afghanistan, Adolph Dubs who is later killed during a gunfight between his kidnappers and police.
1984 William Buckley, the CIA station chief in Beirut, Lebanon, is kidnapped by Islamic fundamentalists and later dies in captivity.
1985 STS-51-G Space Shuttle Discovery completes its mission, best remembered for having Sultan bin Salman bin Abdulaziz Al Saud, the first Arab and first Muslim in space, as a Payload Specialist.
1988 Benazir Bhutto is sworn in as Prime Minister of Pakistan, becoming the first woman to head the government of an Islam-dominated state.
1989 Iranian leader Ruhollah Khomeini issues a fatwa encouraging Muslims to kill the author of ''The Satanic Verses'', Salman Rushdie.
1990 More than 127 Muslims are killed in North East Sri Lanka by paramilitary troops.
1991 Sudan's government imposes Islamic law nationwide, worsening the civil war between the country's Muslim north and Christian south.
1991 Shiite Muslim kidnappers in Lebanon release Anglican Church envoys Terry Waite and Thomas Sutherland.
1997 In Luxor, Egypt, 62 people are killed by 6 Islamic militants outside the Temple of Hatshepsut, known as Luxor massacre (The police then kill the assailants).
2000 A United Nations tribunal sentences five Bosnian Croats to up to 25 years for the 1993 killing of over 100 Muslims in a Bosnian village.
2001 In Mecca, 35 Muslim pilgrims are crushed to death during the annual Hajj pilgrimage.
2005 Riots begin in Paris after the deaths of two Muslim teenagers.
2006 A stampede during the Stoning the Devil ritual on the last day at the Hajj in Mina, Saudi Arabia, kills at least 362 Muslim pilgrims.
2007 Suspects are arrested in Birmingham in the UK, accused of plotting the kidnap, holding and eventual beheading of a serving Muslim British soldier in Iraq.