 Ambassador
An
ambassador
is the highest ranking
diplomat
Diplomat
A diplomat is a person appointed by a state to conduct diplomacy with another state or international organization. The main functions of diplomats revolve around the representation and protection of the interests and nationals of the sending state, as well as the promotion of information and...
who represents a nation and is usually accredited to a
foreign sovereign
Sovereignty
Sovereignty is the quality of having supreme, independent authority over a geographic area, such as a territory. It can be found in a power to rule and make law that rests on a political fact for which no purely legal explanation can be provided...
or
government
Government
Government refers to the legislators, administrators, and arbitrators in the administrative bureaucracy who control a state at a given time, and to the system of government by which they are organized...
, or to an
international organization
International organization
An intergovernmental organization, sometimes rendered as an international governmental organization and both abbreviated as IGO, is an organization composed primarily of sovereign states , or of other intergovernmental organizations...
.
Sometimes countries also appoint highly respected individuals as Ambassador at Large who are assigned specific responsibilities, and they work to advise and assist their governments in a given area. The word is also often used more liberally for persons who are known, without national appointment, to represent certain professions, activities and fields of endeavor.
In everyday usage it usually applies to the ranking government representative stationed in a foreign capital. The host country typically allows the ambassador control of specific territory called an embassy, whose territory, staff, and even vehicles are generally afforded
diplomatic immunity
Diplomatic immunity
Diplomatic immunity is a form of legal immunity and a policy held between governments that ensures that diplomats are given safe passage and are considered not susceptible to lawsuit or prosecution under the host country's laws...
in the host country.
The senior diplomatic officers among members of the
Commonwealth of Nations
Commonwealth of Nations
The Commonwealth of Nations, normally referred to as the Commonwealth and formerly known as the British Commonwealth, is an intergovernmental organisation of fifty-four independent member states...
are known as
High Commissioner
High Commissioner (Commonwealth)
In the Commonwealth of Nations, a High Commissioner is the senior diplomat in charge of the diplomatic mission of one Commonwealth government to another.-History:...
s, who are the heads of High Commissions. Representatives of the
Holy See
Holy See
The Holy See is the episcopal jurisdiction of the Catholic Church in Rome, in which its Bishop is commonly known as the Pope. It is the preeminent episcopal see of the Catholic Church, forming the central government of the Church. As such, diplomatically, and in other spheres the Holy See acts and...
are known as Papal or Apostolic
Nuncio
Nuncio
Nuncio is an ecclesiastical diplomatic title, derived from the ancient Latin word, Nuntius, meaning "envoy." This article addresses this title as well as derived similar titles, all within the structure of the Roman Catholic Church...
s, while the head of a
Libyan mission
Foreign relations of Libya
The foreign relations of Libya under Gaddafi  underwent much fluctuation and change. They were marked by severe tension with the West and by Gaddafi's activist policies in the Middle East and Africa, including his financial and military support for...
is a "Secretary of the Libyan People's Bureau".
Rise of modern diplomacy
The rise of the modern diplomatic system was a product of the
Italian Renaissance
Italian Renaissance
The Italian Renaissance began the opening phase of the Renaissance, a period of great cultural change and achievement in Europe that spanned the period from the end of the 13th century to about 1600, marking the transition between Medieval and Early Modern Europe...
( from around 1300 AD ). The use of ambassadors became a political strategy in Italy during the 17th century. The political changes in Italy altered the role of ambassadors in diplomatic affairs. Because many of the states in Italy are small in size, they were particularly vulnerable to larger states. The ambassador system was used to disperse information and to protect the more vulnerable states.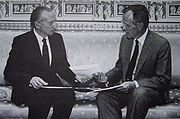 This practice then spread to Europe during the Italian Wars.
The use and creation of ambassadors during the 15th century in Italy has had long-term effects on Europe and, in turn, the world's diplomatic and political progression. Europe still uses the same terms of ambassador rights as they had established in the 16th century, concerning the rights of the ambassadors in host countries as well as the proper diplomatic procedures. An ambassador was used as a representative of the state in which he is from to negotiate and disseminate information in order to keep peace and establish relationships with other states. This attempt was employed in the effort to maintain peaceful relations with nations and make alliances during difficult times.
The use of ambassadors today is widespread. States and non-state actors use diplomatic representatives to deal with a host of problems that occur within the international system. Ambassadors now normally live overseas or within the country in which it is assigned to for long periods of time so that they are acquainted with the culture and local people. This way they are more politically effective and trusted, enabling them to accomplish goals that their host country desires.
Resident Coordinators of UN system are accredited to the Head of State and have the same rank.
Historically, officials representing their countries abroad were termed
ministers
, but this term was also applied to diplomats of the second rank. The
Congress of Vienna
Congress of Vienna
The Congress of Vienna was a conference of ambassadors of European states chaired by Klemens Wenzel von Metternich, and held in Vienna from September, 1814 to June, 1815. The objective of the Congress was to settle the many issues arising from the French Revolutionary Wars, the Napoleonic Wars,...
of 1815 formalized the system of
diplomatic rank
Diplomatic rank
Diplomatic rank is the system of professional and social rank used in the world of diplomacy and international relations. Over time it has been formalized on an international basis.-Ranks:...
under
international law
International law
Public international law concerns the structure and conduct of sovereign states; analogous entities, such as the Holy See; and intergovernmental organizations. To a lesser degree, international law also may affect multinational corporations and individuals, an impact increasingly evolving beyond...
:
Ambassadors are ministers of the highest rank, with
plenipotentiary
Plenipotentiary
The word plenipotentiary has two meanings. As a noun, it refers to a person who has "full powers." In particular, the term commonly refers to a diplomat fully authorized to represent his government as a prerogative...
authority to represent their head of state. In modern usage, most ambassadors on foreign postings as
head of mission
Head of Mission
In diplomatic usage, Head of Mission or Chief of Mission from the French "Chef de Mission Diplomatique" is the generic term used to refer to the head of a diplomatic representation, such as an Ambassador, High Commissioner, Nuncio, Chargé d'affaires, Permanent Representative, and sometimes to a...
carry the full title of Ambassador Extraordinary and Plenipotentiary. "Ordinary" ambassadors and non-plenipotentiary status are rarely used, although they may be encountered in certain circumstances. The only difference between an extraordinary ambassador and an ordinary ambassador is that while the former's mission is permanent, the latter serves only for a specific purpose.
Ambassador-at-Large
Ambassador-at-large is a diplomat of the highest rank and/or a minister who is accredited to represent his country. But unlike the resident ambassador (who is usually limited to a country) and/or embassy, the ambassador-at-large is entrusted to operate in several usually neighbouring countries, a region or sometimes a seat of international organizations such as the United Nations/European Union. In some cases, an ambassador-at-large may even be specifically assigned a role to advise and assist the state or Government in particular issues. Historically, presidents or prime ministers have designated special diplomatic envoys for specific assignments, primarily overseas but sometimes also within the country as ambassadors-at-large.
Ambassador Extraordinary and Plenipotentiary
Among
Europe
Europe
Europe is, by convention, one of the world's seven continents. Comprising the westernmost peninsula of Eurasia, Europe is generally 'divided' from Asia to its east by the watershed divides of the Ural and Caucasus Mountains, the Ural River, the Caspian and Black Seas, and the waterways connecting...
an powers, the
ambassador extraordinary and plenipotentiary
(French
ambassadeur extraordinaire et plénipotentiaire
or German
außerordentlicher und bevollmächtigter Botschafter
) was historically deemed the personal representative of the Sovereign, and the custom of dispatching ambassadors to the head of state rather than the government has persisted. For example, ambassadors to and from the
United Kingdom
United Kingdom
The United Kingdom of Great Britain and Northern IrelandIn the United Kingdom and Dependencies, other languages have been officially recognised as legitimate autochthonous languages under the European Charter for Regional or Minority Languages...
are accredited to or from the Royal
Court of St. James's
Court of St. James's
The Court of St James's is the royal court of the United Kingdom. It previously had the same function in the Kingdom of England and in the Kingdom of Great Britain .-Overview:...
(referring to
St. James's Palace
St. James's Palace
St. James's Palace is one of London's oldest palaces. It is situated in Pall Mall, just north of St. James's Park. Although no sovereign has resided there for almost two centuries, it has remained the official residence of the Sovereign and the most senior royal palace in the UK...
).
Because members of the
Commonwealth of Nations
Commonwealth of Nations
The Commonwealth of Nations, normally referred to as the Commonwealth and formerly known as the British Commonwealth, is an intergovernmental organisation of fifty-four independent member states...
have or had a common head of state, they do not exchange ambassadors, but instead have
High Commissioner
High Commissioner
High Commissioner is the title of various high-ranking, special executive positions held by a commission of appointment.The English term is also used to render various equivalent titles in other languages.-Bilateral diplomacy:...
s, who represent the government, rather than the head of state. In diplomatic usage, high commissioner is considered an equivalent rank and role to an ambassador.
While the title generally reflects the ambassador's second head position as head of a diplomatic mission, in some countries the term may also represent a rank held by career diplomats, as a matter of internal promotion, regardless of the posting, and in many national careers it is quite common for them to be appointed to other functions, especially within the ministry/ministries in charge of foreign affairs, in some countries in systematic alternation with actual postings.
The formal form of address for an ambassador is generally the form that would be used to address a head of state: "(Your/His/Her)
Excellency
Excellency
Excellency is an honorific style given to certain members of an organization or state.Usually, people styled "Excellency" are heads of state, heads of government, governors, ambassadors, certain ecclesiastics, royalty, aristocracy, and military, and others holding equivalent rank .It is...
" followed by name and/or the country represented. In many countries, less formal variations are frequently used, such as "Ambassador" followed by name, or the name followed by "Ambassador of...". In the United States, "Mr. Ambassador" may be used.
In some countries, a former ambassador may continue to be styled and addressed as ambassador throughout their life (in the United States, "Mr. Ambassador" or "Madam Ambassador" may be heard). In other countries, ambassador is a title that accrues to its holder only with respect to a specific position, and may not be used after leaving or beyond the position. Some countries do not use the term while an ambassador is in the home country, as the office holder is not an ambassador there; for example, a Canadian ambassador while in Canada is not generally addressed as ambassador, although he or she may be referred to as "Canadian ambassador to ..."; that is, with reference to a specific job function; the person is addressed or styled as ambassador only while holding such office.
Ranking below full ambassador are the rank of
Envoy
Envoy (title)
In diplomacy, an Envoy Extraordinary and Minister Plenipotentiary is, under the terms of the Congress of Vienna of 1815, a diplomat of the second class, ranking between an Ambassador and a Minister Resident....
,
Minister Resident
and
Chargé d'affaires
Chargé d'affaires
In diplomacy, chargé d'affaires , often shortened to simply chargé, is the title of two classes of diplomatic agents who head a diplomatic mission, either on a temporary basis or when no more senior diplomat has been accredited.-Chargés d'affaires:Chargés d'affaires , who were...
. They represent their government rather than their head of state. For further details, see
diplomatic rank
Diplomatic rank
Diplomatic rank is the system of professional and social rank used in the world of diplomacy and international relations. Over time it has been formalized on an international basis.-Ranks:...
.
Non-diplomatic ambassadorships
In a less formal sense, the word is used for high-profile non-diplomatic representative of various entities (rarely states), mainly cultural and charitable organizations, often as willing figureheads to attract media attention, e.g. film and pop stars make appeals to the public at large for
UNESCO
UNESCO
The United Nations Educational, Scientific and Cultural Organization is a specialized agency of the United Nations...
activities (see
UNESCO Goodwill Ambassador
UNESCO Goodwill Ambassador
UNESCO Goodwill Ambassadors are celebrity advocates of UNESCO who use their talent or fame to spread the UNESCO ideals, especially attracting media attention...
s), sometimes during press-swarmed visits in the field.
In French speaking regions such as
France
France
The French Republic , The French Republic , The French Republic , (commonly known as France , is a unitary semi-presidential republic in Western Europe with several overseas territories and islands located on other continents and in the Indian, Pacific, and Atlantic oceans. Metropolitan France...
,
Wallonia
or
Quebec
Quebec
Quebec or is a province in east-central Canada. It is the only Canadian province with a predominantly French-speaking population and the only one whose sole official language is French at the provincial level....
, the title of
ambassadeur person
is used.
External links