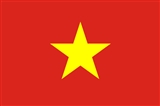 Vietnam
Topics
Vietnam
Timeline

Timeline
1226 Tran Thu Do, head of the Tran clan of Vietnam, forces Ly Hue Tong, the last emperor of the Ly dynasty, to commit suicide.
1400 The Tran Dynasty of Vietnam is deposed after 175 years of rule by Ho Quy Ly, a court official.
1803 Emperor Gia Long orders all bronze wares of the Tây Sơn Dynasty to be collected and melted into nine cannons for the Royal Citadel in Huế, Vietnam.
1862 As the Treaty of Saigon was signed, ceding parts of southern Vietnam to France, the guerrilla leader Truong Dinh decides to defy Emperor Tu Duc of Vietnam and fight on against the Europeans.
1885 A peace treaty is signed to end the Sino-French War, with China eventually giving up Tonkin and Annam - most of present-day Vietnam - to France.
1944 World War II: The People's Army of Vietnam is formed to resist Japanese occupation of Indo-China, now Vietnam.
1945 Vietnam War: Viet Minh led by Ho Chi Minh take power in Hanoi, Vietnam.
1945 Vietnam declares its independence, forming the Democratic Republic of Vietnam.
1946 Ho Chi Minh signs an agreement with France which recognizes Vietnam as an autonomous state in the Indochinese Federation and the French Union.
1954 President Dwight Eisenhower warns against United States intervention in Vietnam.
1954 At Geneva, Switzerland, an armistice is signed that ends fighting in Vietnam and divides the country along the 17th parallel.
1954 First Indochina War: The Geneva Conference partitions Vietnam into North Vietnam and South Vietnam.
1957 Vietnam War: First United States casualties in Vietnam.
1962 Vietnam War: After a trip to Vietnam at the request of US President John F. Kennedy, US Senate Majority Leader Mike Mansfield becomes the first American official not to make an optimistic public comment on the war's progress.
1964 Ngo Dinh Can, de facto ruler of central Vietnam under his brother President Ngo Dinh Diem before the family's toppling, is executed.
1964 Vietnam War: 5,000 more American military advisers are sent to South Vietnam bringing the total number of United States forces in Vietnam to 21,000.
1965 Vietnam War: the first 4,000 101st Airborne Division paratroopers arrive in Vietnam, landing at Cam Ranh Bay.
1965 Vietnam War: Just miles from Da Nang, United States Marines repel an intense attack by wave after wave of Viet Cong forces, killing 56 guerrillas. Among the dead, a sketch of Marine positions is found on the body of a 13-year-old Vietnamese boy who sold drinks to the Marines the day before.
1965 Vietnam War: The Pentagon tells U.S. President Lyndon B. Johnson that if planned operations are to succeed, the number of American troops in Vietnam has to be increased from 120,000 to 400,000.
1965 Vietnam War: In response to U.S. President Lyndon B. Johnson's call for "more flags" in Vietnam, Philippines President Elect Ferdinand Marcos announces he will send troops to help fight in South Vietnam.
1968 Vietnam War: In the My Lai massacre, between 350 and 500 Vietnamese villagers (men, women, and children) are killed by American troops.
1969 The Battle of Hamburger Hill in Vietnam ends.
1969 My Lai Massacre: U.S. Army Lt. William Calley is charged with six specifications of premeditated murder for the death of 109 Vietnamese civilians in My Lai.
1969 Vietnam War: The ''Cleveland Plain Dealer'' publishes explicit photographs of dead villagers from the My Lai massacre in Vietnam.
1970 Protests erupt in Seattle, Washington, following the announcement by U.S. President Richard Nixon that U.S. Forces in Vietnam would pursue enemy troops into Cambodia, a neutral country.
1970 In Vietnam, the worst monsoon to hit the area in six years causes large floods, kills 293, leaves 200,000 homeless and virtually halts the Vietnam War.
1970 Vietnam War: The United States Military Assistance Command in Vietnam reports the lowest weekly American soldier death toll in five years (24).
1971 The Winter Soldier Investigation, organized by the Vietnam Veterans Against the War to publicize war crimes and atrocities by Americans and allies in Vietnam, begin in Detroit, Michigan.
1971 President Richard Nixon announces his decision to increase the rate of American troop withdrawals from Vietnam.
1971 Vietnam War: Australia and New Zealand decide to withdraw their troops from Vietnam.
1971 Vietnam War: As part of Vietnamization, US President Richard M. Nixon sets February 1, 1972 as the deadline for the removal of another 45,000 American troops from Vietnam.
1972 Vietnam War: Increased American bombing in Vietnam prompts anti-war protests in Los Angeles, New York City, and San Francisco.
1972 A race riot occurs on the United States Navy aircraft carrier ''Kitty Hawk'' off the coast of Vietnam during Operation Linebacker.
1972 Vietnam War: White House Press Secretary Ron Ziegler tells the press that there will be no more public announcements concerning American troop withdrawals from Vietnam due to the fact that troop levels are now down to 27,000.
1973 President Richard Nixon announces that a peace accord has been reached in Vietnam.
1973 Vietnam War: First release of American prisoners of war from Vietnam takes place.
1976 Fall of the Republic of Vietnam; Communist North Vietnam declares their union to form the Socialist Republic of Vietnam.
1977 The Socialist Republic of Vietnam is admitted to the United Nations.
1977 Djibouti and Vietnam join the United Nations.
1989 Riots break-out after Hong Kong decides to forcibly repatriate Vietnamese refugees.
1995 Full diplomatic relations are established between the United States and Vietnam.
2000 Bill Clinton becomes the first U.S. President to visit Vietnam since the end of the Vietnam War.
2009 Typhoon Ketsana (2009) hit the Philippines, China, Vietnam, Cambodia, Laos and Thailand, causing 700 fatalities.