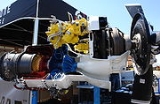 Turboprop
A
turboprop
engine is a type of turbine engine which drives an aircraft
propeller
Propeller (aircraft)
Aircraft propellers or airscrews convert rotary motion from piston engines or turboprops to provide propulsive force. They may be fixed or variable pitch. Early aircraft propellers were carved by hand from solid or laminated wood with later propellers being constructed from metal...
using a reduction gear.
The gas turbine is designed specifically for this application, with almost all of its output being used to drive the propeller. The engine's
exhaust gas
Exhaust gas
Exhaust gas or flue gas is emitted as a result of the combustion of fuels such as natural gas, gasoline/petrol, diesel fuel, fuel oil or coal. According to the type of engine, it is discharged into the atmosphere through an exhaust pipe, flue gas stack or propelling nozzle.It often disperses...
es contain little energy compared to a
jet engine
and play only a minor role in the propulsion of the aircraft.
The propeller is coupled to the turbine through a reduction gear that converts the high RPM, low
torque
Torque
Torque, moment or moment of force , is the tendency of a force to rotate an object about an axis, fulcrum, or pivot. Just as a force is a push or a pull, a torque can be thought of as a twist....
output to low RPM, high torque. The propeller itself is normally a constant speed (variable pitch) type similar to that used with larger
reciprocating
Reciprocating engine
A reciprocating engine, also often known as a piston engine, is a heat engine that uses one or more reciprocating pistons to convert pressure into a rotating motion. This article describes the common features of all types...
aircraft engines.
Turboprop engines are generally used on small subsonic aircraft, but some aircraft outfitted with turboprops have cruising speeds in excess of 500 kt (926 km/h, 575 mph). Large
military
Military aviation
Military aviation is the use of aircraft and other flying machines for the purposes of conducting or enabling warfare, including national airlift capacity to provide logistical supply to forces stationed in a theater or along a front. Air power includes the national means of conducting such...
and
civil
Civil aviation
Civil aviation is one of two major categories of flying, representing all non-military aviation, both private and commercial. Most of the countries in the world are members of the International Civil Aviation Organization and work together to establish common standards and recommended practices...
aircraft, such as the
Lockheed L-188 Electra
Lockheed L-188 Electra
The Lockheed Model 188 Electra is an American turboprop airliner built by Lockheed. First flying in 1957, it was the first large turboprop airliner produced in the United States. Initial sales were good, but after two fatal crashes which prompted an expensive modification program to fix a design...
and the
Tupolev Tu-95
Tupolev Tu-95
The Tupolev Tu-95 is a large, four-engine turboprop-powered strategic bomber and missile platform. First flown in 1952, the Tu-95 entered service with the former Soviet Union in 1956 and is expected to serve the Russian Air Force until at least 2040...
, have also used turboprop power. The
Airbus A400M
Airbus A400M
The Airbus A400M, also known as the Atlas, is a multi-national four-engine turboprop military transport aircraft. It was designed by Airbus Military as a tactical airlifter with strategic capabilities. The aircraft's maiden flight, originally planned for 2008, took place on 11 December 2009 in...
is powered by four Europrop TP400 engines, which are the third most powerful turboprop engines ever produced, after the
Kuznetsov NK-12
Kuznetsov NK-12
-See also:-External links:*...
and
Progress D-27
Progress D-27
-See also:- External links :*...
.
In its simplest form a turboprop consists of an intake,
compressor
Gas compressor
A gas compressor is a mechanical device that increases the pressure of a gas by reducing its volume.Compressors are similar to pumps: both increase the pressure on a fluid and both can transport the fluid through a pipe. As gases are compressible, the compressor also reduces the volume of a gas...
,
combustor
Combustor
A combustor is a component or area of a gas turbine, ramjet, or scramjet engine where combustion takes place. It is also known as a burner, combustion chamber or flame holder. In a gas turbine engine, the combustor or combustion chamber is fed high pressure air by the compression system. The...
,
turbine
Turbine
A turbine is a rotary engine that extracts energy from a fluid flow and converts it into useful work.The simplest turbines have one moving part, a rotor assembly, which is a shaft or drum with blades attached. Moving fluid acts on the blades, or the blades react to the flow, so that they move and...
, and a
propelling
Air propulsion
Air propulsion is the generation of thrust during flight by an aircraft or a creature such as a bird, bat or insect.-Aircraft:An aircraft propulsion system must serve two purposes. First, the thrust from the propulsion system must balance the drag of the airplane when the airplane is cruising...
nozzle
Nozzle
A nozzle is a device designed to control the direction or characteristics of a fluid flow as it exits an enclosed chamber or pipe via an orifice....
. Air is drawn into the intake and compressed by the compressor. Fuel is then added to the compressed air in the combustor, where the fuel-air mixture then
combusts
Combustion
Combustion or burning is the sequence of exothermic chemical reactions between a fuel and an oxidant accompanied by the production of heat and conversion of chemical species. The release of heat can result in the production of light in the form of either glowing or a flame...
. The hot combustion gases expand through the turbine. Some of the power generated by the turbine is used to drive the compressor. The rest is transmitted through the reduction gearing to the propeller. Further expansion of the gases occurs in the propelling nozzle, where the gases exhaust to atmospheric pressure. The propelling nozzle provides a relatively small proportion of the thrust generated by a turboprop.
Turboprops are very efficient at flight speeds below 450 mph because the jet velocity of the propeller (and exhaust) is relatively low. Due to the high price of turboprop engines, they are mostly used where high-performance short-takeoff and landing (
STOL
STOL
STOL is an acronym for short take-off and landing, a term used to describe aircraft with very short runway requirements.-Definitions:There is no one accepted definition of STOL and many different definitions have been used by different authorities and nations at various times and for a myriad of...
) capability and efficiency at modest flight speeds are required. The most common application of turboprop engines in civilian aviation is in small
commuter aircraft
Regional airliner
A regional airliner or a feederliner is a small airliner designed to fly up to 100 passengers on short-haul flights, usually feeding larger carriers' hubs from small markets. This class of airliners are typically flown by the regional airlines that are either contracted by or subsidiaries of the...
, where their greater reliability than
reciprocating engine
Reciprocating engine
A reciprocating engine, also often known as a piston engine, is a heat engine that uses one or more reciprocating pistons to convert pressure into a rotating motion. This article describes the common features of all types...
s offsets their higher initial cost. Turboprop airliners now operate at near the same speed as small turbofan-powered aircraft but burn two-thirds of the fuel per passenger. However, compared to a turbojet (which can fly at high altitude for enhanced speed and fuel consumption) a propeller aircraft has a much lower ceiling. Turboprop-powered aircraft have become popular for bush airplanes such as the Cessna Caravan and
Quest Kodiak
Quest Kodiak
|-See also:-External links:* * *...
as jet fuel is easier to obtain in remote areas than is aviation-grade gasoline (
avgas
Avgas
Avgas is an aviation fuel used to power piston-engine aircraft. Avgas is distinguished from mogas , which is the everyday gasoline used in cars and some non-commercial light aircraft...
).
Technological aspects
Much of the jet thrust in a turboprop is sacrificed in favor of shaft power, which is obtained by extracting additional power (up to that necessary to drive the compressor) from turbine expansion. While the power turbine may be integral with the gas generator section, many turboprops today feature a free power turbine on a separate coaxial shaft. This enables the propeller to rotate freely, independent of compressor speed. Owing to the additional expansion in the turbine system, the residual energy in the exhaust jet is low. Consequently, the exhaust jet produces (typically) less than 10% of the total thrust.
Propellers are not efficient when the tips reach or exceed
supersonic
Supersonic
Supersonic speed is a rate of travel of an object that exceeds the speed of sound . For objects traveling in dry air of a temperature of 20 °C this speed is approximately 343 m/s, 1,125 ft/s, 768 mph or 1,235 km/h. Speeds greater than five times the speed of sound are often...
speeds. For this reason, a reduction gearbox is placed in the drive line between the power turbine and the propeller to allow the turbine to operate at its most efficient speed while the propeller operates at its most efficient speed. The gearbox is part of the engine and contains the parts necessary to operate a
constant speed propeller
Constant speed propeller
A constant speed propeller is a type of propeller that can change its blade pitch to take better advantage of the power supplied by an engine in much the same way that a transmission in a car takes better advantage of its power source...
. This differs from the
turboshaft
Turboshaft
A turboshaft engine is a form of gas turbine which is optimized to produce free turbine shaft power, rather than jet thrust...
engines used in
helicopter
Helicopter
A helicopter is a type of rotorcraft in which lift and thrust are supplied by one or more engine-driven rotors. This allows the helicopter to take off and land vertically, to hover, and to fly forwards, backwards, and laterally...
s, where the gearbox is remote from the engine.
Residual thrust on a turboshaft is avoided by further expansion in the turbine system and/or truncating and turning the exhaust 180 degrees, to produce two opposing jets. Apart from the above, there is very little difference between a turboprop and a turboshaft.
While most modern
turbojet
and
turbofan
Turbofan
The turbofan is a type of airbreathing jet engine that is widely used for aircraft propulsion. A turbofan combines two types of engines, the turbo portion which is a conventional gas turbine engine, and the fan, a propeller-like ducted fan...
engines use axial-flow compressors, turboprop engines usually contain at least one stage of
centrifugal compression
Centrifugal compressor
Centrifugal compressors, sometimes termed radial compressors, are a sub-class of dynamic axisymmetric work-absorbing turbomachinery.The idealized compressive dynamic turbo-machine achieves a pressure rise by adding kinetic energy/velocity to a continuous flow of fluid through the rotor or impeller...
. Centrifugal compressors have the advantage of being simple and lightweight, at the expense of a streamlined shape.
Propellers lose efficiency as aircraft speed increases, so turboprops are normally not used on high-speed aircraft. However,
propfan
Propfan
A propfan was first defined as a small diameter, highly loaded multiple bladed variable pitch propulsor having swept blades with thin advanced airfoil sections, integrated with a nacelle contoured to retard the airflow through the blades thereby reducing compressibility losses and designed to...
engines, which are very similar to turboprop engines, can cruise at flight speeds approaching
Mach
Mach number
Mach number is the speed of an object moving through air, or any other fluid substance, divided by the speed of sound as it is in that substance for its particular physical conditions, including those of temperature and pressure...
0.75. To increase the efficiency of the propellers, a mechanism can be used to alter the pitch, thus adjusting the pitch to the airspeed. A variable pitch propeller, also called a
controllable pitch propeller
Controllable pitch propeller
A controllable pitch propeller or variable pitch propeller is a type of propeller with blades that can be rotated around their long axis to change their pitch...
, can also be used to generate negative thrust while decelerating on the runway. Additionally, in the event of an engine outage, the pitch can be adjusted to a vaning pitch (called feathering), thus minimizing the drag of the non-functioning propeller.
Some commercial aircraft with turboprop engines include the Bombardier Dash 8,
ATR 42
ATR 42
-Civil operators:The largest operators of the ATR-42 are FedEx Express, Airlinair, TRIP Linhas Aéreas,and Mexico City-based Aeromar respectively. Number of aircraft as of 2010:Some 70 other airlines operate smaller numbers of the type....
,
ATR 72
ATR 72
The ATR 72 is a twin-engine turboprop short-haul regional airliner built by the French-Italian aircraft manufacturer ATR. ATR and Airbus are both built in Toulouse, and share resources and technology...
,
BAe Jetstream 31
,
Embraer EMB 120 Brasilia
Embraer EMB 120 Brasilia
-Accidents:*Brazilian Air Force on July 8, 1988 an Embraer EMB 120RT Brasília registration FAB-2001 crashed during and engine-out landing at São José dos Campos. Five of the 9 occupants died....
,
Fairchild Swearingen Metroliner
Fairchild Swearingen Metroliner
The Fairchild Swearingen Metroliner or the Fairchild Aerospace Metro is a 19-seat, pressurised, twin turboprop airliner first produced by Swearingen Aircraft and later by Fairchild at a plant in San Antonio, Texas, United States....
,
Saab 340
Saab 340
The Saab 340 is a discontinued Swedish two-engine turboprop aircraft designed and initially produced by a partnership between Saab and Fairchild Aircraft in a 65:35 ratio...
and
2000
Saab 2000
|-See also:-References:* Lambert, Mark. Jane's All The World's Aircraft 1993–94. Coulsdon, UK:Jane's Data Division, 1993. ISBN 0 7106 1066 1....
,
Xian MA60
Xian MA60
|-See also:-References:* Jackson, Paul. Jane's All The World's Aircraft 2003–2004. Coulsdon, UK: Jane's Information Group, 2003. ISBN 0-7106-2537-5.-External links:* * *...
, Xian MA600, and
Xian MA700
Xian MA700
-References:* *...
.
History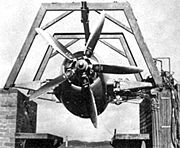 Alan Arnold Griffith
Alan Arnold Griffith
Alan Arnold Griffith was an English engineer, who, among many other contributions, is best known for his work on stress and fracture in metals that is now known as metal fatigue, as well as being one of the first to develop a strong theoretical basis for the jet engine.-Early work:A. A...
had published a paper on turbine design in 1926.
Subsequent work at the Royal Aircraft Establishment
Turbojet development at the RAE
Between 1936 and 1940 Alan Arnold Griffith designed a series of turbine engines that were built under the direction of Hayne Constant at the Royal Aircraft Establishment . The designs were advanced for the era, typically featuring a "two-spool" layout with high- and low-pressure compressors that...
investigated axial turbine designs that could be used to supply power to a shaft and thence a propeller. From 1929,
Frank Whittle
Frank Whittle
Air Commodore Sir Frank Whittle, OM, KBE, CB, FRS, Hon FRAeS was a British Royal Air Force engineer officer. He is credited with independently inventing the turbojet engine Air Commodore Sir Frank Whittle, OM, KBE, CB, FRS, Hon FRAeS (1 June 1907 – 9 August 1996) was a British Royal Air...
began work on centrifugal turbine designs that would deliver pure jet thrust.
György Jendrassik
György Jendrassik
György Jendrassik , Hungarian physicist and mechanical engineer.Jendrassik completed his education at Budapest's József Technical University, then at the University of Berlin attended lectures of the famous physicists Einstein and Planck. In 1922 he obtained his diploma in mechanical engineering in...
published a turboprop idea in 1928, on March 12, 1929 he patented his turboprop invention. In 1938, he built a small-scale (100 Hp) prototype of his patent.
The world's first turboprop was the
Jendrassik Cs-1
Jendrassik Cs-1
The Jendrassik Cs-1 was the world's first working turboprop engine. It was designed by Hungarian engineer György Jendrassik in 1937, and was intended to power a Hungarian twin-engine heavy fighter, the RMI-1.-Design and development:...
, designed by the
Hungarian
Hungary
Hungary , officially the Republic of Hungary , is a landlocked country in Central Europe. It is situated in the Carpathian Basin and is bordered by Slovakia to the north, Ukraine and Romania to the east, Serbia and Croatia to the south, Slovenia to the southwest and Austria to the west. The...
mechanical engineer
Mechanical engineering
Mechanical engineering is a discipline of engineering that applies the principles of physics and materials science for analysis, design, manufacturing, and maintenance of mechanical systems. It is the branch of engineering that involves the production and usage of heat and mechanical power for the...
György Jendrassik. It was produced and tested in the Ganz Works in
Budapest
Budapest
Budapest is the capital of Hungary. As the largest city of Hungary, it is the country's principal political, cultural, commercial, industrial, and transportation centre. In 2011, Budapest had 1,733,685 inhabitants, down from its 1989 peak of 2,113,645 due to suburbanization. The Budapest Commuter...
between 1939 and 1942. It was planned to fit to the Varga RMI-1 X/H twin-engined reconnaissance bomber in 1940, but the program was cancelled.
The first British turboprop engine was the
Rolls-Royce
Rolls-Royce Limited
Rolls-Royce Limited was a renowned British car and, from 1914 on, aero-engine manufacturing company founded by Charles Stewart Rolls and Henry Royce on 15 March 1906 as the result of a partnership formed in 1904....
RB.50 Trent
, a converted
Derwent II
fitted with reduction gear and a Rotol 7-ft, 11-in five-bladed propeller. Two Trents were fitted to
Gloster Meteor
Gloster Meteor
The Gloster Meteor was the first British jet fighter and the Allies' first operational jet. It first flew in 1943 and commenced operations on 27 July 1944 with 616 Squadron of the Royal Air Force...
EE227
— the sole "Trent-Meteor" — which thus became the world's first turboprop-powered aircraft, albeit a test-bed not intended for production. It first flew on 20 September 1945. From their experience with the Trent, Rolls-Royce developed the
Dart
Rolls-Royce Dart
|-See also:-Bibliography:* Gunston, Bill. World Encyclopedia of Aero Engines. Cambridge, England. Patrick Stephens Limited, 1989. ISBN 1-85260-163-9-External links:*...
, which became one of the most reliable turboprop engines ever built. Dart production continued for more than fifty years. The Dart-powered
Vickers Viscount
Vickers Viscount
The Vickers Viscount was a British medium-range turboprop airliner first flown in 1948 by Vickers-Armstrongs, making it the first such aircraft to enter service in the world...
was the first turboprop aircraft of any kind to go into production and sold in large numbers. It was also the first four-engined turboprop. Its first flight was on 16 July 1948. The world's first single engined turboprop aircraft was the Armstrong Siddeley Mamba-powered
Boulton Paul Balliol
Boulton Paul Balliol
|-See also:-References:NotesBibliography* Donald, David, ed. The Encyclopedia of World Aircraft. London: Aerospace Publishing, 1997. ISBN 1-85605-375-X....
, which first flew on 24 March 1948.
The Soviet Union built on German World War II development by Junkers (BMW and Hirth/Daimler-Benz also developed and partially tested designs). While the Soviet Union had the technology to create a jet-powered strategic bomber comparable to Boeing's
B-52 Stratofortress
B-52 Stratofortress
The Boeing B-52 Stratofortress is a long-range, subsonic, jet-powered strategic bomber operated by the United States Air Force since the 1950s. The B-52 was designed and built by Boeing, who have continued to provide maintainence and upgrades to the aircraft in service...
, they instead produced the
Tupolev Tu-95
Tupolev Tu-95
The Tupolev Tu-95 is a large, four-engine turboprop-powered strategic bomber and missile platform. First flown in 1952, the Tu-95 entered service with the former Soviet Union in 1956 and is expected to serve the Russian Air Force until at least 2040...
Bear, powered with four
Kuznetsov NK-12
Kuznetsov NK-12
-See also:-External links:*...
turboprops, mated to eight contra-rotating propellers (two per nacelle) with supersonic tip speeds to achieve maximum cruise speeds in excess of 575 mph, faster than many of the first jet aircraft and comparable to jet cruising speeds for most missions. The Bear would serve as their most successful long-range combat and surveillance aircraft and symbol of Soviet power projection throughout the end of the 20th century. The USA would incorporate contra-rotating turboprop engines, such as the ill-fated Allison T40, into a series of experimental aircraft during the 1950s, but none would be adopted into service.
The first American turboprop engine was the General Electric
XT31
, first used in the experimental Consolidated Vultee XP-81. The XP-81 first flew in December 1945, the first aircraft to use a combination of turboprop and turbojet power. The technology of the
Lockheed Electra
Lockheed L-188 Electra
The Lockheed Model 188 Electra is an American turboprop airliner built by Lockheed. First flying in 1957, it was the first large turboprop airliner produced in the United States. Initial sales were good, but after two fatal crashes which prompted an expensive modification program to fix a design...
airliner was also used in military aircraft, such as the
P-3 Orion
P-3 Orion
The Lockheed P-3 Orion is a four-engine turboprop anti-submarine and maritime surveillance aircraft developed for the United States Navy and introduced in the 1960s. Lockheed based it on the L-188 Electra commercial airliner. The aircraft is easily recognizable by its distinctive tail stinger or...
and the
C-130 Hercules
C-130 Hercules
The Lockheed C-130 Hercules is a four-engine turboprop military transport aircraft designed and built originally by Lockheed, now Lockheed Martin. Capable of using unprepared runways for takeoffs and landings, the C-130 was originally designed as a troop, medical evacuation, and cargo transport...
, using the Allison T56. One of the most produced turboprop engines is the
Pratt & Whitney Canada
Pratt & Whitney Canada
Pratt & Whitney Canada is a Canadian aircraft engine manufacturer. PWC's headquarters are in Longueuil, Quebec, just outside Montreal. It is a division of the larger US-based Pratt & Whitney , itself a business unit of United Technologies...
PT6
Pratt & Whitney Canada PT6
The Pratt & Whitney Canada PT6 is one of the most popular turboprop aircraft engines in history, and is produced by Pratt & Whitney Canada. The PT6 family is particularly well known for its extremely high reliability, with MTBO's on the order of 9000 hours in some models. In US military use, they...
engine.
The first turbine-powered, shaft-driven helicopter was the Bell XH-13F, a version of the
Bell 47
Bell 47
The Bell 47 is a two-bladed, single engine, light helicopter manufactured by Bell Helicopter. Based on the third Model 30 prototype, Bell's first helicopter designed by Arthur M. Young, the Bell 47 became the first helicopter certified for civilian use on 8 March 1946...
powered by Continental XT-51-T-3 (Turbomeca Artouste) engine.
Current Engines
manufacturer
Country
designation
dry weight (kg)
takeoff rating (kW)
Application
DEMC

Dongan Engine Manufacturing Company

The Dongan Engine Manufacturing Company is a Chinese engine manufacturer founded in 1948.Also known as the Harbin Engine Factory it first produced the HS7 a 14-cylinder radial piston engine for the Z-5 helicopter.-Engines:...



WJ5E

Dongan WJ5

The Dongan WJ5 is a Chinese single-shaft turboprop aero engine built by the Dongan Engine Manufacturing Company for the Xian Y-7 twin-engined transport.-Variants:WJ5AWJ5EWZ5-Bibliography:...



720
2130
Harbin SH-5

Harbin SH-5

-See also:-References:***...


, Xian Y-7

Xian Y-7

|-External links:* http://www.airforceworld.com/pla/y7-transporter.htm Y-7 Transporter and variations, Chinese* http://www.airdisaster.com/cgi-bin/aircraft_detail.cgi?aircraft=Xian+Yunshuji++Y7-100C...



Europrop International

Europrop International

Europrop International GmbH is a joint venture among four European aero-engine manufacturers, MTU Aero Engines, Snecma, Rolls-Royce, and Industria de Turbo Propulsores...



TP400-D6
1800
8203
Airbus A400M

Airbus A400M

The Airbus A400M, also known as the Atlas, is a multi-national four-engine turboprop military transport aircraft. It was designed by Airbus Military as a tactical airlifter with strategic capabilities. The aircraft's maiden flight, originally planned for 2008, took place on 11 December 2009 in...



General Electric

General Electric

General Electric Company , or GE, is an American multinational conglomerate corporation incorporated in Schenectady, New York and headquartered in Fairfield, Connecticut, United States...



CT7-5A
365
1294
General Electric

General Electric

General Electric Company , or GE, is an American multinational conglomerate corporation incorporated in Schenectady, New York and headquartered in Fairfield, Connecticut, United States...



CT7-9
365
1447
CASA/IPTN CN-235, Let L-610

Let L-610

-External links:*...


, Saab 340

Saab 340

The Saab 340 is a discontinued Swedish two-engine turboprop aircraft designed and initially produced by a partnership between Saab and Fairchild Aircraft in a 65:35 ratio...


, Sukhoi Su-80
General Electric

General Electric

General Electric Company , or GE, is an American multinational conglomerate corporation incorporated in Schenectady, New York and headquartered in Fairfield, Connecticut, United States...



T64

General Electric T64

-External links:* *...


-P4D
538
2535
Aeritalia G.222, de Havilland Canada DHC-5 Buffalo

De Havilland Canada DHC-5 Buffalo

The de Havilland Canada DHC-5 Buffalo is a short takeoff and landing utility transport, a turboprop aircraft developed from the earlier piston-powered DHC-4 Caribou...


, Kawasaki P-2J

Kawasaki P-2J

|-See also:-References:* Sullivan, Jim, P2V Neptune in action. Squadron/Signal Publications: Carrollton, TX, 1985.-External links:* * http://p2vneptune.com* http://www.maam.org/neptune/p2_1.html...



Honeywell

Honeywell

Honeywell International, Inc. is a major conglomerate company that produces a variety of consumer products, engineering services, and aerospace systems for a wide variety of customers, from private consumers to major corporations and governments....



TPE331-3
161
626
Handley Page Jetstream, BAe Jetstream 41, Beechcraft King Air

Beechcraft King Air

The Beechcraft King Air family is part of a line of twin-turboprop aircraft produced by the Beech Aircraft Corporation...


, CASA C-212 Aviocar, Dornier Do 228

Dornier Do 228

The Dornier 228 is a twin-turboprop STOL utility aircraft, manufactured by Dornier GmbH from 1981 until 1998. In 1983, Hindustan Aeronautics bought a production licence and manufactures the 228 for the Asian market sphere. Approximately 270 Do 228 were built at Oberpfaffenhofen, Germany and...


, Mitsubishi MU-2

Mitsubishi MU-2

The Mitsubishi MU-2 is one of postwar Japan's most successful aircraft. It is a high-wing, twin-engine turboprop, and has a pressurized cabin.-Design and development:...


, Pilatus PC-6

Pilatus PC-6

|-See also:-References:* Lambert, Mark. Jane's All The World's Aircraft 1993–1994. Coulsdon, UK: Jane's Data Division, 1993. ISBN 0 7106 1066 1.* Taylor, John W. R. Janes's All The World's Aircraft 1965–66. London: Sampson Low, Marston & Company, 1965....


, Short Tucano

Short Tucano

|-See also:-External links:*...


, Swearingen Merlin

Swearingen Merlin

The Swearingen Merlin or the Fairchild Aerospace Merlin is a pressurised, twin turboprop business aircraft first produced by Swearingen Aircraft, and later by Fairchild at a plant in San Antonio, Texas.-Design and development:...



Honeywell

Honeywell

Honeywell International, Inc. is a major conglomerate company that produces a variety of consumer products, engineering services, and aerospace systems for a wide variety of customers, from private consumers to major corporations and governments....



TPE331-12
181
834
Honeywell

Honeywell

Honeywell International, Inc. is a major conglomerate company that produces a variety of consumer products, engineering services, and aerospace systems for a wide variety of customers, from private consumers to major corporations and governments....



TPE331-14GR
281
1462
Honeywell

Honeywell

Honeywell International, Inc. is a major conglomerate company that produces a variety of consumer products, engineering services, and aerospace systems for a wide variety of customers, from private consumers to major corporations and governments....



LTP 101-700
147
522
Air Tractor AT-302, Piaggio P.166

Piaggio P.166

The Piaggio P.166 is a twin-engine pusher-type utility aircraft developed by the Italian aircraft manufacturer Piaggio Aero.The aircraft is known as Albatross in South African military service....



Innodyn
165TE
85.3
123
Innodyn
255TE
85.3
190
KKBM

Aviakor

OJSC Aviakor is an aviation plant located in Samara. It is part of the Russian machines holding under control of the financial industrial group Basic Element owned by Oleg Deripaska. In USSR Kuibyshev aviation plant was one of the five largest plants in the aviation industry. For more than half...



NK-12MV

Kuznetsov NK-12

-See also:-External links:*...



1900
11033
Antonov An-22

Antonov An-22

The Antonov An-22 Antei was the world's heaviest aircraft, until the advent of the American C-5 Galaxy and later the Soviet An-124. Powered by four pairs of contra-rotating turboprops, the design remains the world's largest turboprop-powered aircraft...


, Tupolev Tu-95

Tupolev Tu-95

The Tupolev Tu-95 is a large, four-engine turboprop-powered strategic bomber and missile platform. First flown in 1952, the Tu-95 entered service with the former Soviet Union in 1956 and is expected to serve the Russian Air Force until at least 2040...


, Tupolev Tu-114

Tupolev Tu-114

The Tupolev Tu-114 Rossiya is a turboprop-powered long-range airliner designed by the Tupolev design bureau and built in the USSR from May 1955....



Klimov

Klimov

The Kirill Klimov Experimental Design Bureau under the direction of Vladimir Yakovlevich Klimov designed engines for Soviet aircraft. The OKB was formed in the early 1930s to produce and improve upon the liquid-cooled Hispano-Suiza 12Y V-12 piston engine for which the USSR had acquired a license...



TV3-117

Klimov TV3-117

|-See also:-References:* Taylor, Michael J. H. Brassey's World Aircraft & Systems Directory 1999/2000. London:Brassey's, 1999. ISBN 1 85753 245 7.-External links:*...


VMA-SB2
560
1864
Antonov An-140

Antonov An-140

|-Accidents and Incidents:The An-140 has suffered five major accidents. Two of them had no fatalities, and three had all on board killed.#In December 2002 an aircraft carrying many of Ukraine's top aviation designers and engineers crashed into a mountainside as it was preparing to land in...



Klimov

Klimov

The Kirill Klimov Experimental Design Bureau under the direction of Vladimir Yakovlevich Klimov designed engines for Soviet aircraft. The OKB was formed in the early 1930s to produce and improve upon the liquid-cooled Hispano-Suiza 12Y V-12 piston engine for which the USSR had acquired a license...



TV7-117

Klimov TV7-117

|-See also:-External links:* * *...


S
520
1839
Ilyushin Il-112, Ilyushin Il-114

Ilyushin Il-114

-External links:* * * * * * 2 accidents....



Klimov

Klimov

The Kirill Klimov Experimental Design Bureau under the direction of Vladimir Yakovlevich Klimov designed engines for Soviet aircraft. The OKB was formed in the early 1930s to produce and improve upon the liquid-cooled Hispano-Suiza 12Y V-12 piston engine for which the USSR had acquired a license...



TV7-117

Klimov TV7-117

|-See also:-External links:* * *...


S Series 2
430
2610
LHTEC

LHTEC

LHTEC is a joint venture between Rolls-Royce and Honeywell. The company was originally a partnership between the Allison Engine Company and AlliedSignal Aerospace...



CTP800

LHTEC T800

-External links:* *...


-4T Twin
517
2013
Ayres LM200 Loadmaster

Ayres LM200 Loadmaster

-External links:* *...



OMKB

Omsk Engine Design Bureau

The Omsk Engine Design Bureau was an aeroengine design bureau. It was originally situated in Moscow in the Soviet Union, but was evacuated in 1941. Operations were moved to a "site of farm machinery". The Bureau returned to Moscow and became independent on 5 July 1947 and was renamed "OKB-20". ...



TVD-20
240
1081
Antonov An-3

Antonov An-3

|- See also :- References : - External links :*...


, Antonov An-38

Antonov An-38

|-See also:...



Pratt & Whitney Canada

Pratt & Whitney Canada

Pratt & Whitney Canada is a Canadian aircraft engine manufacturer. PWC's headquarters are in Longueuil, Quebec, just outside Montreal. It is a division of the larger US-based Pratt & Whitney , itself a business unit of United Technologies...



PT6

Pratt & Whitney Canada PT6

The Pratt & Whitney Canada PT6 is one of the most popular turboprop aircraft engines in history, and is produced by Pratt & Whitney Canada. The PT6 family is particularly well known for its extremely high reliability, with MTBO's on the order of 9000 hours in some models. In US military use, they...


A-27
149
507
Beechcraft Model 99

Beechcraft Model 99

|-See also:-External links:*...


, de Havilland Canada DHC-6 Twin Otter

De Havilland Canada DHC-6 Twin Otter

The DHC-6 Twin Otter is a Canadian 19-passenger STOL utility aircraft developed by de Havilland Canada and currently produced by Viking Air. The aircraft's fixed tricycle undercarriage, STOL abilities and high rate of climb have made it a successful cargo, regional passenger airliner and MEDEVAC...


, Harbin Y-12

Harbin Y-12

-See also:-Bibliography:* Taylor, John W R. . Jane's All the World's Aircraft 1988-89. Coulsdon, Surrey, UK: Jane's Information Group, 1988. ISBN 07106-0867-5....


, Embraer EMB 110 Bandeirante

Embraer EMB 110 Bandeirante

The Embraer EMB 110 Bandeirante is a general purpose 15-21 passenger twin-turboprop light transport aircraft suitable for military and civil duties...


, Let L-410 Turbolet, Pilatus PC-6 Turbo Porter
Pratt & Whitney Canada

Pratt & Whitney Canada

Pratt & Whitney Canada is a Canadian aircraft engine manufacturer. PWC's headquarters are in Longueuil, Quebec, just outside Montreal. It is a division of the larger US-based Pratt & Whitney , itself a business unit of United Technologies...



PT6

Pratt & Whitney Canada PT6

The Pratt & Whitney Canada PT6 is one of the most popular turboprop aircraft engines in history, and is produced by Pratt & Whitney Canada. The PT6 family is particularly well known for its extremely high reliability, with MTBO's on the order of 9000 hours in some models. In US military use, they...


A-41
183
634
Beechcraft Super King Air

Beechcraft Super King Air

The Beechcraft Super King Air family is part of a line of twin-turboprop aircraft produced by the Beech Aircraft Corporation . The King Air line comprises a number of model series that fall into two families: the Model 90 series, Model 100 series , Model 200 series and Model 300 series...


, Piper PA-42 Cheyenne
Pratt & Whitney Canada

Pratt & Whitney Canada

Pratt & Whitney Canada is a Canadian aircraft engine manufacturer. PWC's headquarters are in Longueuil, Quebec, just outside Montreal. It is a division of the larger US-based Pratt & Whitney , itself a business unit of United Technologies...



PT6

Pratt & Whitney Canada PT6

The Pratt & Whitney Canada PT6 is one of the most popular turboprop aircraft engines in history, and is produced by Pratt & Whitney Canada. The PT6 family is particularly well known for its extremely high reliability, with MTBO's on the order of 9000 hours in some models. In US military use, they...


A-65R
218
1026
Shorts 360

Shorts 360

The Short 360 is a commuter aircraft built by Short Brothers. The Short 360 seats up to 36-39 passengers and was introduced into service in 1981. It is a larger version of the Short 330.-Development:...



Pratt & Whitney Canada

Pratt & Whitney Canada

Pratt & Whitney Canada is a Canadian aircraft engine manufacturer. PWC's headquarters are in Longueuil, Quebec, just outside Montreal. It is a division of the larger US-based Pratt & Whitney , itself a business unit of United Technologies...



PT6

Pratt & Whitney Canada PT6

The Pratt & Whitney Canada PT6 is one of the most popular turboprop aircraft engines in history, and is produced by Pratt & Whitney Canada. The PT6 family is particularly well known for its extremely high reliability, with MTBO's on the order of 9000 hours in some models. In US military use, they...


A-68
259.5
1193
Beechcraft T-6 Texan II
Pratt & Whitney Canada

Pratt & Whitney Canada

Pratt & Whitney Canada is a Canadian aircraft engine manufacturer. PWC's headquarters are in Longueuil, Quebec, just outside Montreal. It is a division of the larger US-based Pratt & Whitney , itself a business unit of United Technologies...



PW120

Pratt & Whitney Canada PW100

-External links:*...



418
1491
ATR 42

ATR 42

-Civil operators:The largest operators of the ATR-42 are FedEx Express, Airlinair, TRIP Linhas Aéreas,and Mexico City-based Aeromar respectively. Number of aircraft as of 2010:Some 70 other airlines operate smaller numbers of the type....


-300/320
Pratt & Whitney Canada

Pratt & Whitney Canada

Pratt & Whitney Canada is a Canadian aircraft engine manufacturer. PWC's headquarters are in Longueuil, Quebec, just outside Montreal. It is a division of the larger US-based Pratt & Whitney , itself a business unit of United Technologies...



PW121

Pratt & Whitney Canada PW100

-External links:*...



425
1603
ATR 42

ATR 42

-Civil operators:The largest operators of the ATR-42 are FedEx Express, Airlinair, TRIP Linhas Aéreas,and Mexico City-based Aeromar respectively. Number of aircraft as of 2010:Some 70 other airlines operate smaller numbers of the type....


-300/320, Bombardier Dash 8 Q100
Pratt & Whitney Canada

Pratt & Whitney Canada

Pratt & Whitney Canada is a Canadian aircraft engine manufacturer. PWC's headquarters are in Longueuil, Quebec, just outside Montreal. It is a division of the larger US-based Pratt & Whitney , itself a business unit of United Technologies...



PW123

Pratt & Whitney Canada PW100

-External links:*...


C/D
450
1603
Bombardier Dash 8 Q300
Pratt & Whitney Canada

Pratt & Whitney Canada

Pratt & Whitney Canada is a Canadian aircraft engine manufacturer. PWC's headquarters are in Longueuil, Quebec, just outside Montreal. It is a division of the larger US-based Pratt & Whitney , itself a business unit of United Technologies...



PW127

Pratt & Whitney Canada PW100

-External links:*...



481
2051
ATR 72

ATR 72

The ATR 72 is a twin-engine turboprop short-haul regional airliner built by the French-Italian aircraft manufacturer ATR. ATR and Airbus are both built in Toulouse, and share resources and technology...


-200
Pratt & Whitney Canada

Pratt & Whitney Canada

Pratt & Whitney Canada is a Canadian aircraft engine manufacturer. PWC's headquarters are in Longueuil, Quebec, just outside Montreal. It is a division of the larger US-based Pratt & Whitney , itself a business unit of United Technologies...



PW150

Pratt & Whitney Canada PW100

-External links:*...


A
690
3781
Bombardier Dash 8 Q400
Progress
AI20

Ivchenko AI-20

|-See also:-References:* Gunston, Bill. World Encyclopedia of Aero Engines. London:Guild Publishing, 1986.* Lambert, Mark. Jane's All The World's Aircraft 1993–94. Coulsdon, UK: Jane's Data Division, 1993. ISBN 0-7106-1066-1....


M
1040
2940
Antonov An-12

Antonov An-12

The Antonov An-12 is a four-engined turboprop transport aircraft designed in the Soviet Union. It is the military version of the Antonov An-10.-Design and development:...


, Antonov An-32

Antonov An-32

The Antonov An-32 is a twin-engined turboprop military transport aircraft.-Design and development:The An-32 is basically a re-engined An-26. The launch customer was the Indian Air Force, which ordered this aircraft partly due to good relations between then USSR leader Leonid Brezhnev and then...


, Ilyushin Il-18

Ilyushin Il-18

The Ilyushin Il-18 is a large turboprop airliner that became one of the best known Soviet aircraft of its era as well as one of the most popular and durable, having first flown in 1957 and still in use over 50 years later. The Il-18 was one of the world's principal airliners for several decades...



Progress
AI24T
600
1880
Antonov An-24

Antonov An-24

The Antonov An-24 is a 44-seat twin turboprop transport designed and manufactured in the Soviet Union by the Antonov Design Bureau from 1957.-Design and development:...


, Antonov An-26

Antonov An-26

The Antonov An-26 is a twin-engined turboprop military transport aircraft, designed and produced in the USSR from 12 March 1968.-Development:...


, Antonov An-30

Antonov An-30

The Antonov An-30 , is a development of the An-24 designed for aerial cartography.-Development:The first aerial survey version of the Antonov An-24 was designed by the Beriev OKB and designated An-24FK. The FK stood for fotokartograficheskiy . The prototype was converted from a production An-24A at...



PZL

PZL

PZL was the main Polish aerospace manufacturer of the interwar period, based in Warsaw, functioning in 1928-1939...



TWD-10B
230
254
PZL M28
RKBM

NPO Saturn

NPO Saturn is a Russian aircraft engine manufacturer, formed from the mergers of Rybinsk and Lyul'ka-Saturn . Saturn's engines power many former Eastern Bloc aircraft, such as the Tupolev Tu-154. Saturn holds a 50% stake in the PowerJet joint venture with Snecma...



TVD-1500S
240
1044
Sukhoi Su-80
Rolls-Royce

Rolls-Royce

Rolls-Royce is a British brand; it may refer to:*Rolls-Royce Limited, the original company founded in 1906, and split into Rolls-Royce plc and Rolls-Royce Motors in 1973*Rolls-Royce plc, the aerospace, power systems and defense company....



Dart

Rolls-Royce Dart

|-See also:-Bibliography:* Gunston, Bill. World Encyclopedia of Aero Engines. Cambridge, England. Patrick Stephens Limited, 1989. ISBN 1-85260-163-9-External links:*...


Mk 536
569
1700
Avro 748

Avro 748

The Hawker Siddeley HS 748 is a medium-sized turboprop airliner originally designed by the British firm Avro in the late 1950s as a replacement for the now-aged DC-3s then in widespread service as feederliners. Avro concentrated on performance, notably for STOL operations, and found a dedicated...


, Fokker F27

Fokker F27

The Fokker F27 Friendship is a turboprop airliner designed and built by the Dutch aircraft manufacturer Fokker.-Design and development:Design of the Fokker F27 started in the 1950s as a replacement to the successful Douglas DC-3 airliner...


, Vickers Viscount

Vickers Viscount

The Vickers Viscount was a British medium-range turboprop airliner first flown in 1948 by Vickers-Armstrongs, making it the first such aircraft to enter service in the world...



Rolls-Royce

Rolls-Royce

Rolls-Royce is a British brand; it may refer to:*Rolls-Royce Limited, the original company founded in 1906, and split into Rolls-Royce plc and Rolls-Royce Motors in 1973*Rolls-Royce plc, the aerospace, power systems and defense company....



Tyne

Rolls-Royce Tyne

|-See also:...


21
569
1700
Aeritalia G.222, Breguet Atlantic, Transall C-160

Transall C-160

|-See also:-References:* Taylor, John W. R. Jane's All The World's Aircraft 1982-83. London:Jane's Yearbooks, 1982. ISBN 0-7106-0748-2.-External links:*...



Rolls-Royce

Rolls-Royce

Rolls-Royce is a British brand; it may refer to:*Rolls-Royce Limited, the original company founded in 1906, and split into Rolls-Royce plc and Rolls-Royce Motors in 1973*Rolls-Royce plc, the aerospace, power systems and defense company....



250-B17
88.4
313
Fuji T-7

Fuji T-7

|-See also:-Bibliography:*Jackson, Paul. Jane's All The World's Aircraft 2003–2004. Coulsdon, UK: Jane's Information Group, 2003. ISBN 0-7106-2537-5.* Jeziorski, Andrzej. "". Flight International, 28 March – 3 April 2000, p.20....


, Britten-Norman Turbine Islander

Britten-Norman Islander

The Britten-Norman BN-2 Islander is a 1960s British light utility aircraft, regional airliner and cargo aircraft designed and originally manufactured by Britten-Norman of the United Kingdom. The Islander is one of the best-selling commercial aircraft types produced in Europe. Although designed in...


, O&N Cessna 210

Cessna 210

The Cessna 210 Centurion is a six-seat, high-performance, retractable-gear single-engine general aviation aircraft which was first flown in January 1957 and produced by Cessna until 1985.-Design and development:...


, Soloy Cessna 206, Propjet Bonanza

Beechcraft Bonanza

The Beechcraft Bonanza is an American general aviation aircraft introduced in 1947 by The Beech Aircraft Corporation of Wichita, Kansas. , it is still being produced by Hawker Beechcraft, and has been in continuous production longer than any other airplane in history...



Rolls-Royce

Rolls-Royce

Rolls-Royce is a British brand; it may refer to:*Rolls-Royce Limited, the original company founded in 1906, and split into Rolls-Royce plc and Rolls-Royce Motors in 1973*Rolls-Royce plc, the aerospace, power systems and defense company....



T56-15
828
3424
C-130 Hercules

C-130 Hercules

The Lockheed C-130 Hercules is a four-engine turboprop military transport aircraft designed and built originally by Lockheed, now Lockheed Martin. Capable of using unprepared runways for takeoffs and landings, the C-130 was originally designed as a troop, medical evacuation, and cargo transport...



Rolls-Royce

Rolls-Royce

Rolls-Royce is a British brand; it may refer to:*Rolls-Royce Limited, the original company founded in 1906, and split into Rolls-Royce plc and Rolls-Royce Motors in 1973*Rolls-Royce plc, the aerospace, power systems and defense company....



T56-27
880
3910
E-2 Hawkeye

E-2 Hawkeye

The Grumman E-2 Hawkeye is an American all-weather, aircraft carrier-capable tactical airborne early warning aircraft. This twin-turboprop aircraft was designed and developed during the late 1950s and early 1960s by the Grumman Aircraft Company for the United States Navy as a replacement for the...



Rolls-Royce

Rolls-Royce

Rolls-Royce is a British brand; it may refer to:*Rolls-Royce Limited, the original company founded in 1906, and split into Rolls-Royce plc and Rolls-Royce Motors in 1973*Rolls-Royce plc, the aerospace, power systems and defense company....



AE2100

Rolls-Royce AE 2100

|-See also:-External links:* * * *...


A
715.8
3095
Saab 2000

Saab 2000

|-See also:-References:* Lambert, Mark. Jane's All The World's Aircraft 1993–94. Coulsdon, UK:Jane's Data Division, 1993. ISBN 0 7106 1066 1....



Rolls-Royce

Rolls-Royce

Rolls-Royce is a British brand; it may refer to:*Rolls-Royce Limited, the original company founded in 1906, and split into Rolls-Royce plc and Rolls-Royce Motors in 1973*Rolls-Royce plc, the aerospace, power systems and defense company....



AE2100

Rolls-Royce AE 2100

|-See also:-External links:* * * *...


C
715.8
2685
Rolls-Royce

Rolls-Royce

Rolls-Royce is a British brand; it may refer to:*Rolls-Royce Limited, the original company founded in 1906, and split into Rolls-Royce plc and Rolls-Royce Motors in 1973*Rolls-Royce plc, the aerospace, power systems and defense company....



AE2100

Rolls-Royce AE 2100

|-See also:-External links:* * * *...


D2, D3
702
3424
Alenia C-27J Spartan

Alenia C-27J Spartan

The Alenia C-27J Spartan is a medium-sized military transport aircraft. The C-27J is an advanced derivative of Alenia Aeronautica's G.222 , with the engines and systems of the Lockheed Martin C-130J Super Hercules...


, Lockheed Martin C-130J Super Hercules
Rybinsk

NPO Saturn

NPO Saturn is a Russian aircraft engine manufacturer, formed from the mergers of Rybinsk and Lyul'ka-Saturn . Saturn's engines power many former Eastern Bloc aircraft, such as the Tupolev Tu-154. Saturn holds a 50% stake in the PowerJet joint venture with Snecma...



TVD-1500V
220
1156
Saturn

NPO Saturn

NPO Saturn is a Russian aircraft engine manufacturer, formed from the mergers of Rybinsk and Lyul'ka-Saturn . Saturn's engines power many former Eastern Bloc aircraft, such as the Tupolev Tu-154. Saturn holds a 50% stake in the PowerJet joint venture with Snecma...



TAL-34-1
178
809
Turbomeca

Turbomeca

Turbomeca is a French manufacturer of low- and medium-power gas turbine turboshaft engines for helicopters. The company also produces gas turbine engines for aircraft and missiles, as well as turbines for land, industrial and marine applications...



Arrius

Turbomeca Arrius

-External links:*...


1D
111
313
Socata TB 31 Omega
Turbomeca

Turbomeca

Turbomeca is a French manufacturer of low- and medium-power gas turbine turboshaft engines for helicopters. The company also produces gas turbine engines for aircraft and missiles, as well as turbines for land, industrial and marine applications...



Arrius

Turbomeca Arrius

-External links:*...


2F
103
376
Walter
M601E
200
560
Let L-410 Turbolet UVP-E
Walter
M601F
202
580
L420-UVP
Walter
M602A
570
1360
Let L-610

Let L-610

-External links:*...



Walter
M602B
480
1500
See also
External links
Jet Turbine Planes by LtCol Silsbee USAAF, Popular Science, December 1945, first article on turboprops printed
Wikibooks: Jet propulsion