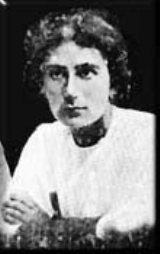 Rachel Bluwstein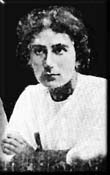 Sela
was a
Hebrew
Hebrew language
Hebrew is a Semitic language of the Afroasiatic language family. Culturally, is it considered by Jews and other religious groups as the language of the Jewish people, though other Jewish languages had originated among diaspora Jews, and the Hebrew language is also used by non-Jewish groups, such...
poet who immigrated to
Palestine
Palestine
Palestine is a conventional name, among others, used to describe the geographic region between the Mediterranean Sea and the Jordan River, and various adjoining lands....
in 1909. She is known by her first name,
Rachel,
or as
Rachel the poetess
.
Biography
Rachel was born in
Saratov
Saratov
-Modern Saratov:The Saratov region is highly industrialized, due in part to the rich in natural and industrial resources of the area. The region is also one of the more important and largest cultural and scientific centres in Russia...
in
Russia
Russia
Russia or , officially known as both Russia and the Russian Federation , is a country in northern Eurasia. It is a federal semi-presidential republic, comprising 83 federal subjects...
on September 20, 1890, the eleventh daughter of Isser-Leib and Sophia Bluwstein, and granddaughter of the
rabbi
Rabbi
In Judaism, a rabbi is a teacher of Torah. This title derives from the Hebrew word רבי , meaning "My Master" , which is the way a student would address a master of Torah...
of the Jewish community in
Kiev
Kiev
Kiev or Kyiv is the capital and the largest city of Ukraine, located in the north central part of the country on the Dnieper River. The population as of the 2001 census was 2,611,300. However, higher numbers have been cited in the press....
. During her childhood, her family moved to
Poltava
Poltava
Poltava is a city in located on the Vorskla River in central Ukraine. It is the administrative center of the Poltava Oblast , as well as the surrounding Poltava Raion of the oblast. Poltava's estimated population is 298,652 ....
,
Ukraine
Ukraine
Ukraine is a country in Eastern Europe. It has an area of 603,628 km², making it the second largest contiguous country on the European continent, after Russia...
, where she attended a Russian-speaking Jewish school and, later, a secular high school. She began writing poetry at the age of 15. When she was 17, she moved to Kiev and began studying painting.
At the age of 19, Rachel visited Eretz Israel with her sister en route to
Italy
Italy
Italy , officially the Italian Republic languages]] under the European Charter for Regional or Minority Languages. In each of these, Italy's official name is as follows:;;;;;;;;), is a unitary parliamentary republic in South-Central Europe. To the north it borders France, Switzerland, Austria and...
, where they were planning to study art and philosophy. They decided to stay on as Zionist pioneers, learning Hebrew by listening to children's chatter in kindergartens . They settled in
Rehovot
Rehovot
Rehovot is a city in the Center District of Israel, about south of Tel Aviv. According to the Israel Central Bureau of Statistics , at the end of 2009 the city had a total population of 112,700. Rehovot's official website estimates the population at 114,000.Rehovot was built on the site of Doron,...
and worked in the orchards. Later, Rachel moved to
Kvutzat Kinneret
on the shores of the
Sea of Galilee
Sea of Galilee
The Sea of Galilee, also Kinneret, Lake of Gennesaret, or Lake Tiberias , is the largest freshwater lake in Israel, and it is approximately in circumference, about long, and wide. The lake has a total area of , and a maximum depth of approximately 43 m...
, where she studied and worked in a women's agricultural school. At Kinneret, she met
Zionist
Zionism
Zionism is a Jewish political movement that, in its broadest sense, has supported the self-determination of the Jewish people in a sovereign Jewish national homeland. Since the establishment of the State of Israel, the Zionist movement continues primarily to advocate on behalf of the Jewish state...
leader
A. D. Gordon
A. D. Gordon
Aaron David Gordon , more commonly known as A. D. Gordon, was a Zionist ideologue and the spiritual force behind practical Zionism and Labor Zionism. He founded Hapoel Hatzair, a movement that set the tone for the Zionist movement for many years to come. Influenced by Leo Tolstoy and others, it is...
who was to be a great influence on her life, and to whom she dedicated her first Hebrew poem. During this time, she also met and had a romantic relationship with Zalman Rubshov - object of many of her love poems - who later became known as
Zalman Shazar
Zalman Shazar
Zalman Shazar was an Israeli politician, author. and poet. Shazar served as the third President of Israel from 1963 to 1973.-Biography:...
and was the third
president of Israel
President of Israel
The President of the State of Israel is the head of state of Israel. The position is largely an apolitical ceremonial figurehead role, with the real executive power lying in the hands of the Prime Minister. The current president is Shimon Peres who took office on 15 July 2007...
.
In 1913, on the advice of A. D. Gordon, she journeyed to
Toulouse
Toulouse
Toulouse is a city in the Haute-Garonne department in southwestern FranceIt lies on the banks of the River Garonne, 590 km away from Paris and half-way between the Atlantic Ocean and the Mediterranean Sea...
,
France
France
The French Republic , The French Republic , The French Republic , (commonly known as France , is a unitary semi-presidential republic in Western Europe with several overseas territories and islands located on other continents and in the Indian, Pacific, and Atlantic oceans. Metropolitan France...
to study
agronomy
Agronomy
Agronomy is the science and technology of producing and using plants for food, fuel, feed, fiber, and reclamation. Agronomy encompasses work in the areas of plant genetics, plant physiology, meteorology, and soil science. Agronomy is the application of a combination of sciences like biology,...
and
drawing
Drawing
Drawing is a form of visual art that makes use of any number of drawing instruments to mark a two-dimensional medium. Common instruments include graphite pencils, pen and ink, inked brushes, wax color pencils, crayons, charcoal, chalk, pastels, markers, styluses, and various metals .An artist who...
. When
World War I
World War I
World War I , which was predominantly called the World War or the Great War from its occurrence until 1939, and the First World War or World War I thereafter, was a major war centred in Europe that began on 28 July 1914 and lasted until 11 November 1918...
broke out, unable to return to Palestine, she returned instead to Russia where she taught Jewish refugee children. In Russia she suffered from poverty and strenuous labour, as well as the reappearance of her childhood lung disease. It may have been at this point in her life that she contracted
tuberculosis
Tuberculosis
Tuberculosis, MTB, or TB is a common, and in many cases lethal, infectious disease caused by various strains of mycobacteria, usually Mycobacterium tuberculosis. Tuberculosis usually attacks the lungs but can also affect other parts of the body...
. Lonely, ill and famished, she had only one hope left: to return to Palestine. And so in 1919, after the war, she boarded the first ship to leave Russia to Israel.
After the end of the war in 1919 she returned to Palestine on board the ship
Ruslan
and for a while joined the small agricultural
kibbutz
Kibbutz
A kibbutz is a collective community in Israel that was traditionally based on agriculture. Today, farming has been partly supplanted by other economic branches, including industrial plants and high-tech enterprises. Kibbutzim began as utopian communities, a combination of socialism and Zionism...
Degania
Degania
-Further reading:* Gavron, Daniel. The Kibbutz: Awakening from Utopia. Lanham, MD: Rowman & Littlefield, 2000.-External links:* *, from the Steven Spielberg Jewish Film Archive internet site...
, a settlement neighboring her previous home at Kinneret. However, shortly after her arrival she was diagnosed with tuberculosis, then an incurable disease. Now unable to work with children for fear of contagion, she was expelled from Degania and left to fend for herself. In 1925 she lived briefly in a small white house in the courtyard of No. 64
Street of the Prophets
Street of the Prophets
Street of the Prophets is an east-west axis road in Jerusalem beginning outside Damascus Gate and ending at Davidka Square. Located to the north of Jaffa Road, it bisects the neighborhood of Musrara....
in
Jerusalem
(courtyard of the
William Holman Hunt
William Holman Hunt
William Holman Hunt OM was an English painter, and one of the founders of the Pre-Raphaelite Brotherhood.-Biography:...
House). She spent the rest of her life traveling and living in
Tel Aviv
Tel Aviv
Tel Aviv , officially Tel Aviv-Yafo , is the second most populous city in Israel, with a population of 404,400 on a land area of . The city is located on the Israeli Mediterranean coastline in west-central Israel. It is the largest and most populous city in the metropolitan area of Gush Dan, with...
(scarcely making a living by providing private lessons in Hebrew and French) and finally settled in a
sanatorium
Sanatorium
A sanatorium is a medical facility for long-term illness, most typically associated with treatment of tuberculosis before antibiotics...
for tuberculosis patients in
Gedera
Gedera
-External links:** *...
.
Rachel died on April 16, 1931, at the age of 40. She is buried in the Kinneret cemetery in a grave overlooking the Sea of Galilee, following her wishes as expressed in her poem
If Fate Decrees
. Alongside her are buried many of the socialist ideologues and pioneers of the
second
Second Aliyah
The Second Aliyah was an important and highly influential aliyah that took place between 1904 and 1914, during which approximately 40,000 Jews immigrated into Ottoman Palestine, mostly from the Russian Empire, some from Yemen....
and
third
Third Aliyah
The third Aliyah refers to the third wave of the Jewish immigration to Israel from Europe who came inspired by Zionist motives between the years 1919 and 1923 . A symbol of the start of the third immigration wave is the arrival of the boat "Roselan" in the Jaffa Port on December 19, 1919...
waves of immigration. In recent years,
Naomi Shemer
Naomi Shemer
Naomi Shemer was a leading Israeli songwriter hailed as the "first lady of Israeli song and poetry."-Biography:Naomi Sapir was born on Kvutzat Kinneret, a kibbutz her parents had helped found, on the shores of the Sea of Galilee. In the 1950s she served in the Israeli Defense Force's Nahal...
was buried near Rachel, according to Shemer's wish.
Poetry
Rachel began writing in Russian as a youth, but the majority of her work was written in Hebrew. Most of her poems were written in the final six years of her life, usually on small notes to her friends. In 1920 her first poem, "
Mood
", was published in the Hebrew newspaper
Davar
Davar
Davar was a Hebrew-language daily newspaper published in the Mandate Palestine and Israel between 1925 and May 1996.-History:Davar was established by Moshe Beilinson and Berl Katznelson, with Katznelson as its first editor. The first edition was published on 1 June 1925 under the name Davar - Iton...
. Eventually the majority of her poems was published there on a weekly basis, and quickly became popular with the Jewish community in the Palestine and later, in the State of Israel.
Rachel is known for her lyrical style, briefness of her poems, and the revolutionary simplicity of her conversational tone.The majority of her poetry is set in the pastoral countryside of Eretz Israel. Many of her poems echo her feelings of longing and loss, a result of her inability to realize her aspirations in life. In several poems she mourns the fact that she will never have a child of her own. Lyrical, exceedingly musical and characterized by its simple language and deep feeling, her poetry deals with fate, her own difficult life, and death. Her love poems emphasize the feelings of loneliness, distance, and longing for the beloved. It also touches upon the hardships and laments of a pioneer reminiscing of times spent in labouring on the land. Her lighter poetry is ironic, often comic. Her writing was influenced by French
imagism
Imagism
Imagism was a movement in early 20th-century Anglo-American poetry that favored precision of imagery and clear, sharp language. The Imagists rejected the sentiment and discursiveness typical of much Romantic and Victorian poetry. This was in contrast to their contemporaries, the Georgian poets,...
, Biblical stories, and the literature of the Second Aliyah pioneers. Another major creative influence on Rachel's poetry was the Acmeists and their leader, the Russian poet
Anna Akhmatova
Anna Akhmatova
Anna Andreyevna Gorenko , better known by the pen name Anna Akhmatova , was a Russian and Soviet modernist poet, one of the most acclaimed writers in the Russian canon.Harrington p11...
. Rachel's style reflects the movement's strive for "clarity, accuracy, conciseness, and economy of language" in poetry.
In some poems Rachel expresses identification with biblical figures such as
Rachel
Rachel
Rachel , as described in the Hebrew Bible, is a prophet and the favorite wife of Jacob, one of the three Biblical Patriarchs, and mother of Joseph and Benjamin. She was the daughter of Laban and the younger sister of Leah, Jacob's first wife...
, her namesake matriarch, and
Michal
Michal
Michal was a daughter of Saul, king of Israel, who loved and became the wife of David, who later became king of Judah, and later still of the united Kingdom of Israel....
, wife of
David
David
David was the second king of the united Kingdom of Israel according to the Hebrew Bible and, according to the Gospels of Matthew and Luke, an ancestor of Jesus Christ through both Saint Joseph and Mary...
.
Rachel also wrote a one-act comic play
Mental Satisfaction
, which was performed but not published in her lifetime. This ironic vignette of pioneer life was recently rediscovered and published in a literary journal.
Acclaim
Rachel was the first Jewish woman poet in Palestine to receive recognition in a genre that was comprised solely of men. Anthologies of her poetry remain bestsellers to this day. Many of her poems were set to music, both during her lifetime and afterwards, and are widely sung by Israeli singers. Her poems are included in the mandatory curriculum in Israeli schools. A selection of her poetry was translated to English and published under the title
Flowers of Perhaps: Selected Poems of Rahel
, by the London publisher
Menard
Menard Press
The Menard Press is a small press publisher that started life as a magazine in 1969. Founded and run by Anthony Rudolf, the press specialises in literary texts and criticism, and writings on nuclear power, nuclear weapons and by survivors of Nazism. In 2007 it announced it would be publishing its...
.
In his foreword to the 1994 edition of
Flowers of Perhaps
, the acclaimed Israeli poet
Yehuda Amichai
Yehuda Amichai
Yehuda Amichai was an Israeli poet. Amichai is considered by many, both in Israel and internationally, as Israel's greatest modern poet. He was also one of the first to write in colloquial Hebrew....
stated: "What may be most remarkable about the poetry of Ra'hel, a superb lyric poet, is that it has remained fresh in its simplicity and inspiration for more than seventy years."
In 2011, Rachel was chosen as one of four great Israeli poets whose portraits would be on Israeli currency (the other three being
Leah Goldberg
Leah Goldberg
Leah Goldberg was a prolific Hebrew poet, author, playwright, literary translator, and comparative literary researcher. Her writings are considered classics of Israeli literature and remain very popular among Hebrew speaking Israelis.-Biography:...
,
Shaul Tchernichovsky
Shaul Tchernichovsky
Shaul Tchernichovsky , was a Russian-born Hebrew poet. He is considered one of the great Hebrew poets, identified with nature poetry, and as a poet greatly influenced by the culture of ancient Greece.- Life :...
, and
Nathan Alterman
Nathan Alterman
Nathan Alterman was an Israeli poet, playwright, journalist, and translator who – though never holding any elected office – was highly influential in Socialist Zionist politics, both before and after the establishment of the State of Israel.-Biography:...
).
External links