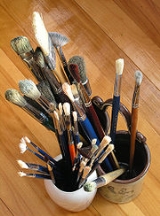 Brush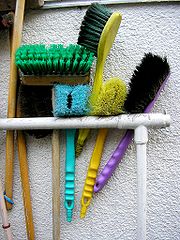 A brush is a tool with
bristle
Bristle
A bristle is a stiff hair or feather. Also used are synthetic materials such as nylon in items such as brooms and sweepers. Bristles are often used to make brushes for cleaning uses, as they are strongly abrasive; common examples include the toothbrush and toilet brush...
s, wire or other filaments, used for cleaning,
grooming
Personal grooming
Personal grooming is the art of cleaning, grooming, and maintaining parts of the body. It is a species-typical behavior that is controlled by neural circuits in the brain.- In humans :...
hair
Hair
Hair is a filamentous biomaterial, that grows from follicles found in the dermis. Found exclusively in mammals, hair is one of the defining characteristics of the mammalian class....
,
make up
Cosmetics
Cosmetics are substances used to enhance the appearance or odor of the human body. Cosmetics include skin-care creams, lotions, powders, perfumes, lipsticks, fingernail and toe nail polish, eye and facial makeup, towelettes, permanent waves, colored contact lenses, hair colors, hair sprays and...
,
painting
Painting
Painting is the practice of applying paint, pigment, color or other medium to a surface . The application of the medium is commonly applied to the base with a brush but other objects can be used. In art, the term painting describes both the act and the result of the action. However, painting is...
, surface finishing and for many other purposes. It is one of the most basic and versatile tools known to mankind, and the average household may contain several dozen varieties. It generally consists of a handle or block to which filaments are affixed either parallel- or perpendicular-wise, depending on the way the brush is to be gripped during use. The material of both the block and bristles or filaments is chosen to withstand hazards of its application, such as corrosive chemicals, heat or abrasion.
Manufacturing process of a Brush
A common way of setting the bristles, brush filaments, in the brush is the staple or anchor set brush in which the filament is forced with a staple by the middle into a hole with a special driver and held there by the pressure against all of the walls of the hole and the portions of the staple nailed to the bottom of the hole. The staple can be replaced with a kind of anchor, which is a piece of rectangular profile wire that is anchored to the wall of the hole, like in most toothbrushes. Another way to attach the bristles to the surface can be found in the fused brush, in which instead of being inserted into a hole, a plastic fibre is welded to another plastic surface, giving the option to use different diameters of bristles in the same brush.
Configurations include twisted-in wire (e.g. bottle brushes), cylinders and disks (with bristles spread in one face or radially).
For removal of material (cleaning & polishing)
The action of these brushes is mainly in the tip of each flexible bristle which dislodges particles of matter.
Toothbrush

Toothbrush

The toothbrush is an oral hygiene instrument used to clean the teeth and gums that consists of a head of tightly clustered bristles mounted on a handle, which facilitates the cleansing of hard-to-reach areas of the mouth. Toothpaste, which often contains fluoride, is commonly used in conjunction...



Floor brush (yard brush, hand brush)
Shoe-polish brush (buffer)
Curling

Curling

Curling is a sport in which players slide stones across a sheet of ice towards a target area. It is related to bowls, boule and shuffleboard. Two teams, each of four players, take turns sliding heavy, polished granite stones, also called "rocks", across the ice curling sheet towards the house, a...


brush (sport)
Nail brush
Milk-churn brush
Vacuum-cleaner brush
Archaeology brush
Lavatory brush
Clothes brush
Car-wash brush
Gun-barrel brush
Wire brush

Wire brush

A wire brush is a tool, consisting of a handle, usually wood or plastic, occasionally bone, and a brush. The brush is usually made from a large number of steel wire bristles. The steel used is generally a high carbon variety and very hard. Other wire brushes feature bristles made from brass or...



Typewriter

Typewriter

A typewriter is a mechanical or electromechanical device with keys that, when pressed, cause characters to be printed on a medium, usually paper. Typically one character is printed per keypress, and the machine prints the characters by making ink impressions of type elements similar to the pieces...


eraser brush
Dandy brush, for Horse grooming

Horse grooming

Horse grooming is hygienic care given to a horse, or a process by which the horse's physical appearance is enhanced for horse shows or other types of competition.-Reasons for grooming:...



Dishwashing brush
Beekeeper's brush
Bench-grinder brush
Rotary brush
Flue brush
Chimney brush

Chimney sweep

A chimney sweep is a worker who clears ash and soot from chimneys. The chimney uses the pressure difference caused by a hot column of gas to create a draught and draw air over the hot coals or wood enabling continued combustion. Chimneys may be straight or contain many changes of direction. During...



Bottle brush
Broom

Broom

A broom is a cleaning tool consisting of stiff fibers attached to, and roughly parallel to, a cylindrical handle, the broomstick. It is thus a variety of brush with a long handle. It is commonly used in combination with a dustpan....


(long-handled brush)
For application of material
The action of such brushes is mostly from the sides, not the tip, contact with which releases material held by
capillary action
Capillary action
Capillary action, or capilarity, is the ability of a liquid to flow against gravity where liquid spontanously rise in a narrow space such as between the hair of a paint-brush, in a thin tube, or in porous material such as paper or in some non-porous material such as liquified carbon fiber, or in a...
.
Paintbrush (house decoration)
Paintbrush (fine art)
Wall-paper brush
Shoe-polish brush (polish applicator)
Make-up brush
Mascara brush
Nail-polish brush
Finger-print forensic brush
Pastry brush

Pastry brush

A pastry brush, also known as a basting brush, is a cooking utensil used to spread oil or glaze on food. Traditional pastry brushes are made with natural bristles or a plastic or nylon fiber similar to a paint brush, while modern kitchen brushes may have silicone bristles...



Ink brush

Ink brush

Ink brushes are used in Chinese calligraphy. They are also used in Chinese painting and descendant brush painting styles. The ink brush was invented in China, believed to be around 300BCE...



Shaving brush
Gilding

Gilding

The term gilding covers a number of decorative techniques for applying fine gold leaf or powder to solid surfaces such as wood, stone, or metal to give a thin coating of gold. A gilded object is described as "gilt"...


brush
For combing filaments
The action of these brushes is more akin to
combing
Comb
A comb is a toothed device used in hair care for straightening and cleaning hair or other fibres. Combs are among the oldest tools found by archaeologists...
than brushing, that is they are used to straighten and untangle filaments. Certain varieties of hairbrush are however designed to brush the scalp itself free of material such as dead skin (
dandruff
Dandruff
Dandruff is the shedding of dead skin cells from the scalp . Dandruff is sometimes caused by frequent exposure to extreme heat and cold. As it is normal for skin cells to die and flake off, a small amount of flaking is normal and common; about 487,000 cells/cm2 get released normally after...
) and to invigorate the skin of the scalp.
Hair brush
Dog-grooming brush
Other
Electrical brush

Brush (electric)

A brush is a device which conducts current between stationary wires and moving parts, most commonly in a rotating shaft. Typical applications include electric motors, alternators and electric generators.-Etymology:...



Drum brush
Magnetic brush
Stippling

Stippling

Stippling is the creation of a pattern simulating varying degrees of solidity or shading by using small dots. Such a pattern may occur in nature and these effects are frequently emulated by artists.-Art:...


brush (neither applies or removes material, but merely adds pattern)
Medical sampling brush
Cleaning brushes
Brushes used for cleaning come in various sizes. They vary in size from a that of a toothbrush, to the standard household version accompanied by a dustpan, to 36" deck brushes. There are brushes for cleaning tiny cracks and crevices and brushes for cleaning enormous warehouse floors. Brushes perform a multitude of cleaning tasks. For example, brushes lightly dust the tiniest figurine, they help scrub stains out of clothing and shoes, they remove grime from tires, and they remove the dirt and debris found on floors with the help of a dust pan. Many kinds of specialty brushes are used for cleaning vegetables,
cleaning the toilet
Toilet brush
A toilet brush is a domestic implement designed for the cleaning of the lavatory pan. The modern plastic version was invented in 1932 by William C. Schopp of Huntington Park, California, USA and later patented in 1933 by The Addis Brush Company....
, washing glass, finishing tiles, and sanding doors.
Paintbrushes
Paintbrushes are used for applying
ink
Ink
Ink is a liquid or paste that contains pigments and/or dyes and is used to color a surface to produce an image, text, or design. Ink is used for drawing and/or writing with a pen, brush, or quill...
or
paint
Paint
Paint is any liquid, liquefiable, or mastic composition which after application to a substrate in a thin layer is converted to an opaque solid film. One may also consider the digital mimicry thereof...
. Paintbrushes are primary used by artists for
painted
Painting
Painting is the practice of applying paint, pigment, color or other medium to a surface . The application of the medium is commonly applied to the base with a brush but other objects can be used. In art, the term painting describes both the act and the result of the action. However, painting is...
pictures. A special kind of
drawing
Drawing
Drawing is a form of visual art that makes use of any number of drawing instruments to mark a two-dimensional medium. Common instruments include graphite pencils, pen and ink, inked brushes, wax color pencils, crayons, charcoal, chalk, pastels, markers, styluses, and various metals .An artist who...
is the so called
paintbrush-drawing
, drawings only done with paintbrushes instead of pencil or pen.
These brushes are usually made by clamping the bristles to a handle with a
ferrule
Ferrule
A ferrule is a name for types of metal objects, generally used for fastening, joining, or reinforcement...
.
Decorators' brushes
The sizes of brushes used for
painting and decorating
Decorator
Decorator can refer to:*a house painter and decorator*Interior decoration*Decorator pattern in object-oriented programming*Function decorators, in Python*The Decorator, a 1920 film starring Oliver Hardy...
are given in mm or inches, referring to the width of the head.
Common sizes are:
⅛ in, ¼ in, ⅜ in, ½ in, ⅝ in, ¾ in, ⅞ in, 1 in, 1¼ in, 1½ in, 2 in, 2½ in, 3 in, 3½ in, 4 in.
10 mm, 20 mm, bob 40 mm, 50 mm, 60 mm, 70 mm, 80 mm, 90 mm, 100 mm.
Bristles may be natural or synthetic. If the filaments are synthetic, they could be made of polyester, nylon or a blend of nylon and polyester.
Filaments can be hollow or solid and can be tapered or untapered. Brushes with tapered filaments give a smoother finish.
http://www.attamark.com/why2.php
Synthetic filaments last longer than natural bristles. Natural bristles are preferred for oil-based paints and varnishes, while synthetic brushes are better for water-based paints as the bristles do not expand when wetted.
http://www.attamark.com/tips.php
A decorator judges the quality of a brush based on several factors: filament retention, paint pickup, steadiness of paint release, brush marks, drag and precision painting. A chiseled brush permits the painter to cut into tighter corners and paint more precisely.
http://www.attamark.com/why2.php
Handles may be wood or plastic; ferrules are metal (usually
nickel
Nickel
Nickel is a chemical element with the chemical symbol Ni and atomic number 28. It is a silvery-white lustrous metal with a slight golden tinge. Nickel belongs to the transition metals and is hard and ductile...
-plated
steel
Steel
Steel is an alloy that consists mostly of iron and has a carbon content between 0.2% and 2.1% by weight, depending on the grade. Carbon is the most common alloying material for iron, but various other alloying elements are used, such as manganese, chromium, vanadium, and tungsten...
).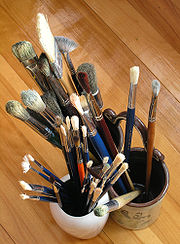 Artists' brushes
Short handled brushes are for watercolor or ink painting while the long handled brushes are for oil or acrylic paint.
Shapes
The styles of brush tip seen most commonly are:
Round: pointed tip, long closely arranged bristles for detail
Flat: for spreading paint quickly and evenly over a surface. They will have longer hairs than their Bright counterpart.
Bright: shorter than flats. Flat brushes with short stiff bristles, good for driving paint into the weave of a canvas in thinner paint applications, as well as thicker painting styles like impasto

Impasto

In English, the borrowed Italian word impasto most commonly refers to a technique used in painting, where paint is laid on an area of the surface very thickly, usually thickly enough that the brush or painting-knife strokes are visible. Paint can also be mixed right on the canvas...


work.
Filbert

Filbert paintbrush

The Filbert Paintbrush is one used in artwork. It has a thick ferrule and hairs that are, on average, medium to long hairs in the shape of an oval. Filberts are particularly effective in blending work, usually of a figurative nature...


: flat brushes with domed ends. They allow good coverage and the ability to perform some detail work.
Fan: for blending broad areas of paint.
Angle: like the filbert, these are versatile and can be applied in both general painting application as well as some detail work.
Mop: a larger format brush with a rounded edge for broad soft paint application as well as for getting thinner glazes over existing drying layers of paint without damaging lower layers.
Rigger: round brushes with longish hairs, traditionally used for painting the rigging in pictures of ships. They are useful for fine lines and are versatile for both oils and watercolors.
Stippler and deer-foot stippler: short, stubby rounds
Liner: elongated rounds
Dagger
Scripts: highly elongated rounds
Egbert

Some other styles of brush include:
Sumi

Ink and wash painting

Ink and wash painting is an East Asian type of brush painting also known as ink wash painting. Only black ink — the same as used in East Asian calligraphy — is used, in various concentrations....


: Similar in style to certain watercolor brushes,also with a generally thick wooden or bamboo handle and a broad soft hair brush that when wetted should form a fine tip. Also spelled Sumi-e.
Hake: An Asian style of brush with a large broad wooden handle and an extremely fine soft hair used in counterpoint to traditional Sumi brushes for covering large areas. Often made of goat hair.
Spotter: Round brushes with just a few short bristles. These brushes are commonly used in spotting photographic prints.
Stencil: A round brush with a flat top used on stencils to ensure the bristled don't get underneath. Also used to create texture.
Sizes
Artist
Artist
An artist is a person engaged in one or more of any of a broad spectrum of activities related to creating art, practicing the arts and/or demonstrating an art. The common usage in both everyday speech and academic discourse is a practitioner in the visual arts only...
s' brushes are usually given numbered sizes, although there is no exact standard for their physical dimensions.
From smallest to largest, the sizes are:
20/0, 10/0, 7/0 (also written 0000000), 6/0, 5/0, 4/0, 000, 00, 0, 1, 2, 3, 4, 5, 6, 7, 8, 9, 10, 11, 12, 13, 14, 16, 18, 20, 22, 24, 25, 26, 28, 30. Brushes as fine as 30/0 are manufactured by major companies, but are not a common size.
Sizes
000
to
20
are most common.
Bristles
Types include:
watercolor brushes which are usually made of sable

Sable

The sable is a species of marten which inhabits forest environments, primarily in Russia from the Ural Mountains throughout Siberia, in northern Mongolia and China and on Hokkaidō in Japan. Its range in the wild originally extended through European Russia to Poland and Scandinavia...


, synthetic sable or nylon

Nylon

Nylon is a generic designation for a family of synthetic polymers known generically as polyamides, first produced on February 28, 1935, by Wallace Carothers at DuPont's research facility at the DuPont Experimental Station...


;
oil paint

Oil paint

Oil paint is a type of slow-drying paint that consists of particles of pigment suspended in a drying oil, commonly linseed oil. The viscosity of the paint may be modified by the addition of a solvent such as turpentine or white spirit, and varnish may be added to increase the glossiness of the...


ing brushes which are usually made of sable or bristle;
acrylic

Acrylic paint

Acrylic paint is fast drying paint containing pigment suspension in acrylic polymer emulsion. Acrylic paints can be diluted with water, but become water-resistant when dry...


brushes which are almost entirely nylon or synthetic

Synthetic fiber

Synthetic fibers are the result of extensive research by scientists to improve on naturally occurring animal and plant fibers. In general, synthetic fibers are created by forcing, usually through extrusion, fiber forming materials through holes into the air, forming a thread...


.
Turpentine
Turpentine
Turpentine is a fluid obtained by the distillation of resin obtained from trees, mainly pine trees. It is composed of terpenes, mainly the monoterpenes alpha-pinene and beta-pinene...
or
thinner
Paint thinner
A paint thinner is a solvent used to thin oil-based paints or clean up after their use, although all such solvents have other uses. Commercially, "paint thinner" is usually a name for mineral spirits.Products used as paint thinners include:*Mineral spirits...
s used in oil painting can destroy some types of synthetic brushes. However, innovations in synthetic bristle technology have produced solvent resistant synthetic bristles suitable for use in all media. Natural hair, squirrel, badger or sable are used by watercolorists due to their superior ability to absorb and hold water.
Bristles may be natural — either soft hair or
hog
Domestic pig
The domestic pig is a domesticated animal that traces its ancestry to the wild boar, and is considered a subspecies of the wild boar or a distinct species in its own right. It is likely the wild boar was domesticated as early as 13,000 BC in the Tigris River basin...
bristle — or synthetic.
Soft hair brushes are made from Kolinsky sable or ox

Ox

An ox , also known as a bullock in Australia, New Zealand and India, is a bovine trained as a draft animal. Oxen are commonly castrated adult male cattle; castration makes the animals more tractable...


hair (sabeline); or more rarely, squirrel

Squirrel

Squirrels belong to a large family of small or medium-sized rodents called the Sciuridae. The family includes tree squirrels, ground squirrels, chipmunks, marmots , flying squirrels, and prairie dogs. Squirrels are indigenous to the Americas, Eurasia, and Africa and have been introduced to Australia...


, pony

Pony

A pony is a small horse . Depending on context, a pony may be a horse that is under an approximate or exact height at the withers, or a small horse with a specific conformation and temperament. There are many different breeds...


, goat

Goat

The domestic goat is a subspecies of goat domesticated from the wild goat of southwest Asia and Eastern Europe. The goat is a member of the Bovidae family and is closely related to the sheep as both are in the goat-antelope subfamily Caprinae. There are over three hundred distinct breeds of...


, mongoose

Mongoose

Mongoose are a family of 33 living species of small carnivorans from southern Eurasia and mainland Africa. Four additional species from Madagascar in the subfamily Galidiinae, which were previously classified in this family, are also referred to as "mongooses" or "mongoose-like"...


or badger

Badger

Badgers are short-legged omnivores in the weasel family, Mustelidae. There are nine species of badger, in three subfamilies : Melinae , Mellivorinae , and Taxideinae...


. Cheaper hair is sometimes called camel hair, although it does not come from camel

Camel

A camel is an even-toed ungulate within the genus Camelus, bearing distinctive fatty deposits known as humps on its back. There are two species of camels: the dromedary or Arabian camel has a single hump, and the bactrian has two humps. Dromedaries are native to the dry desert areas of West Asia,...


s.
Hog bristle (often called China bristle or Chungking bristle) is stiffer and stronger than soft hair. It may be bleached or unbleached.
Synthetic bristles are made of special multi-diameter extruded nylon

Nylon

Nylon is a generic designation for a family of synthetic polymers known generically as polyamides, first produced on February 28, 1935, by Wallace Carothers at DuPont's research facility at the DuPont Experimental Station...


filament, or Taklon

Taklon

Taklon is the common name for a synthetic fiber used in artist-quality paint, makeup and pin strip brushes. It is a smooth, soft, and somewhat fragile polyester derivative devoid of any protein component or allergen elements and is therefore used in the cosmetic industries as a "green", "vegan",...


, multi-diameter polyester

Polyester

Polyester is a category of polymers which contain the ester functional group in their main chain. Although there are many polyesters, the term "polyester" as a specific material most commonly refers to polyethylene terephthalate...


. and are becoming ever more popular with the development of new water based paints.
Handles
Artists' brush handles are commonly
wood
Wood
Wood is a hard, fibrous tissue found in many trees. It has been used for hundreds of thousands of years for both fuel and as a construction material. It is an organic material, a natural composite of cellulose fibers embedded in a matrix of lignin which resists compression...
en but can also be made of molded
plastic
Plastic
A plastic material is any of a wide range of synthetic or semi-synthetic organic solids used in the manufacture of industrial products. Plastics are typically polymers of high molecular mass, and may contain other substances to improve performance and/or reduce production costs...
. Many mass-produced handles are made of unfinished raw wood; better quality handles are of seasoned hardwood. The wood is sealed and
lacquer
Lacquer
In a general sense, lacquer is a somewhat imprecise term for a clear or coloured varnish that dries by solvent evaporation and often a curing process as well that produces a hard, durable finish, in any sheen level from ultra matte to high gloss and that can be further polished as required...
ed to give the handle a high-gloss, waterproof finish that reduces soiling and swelling.
Metal ferrules may be of aluminum,
nickel
Nickel
Nickel is a chemical element with the chemical symbol Ni and atomic number 28. It is a silvery-white lustrous metal with a slight golden tinge. Nickel belongs to the transition metals and is hard and ductile...
,
copper
Copper
Copper is a chemical element with the symbol Cu and atomic number 29. It is a ductile metal with very high thermal and electrical conductivity. Pure copper is soft and malleable; an exposed surface has a reddish-orange tarnish...
, or nickel-plated
steel
Steel
Steel is an alloy that consists mostly of iron and has a carbon content between 0.2% and 2.1% by weight, depending on the grade. Carbon is the most common alloying material for iron, but various other alloying elements are used, such as manganese, chromium, vanadium, and tungsten...
.
Quill
Quill
A quill pen is a writing implement made from a flight feather of a large bird. Quills were used for writing with ink before the invention of the dip pen, metal-nibbed pens, the fountain pen, and, eventually, the ballpoint pen...
ferrules are also found: these give a different "feel" to the brush.
External links