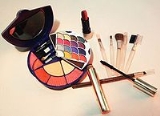 Cosmetics
Cosmetics
are substances used to enhance the
appearance
Human physical appearance
Human physical appearance refers to the outward phenotype or look of human beings. There are infinite variations in human phenotypes, though society reduces the variability to distinct categories...
or
odor
Odor
An odor or odour is caused by one or more volatilized chemical compounds, generally at a very low concentration, that humans or other animals perceive by the sense of olfaction. Odors are also commonly called scents, which can refer to both pleasant and unpleasant odors...
of the
human body
Human body
The human body is the entire structure of a human organism, and consists of a head, neck, torso, two arms and two legs.By the time the human reaches adulthood, the body consists of close to 100 trillion cells, the basic unit of life...
. Cosmetics include
skin
Human skin
The human skin is the outer covering of the body. In humans, it is the largest organ of the integumentary system. The skin has multiple layers of ectodermal tissue and guards the underlying muscles, bones, ligaments and internal organs. Human skin is similar to that of most other mammals,...
-care
creams
Cream (pharmaceutical)
A cream is a topical preparation usually for application to the skin. Creams for application to mucus membranes such as those of the rectum or vagina are also used. Creams may be considered pharmaceutical products as even cosmetic creams are based on techniques developed by pharmacy and...
,
lotion
Lotion
A lotion is a low- to medium-viscosity, topical preparation intended for application to unbroken skin. By contrast, creams and gels have higher viscosity.Lotions are usually applied to external skin with bare hands, a clean cloth, cotton wool or gauze...
s,
powders
Powder (substance)
A powder is a dry,thick bulk solid composed of a large number of very fine particles that may flow freely when shaken or tilted. Powders are a special sub-class of granular materials, although the terms powder and granular are sometimes used to distinguish separate classes of material...
,
perfume
Perfume
Perfume is a mixture of fragrant essential oils and/or aroma compounds, fixatives, and solvents used to give the human body, animals, objects, and living spaces "a pleasant scent"...
s,
lipstick
Lipstick
Lipstick is a cosmetic product containing pigments, oils, waxes, and emollients that applies color, texture, and protection to the lips. Many varieties of lipstick are known. As with most other types of makeup, lipstick is typically, but not exclusively, worn by women...
s, fingernail and toe
nail polish
Nail polish
Nail polish, or nail varnish, is a lacquer applied to human fingernails or toenails to decorate and/or protect the nail plate.-History:...
,
eye
Human eye
The human eye is an organ which reacts to light for several purposes. As a conscious sense organ, the eye allows vision. Rod and cone cells in the retina allow conscious light perception and vision including color differentiation and the perception of depth...
and facial makeup,
towelettes
Wet wipe
A wet wipe, also known as a wet nap, wet towel, or a moist towelette, is a small moistened piece of paper or cloth that often comes folded and individually wrapped for convenience...
, permanent waves, colored contact lenses,
hair
Hair
Hair is a filamentous biomaterial, that grows from follicles found in the dermis. Found exclusively in mammals, hair is one of the defining characteristics of the mammalian class....
colors,
hair spray
Hair spray
Hair spray is a common cosmetic product that is sprayed onto hair to keep it stiff or in a certain style...
s and gels, deodorants, hand sanitizer, baby products, bath oils,
bubble bath
Bubble bath
The term bubble bath can be used to describe aerated or carbonated baths, or to describe bathing with a layer of surfactant foam on the surface of the water and consequently also the surfactant product used to produce the foam....
s,
bath salts
Bath salts
The term bath salts refers to a range of water-soluble, usually inorganic solid products designed to be added to a bath. They are said to improve cleaning, improve the experience of bathing, and serve as a vehicle for cosmetic agents...
,
butter
Butter
Butter is a dairy product made by churning fresh or fermented cream or milk. It is generally used as a spread and a condiment, as well as in cooking applications, such as baking, sauce making, and pan frying...
s and many other types of products. A subset of cosmetics is called "make-up," which refers primarily to colored products intended to alter the user's appearance.