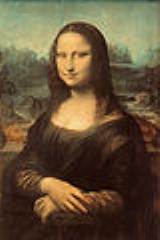 Painting
Painting
is the practice of applying
paint
Paint
Paint is any liquid, liquefiable, or mastic composition which after application to a substrate in a thin layer is converted to an opaque solid film. One may also consider the digital mimicry thereof...
,
pigment
Pigment
A pigment is a material that changes the color of reflected or transmitted light as the result of wavelength-selective absorption. This physical process differs from fluorescence, phosphorescence, and other forms of luminescence, in which a material emits light.Many materials selectively absorb...
,
color
Color
Color or colour is the visual perceptual property corresponding in humans to the categories called red, green, blue and others. Color derives from the spectrum of light interacting in the eye with the spectral sensitivities of the light receptors...
or other medium to a
surface
Surface
In mathematics, specifically in topology, a surface is a two-dimensional topological manifold. The most familiar examples are those that arise as the boundaries of solid objects in ordinary three-dimensional Euclidean space R3 — for example, the surface of a ball...
(support base). The application of the medium is commonly applied to the base with a
brush
Brush
A brush is a tool with bristles, wire or other filaments, used for cleaning, grooming hair, make up, painting, surface finishing and for many other purposes. It is one of the most basic and versatile tools known to mankind, and the average household may contain several dozen varieties...
but other objects can be used. In
art
Art
Art is the product or process of deliberately arranging items in a way that influences and affects one or more of the senses, emotions, and intellect....
, the term painting describes both the act and the result of the action. However, painting is also used outside of art as a common trade among craftsmen and builders. Paintings may have for their support such surfaces as
wall
Wall
A wall is a usually solid structure that defines and sometimes protects an area. Most commonly, a wall delineates a building and supports its superstructure, separates space in buildings into rooms, or protects or delineates a space in the open air...
s,
paper
Paper
Paper is a thin material mainly used for writing upon, printing upon, drawing or for packaging. It is produced by pressing together moist fibers, typically cellulose pulp derived from wood, rags or grasses, and drying them into flexible sheets....
,
canvas
Canvas
Canvas is an extremely heavy-duty plain-woven fabric used for making sails, tents, marquees, backpacks, and other items for which sturdiness is required. It is also popularly used by artists as a painting surface, typically stretched across a wooden frame...
,
wood
Wood
Wood is a hard, fibrous tissue found in many trees. It has been used for hundreds of thousands of years for both fuel and as a construction material. It is an organic material, a natural composite of cellulose fibers embedded in a matrix of lignin which resists compression...
,
glass
Glass
Glass is an amorphous solid material. Glasses are typically brittle and optically transparent.The most familiar type of glass, used for centuries in windows and drinking vessels, is soda-lime glass, composed of about 75% silica plus Na2O, CaO, and several minor additives...
,
lacquer
Lacquer
In a general sense, lacquer is a somewhat imprecise term for a clear or coloured varnish that dries by solvent evaporation and often a curing process as well that produces a hard, durable finish, in any sheen level from ultra matte to high gloss and that can be further polished as required...
,
clay
Clay
Clay is a general term including many combinations of one or more clay minerals with traces of metal oxides and organic matter. Geologic clay deposits are mostly composed of phyllosilicate minerals containing variable amounts of water trapped in the mineral structure.- Formation :Clay minerals...
,
copper
Copper
Copper is a chemical element with the symbol Cu and atomic number 29. It is a ductile metal with very high thermal and electrical conductivity. Pure copper is soft and malleable; an exposed surface has a reddish-orange tarnish...
or concrete, and may incorporate multiple other materials including sand, clay, paper, gold leaf as well as objects.
Painting is a mode of expression and the forms are numerous.