 Artist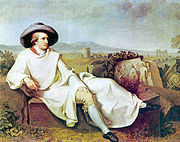 An
artist
is a person engaged in one or more of any of a broad spectrum of activities related to creating
art
Art
Art is the product or process of deliberately arranging items in a way that influences and affects one or more of the senses, emotions, and intellect....
, practicing the
arts
ARts
aRts, which stands for analog Real time synthesizer, is an audio framework that is no longer under development. It is best known for previously being used in KDE to simulate an analog synthesizer....
and/or demonstrating an art. The common usage in both everyday
speech
Speech
Speech is the human faculty of speaking.It may also refer to:* Public speaking, the process of speaking to a group of people* Manner of articulation, how the body parts involved in making speech are manipulated...
and academic
discourse
Discourse
Discourse generally refers to "written or spoken communication". The following are three more specific definitions:...
is a practitioner in the visual arts only. The term is often used in the
entertainment
Entertainment
Entertainment consists of any activity which provides a diversion or permits people to amuse themselves in their leisure time. Entertainment is generally passive, such as watching opera or a movie. Active forms of amusement, such as sports, are more often considered to be recreation...
business, especially in a business context, for musicians and other performers (less often for
actor
Actor
An actor is a person who acts in a dramatic production and who works in film, television, theatre, or radio in that capacity...
s). "Artiste" (the French for artist) is a variant used in English only in this context. Use of the term to describe writers, for example, is certainly valid, but less common, and mostly restricted to contexts like
criticism
Criticism
Criticism is the judgement of the merits and faults of the work or actions of an individual or group by another . To criticize does not necessarily imply to find fault, but the word is often taken to mean the simple expression of an objection against prejudice, or a disapproval.Another meaning of...
.
Dictionary definitions
Wiktionary defines the noun 'artist' (Singular: artist; Plural: artists) as follows:
A person who creates art.
A person who creates art as an occupation.
A person who is skilled at some activity.
The
Oxford English Dictionary
Oxford English Dictionary
The Oxford English Dictionary , published by the Oxford University Press, is the self-styled premier dictionary of the English language. Two fully bound print editions of the OED have been published under its current name, in 1928 and 1989. The first edition was published in twelve volumes , and...
defines the older broad meanings of the term "artist":
A learned person or Master of Arts
One who pursues a practical science, traditionally medicine, astrology, alchemy, chemistry
A follower of a pursuit in which skill comes by study or practice
A follower of a manual art, such as a mechanic
One who makes their craft

Craft

A craft is a branch of a profession that requires some particular kind of skilled work. In historical sense, particularly as pertinent to the Medieval history and earlier, the term is usually applied towards people occupied in small-scale production of goods.-Development from the past until...


a fine art
One who cultivates one of the fine arts – traditionally the arts presided over by the muses
A definition of Artist from Princeton.edu: creative person (a person whose creative work shows sensitivity and imagination).
History of the term
Although the Greek word "techně" is often mistranslated as "art," it actually implies mastery of any sort of craft. The Latin-derived form of the word is "tecnicus", from which the English words technique,
technology
Technology
Technology is the making, usage, and knowledge of tools, machines, techniques, crafts, systems or methods of organization in order to solve a problem or perform a specific function. It can also refer to the collection of such tools, machinery, and procedures. The word technology comes ;...
, technical are derived.
In Greek culture each of the nine
Muse
Muse
The Muses in Greek mythology, poetry, and literature, are the goddesses who inspire the creation of literature and the arts. They were considered the source of the knowledge, related orally for centuries in the ancient culture, that was contained in poetic lyrics and myths...
s oversaw a different field of human creation:
No muse was identified with the visual arts of painting and sculpture. In ancient Greece sculptors and painters were held in low regard, somewhere between freemen and slaves, their work regarded as mere manual labour.
The word art is derived from the Latin "ars", which, although literally defined means, "
skill
Skill
A skill is the learned capacity to carry out pre-determined results often with the minimum outlay of time, energy, or both. Skills can often be divided into domain-general and domain-specific skills...
method" or "technique", holds a connotation of
beauty
Beauty
Beauty is a characteristic of a person, animal, place, object, or idea that provides a perceptual experience of pleasure, meaning, or satisfaction. Beauty is studied as part of aesthetics, sociology, social psychology, and culture...
.
During the Middle Ages the word
artist
already existed in some countries such as
Italy
Italy
Italy , officially the Italian Republic languages]] under the European Charter for Regional or Minority Languages. In each of these, Italy's official name is as follows:;;;;;;;;), is a unitary parliamentary republic in South-Central Europe. To the north it borders France, Switzerland, Austria and...
, but the meaning was something resembling
craftsman
, while the word
artesan
was still unknown. An artist was someone able to do a work better than others, so the skilled excellency was underlined, rather than the activity field. In this period some "artisanal" products (such as textiles) were much more precious and expensive than paintings or sculptures.
The first division into major and minor arts dates back to Leon Battista Alberti's works (
De re aedificatoria

De Re Aedificatoria

De re aedificatoria is a classic architectural treatise written by Leon Battista Alberti between 1443 and 1452. Although largely dependent on Vitruvius' De architectura, it was the first theoretical book on the subject written in the Italian Renaissance and in 1485 became the first printed book on...


, De statua, De pictura
), focusing the importance of intellectual skills of the artist rather than the manual skills (even if in other forms of art there was a
project
Project
A project in business and science is typically defined as a collaborative enterprise, frequently involving research or design, that is carefully planned to achieve a particular aim. Projects can be further defined as temporary rather than permanent social systems that are constituted by teams...
behind).
With the
Academies
Academy
An academy is an institution of higher learning, research, or honorary membership.The name traces back to Plato's school of philosophy, founded approximately 385 BC at Akademia, a sanctuary of Athena, the goddess of wisdom and skill, north of Athens, Greece. In the western world academia is the...
in Europe (second half of 16th century) the gap between fine and applied arts was definitely set.
Many contemporary definitions of "artist" and "art" are highly contingent on
culture
Culture
Culture is a term that has many different inter-related meanings. For example, in 1952, Alfred Kroeber and Clyde Kluckhohn compiled a list of 164 definitions of "culture" in Culture: A Critical Review of Concepts and Definitions...
, resisting aesthetic prescription, in much the same way that the features constituting beauty and the beautiful, cannot be standardized easily without corruption into
kitsch
Kitsch
Kitsch is a form of art that is considered an inferior, tasteless copy of an extant style of art or a worthless imitation of art of recognized value. The concept is associated with the deliberate use of elements that may be thought of as cultural icons while making cheap mass-produced objects that...
.
The present day concept of an 'artist'
Artist
is a descriptive term applied to a person who engages in an activity deemed to be an art. An artist also may be defined unofficially as "a person who expresses him- or herself through a medium". The word is also used in a qualitative sense of, a person
creative
Creativity
Creativity refers to the phenomenon whereby a person creates something new that has some kind of value. What counts as "new" may be in reference to the individual creator, or to the society or domain within which the novelty occurs...
in,
innovative
Innovation
Innovation is the creation of better or more effective products, processes, technologies, or ideas that are accepted by markets, governments, and society...
in, or adept at, an artistic practice.
Most often, the term describes those who create within a context of the fine arts or '
high culture
High culture
High culture is a term, now used in a number of different ways in academic discourse, whose most common meaning is the set of cultural products, mainly in the arts, held in the highest esteem by a culture...
', activities such as
drawing
Drawing
Drawing is a form of visual art that makes use of any number of drawing instruments to mark a two-dimensional medium. Common instruments include graphite pencils, pen and ink, inked brushes, wax color pencils, crayons, charcoal, chalk, pastels, markers, styluses, and various metals .An artist who...
,
painting
Painting
Painting is the practice of applying paint, pigment, color or other medium to a surface . The application of the medium is commonly applied to the base with a brush but other objects can be used. In art, the term painting describes both the act and the result of the action. However, painting is...
,
sculpture
Sculpture
Sculpture is three-dimensional artwork created by shaping or combining hard materials—typically stone such as marble—or metal, glass, or wood. Softer materials can also be used, such as clay, textiles, plastics, polymers and softer metals...
,
acting
Acting
Acting is the work of an actor or actress, which is a person in theatre, television, film, or any other storytelling medium who tells the story by portraying a character and, usually, speaking or singing the written text or play....
, dancing,
writing
Writing
Writing is the representation of language in a textual medium through the use of a set of signs or symbols . It is distinguished from illustration, such as cave drawing and painting, and non-symbolic preservation of language via non-textual media, such as magnetic tape audio.Writing most likely...
,
filmmaking
Filmmaking
Filmmaking is the process of making a film, from an initial story, idea, or commission, through scriptwriting, casting, shooting, directing, editing, and screening the finished product before an audience that may result in a theatrical release or television program...
,
photography
Photography
Photography is the art, science and practice of creating durable images by recording light or other electromagnetic radiation, either electronically by means of an image sensor or chemically by means of a light-sensitive material such as photographic film...
, and
music
Music
Music is an art form whose medium is sound and silence. Its common elements are pitch , rhythm , dynamics, and the sonic qualities of timbre and texture...
—people who use imagination, talent, or skill to create works that may be judged to have an aesthetic value.
Art historians
Art history
Art history has historically been understood as the academic study of objects of art in their historical development and stylistic contexts, i.e. genre, design, format, and style...
and
critics
Art critic
An art critic is a person who specializes in evaluating art. Their written critiques, or reviews, are published in newspapers, magazines, books and on web sites...
define artists as those who produce art within a recognized or recognizable discipline. Contrasting terms for highly-skilled workers in media in the applied arts or decorative arts include
artisan
Artisan
An artisan is a skilled manual worker who makes items that may be functional or strictly decorative, including furniture, clothing, jewellery, household items, and tools...
,
craftsman
Master craftsman
A master craftsman or master tradesman was a member of a guild. In the European guild system, only masters were allowed to be members of the guild....
, and specialized terms such as
potter
Pottery
Pottery is the material from which the potteryware is made, of which major types include earthenware, stoneware and porcelain. The place where such wares are made is also called a pottery . Pottery also refers to the art or craft of the potter or the manufacture of pottery...
,
goldsmith
Goldsmith
A goldsmith is a metalworker who specializes in working with gold and other precious metals. Since ancient times the techniques of a goldsmith have evolved very little in order to produce items of jewelry of quality standards. In modern times actual goldsmiths are rare...
or glassblower. Fine arts artists such as painters succeeded in the
Renaissance
Renaissance
The Renaissance was a cultural movement that spanned roughly the 14th to the 17th century, beginning in Italy in the Late Middle Ages and later spreading to the rest of Europe. The term is also used more loosely to refer to the historical era, but since the changes of the Renaissance were not...
in raising their status, formerly similar to these workers, to a decisively higher level, but in the 20th century the distinction became rather less relevant .
The term may be also used loosely or metaphorically to denote highly skilled people in any non-"art" activities, as well— law, medicine, mechanics, or mathematics, for example.
Often, discussions on the subject focus on the differences among "artist" and "
technician
Technician
A technician is a worker in a field of technology who is proficient in the relevant skills and techniques, with a relatively practical understanding of the theoretical principles. Experienced technicians in a specific tool domain typically have intermediate understanding of theory and expert...
", "entertainer" and "
artisan
Artisan
An artisan is a skilled manual worker who makes items that may be functional or strictly decorative, including furniture, clothing, jewellery, household items, and tools...
", "fine art" and "
applied art
Applied art
Applied art is the application of design and aesthetics to objects of function and everyday use. Whereas fine arts serve as intellectual stimulation to the viewer or academic sensibilities, the applied arts incorporate design and creative ideals to objects of utility, such as a cup, magazine or...
", or what constitutes art and what does not. The
French
French language
French is a Romance language spoken as a first language in France, the Romandy region in Switzerland, Wallonia and Brussels in Belgium, Monaco, the regions of Quebec and Acadia in Canada, and by various communities elsewhere. Second-language speakers of French are distributed throughout many parts...
word
artiste
(which in French, simply means "artist") has been imported into the
English language
English language
English is a West Germanic language that arose in the Anglo-Saxon kingdoms of England and spread into what was to become south-east Scotland under the influence of the Anglian medieval kingdom of Northumbria...
where it means a performer (frequently in
Music Hall
Music hall
Music Hall is a type of British theatrical entertainment which was popular between 1850 and 1960. The term can refer to:# A particular form of variety entertainment involving a mixture of popular song, comedy and speciality acts...
or
Vaudeville
Vaudeville
Vaudeville was a theatrical genre of variety entertainment in the United States and Canada from the early 1880s until the early 1930s. Each performance was made up of a series of separate, unrelated acts grouped together on a common bill...
). Use of the word "artiste" can also be a pejorative term.
The English word 'artiste' has thus, a narrower range of meaning than the word 'artiste' in French.
Examples of art and artists
Abstract Art

Abstract art

Abstract art uses a visual language of form, color and line to create a composition which may exist with a degree of independence from visual references in the world. Western art had been, from the Renaissance up to the middle of the 19th century, underpinned by the logic of perspective and an...


: Wassily Kandinsky

Wassily Kandinsky

Wassily Wassilyevich Kandinsky was an influential Russian painter and art theorist. He is credited with painting the first purely-abstract works. Born in Moscow, Kandinsky spent his childhood in Odessa. He enrolled at the University of Moscow, studying law and economics...



Abstract expressionism

Abstract expressionism

Abstract expressionism was an American post–World War II art movement. It was the first specifically American movement to achieve worldwide influence and put New York City at the center of the western art world, a role formerly filled by Paris...


: Jackson Pollock

Jackson Pollock

Paul Jackson Pollock , known as Jackson Pollock, was an influential American painter and a major figure in the abstract expressionist movement. During his lifetime, Pollock enjoyed considerable fame and notoriety. He was regarded as a mostly reclusive artist. He had a volatile personality, and...



Action painting

Action painting

Action painting sometimes called "gestural abstraction", is a style of painting in which paint is spontaneously dribbled, splashed or smeared onto the canvas, rather than being carefully applied...


: Willem de Kooning

Willem de Kooning

Willem de Kooning was a Dutch American abstract expressionist artist who was born in Rotterdam, the Netherlands....



Actor

Actor

An actor is a person who acts in a dramatic production and who works in film, television, theatre, or radio in that capacity...


: Marlon Brando

Marlon Brando

Marlon Brando, Jr. was an American movie star and political activist. "Unchallenged as the most important actor in modern American Cinema" according to the St...



Actress: Greta Garbo

Greta Garbo

Greta Garbo , born Greta Lovisa Gustafsson, was a Swedish film actress. Garbo was an international star and icon during Hollywood's silent and classic periods. Many of Garbo's films were sensational hits, and all but three were profitable...



Animation

Animation

Animation is the rapid display of a sequence of images of 2-D or 3-D artwork or model positions in order to create an illusion of movement. The effect is an optical illusion of motion due to the phenomenon of persistence of vision, and can be created and demonstrated in several ways...


: Chuck Jones

Chuck Jones

Charles Martin "Chuck" Jones was an American animator, cartoon artist, screenwriter, producer, and director of animated films, most memorably of Looney Tunes and Merrie Melodies shorts for the Warner Bros. Cartoons studio...



Appropriation art

Appropriation (art)

Appropriation is a fundamental aspect in the history of the arts . Appropriation can be understood as "the use of borrowed elements in the creation of a new work."...


: Marcel Duchamp

Marcel Duchamp

Marcel Duchamp was a French artist whose work is most often associated with the Dadaist and Surrealist movements. Considered by some to be one of the most important artists of the 20th century, Duchamp's output influenced the development of post-World War I Western art...



Architect

Architect

An architect is a person trained in the planning, design and oversight of the construction of buildings. To practice architecture means to offer or render services in connection with the design and construction of a building, or group of buildings and the space within the site surrounding the...


: I.M. Pei
Art Deco

Art Deco

Art deco , or deco, is an eclectic artistic and design style that began in Paris in the 1920s and flourished internationally throughout the 1930s, into the World War II era. The style influenced all areas of design, including architecture and interior design, industrial design, fashion and...


: Erté
Art Nouveau

Art Nouveau

Art Nouveau is an international philosophy and style of art, architecture and applied art—especially the decorative arts—that were most popular during 1890–1910. The name "Art Nouveau" is French for "new art"...


: Louis Comfort Tiffany

Louis Comfort Tiffany

Louis Comfort Tiffany was an American artist and designer who worked in the decorative arts and is best known for his work in stained glass. He is the American artist most associated with the Art Nouveau and Aesthetic movements...



Assemblage

Assemblage

An assemblage is an archaeological term meaning a group of different artifacts found in association with one another, that is, in the same context...


: Joseph Cornell

Joseph Cornell

Joseph Cornell was an American artist and sculptor, one of the pioneers and most celebrated exponents of assemblage...



Ballet

Ballet

Ballet is a type of performance dance, that originated in the Italian Renaissance courts of the 15th century, and which was further developed in France and Russia as a concert dance form. The early portions preceded the invention of the proscenium stage and were presented in large chambers with...


: Margot Fonteyn

Margot Fonteyn

Dame Margot Fonteyn de Arias, DBE , was an English ballerina of the 20th century. She is widely regarded as one of the greatest classical ballet dancers of all time...



Baroque Art

Baroque art

Baroque painting is the painting associated with the Baroque cultural movement. The movement is often identified with Absolutism, the Counter Reformation and Catholic Revival, but the existence of important Baroque art and architecture in non-absolutist and Protestant states throughout Western...


: Caravaggio

Caravaggio

Michelangelo Merisi da Caravaggio was an Italian artist active in Rome, Naples, Malta, and Sicily between 1593 and 1610. His paintings, which combine a realistic observation of the human state, both physical and emotional, with a dramatic use of lighting, had a formative influence on the Baroque...



BioArt

BioArt

BioArt is an art practice where humans work with live tissues, bacteria, living organisms, and life processes. Using scientific processes such as biotechnology the artworks are produced in laboratories, galleries, or artists' studios...


: Hunter Cole
Calligraphy

Calligraphy

Calligraphy is a type of visual art. It is often called the art of fancy lettering . A contemporary definition of calligraphic practice is "the art of giving form to signs in an expressive, harmonious and skillful manner"...


: Rudolf Koch

Rudolf Koch

thumb|250px|[[Fraktur]] fonts by Rudolf KochRudolf Koch was a leading German calligrapher, typographic artist and teacher, born in Nuremberg. He was primarily a calligrapher with the Gebr. Klingspor foundry. He created several typefaces, in both fraktur and roman styles...



Cartoons: Carl Barks

Carl Barks

Carl Barks was an American Disney Studio illustrator and comic book creator, who invented Duckburg and many of its inhabitants, such as Scrooge McDuck , Gladstone Gander , the Beagle Boys , The Junior Woodchucks , Gyro Gearloose , Cornelius Coot , Flintheart Glomgold , John D...



Caricature

Caricature

A caricature is a portrait that exaggerates or distorts the essence of a person or thing to create an easily identifiable visual likeness. In literature, a caricature is a description of a person using exaggeration of some characteristics and oversimplification of others.Caricatures can be...


: Honoré Daumier

Honoré Daumier

Honoré Daumier was a French printmaker, caricaturist, painter, and sculptor, whose many works offer commentary on social and political life in France in the 19th century....



Ceramic art

Ceramic art

In art history, ceramics and ceramic art mean art objects such as figures, tiles, and tableware made from clay and other raw materials by the process of pottery. Some ceramic products are regarded as fine art, while others are regarded as decorative, industrial or applied art objects, or as...


: Peter Voulkos

Peter Voulkos

Peter Voulkos popular name of Panagiotis Voulkos, was an American artist of Greek descent. He is known for his Abstract Expressionist ceramic sculptures, which crossed the traditional divide between ceramic crafts and fine art....



Choreography

Choreography

Choreography is the art of designing sequences of movements in which motion, form, or both are specified. Choreography may also refer to the design itself, which is sometimes expressed by means of dance notation. The word choreography literally means "dance-writing" from the Greek words "χορεία" ...


: Martha Graham

Martha Graham

Martha Graham was an American modern dancer and choreographer whose influence on dance has been compared with the influence Picasso had on modern visual arts, Stravinsky had on music, or Frank Lloyd Wright had on architecture.She danced and choreographed for over seventy years...



Collage

Collage

A collage is a work of formal art, primarily in the visual arts, made from an assemblage of different forms, thus creating a new whole....


: Hannah Höch

Hannah Höch

Hannah Höch was a German Dada artist. She is best known for her work of the Weimar period, when she was one of the originators of photomontage.-Biography:...



Color Field

Color Field

Color Field painting is a style of abstract painting that emerged in New York City during the 1940s and 1950s. It was inspired by European modernism and closely related to Abstract Expressionism, while many of its notable early proponents were among the pioneering Abstract Expressionists...


: Mark Rothko

Mark Rothko

Mark Rothko, born Marcus Rothkowitz , was a Russian-born American painter. He is classified as an abstract expressionist, although he himself rejected this label, and even resisted classification as an "abstract painter".- Childhood :Mark Rothko was born in Dvinsk, Vitebsk Province, Russian...



Colorist

Colorist

In comics, a colorist is responsible for adding color to black-and-white line art. For most of the 20th century this was done using brushes and dyes which were then used as guides to produce the printing plates...


: Josef Albers

Josef Albers

Josef Albers was a German-born American artist and educator whose work, both in Europe and in the United States, formed the basis of some of the most influential and far-reaching art education programs of the 20th century....



Comics

Comics

Comics denotes a hybrid medium having verbal side of its vocabulary tightly tied to its visual side in order to convey narrative or information only, the latter in case of non-fiction comics, seeking synergy by using both visual and verbal side in...


: Will Eisner

Will Eisner

William Erwin "Will" Eisner was an American comics writer, artist and entrepreneur. He is considered one of the most important contributors to the development of the medium and is known for the cartooning studio he founded; for his highly influential series The Spirit; for his use of comics as an...



Composing: Giuseppe Verdi
Conceptual art

Conceptual art

Conceptual art is art in which the concept or idea involved in the work take precedence over traditional aesthetic and material concerns. Many of the works, sometimes called installations, of the artist Sol LeWitt may be constructed by anyone simply by following a set of written instructions...


: Sol LeWitt

Sol LeWitt

Solomon "Sol" LeWitt was an American artist linked to various movements, including Conceptual art and Minimalism....



Cubism

Cubism

Cubism was a 20th century avant-garde art movement, pioneered by Pablo Picasso and Georges Braque, that revolutionized European painting and sculpture, and inspired related movements in music, literature and architecture...


: Pablo Picasso

Pablo Picasso

Pablo Diego José Francisco de Paula Juan Nepomuceno María de los Remedios Cipriano de la Santísima Trinidad Ruiz y Picasso known as Pablo Ruiz Picasso was a Spanish expatriate painter, sculptor, printmaker, ceramicist, and stage designer, one of the greatest and most influential artists of the...



Dada

Dada

Dada or Dadaism is a cultural movement that began in Zurich, Switzerland, during World War I and peaked from 1916 to 1922. The movement primarily involved visual arts, literature—poetry, art manifestoes, art theory—theatre, and graphic design, and concentrated its anti-war politics through a...


: Man Ray

Man Ray

Man Ray , born Emmanuel Radnitzky, was an American artist who spent most of his career in Paris, France. Perhaps best described simply as a modernist, he was a significant contributor to both the Dada and Surrealist movements, although his ties to each were informal...



Dance

Dance

Dance is an art form that generally refers to movement of the body, usually rhythmic and to music, used as a form of expression, social interaction or presented in a spiritual or performance setting....


: Isadora Duncan

Isadora Duncan

Isadora Duncan was a dancer, considered by many to be the creator of modern dance. Born in the United States, she lived in Western Europe and the Soviet Union from the age of 22 until her death at age 50. In the United States she was popular only in New York, and only later in her life...



Decollage

Décollage

Décollage, in art, is the opposite of collage; instead of an image being built up of all or parts of existing images, it is created by cutting, tearing away or otherwise removing, pieces of an original image. Examples include inimage or etrécissements and excavations...


: Mimmo Rotella

Mimmo Rotella

Domenico "Mimmo" Rotella, , was an Italian artist and poet best known for his works of décollage and psychogeographics, made from torn advertising posters.Rotella was born in Catanzaro, Calabria....



Design

Design

Design as a noun informally refers to a plan or convention for the construction of an object or a system while "to design" refers to making this plan...


: Arne Jacobsen

Arne Jacobsen

Arne Emil Jacobsen, usually known as Arne Jacobsen, was a Danish architect and designer. He is remembered for contributing so much to architectural Functionalism as well as for the worldwide success he enjoyed with simple but effective chair designs.-Early life and education:Arne Jacobsen was born...



Digital art

Digital art

Digital art is a general term for a range of artistic works and practices that use digital technology as an essential part of the creative and/or presentation process...


: David Em

David Em

-Life and work:David Em is one of the first artists to make art with pixels. He was born in Los Angeles and grew up in South America. He studied painting at the Pennsylvania Academy of the Fine Arts and film directing at the American Film Institute....



Doll Maker

Doll

A doll is a model of a human being, often used as a toy for children. Dolls have traditionally been used in magic and religious rituals throughout the world, and traditional dolls made of materials like clay and wood are found in the Americas, Asia, Africa and Europe. The earliest documented dolls...


: Greer Lankton

Greer Lankton

Greer Lankton was an American artist, whose work was dedicated to creating life-like, posable dolls and figures. Greer Lankton was born Greg Lankton in Flint, Michigan, to a Presbyterian minister and his wife. It was during her rough childhood as a feminine boy that she began creating dolls."It...



Op Art

Op art

Op art, also known as optical art, is a style of visual art that makes use of optical illusions."Optical art is a method of painting concerning the interaction between illusion and picture plane, between understanding and seeing." Op art works are abstract, with many of the better known pieces made...


: Bridget Riley

Bridget Riley

Bridget Louise Riley CH CBE is an English painter who is one of the foremost proponents of Op art.-Early life:...



Oration: Cicero

Cicero

Marcus Tullius Cicero , was a Roman philosopher, statesman, lawyer, political theorist, and Roman constitutionalist. He came from a wealthy municipal family of the equestrian order, and is widely considered one of Rome's greatest orators and prose stylists.He introduced the Romans to the chief...



Ornithology

Ornithology

Ornithology is a branch of zoology that concerns the study of birds. Several aspects of ornithology differ from related disciplines, due partly to the high visibility and the aesthetic appeal of birds...


: John James Audubon

John James Audubon

John James Audubon was a French-American ornithologist, naturalist, and painter. He was notable for his expansive studies to document all types of American birds and for his detailed illustrations that depicted the birds in their natural habitats...



Outsider art

Outsider Art

The term outsider art was coined by art critic Roger Cardinal in 1972 as an English synonym for art brut , a label created by French artist Jean Dubuffet to describe art created outside the boundaries of official culture; Dubuffet focused particularly on art by insane-asylum inmates.While...


: Howard Finster

Howard Finster

Howard Finster was an American artist and Baptist reverend from Georgia. He claimed to be inspired by God to spread the gospel through the environment of Paradise Garden and over 46,000 pieces of art. His creations overlap folk art, outsider art, naïve art, and visionary art...



Painting

Painting

Painting is the practice of applying paint, pigment, color or other medium to a surface . The application of the medium is commonly applied to the base with a brush but other objects can be used. In art, the term painting describes both the act and the result of the action. However, painting is...


: Rembrandt van Rijn
Performance Art

Performance art

In art, performance art is a performance presented to an audience, traditionally interdisciplinary. Performance may be either scripted or unscripted, random or carefully orchestrated; spontaneous or otherwise carefully planned with or without audience participation. The performance can be live or...


: Carolee Schneemann

Carolee Schneemann

Carolee Schneemann is an American visual artist, known for her discourses on the body, sexuality and gender. She received a B.A. from Bard College and an M.F.A. from the University of Illinois. Her work is primarily characterized by research into visual traditions, taboos, and the body of the...



Photography

Photography

Photography is the art, science and practice of creating durable images by recording light or other electromagnetic radiation, either electronically by means of an image sensor or chemically by means of a light-sensitive material such as photographic film...


: Ansel Adams

Ansel Adams

Ansel Easton Adams was an American photographer and environmentalist, best known for his black-and-white photographs of the American West, especially in Yosemite National Park....



Playwriting: Edward Albee

Edward Albee

Edward Franklin Albee III is an American playwright who is best known for The Zoo Story , The Sandbox , Who's Afraid of Virginia Woolf? , and a rewrite of the screenplay for the unsuccessful musical version of Capote's Breakfast at Tiffany's . His works are considered well-crafted, often...



Poetry

Poetry

Poetry is a form of literary art in which language is used for its aesthetic and evocative qualities in addition to, or in lieu of, its apparent meaning...


: Emily Dickinson

Emily Dickinson

Emily Elizabeth Dickinson was an American poet. Born in Amherst, Massachusetts, to a successful family with strong community ties, she lived a mostly introverted and reclusive life...



Pointillism

Pointillism

Pointillism is a technique of painting in which small, distinct dots of pure color are applied in patterns to form an image. Georges Seurat developed the technique in 1886, branching from Impressionism. The term Pointillism was first coined by art critics in the late 1880s to ridicule the works...


: Georges Seurat
Pop Art

Pop art

Pop art is an art movement that emerged in the mid 1950s in Britain and in the late 1950s in the United States. Pop art challenged tradition by asserting that an artist's use of the mass-produced visual commodities of popular culture is contiguous with the perspective of fine art...


: Andy Warhol

Andy Warhol

Andrew Warhola , known as Andy Warhol, was an American painter, printmaker, and filmmaker who was a leading figure in the visual art movement known as pop art...



Posters: Henri de Toulouse-Lautrec

Henri de Toulouse-Lautrec

Henri Marie Raymond de Toulouse-Lautrec-Monfa or simply Henri de Toulouse-Lautrec was a French painter, printmaker, draughtsman, and illustrator, whose immersion in the colourful and theatrical life of fin de siècle Paris yielded an œuvre of exciting, elegant and provocative images of the modern...



Post-Impressionism

Post-Impressionism

Post-Impressionism is the term coined by the British artist and art critic Roger Fry in 1910 to describe the development of French art since Manet. Fry used the term when he organized the 1910 exhibition Manet and Post-Impressionism...


: Vincent van Gogh

Vincent van Gogh

Vincent Willem van Gogh , and used Brabant dialect in his writing; it is therefore likely that he himself pronounced his name with a Brabant accent: , with a voiced V and palatalized G and gh. In France, where much of his work was produced, it is...



Pottery

Pottery

Pottery is the material from which the potteryware is made, of which major types include earthenware, stoneware and porcelain. The place where such wares are made is also called a pottery . Pottery also refers to the art or craft of the potter or the manufacture of pottery...


: Bernard Leach

Bernard Leach

Bernard Howell Leach, CBE, CH , was a British studio potter and art teacher. He is regarded as the "Father of British studio pottery"-Biography:...



Printmaking

Printmaking

Printmaking is the process of making artworks by printing, normally on paper. Printmaking normally covers only the process of creating prints with an element of originality, rather than just being a photographic reproduction of a painting. Except in the case of monotyping, the process is capable...


: Albrecht Dürer

Albrecht Dürer

Albrecht Dürer was a German painter, printmaker, engraver, mathematician, and theorist from Nuremberg. His prints established his reputation across Europe when he was still in his twenties, and he has been conventionally regarded as the greatest artist of the Northern Renaissance ever since...



Realism

Realism (arts)

Realism in the visual arts and literature refers to the general attempt to depict subjects "in accordance with secular, empirical rules", as they are considered to exist in third person objective reality, without embellishment or interpretation...


: Ilya Repin
Renaissance art: Michelangelo Buonarotti
Rococo

Rococo

Rococo , also referred to as "Late Baroque", is an 18th-century style which developed as Baroque artists gave up their symmetry and became increasingly ornate, florid, and playful...


: Antoine Watteau

Antoine Watteau

Jean-Antoine Watteau was a French painter whose brief career spurred the revival of interest in colour and movement...



Sculpture

Sculpture

Sculpture is three-dimensional artwork created by shaping or combining hard materials—typically stone such as marble—or metal, glass, or wood. Softer materials can also be used, such as clay, textiles, plastics, polymers and softer metals...


: Auguste Rodin

Auguste Rodin

François-Auguste-René Rodin , known as Auguste Rodin , was a French sculptor. Although Rodin is generally considered the progenitor of modern sculpture, he did not set out to rebel against the past...



Singing

Singing

Singing is the act of producing musical sounds with the voice, and augments regular speech by the use of both tonality and rhythm. One who sings is called a singer or vocalist. Singers perform music known as songs that can be sung either with or without accompaniment by musical instruments...


: Odetta

Odetta

Odetta Holmes, known as Odetta, was an American singer, actress, guitarist, songwriter, and a human rights activist, often referred to as "The Voice of the Civil Rights Movement". Her musical repertoire consisted largely of American folk music, blues, jazz, and spirituals...



Songwriting: Joni Mitchell

Joni Mitchell

Joni Mitchell, CC is a Canadian musician, singer songwriter, and painter. Mitchell began singing in small nightclubs in her native Saskatchewan and Western Canada and then busking in the streets and dives of Toronto...



Street Art

Street art

Street art is any art developed in public spaces — that is, "in the streets" — though the term usually refers to unsanctioned art, as opposed to government sponsored initiatives...


: Banksy

Banksy

Banksy is a pseudonymous England-based graffiti artist, political activist, film director, and painter.His satirical street art and subversive epigrams combine irreverent dark humour with graffiti done in a distinctive stencilling technique...



Suprematism

Suprematism

Suprematism was an art movement focused on fundamental geometric forms which formed in Russia in 1915-1916. It was not until later that suprematism received conventional museum preparations...


: Kazimir Malevich

Kazimir Malevich

Kazimir Severinovich Malevich was a Russian painter and art theoretician, born of ethnic Polish parents. He was a pioneer of geometric abstract art and the originator of the Avant-garde Suprematist movement.-Early life:...



Surrealism

Surrealism

Surrealism is a cultural movement that began in the early 1920s, and is best known for the visual artworks and writings of the group members....


: Salvador Dalí

Salvador Dalí

Salvador Domènec Felip Jacint Dalí i Domènech, Marquis de Púbol , commonly known as Salvador Dalí , was a prominent Spanish Catalan surrealist painter born in Figueres,Spain....



Theater: William Shakespeare

William Shakespeare

William Shakespeare was an English poet and playwright, widely regarded as the greatest writer in the English language and the world's pre-eminent dramatist. He is often called England's national poet and the "Bard of Avon"...



Theater arts: Robert Edmond Jones

Robert Edmond Jones

Robert Edmond Jones was an American scenic, lighting, and costume designer. He is credited with incorporating the new stagecraft into the American drama. His designs sought to integrate the scenic elements into the storytelling instead of having them stand separate and indifferent from the play's...



Tragedy

Tragedy

Tragedy is a form of art based on human suffering that offers its audience pleasure. While most cultures have developed forms that provoke this paradoxical response, tragedy refers to a specific tradition of drama that has played a unique and important role historically in the self-definition of...


: Sophocles

Sophocles

Sophocles is one of three ancient Greek tragedians whose plays have survived. His first plays were written later than those of Aeschylus, and earlier than or contemporary with those of Euripides...



Typography

Typography

Typography is the art and technique of arranging type in order to make language visible. The arrangement of type involves the selection of typefaces, point size, line length, leading , adjusting the spaces between groups of letters and adjusting the space between pairs of letters...


: Eric Gill

Eric Gill

Arthur Eric Rowton Gill was a British sculptor, typeface designer, stonecutter and printmaker, who was associated with the Arts and Crafts movement...



Ukiyo-e

Ukiyo-e

' is a genre of Japanese woodblock prints and paintings produced between the 17th and the 20th centuries, featuring motifs of landscapes, tales from history, the theatre, and pleasure quarters...


: Hokusai

Hokusai

was a Japanese artist, ukiyo-e painter and printmaker of the Edo period. He was influenced by such painters as Sesshu, and other styles of Chinese painting...



Vedette

Vedette

The French military term vedette , also spelled vidette, migrated into English and other languages to refer to a mounted sentry or outpost, who has the function of bringing information, giving signals or warnings of danger, etc., to a main body of troops...


: Susana Giménez

Susana Giménez

Susana Giménez, née María Susana Giménez Aubert is an Argentine actress, ex-vedette and television host....



Video Art

Video art

Video art is a type of art which relies on moving pictures and comprises video and/or audio data. . Video art came into existence during the 1960s and 1970s, is still widely practiced and has given rise to the widespread use of video installations...


: Bill Viola

Bill Viola

Bill Viola is a contemporary video artist. He is considered a leading figure in the generation of artists whose artistic expression depends upon electronic, sound, and image technology in New Media...



Wildlife Art

Wildlife art

Wildlife art is one of humanity's earliest art forms, dating back to prehistoric cave paintings such as those found at the grotto of Lascaux in France....


: Rembrandt Bugatti

Rembrandt Bugatti

Rembrandt Bugatti was an Italian sculptor, known primarily for his bronze sculptures of wildlife subjects.- Early life :...



See also
Art

Art

Art is the product or process of deliberately arranging items in a way that influences and affects one or more of the senses, emotions, and intellect....



Art history

Art history

Art history has historically been understood as the academic study of objects of art in their historical development and stylistic contexts, i.e. genre, design, format, and style...



Arts by region

Arts by region

-Africa:ArtAfrican art reflects the diversity of African cultures. The oldest existing art from Africa are 6,000-year old carvings found in Niger, while the Great Pyramid of Giza in Egypt was the world's tallest architectural accomplishment for 4,000 years until the creation of the Eiffel Tower...



Artist in Residence

Artist in residence

Artist-in-residence programs and other residency opportunities allow visiting artists to stay and work so that they may apply singular focus to their art practice....



Fine art

Fine art

Fine art or the fine arts encompass art forms developed primarily for aesthetics and/or concept rather than practical application. Art is often a synonym for fine art, as employed in the term "art gallery"....



Humanities

Humanities

The humanities are academic disciplines that study the human condition, using methods that are primarily analytical, critical, or speculative, as distinguished from the mainly empirical approaches of the natural sciences....



List of painters
Mathematics and art

Mathematics and art

Mathematics and art have a long historical relationship. The ancient Egyptians and ancient Greeks knew about the golden ratio, regarded as an aesthetically pleasing ratio, and incorporated it into the design of monuments including the Great Pyramid, the Parthenon, the Colosseum...



Social sciences

Social sciences

Social science is the field of study concerned with society. "Social science" is commonly used as an umbrella term to refer to a plurality of fields outside of the natural sciences usually exclusive of the administrative or managerial sciences...