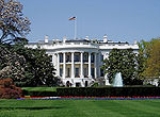 White House
Topics
White House
Timeline

Timeline
1792 In Washington, D.C., the cornerstone of the United States Executive Mansion (known as the White House since 1818) is laid.
1800 U.S. President John Adams takes up residence in Washington, D.C. (in a tavern because the White House was not yet completed).
1800 US President John Adams becomes the first President of the United States to live in the Executive Mansion (later renamed the White House).
1814 British troops invade Washington, D.C. and burn down the White House and several other buildings.
1814 Washington, D.C. is burned and White House is destroyed by British forces during the War of 1812.
1841 U.S. President John Tyler vetoes a bill which called for the re-establishment of the Second Bank of the United States. Enraged Whig Party members riot outside the White House in the most violent demonstration on White House grounds in U.S. history.
1886 U.S. President Grover Cleveland marries Frances Folsom in the White House, becoming the only president to wed in the executive mansion.
1901 President Theodore Roosevelt officially renames the "Executive Mansion" to the White House.
1910 The English aviator Claude Grahame-White lands his Farman Aircraft biplane on Executive Avenue near the White House in Washington, D.C.
1917 Ten Suffragettes are arrested while picketing the White House.
1922 President Warren G. Harding introduces the first radio in the White House.
1924 U.S. President Calvin Coolidge becomes the first President to deliver a radio broadcast from the White House.
1932 In Washington, D.C., police fire tear gas on World War I veterans part of the Bonus Expeditionary Force who attempt to march to the White House.
1945 Franklin Roosevelt's fourth and final inauguration is held at the White House due to wartime considerations.
1947 The first televised White House address is given by U.S. President Harry S. Truman.
1962 First Lady Jacqueline Kennedy takes television viewers on a tour of the White House.
1970 Vietnam War: In Washington, D.C., 75,000 to 100,000 war protesters demonstrate in front of the White House.
1972 Watergate scandal: five White House operatives are arrested for burglarizing the offices of the Democratic National Committee, in an attempt by some members of the Republican party to illegally wiretap the opposition.
1972 Watergate Scandal: U.S. President Richard M. Nixon and White House Chief of Staff H. R. Haldeman are taped talking about using the Central Intelligence Agency to obstruct the Federal Bureau of Investigation's investigation into the Watergate break-ins.
1972 Vietnam War: White House Press Secretary Ron Ziegler tells the press that there will be no more public announcements concerning American troop withdrawals from Vietnam due to the fact that troop levels are now down to 27,000.
1973 Watergate Scandal: U.S. President Richard Nixon announces that top White House aids H.R. Haldeman, John Ehrlichman and others have resigned.
1973 Watergate Scandal: former White House aide Alexander P. Butterfield informs the United States Senate that President Richard Nixon had secretly recorded potentially incriminating conversations.
1974 Robert K. Preston, a disgruntled U.S. Army private, buzzes the White House in a stolen helicopter.
1974 Watergate Scandal: President Richard Nixon announces the release of edited transcripts of White House tape recordings related to the scandal.
1974 Watergate scandal: the United States Supreme Court unanimously ruled that President Richard Nixon did not have the authority to withhold subpoenaed White House tapes and they order him to surrender the tapes to the Watergate special prosecutor.
1974 Watergate Scandal: U.S. President Richard M. Nixon releases subpoenaed White House recordings after being ordered to do so by the United States Supreme Court.
1974 Marshall Fields drives a vehicle through the gates of the White House, resulting in a four-hour standoff.
1975 Watergate scandal: Former United States Attorney General John N. Mitchell and former White House aides H. R. Haldeman and John Ehrlichman are sentenced to prison.
1979 Pope John Paul II becomes the first pontiff to visit the White House.
1989 Iran-Contra Affair: Former White House aide Oliver North is convicted of three crimes and acquitted of nine other charges. The convictions, however, are later overturned on appeal.
1993 Israeli Prime Minister Yitzhak Rabin shakes hands with PLO chairman Yasser Arafat at the White House after signing an accord granting limited Palestinian autonomy.
1994 Frank Eugene Corder crashes a single-engine Cessna 150 into the White House's south lawn, striking the West wing and killing himself.
1994 Francisco Martin Duran fires over two dozen shots at the White House (Duran is later convicted of trying to kill US President Bill Clinton).
1998 Lewinsky scandal: On American television, U.S. President Bill Clinton denies having had "sexual relations" with former White House intern Monica Lewinsky.
1998 Monica Lewinsky scandal: US President Bill Clinton admits in taped testimony that he had an "improper physical relationship" with White House intern Monica Lewinsky. On the same day he admits before the nation that he "misled people" about the relationship.