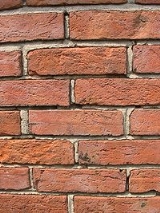 Wall
A
wall
is a usually solid structure that defines and sometimes protects an area. Most commonly, a wall delineates a building and supports its
superstructure
Superstructure
A superstructure is an upward extension of an existing structure above a baseline. This term is applied to various kinds of physical structures such as buildings, bridges, or ships...
, separates space in buildings into rooms, or protects or delineates a space in the open air. There are three principal types of structural walls: building walls, exterior boundary walls, and retaining walls.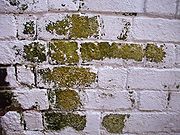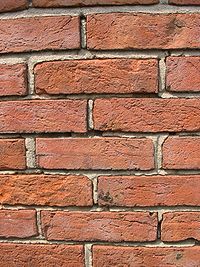 Building walls have one main purpose: to support roofs and ceilings. Such walls most often have three or more separate components. In today's construction, a building wall will usually have the structural elements (such as 2×4 studs in a house wall),
insulation
Thermal insulation
Thermal insulation is the reduction of the effects of the various processes of heat transfer between objects in thermal contact or in range of radiative influence. Heat transfer is the transfer of thermal energy between objects of differing temperature...
, and finish elements or surface (such as
drywall
Drywall
Drywall, also known as plasterboard, wallboard or gypsum board is a panel made of gypsum plaster pressed between two thick sheets of paper...
or
panelling
Panelling
Panelling is a wall covering constructed from rigid or semi-rigid components. These are traditionally interlocking wood, but could be plastic or other materials....
). In addition, the wall may house various types of
electrical wiring
Electrical wiring
Electrical wiring in general refers to insulated conductors used to carry electricity, and associated devices. This article describes general aspects of electrical wiring as used to provide power in buildings and structures, commonly referred to as building wiring. This article is intended to...
or
plumbing
Plumbing
Plumbing is the system of pipes and drains installed in a building for the distribution of potable drinking water and the removal of waterborne wastes, and the skilled trade of working with pipes, tubing and plumbing fixtures in such systems. A plumber is someone who installs or repairs piping...
. Electrical outlets are usually mounted in walls.
Building walls frequently become works of art externally and internally, such as when featuring
mosaic
Mosaic
Mosaic is the art of creating images with an assemblage of small pieces of colored glass, stone, or other materials. It may be a technique of decorative art, an aspect of interior decoration, or of cultural and spiritual significance as in a cathedral...
work or when
mural
Mural
A mural is any piece of artwork painted or applied directly on a wall, ceiling or other large permanent surface. A particularly distinguishing characteristic of mural painting is that the architectural elements of the given space are harmoniously incorporated into the picture.-History:Murals of...
s are painted on them; or as design foci when they exhibit textures or painted finishes for effect.
On a ship, the walls separating compartments are termed "
bulkheads
Bulkhead (partition)
A bulkhead is an upright wall within the hull of a ship or within the fuselage of an airplane. Other kinds of partition elements within a ship are decks and deckheads.-Etymology:...
", whilst the thinner walls separating cabins are termed "partitions".
In
architecture
Architecture
Architecture is both the process and product of planning, designing and construction. Architectural works, in the material form of buildings, are often perceived as cultural and political symbols and as works of art...
and
civil engineering
Civil engineering
Civil engineering is a professional engineering discipline that deals with the design, construction, and maintenance of the physical and naturally built environment, including works like roads, bridges, canals, dams, and buildings...
, the term
curtain wall
Curtain wall
A curtain wall is an outer covering of a building in which the outer walls are non-structural, but merely keep out the weather. As the curtain wall is non-structural it can be made of a lightweight material reducing construction costs. When glass is used as the curtain wall, a great advantage is...
refers to the
facade
Facade
A facade or façade is generally one exterior side of a building, usually, but not always, the front. The word comes from the French language, literally meaning "frontage" or "face"....
of a building which is not load-bearing but functions as decoration, finish, front, face, or history preservation.
Partition wall
A partition wall is a wall for the purpose of separating rooms, or dividing a room. Partition walls are usually not
load
Structural load
Structural loads or actions are forces, deformations or accelerations applied to a structure or its components.Loads cause stresses, deformations and displacements in structures. Assessment of their effects is carried out by the methods of structural analysis...
-be
Partition walls may be constructed with bricks or blocks from clay,
terra-cotta
Terra cotta
Terracotta, Terra cotta or Terra-cotta is a clay-based unglazed ceramic, although the term can also be applied to glazed ceramics where the fired body is porous and red in color...
or concrete, reinforced, or hollow. Glass blocks may also be used.
They may also be constructed from sheet glass. Glass partition walls are a series of individual
toughened glass
Toughened glass
Toughened or tempered glass is a type of safety glass processed by controlled thermal or chemical treatments to increase its strength compared with normal glass. Tempering creates balanced internal stresses which cause the glass, when broken, to crumble into small granular chunks instead of...
panels, which are suspended from or slide along a robust aluminium ceiling track. The system does not require the use of a floor guide, which allows easy operation and an uninterrupted threshold.
Timber may be used. This type of partition consists of a wooden framework either supported on the floor below or by side walls. Metal lath and plaster, properly laid, forms a reinforced partition wall. Partition walls constructed from
fibre cement
Fibre cement
Fibre cement is often applied in building and construction materials, mainly in roofing and facade products because of its strength and durability.-Material description:...
sheeting are popular as bases for tiling in kitchens or in wet areas like bathrooms. Galvanized sheet fixed to wooden or steel members are mostly adopted in works of temporary character. Plain or reinforced partition walls may also be constructed from concrete, including pre-cast concrete blocks.
Metal framed partitioning is also available. This partition consists of track (used primarily at the base and head of the partition) and stud (vertical sections fixed at 600mm centres).
Internal wall partitions also known as office partitioning is made using plasterboard (drywall), or varieties of glass. Toughened glass is a common option as it is feasible however there is also low iron glass better known as opti-white glass which increases light and solar heat transmission.
Wall partitions are constructed using beads and tracking which are either hung from the ceiling or fixed into the ground. The panels are inserted into the tracking and fixed.
There are variations of wall partitions which include the level of fire resistance they have, and their acoustic performance rating.
Movable Partitions
Movable partitions are used where the walls of a room are frequently opened to form one large floor area. In this system, there are several types of partitions:
Sliding: Sliding partitions consists of series of panels that slide in tracks fixed to the floor and ceiling. The machine if the partition is similar to those of sliding doors.
Sliding & folding: Sliding and folding partitions operate in a similar manner to sliding folding doors. They are normally used for smaller spans.
Screens: Screens are usually constructed of a metal or timber frame

Timber framing

Timber framing , or half-timbering, also called in North America "post-and-beam" construction, is the method of creating structures using heavy squared off and carefully fitted and joined timbers with joints secured by large wooden pegs . It is commonplace in large barns...


. It is fixed with plywood and chipboard inside. The screen supported with legs for free standing and easy movement.
Pipe and drape

Pipe and drape

Pipe and Drape refers to pipe , fixed or telescopic uprights supported by a steel base, and telescopic or fixed horizontals that provide a ground supported drape system with removable drape panels. Pipe and Drape is used to divide, hide, and/or decorate a space temporarily...


: Fixed or telescopic uprights and horizontals provide a ground supported drape system with removable panels.
Boundary walls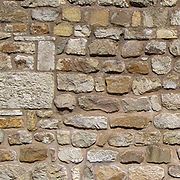 Boundary walls include privacy walls, boundary-marking walls on property, and town walls. These intergrade into
fence
Fence
A fence is a freestanding structure designed to restrict or prevent movement across a boundary. It is generally distinguished from a wall by the lightness of its construction: a wall is usually restricted to such barriers made from solid brick or concrete, blocking vision as well as passage .Fences...
s; the conventional differentiation is that a fence is of minimal thickness and often is open in nature, while a wall is usually more than a nominal thickness and is completely closed, or opaque. More to the point, if an exterior structure is made of wood or wire, it is generally referred to as a
fence
Fence
A fence is a freestanding structure designed to restrict or prevent movement across a boundary. It is generally distinguished from a wall by the lightness of its construction: a wall is usually restricted to such barriers made from solid brick or concrete, blocking vision as well as passage .Fences...
, while if it is made of
masonry
Masonry
Masonry is the building of structures from individual units laid in and bound together by mortar; the term masonry can also refer to the units themselves. The common materials of masonry construction are brick, stone, marble, granite, travertine, limestone; concrete block, glass block, stucco, and...
, it is considered a wall. A common term for both is
barrier
Separation barrier
A separation barrier is a wall or fence constructed to limit the movement of people across a certain line or border, or to separate two populations. These structures vary in placement with regard to international borders and topography...
, convenient if it is partly a wall and partly a fence, for example the
Berlin Wall
Berlin Wall
The Berlin Wall was a barrier constructed by the German Democratic Republic starting on 13 August 1961, that completely cut off West Berlin from surrounding East Germany and from East Berlin...
. Another kind of wall/fence ambiguity is the ha-ha which is set below ground level, so as not to interrupt a view yet acting as a barrier to cattle for example.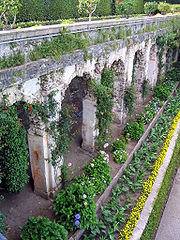 Before the invention of
artillery
Artillery
Originally applied to any group of infantry primarily armed with projectile weapons, artillery has over time become limited in meaning to refer only to those engines of war that operate by projection of munitions far beyond the range of effect of personal weapons...
, many of the world's
cities
City
A city is a relatively large and permanent settlement. Although there is no agreement on how a city is distinguished from a town within general English language meanings, many cities have a particular administrative, legal, or historical status based on local law.For example, in the U.S...
and towns, particularly in Europe and Asia, had
protective walls
Defensive wall
A defensive wall is a fortification used to protect a city or settlement from potential aggressors. In ancient to modern times, they were used to enclose settlements...
(also called town walls or city walls). In fact, the English word "wall" is derived from Latin
vallum
Vallum
Vallum is a term applied either to the whole or a portion of the fortifications of a Roman camp. The vallum usually comprised an earthen or turf rampart with a wooden palisade on top, with a deep outer ditch...
, which was a type of fortification wall. Since they are no longer relevant for defense, such cities have grown beyond their walls, and many of the walls, or portions thereof, have been torn down, for example in
Rome
Rome
Rome is the capital of Italy and the country's largest and most populated city and comune, with over 2.7 million residents in . The city is located in the central-western portion of the Italian Peninsula, on the Tiber River within the Lazio region of Italy.Rome's history spans two and a half...
,
Italy
Italy
Italy , officially the Italian Republic languages]] under the European Charter for Regional or Minority Languages. In each of these, Italy's official name is as follows:;;;;;;;;), is a unitary parliamentary republic in South-Central Europe. To the north it borders France, Switzerland, Austria and...
and in
Beijing
Beijing
Beijing , also known as Peking , is the capital of the People's Republic of China and one of the most populous cities in the world, with a population of 19,612,368 as of 2010. The city is the country's political, cultural, and educational center, and home to the headquarters for most of China's...
,
China
China
Chinese civilization may refer to:* China for more general discussion of the country.* Chinese culture* Greater China, the transnational community of ethnic Chinese.* History of China* Sinosphere, the area historically affected by Chinese culture...
. Examples of protective walls on a much larger scale include the
Great Wall of China
Great Wall of China
The Great Wall of China is a series of stone and earthen fortifications in northern China, built originally to protect the northern borders of the Chinese Empire against intrusions by various nomadic groups...
and
Hadrian's Wall
Hadrian's Wall
Hadrian's Wall was a defensive fortification in Roman Britain. Begun in AD 122, during the rule of emperor Hadrian, it was the first of two fortifications built across Great Britain, the second being the Antonine Wall, lesser known of the two because its physical remains are less evident today.The...
.
Separation walls
Some walls are designed to formally separate one population from another. An example was the
Berlin Wall
Berlin Wall
The Berlin Wall was a barrier constructed by the German Democratic Republic starting on 13 August 1961, that completely cut off West Berlin from surrounding East Germany and from East Berlin...
, which divided East and West Berlin.
Retaining walls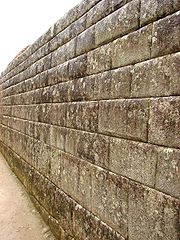 In areas of rocky soils around the world, farmers have often pulled large quantities of stone out of their fields to make farming easier and have stacked those stones to make walls that either mark the field boundary, or the property boundary, or both.
Retaining wall
Retaining wall
Retaining walls are built in order to hold back earth which would otherwise move downwards. Their purpose is to stabilize slopes and provide useful areas at different elevations, e.g...
s are a special type of wall, that may be either external to a building or part of a building, that serves to provide a barrier to the movement of earth, stone or water. The ground surface or water on one side of a retaining wall will be noticeably higher than on the other side. A dike is one type of retaining wall, as is a
levee
Levee
A levee, levée, dike , embankment, floodbank or stopbank is an elongated naturally occurring ridge or artificially constructed fill or wall, which regulates water levels...
, a load-bearing foundation wall, and a sea wall.
Shared walls
Special laws often govern walls shared by neighbouring properties. Typically, one neighbour cannot alter the common wall if it is likely to affect the building or property on the other side. A wall may also separate apartment or hotel rooms from each other. Each wall has two sides and breaking a wall on one side will break the wall on the other side.
Portable walls
Portable walls, such as
room dividers
Room Dividers
Room dividers are used by interior designers and architects as means to divide space into separate distinct areas.There are a number of different types of room dividers such as cubicle partitions, pipe and drape screens, shoji screens, and walls. Plants, shelves or railings might also be used as...
or
portable partitions
Portable partitions
Portable partitions are rolling, mobile, folding room dividers which provide temporary walls in place of traditional non mobile products such as operable walls, accordion partitions, cubicles, pipe and drape, and shoji screens. They fold and are on wheels enabling mobility and ease of storage...
, are used to take a large open space and effectively divide it into smaller rooms. Portable walls can be static such as cubicle walls, or they can be wall panels mounted on casters to provide an easy way to reconfigure assembly space. They are often found inside schools, churches, convention centers, hotels and corporate facilities.
Etymology
It is notable that
English
English language
English is a West Germanic language that arose in the Anglo-Saxon kingdoms of England and spread into what was to become south-east Scotland under the influence of the Anglian medieval kingdom of Northumbria...
uses the same word to refer to an external wall, and the internal sides of a room. This is by no means universal, and many languages distinguish between the two. In German, some of this distinction can be seen between
Wand
and
Mauer
, in Spanish between
pared
and
muro
.
Walls in popular culture
Walls are often seen in popular culture representing barriers preventing progress or entry. For example, the progressive/psychedelic rock band
Pink Floyd
Pink Floyd
Pink Floyd were an English rock band that achieved worldwide success with their progressive and psychedelic rock music. Their work is marked by the use of philosophical lyrics, sonic experimentation, innovative album art, and elaborate live shows. Pink Floyd are one of the most commercially...
used a metaphorical wall to represent the isolation felt by the protagonist of their 1979 concept album
The Wall
The Wall
The Wall is the eleventh studio album by English progressive rock group Pink Floyd. Released as a double album on 30 November 1979, it was subsequently performed live with elaborate theatrical effects, and adapted into a feature film, Pink Floyd—The Wall.As with the band's previous three...
.
American
United States
The United States of America is a federal constitutional republic comprising fifty states and a federal district...
poet laureate
Poet Laureate
A poet laureate is a poet officially appointed by a government and is often expected to compose poems for state occasions and other government events...
Robert Frost
Robert Frost
Robert Lee Frost was an American poet. He is highly regarded for his realistic depictions of rural life and his command of American colloquial speech. His work frequently employed settings from rural life in New England in the early twentieth century, using them to examine complex social and...
describes a pointless rock wall as a metaphor for the myopia of the culture-bound in his poem
Mending Wall
Mending Wall
"Mending Wall" is a metaphorical poem written in blank verse, published in 1914, by Robert Frost . The poem appeared as the first selection in Frost's second collection of poetry, North of Boston...
. In a real-life example, the
Berlin Wall
Berlin Wall
The Berlin Wall was a barrier constructed by the German Democratic Republic starting on 13 August 1961, that completely cut off West Berlin from surrounding East Germany and from East Berlin...
, constructed by the
Soviet Union
Soviet Union
The Soviet Union , officially the Union of Soviet Socialist Republics , was a constitutionally socialist state that existed in Eurasia between 1922 and 1991....
to divide Berlin into
NATO
and
Warsaw Pact
Warsaw Pact
The Warsaw Treaty Organization of Friendship, Cooperation, and Mutual Assistance , or more commonly referred to as the Warsaw Pact, was a mutual defense treaty subscribed to by eight communist states in Eastern Europe...
zones of occupation, became a worldwide symbol of oppression and isolation.
In some cases, a wall may refer to an individual's debilitating mental or physical condition, seen as an impassable barrier.
Another common usage is as a communal surface to write upon. For instance the social networking site
Facebook
Facebook
Facebook is a social networking service and website launched in February 2004, operated and privately owned by Facebook, Inc. , Facebook has more than 800 million active users. Users must register before using the site, after which they may create a personal profile, add other users as...
uses an electronic "wall" to log the scrawls of friends.
Physiological wall
In marathon running a runner can 'hit' 'the wall'. A point where the human brain and body feels like it cannot be pushed further or continue. Runners find this incredibly hard to break through and continue.
A wall can also refer to something that the human mind is blocking or hiding from memory but this is debatable.
See also
Ashlar

Ashlar

Ashlar is prepared stone work of any type of stone. Masonry using such stones laid in parallel courses is known as ashlar masonry, whereas masonry using irregularly shaped stones is known as rubble masonry. Ashlar blocks are rectangular cuboid blocks that are masonry sculpted to have square edges...



Curtain wall

Curtain wall

A curtain wall is an outer covering of a building in which the outer walls are non-structural, but merely keep out the weather. As the curtain wall is non-structural it can be made of a lightweight material reducing construction costs. When glass is used as the curtain wall, a great advantage is...



Dry-stone wall
Fence

Fence

A fence is a freestanding structure designed to restrict or prevent movement across a boundary. It is generally distinguished from a wall by the lightness of its construction: a wall is usually restricted to such barriers made from solid brick or concrete, blocking vision as well as passage .Fences...



Load-bearing wall
Sleeper wall

Sleeper wall

A Sleeper Wall is a short wall used to support floor joists of a ground floor. It acts to hold the timber joists away from the potentially damp ground. It is essentially a wall in the way that it is constructed but a in the way that it functions....



Stone wall

Stone wall

Stone walls are a kind of masonry construction which have been made for thousands of years. First they were constructed by farmers and primitive people by piling loose field stones in what is called a dry stone wall, then later with the use of mortar and plaster especially in the construction of...



Wallpaper

Wallpaper

Wallpaper is a kind of material used to cover and decorate the interior walls of homes, offices, and other buildings; it is one aspect of interior decoration. It is usually sold in rolls and is put onto a wall using wallpaper paste...