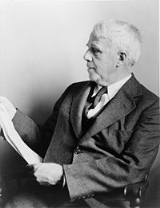 Robert Frost
Robert Lee Frost
was an American
poet
Poet
A poet is a person who writes poetry. A poet's work can be literal, meaning that his work is derived from a specific event, or metaphorical, meaning that his work can take on many meanings and forms. Poets have existed since antiquity, in nearly all languages, and have produced works that vary...
. He is highly regarded for his realistic depictions of
rural
Rural
Rural areas or the country or countryside are areas that are not urbanized, though when large areas are described, country towns and smaller cities will be included. They have a low population density, and typically much of the land is devoted to agriculture...
life and his command of American colloquial speech. His work frequently employed settings from rural life in
New England
New England
New England is a region in the northeastern corner of the United States consisting of the six states of Maine, New Hampshire, Vermont, Massachusetts, Rhode Island, and Connecticut...
in the early twentieth century, using them to examine complex social and philosophical themes. A popular and often-quoted poet, Frost was honored frequently during his lifetime, receiving four
Pulitzer Prizes for Poetry
Pulitzer Prize for Poetry
The Pulitzer Prize in Poetry has been presented since 1922 for a distinguished volume of original verse by an American author. However, special citations for poetry were presented in 1918 and 1919.-Winners:...
.
Robert Frost was born in
San Francisco, California
San Francisco, California
San Francisco , officially the City and County of San Francisco, is the financial, cultural, and transportation center of the San Francisco Bay Area, a region of 7.15 million people which includes San Jose and Oakland...
, to journalist William Prescott Frost, Jr., and Isabelle Moodie.
I do not see why I should e'er turn back, Or those should not set forth upon my track To overtake me, who should miss me here And long to know if still I held them dear. They would not find me changed from him they knew — Only more sure of all I thought was true.

s:Into My Own|Into My Own, st. 4 (1913)
Ah, when to the heart of manWas it ever less than a treasonTo go with the drift of things,To yield with a grace to reason,And bow and accept the endOf a love or a season?

s:Reluctance|Reluctance, st. 4 (1913)
I'm going out to clean the pasture spring;I'll only stop to rake the leaves away(And wait to watch the water clear, I may):I sha'n't be gone long. — You come too.

s:The Pasture|The Pasture, st. 1 (1914)
And nothing to look backward to with pride,And nothing to look forward to with hope.

s:The Death of the Hired Man|The Death of the Hired Man (1914)
Home is the place where, when you have to go there,They have to take you in.

The Death of the Hired Man (1914)
The nearest friends can goWith anyone to death, comes so far shortThey might as well not try to go at all.No, from the time when one is sick to death,One is alone, and he dies more alone.Friends make pretence of following to the grave,But before one is in it, their minds are turnedAnd making the best of their way back to lifeAnd living people, and things they understand.

s:Home Burial|Home Burial (1914)
Most of the change we think we see in lifeIs due to truths being in and out of favor.

s:The Black Cottage|The Black Cottage (1914)
The best way out is always through.

s:A Servant to Servants|A Servant to Servants (1914)
Pressed into service means pressed out of shape.

s:The Self-seeker|The Self-seeker (1914)
Forgive me my nonsense as I also forgive the nonsense of those who think they talk sense.

Letter to Louis Untermeyer (1915-07-08)