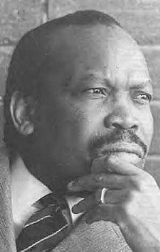 Seretse Khama
Sir Seretse Khama
, KBE (1 July 1921 – 13 July 1980) was a statesman from Botswana. Born into one of the more powerful of the
royal families
Royal family
A royal family is the extended family of a king or queen regnant. The term imperial family appropriately describes the extended family of an emperor or empress, while the terms "ducal family", "grand ducal family" or "princely family" are more appropriate to describe the relatives of a reigning...
of what was then the
British Protectorate
British Empire
The British Empire comprised the dominions, colonies, protectorates, mandates and other territories ruled or administered by the United Kingdom. It originated with the overseas colonies and trading posts established by England in the late 16th and early 17th centuries. At its height, it was the...
of
Bechuanaland
, and educated abroad in neighbouring
South Africa
South Africa
The Republic of South Africa is a country in southern Africa. Located at the southern tip of Africa, it is divided into nine provinces, with of coastline on the Atlantic and Indian oceans...
and in the
United Kingdom
United Kingdom
The United Kingdom of Great Britain and Northern IrelandIn the United Kingdom and Dependencies, other languages have been officially recognised as legitimate autochthonous languages under the European Charter for Regional or Minority Languages...
, he returned home—with a
popular but controversial bride
Ruth Williams Khama
Ruth Williams Khama, Lady Khama was the wife of Botswana's first president Sir Seretse Khama, the Paramount Chief of its Bamangwato tribe. Lady Khama was a former WAAF ambulance driver from Blackheath, London. She met the then Prince Seretse Khama while he was attending law school in England and...
—to lead his country's independence movement. He founded the
Botswana Democratic Party
Botswana Democratic Party
The Botswana Democratic Party is the governing conservative party in Botswana. Its chairman is Daniel Kwelagobe.BDP was shaped by Sir Seretse Khama, who is celebrated for nurturing the economic and political success of Botswana. The party's base is in the traditional Setswana communities, and it...
in 1962 and became Prime Minister in 1965. In 1966,
Botswana
Botswana
Botswana, officially the Republic of Botswana , is a landlocked country located in Southern Africa. The citizens are referred to as "Batswana" . Formerly the British protectorate of Bechuanaland, Botswana adopted its new name after becoming independent within the Commonwealth on 30 September 1966...
gained independence and Khama became its first president. During his presidency, the country underwent rapid economic and social progress.
Childhood and education
Seretse Khama was born in 1921 in Serowe, in what was then the
Bechuanaland Protectorate
. He was the son of
Sekgoma Khama II
Sekgoma II
Sekgoma II Sekgoma II Sekgoma II (1869-November 17, 1925 was the king of the Bamangwato people of Bechuanaland in modern-day Botswana.He was the son of King Khama III by his first wife, Elizabeth MmaBessie. In 1923, Sekgoma II ascended the throne at the age of 54 upon the death of his father....
, the paramount chief of the
Bamangwato
Bamangwato
The Bamangwato can be said to be one of the eight 'principal' Tswana tribes of Botswana, and just like any other Tswana tribe in Botswana, constitutes a small percent in the central district even in their capital serowe. They ruled over majority Bakalangaand other tribes such as the san,bitwa and...
people, and the grandson of
Khama III
Khama III
Khama III , also known as Khama the Good, was the kgosi of the Bamangwato people of Bechuanaland , who made his country a protectorate of the United Kingdom to ensure its survival against Boer and Ndebele encroachments.-Ancestry and Youth:During the 18th century, Malope, chief of the Bakwena...
, their king. The name "Seretse" means "the clay that binds together," and was given to him to celebrate the recent reconciliation of his father and grandfather; this reconciliation assured Seretse's own ascension to the throne with his aged father's death in 1925. At the age of four, Seretse became
kgosi
(king), with his uncle
Tshekedi Khama
Tshekedi Khama
Tshekedi Khama was the regent of the Bamangwato tribe in 1923 after the death of Sekgoma II.-Background:...
as his
regent
Regent
A regent, from the Latin regens "one who reigns", is a person selected to act as head of state because the ruler is a minor, not present, or debilitated. Currently there are only two ruling Regencies in the world, sovereign Liechtenstein and the Malaysian constitutive state of Terengganu...
and
guardian
Legal guardian
A legal guardian is a person who has the legal authority to care for the personal and property interests of another person, called a ward. Usually, a person has the status of guardian because the ward is incapable of caring for his or her own interests due to infancy, incapacity, or disability...
.
After spending most of his youth in
South Africa
South Africa
The Republic of South Africa is a country in southern Africa. Located at the southern tip of Africa, it is divided into nine provinces, with of coastline on the Atlantic and Indian oceans...
n
boarding school
Boarding school
A boarding school is a school where some or all pupils study and live during the school year with their fellow students and possibly teachers and/or administrators. The word 'boarding' is used in the sense of "bed and board," i.e., lodging and meals...
s, Khama attended Fort Hare University College there, graduating with a general
B.A.
Bachelor of Arts
A Bachelor of Arts , from the Latin artium baccalaureus, is a bachelor's degree awarded for an undergraduate course or program in either the liberal arts, the sciences, or both...
in 1944. He then travelled to the United Kingdom and spent a year at
Balliol College
Balliol College, Oxford
Balliol College , founded in 1263, is one of the constituent colleges of the University of Oxford in England but founded by a family with strong Scottish connections....
,
Oxford
University of Oxford
The University of Oxford is a university located in Oxford, United Kingdom. It is the second-oldest surviving university in the world and the oldest in the English-speaking world. Although its exact date of foundation is unclear, there is evidence of teaching as far back as 1096...
, before joining the
Inner Temple
Inner Temple
The Honourable Society of the Inner Temple, commonly known as Inner Temple, is one of the four Inns of Court in London. To be called to the Bar and practise as a barrister in England and Wales, an individual must belong to one of these Inns...
in London in 1946, to study to become a
barrister
Barrister
A barrister is a member of one of the two classes of lawyer found in many common law jurisdictions with split legal professions. Barristers specialise in courtroom advocacy, drafting legal pleadings and giving expert legal opinions...
.
Marriage and exile
In June 1947, Khama met
Ruth Williams
Ruth Williams Khama
Ruth Williams Khama, Lady Khama was the wife of Botswana's first president Sir Seretse Khama, the Paramount Chief of its Bamangwato tribe. Lady Khama was a former WAAF ambulance driver from Blackheath, London. She met the then Prince Seretse Khama while he was attending law school in England and...
, an English clerk at
Lloyd's of London
Lloyd's of London
Lloyd's, also known as Lloyd's of London, is a British insurance and reinsurance market. It serves as a partially mutualised marketplace where multiple financial backers, underwriters, or members, whether individuals or corporations, come together to pool and spread risk...
, and after a year of courtship, married her. The
interracial marriage
Interracial marriage
Interracial marriage occurs when two people of differing racial groups marry. This is a form of exogamy and can be seen in the broader context of miscegenation .-Legality of interracial marriage:In the Western world certain jurisdictions have had regulations...
sparked a furore among both the apartheid government of South Africa and the tribal elders of the Bamangwato. On being informed of the marriage, Khama's uncle Tshekedi Khama demanded his return to Bechuanaland and the annulment of the marriage. Khama did return to Serowe but after a series of
kgotla

Kgotla

A kgotla is a public meeting, community council or traditional law court of a Botswana village. It is usually headed by the village chief or headman, and community decisions are always arrived at by consensus. Anyone at all is allowed to speak, and no one may interrupt while someone is "having...


s
(public meetings), was re-affirmed by the elders in his role as the
kgosi
in 1949. Ruth Williams Khama, travelling with her new husband, proved similarly popular. Admitting defeat, Tshekedi Khama left Bechuanaland, while Khama returned to London to complete his studies.
However, the international ramifications of his marriage would not be so easily resolved. Having banned interracial marriage under the apartheid system, South Africa could not afford to have an interracial couple ruling just across their northern border. As Bechuanaland was then a British
protectorate
Protectorate
In history, the term protectorate has two different meanings. In its earliest inception, which has been adopted by modern international law, it is an autonomous territory that is protected diplomatically or militarily against third parties by a stronger state or entity...
(not a
colony
Colony
In politics and history, a colony is a territory under the immediate political control of a state. For colonies in antiquity, city-states would often found their own colonies. Some colonies were historically countries, while others were territories without definite statehood from their inception....
), the South African government immediately exerted pressure to have Khama removed from his chieftainship. Britain's
Labour
Labour Party (UK)
The Labour Party is a centre-left democratic socialist party in the United Kingdom. It surpassed the Liberal Party in general elections during the early 1920s, forming minority governments under Ramsay MacDonald in 1924 and 1929-1931. The party was in a wartime coalition from 1940 to 1945, after...
government, then heavily in debt from
World War II
World War II
World War II, or the Second World War , was a global conflict lasting from 1939 to 1945, involving most of the world's nations—including all of the great powers—eventually forming two opposing military alliances: the Allies and the Axis...
, could not afford to lose cheap South African gold and uranium supplies. There was also a fear that South Africa might take more direct action against Bechuanaland, through economic sanctions or a military incursion.
The British government therefore launched a
parliamentary
Parliament of the United Kingdom
The Parliament of the United Kingdom of Great Britain and Northern Ireland is the supreme legislative body in the United Kingdom, British Crown dependencies and British overseas territories, located in London...
enquiry into Khama's fitness for the chieftainship. Though the investigation reported that he was in fact eminently fit to rule Bechuanaland, "but for his unfortunate marriage", the government ordered the report suppressed (it would remain so for thirty years), and exiled Khama and his wife from Bechuanaland in 1951.
Return to politics
The sentence would not last nearly so long. Various groups protested against the government decision, holding it up as evidence of British racism. In Britain itself there was wide anger at the decision and calls for the resignation of
Lord Salisbury
Robert Gascoyne-Cecil, 5th Marquess of Salisbury
Robert Arthur James Gascoyne-Cecil, 5th Marquess of Salisbury, KG, PC , known as Viscount Cranborne from 1903 to 1947, was a British Conservative politician.-Background:...
, the minister responsible.
A deputation of six Bamangwato travelled to London to see the exiled Khama and Lord Salisbury, in an echo of the 1895 deputation of three Bamangwato
kgosis
to Queen Victoria, but with no success. However, when ordered by the British High Commission to replace Khama, the people refused to do so.
In 1956, Seretse and Ruth Khama were allowed to return to Bechuanaland as private citizens, after he had renounced the tribal throne. Khama began an unsuccessful stint as a cattle rancher and dabbled in local politics, being elected to the tribal council in 1957. In 1960 he was diagnosed with diabetes.
In 1961, however, Khama leapt back onto the political scene by founding the
nationalist
Nationalism
Nationalism is a political ideology that involves a strong identification of a group of individuals with a political entity defined in national terms, i.e. a nation. In the 'modernist' image of the nation, it is nationalism that creates national identity. There are various definitions for what...
Bechuanaland Democratic Party. His exile gave him an increased credibility with an independence-minded electorate, and the BDP swept aside its
Socialist
Socialism
Socialism is an economic system characterized by social ownership of the means of production and cooperative management of the economy; or a political philosophy advocating such a system. "Social ownership" may refer to any one of, or a combination of, the following: cooperative enterprises,...
and
Pan-Africanist
Pan-Africanism
Pan-Africanism is a movement that seeks to unify African people or people living in Africa, into a "one African community". Differing types of Pan-Africanism seek different levels of economic, racial, social, or political unity...
rivals to dominate the 1965 elections. Now
Prime Minister
Prime minister
A prime minister is the most senior minister of cabinet in the executive branch of government in a parliamentary system. In many systems, the prime minister selects and may dismiss other members of the cabinet, and allocates posts to members within the government. In most systems, the prime...
of Bechuanaland, Khama continued to push for Botswana's independence, from the newly-established capital of
Gaborone
Gaborone
' is the capital and largest city of Botswana with a population of 191,776 based on a 2006 survey, about 10% of the total population of Botswana....
. A 1965 constitution delineated a new Botswana government, and on 30 September 1966,
Botswana
Botswana
Botswana, officially the Republic of Botswana , is a landlocked country located in Southern Africa. The citizens are referred to as "Batswana" . Formerly the British protectorate of Bechuanaland, Botswana adopted its new name after becoming independent within the Commonwealth on 30 September 1966...
gained its independence, with Khama acting as its first President. In 1966 Elizabeth II appointed Khama
Knight Commander of the Most Excellent Order of the British Empire
Order of the British Empire
The Most Excellent Order of the British Empire is an order of chivalry established on 4 June 1917 by George V of the United Kingdom. The Order comprises five classes in civil and military divisions...
.
Presidency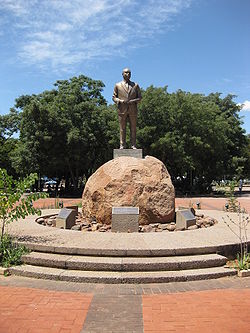 At the time of its independence, Botswana was among the world's poorest countries, even poorer than most other African countries. Khama set out on a vigorous economic programme intended to transform it into an export-based economy, built around
beef
Beef
Beef is the culinary name for meat from bovines, especially domestic cattle. Beef can be harvested from cows, bulls, heifers or steers. It is one of the principal meats used in the cuisine of the Middle East , Australia, Argentina, Brazil, Europe and the United States, and is also important in...
,
copper
Copper
Copper is a chemical element with the symbol Cu and atomic number 29. It is a ductile metal with very high thermal and electrical conductivity. Pure copper is soft and malleable; an exposed surface has a reddish-orange tarnish...
and
diamond
Diamond
In mineralogy, diamond is an allotrope of carbon, where the carbon atoms are arranged in a variation of the face-centered cubic crystal structure called a diamond lattice. Diamond is less stable than graphite, but the conversion rate from diamond to graphite is negligible at ambient conditions...
s. The 1967 discovery of
Orapa's diamond deposits
Orapa diamond mine
The Orapa diamond mine is the world's largest diamond mine. The mine is located in Orapa, a town in the Boteti Sub-District of Botswana about west of the city of Francistown. Orapa is owned by Debswana, a partnership between the De Beers company and the government of Botswana...
aided this programme. However, other African countries have had abundant resources and still proved poor.
Between 1966 and 1980 Botswana had the fastest growing economy in the world. Much of this money was reinvested into
infrastructure
Infrastructure
Infrastructure is basic physical and organizational structures needed for the operation of a society or enterprise, or the services and facilities necessary for an economy to function...
,
health
Health care
Health care is the diagnosis, treatment, and prevention of disease, illness, injury, and other physical and mental impairments in humans. Health care is delivered by practitioners in medicine, chiropractic, dentistry, nursing, pharmacy, allied health, and other care providers...
, and
education
Education
Education in its broadest, general sense is the means through which the aims and habits of a group of people lives on from one generation to the next. Generally, it occurs through any experience that has a formative effect on the way one thinks, feels, or acts...
costs, resulting in further economic development. Khama also instituted strong measures against
corruption
Political corruption
Political corruption is the use of legislated powers by government officials for illegitimate private gain. Misuse of government power for other purposes, such as repression of political opponents and general police brutality, is not considered political corruption. Neither are illegal acts by...
, the bane of so many other newly-independent African nations. Unlike other countries in Africa, his administration adopted market-friendly policies to foster economic development. Khama promised low and stable taxes to mining companies,
liberalized trade
Free trade
Under a free trade policy, prices emerge from supply and demand, and are the sole determinant of resource allocation. 'Free' trade differs from other forms of trade policy where the allocation of goods and services among trading countries are determined by price strategies that may differ from...
, and increased personal freedoms. He maintained low marginal
income tax
Income tax
An income tax is a tax levied on the income of individuals or businesses . Various income tax systems exist, with varying degrees of tax incidence. Income taxation can be progressive, proportional, or regressive. When the tax is levied on the income of companies, it is often called a corporate...
rates to deter tax evasion and corruption. He upheld
liberal democracy
Liberal democracy
Liberal democracy, also known as constitutional democracy, is a common form of representative democracy. According to the principles of liberal democracy, elections should be free and fair, and the political process should be competitive...
and
non-racialism
Racism
Racism is the belief that inherent different traits in human racial groups justify discrimination. In the modern English language, the term "racism" is used predominantly as a pejorative epithet. It is applied especially to the practice or advocacy of racial discrimination of a pernicious nature...
in the midst of a region embroiled in civil war, racial enmity and corruption.
On the foreign policy front, Khama exercised careful politics and did not allow militant groups to operate from within Botswana. According to Richard Dale "The Khama government had authority to do so by virtue of the 1963 Prevention of Violence Abroad act, and a week after independence, Sir Seretse Khama announced before the National Assembly his government's policy to insure that Botswana would not become a base of operations for attacking any neighbor." Shortly before his death, Khama would play a major role in negotiating the end of the
Rhodesian civil war
Rhodesian Bush War
The Rhodesian Bush War – also known as the Second Chimurenga or the Zimbabwe War of Liberation – was a civil war which took place between July 1964 and December 1979 in the unrecognised country of Rhodesia...
and the resulting creation and independence of
Zimbabwe
Zimbabwe
Zimbabwe is a landlocked country located in the southern part of the African continent, between the Zambezi and Limpopo rivers. It is bordered by South Africa to the south, Botswana to the southwest, Zambia and a tip of Namibia to the northwest and Mozambique to the east. Zimbabwe has three...
.
On a personal level, he was known for his intelligence, integrity and sense of humour.
Legacy
Khama remained president until his death from
pancreatic cancer
Pancreatic cancer
Pancreatic cancer refers to a malignant neoplasm of the pancreas. The most common type of pancreatic cancer, accounting for 95% of these tumors is adenocarcinoma, which arises within the exocrine component of the pancreas. A minority arises from the islet cells and is classified as a...
in 1980, when he was succeeded by Vice President
Quett Masire
Quett Masire
Quett Ketumile Joni Masire, GCMG was the second President of Botswana for the Botswana Democratic Party from 1980 to 1998. He stepped down and was succeeded by the then Vice-President of Botswana, Festus Mogae, who became the third President of Botswana...
. Forty thousand people paid their respects while his body lay in state in Gaborone. He was buried in the Khama family graveyard on a hill in Serowe,
Central District
Central District (Botswana)
Central is the largest of Botswana's districts in terms of area and population. It encompasses the traditional homeland of the Bamangwato people. Some of the most politically connected Batswana have come from the Central District, including former President Sir Seretse Khama, former President...
.
Twenty-eight years after Khama's death, his son Ian succeeded
Festus Mogae
Festus Mogae
Festus Gontebanye Mogae is a Botswana politician who was President of Botswana from 1998 to 2008. He succeeded Quett Masire as President in 1998 and was reelected in October 2004; after ten years in office, he stepped down in 2008 and was succeeded by Lieutenant General Ian Khama...
as the fourth President of Botswana; in
the 2009 general election
Botswana general election, 2009
General elections were held in Botswana on 16 October 2009. They were the 10th general elections held since Botswana's independence in 1966. Botswana's parliament has 61 seats, of which 57 are elected using a single-member district plurality system, meaning there are 57 constituencies, each...
he won a landslide victory in which a younger son, Tshekedi Khama, was elected as a parliamentarian from Serowe North West.
Further reading
From the 1990
film of the same name
.
Williams, Susan. 2006. Colour Bar. Allen Lane. ISBN 0-7139-9811-3
Seager, Alan. 2005. The Shadow of a Great Rock. Connah's Quay, Flintshire, England: I & D Books/ the author
"Seretse Khama" by Neil Parsons, Willie Henderson and Thomas Tlou in 1995
External links