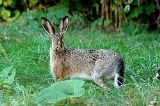 Hare
Hares and jackrabbits are leporids belonging to the
genus
Genus
In biology, a genus is a low-level taxonomic rank used in the biological classification of living and fossil organisms, which is an example of definition by genus and differentia...
Lepus. Hares less than one year old are called leverets. Four species commonly known as types of hare are classified outside of Lepus: the
hispid hare
Hispid Hare
The Hispid hare Caprolagus hispidus, also called Assam rabbit is a leporid native to South Asia, whose historic range extended along the southern foothills of the Himalayas. Today, the habitat of hispid hares is highly fragmented with an area of occupancy of less than extending over an estimated...
(Caprolagus hispidus), and three species known as
red rock hare
Red rock hare
The red rock hares are the three species in the genus Pronolagus. They are African lagomorphs of the family Leporidae.The genus contains the following species:* Natal Red Rock Hare, Pronolagus crassicaudatus...
s (Pronolagus spp.).
Hares are very fast-moving. The European brown hare (Lepus europaeus) can run at speeds of up to 72 km/h (45 mph). They live solitarily or in pairs, while a "drove" is the collective noun for a group of hares. Their bodies are capable of absorbing the g-force produced while running at extreme speeds or while escaping predators.
A common type of hare in Arctic
North America
North America
North America is a continent wholly within the Northern Hemisphere and almost wholly within the Western Hemisphere. It is also considered a northern subcontinent of the Americas...
is the
snowshoe hare
Snowshoe Hare
The Snowshoe Hare , also called the Varying Hare, or Snowshoe Rabbit, is a species of hare found in North America. It has the name "snowshoe" because of the large size of its hind feet and the marks its tail leaves. The animal's feet prevent it from sinking into the snow when it hops and walks...
, replaced farther south by the
black-tailed jackrabbit
Black-tailed Jackrabbit
The black-tailed jackrabbit , also known as the american desert hare, is a common hare of the western United States and Mexico, where it is found at elevations from sea level to up to...
,
white-tailed jackrabbit
White-tailed Jackrabbit
The White-tailed Jackrabbit , also known as the Prairie Hare and the White Jack, is a hare found in western North America. Briefly reputed to have been extirpated , it is now clear from observations, roadkilled specimens and historical records that white-tailed jackrabbits are still extant in...
, and other species.
Normally a shy animal, the European brown hare changes its behaviour in spring, when hares can be seen in broad daylight chasing one another around meadows; this appears to be competition between males to attain dominance (and hence more access to breeding females). During this spring frenzy, hares can be seen "boxing"; one hare striking another with its paws (probably the origin of the term "
mad as a March hare
Mad as a March hare
To be as "mad as a March hare" is an English idiomatic phrase derived from the observed antics, said to occur only in the March breeding season of the Hare, genus Lepus...
"). For a long time it had been thought that this was inter-male competition, but closer observation has revealed that it is usually a female hitting a male to prevent copulation.
Differences from rabbits
Hares do not bear their young below ground in a
burrow
Burrow
A burrow is a hole or tunnel dug into the ground by an animal to create a space suitable for habitation, temporary refuge, or as a byproduct of locomotion. Burrows provide a form of shelter against predation and exposure to the elements, so the burrowing way of life is quite popular among the...
as do other leporids, but rather in a shallow depression or flattened nest of grass called a form. Hares are adapted to the lack of physical protection, relative to that afforded by a burrow, by being born fully furred and with eyes open. They are hence able to fend for themselves soon after birth; they are
precocial
Precocial
In biology, the term precocial refers to species in which the young are relatively mature and mobile from the moment of birth or hatching. The opposite developmental strategy is called "altricial," where the young are born or hatched helpless. Extremely precocial species may be called...
. By contrast, the related
rabbit
Rabbit
Rabbits are small mammals in the family Leporidae of the order Lagomorpha, found in several parts of the world...
s and
cottontail rabbit
Cottontail rabbit
The cottontail rabbits are among the 16 lagomorph species in the genus Sylvilagus, found in the Americas.In appearance, most cottontail rabbits closely resemble the wild European Rabbit...
s are
altricial
Altricial
Altricial, meaning "requiring nourishment", refers to a pattern of growth and development in organisms which are incapable of moving around on their own soon after hatching or being born...
, having young that are born blind and hairless.
All rabbits (except the cottontail rabbits) live underground in burrows or warrens, while hares (and cottontail rabbits) live in simple nests above the ground, and usually do not live in groups. Hares are generally larger than rabbits, with longer ears, and have black markings on their fur. Hares have not been domesticated, while rabbits are kept as house pets. There is a domestic pet known as the "
Belgian hare
Belgian Hare
The Belgian Hare is a fancy breed of domestic rabbit, that was developed through selective breeding to closely resemble the wild hare in physical appearance, and is believed to be one of the most intelligent and active breeds of domestic rabbit...
", but this is a rabbit that has been selectively bred to resemble a hare.
The hare's diet is similar to the rabbit's. They are both in the order
Lagomorpha
Lagomorpha
The lagomorphs are the members of the taxonomic order Lagomorpha, of which there are two living families, the Leporidae , and the Ochotonidae...
.
Hares have jointed, or kinetic, skulls, unique among mammals.
Classification
There are 32 species listed: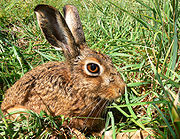 As food
Hares and rabbits are plentiful in many areas, adapt to a wide variety of conditions, and reproduce quickly, so hunting is often less regulated than for other varieties of game. In rural areas of North America and particularly in pioneer times, they were a common source of meat. However, because of their extremely low fat content, they are
a poor choice as a survival food
Rabbit starvation
Rabbit starvation, also referred to as protein poisoning or mal de caribou, is a form of acute malnutrition caused by excess consumption of any lean meat coupled with a lack of other sources of nutrients usually in combination with other stressors, such as severe cold or dry environment...
.
Hares can be prepared in the same manner as rabbits—commonly roasted or taken apart for breading and frying.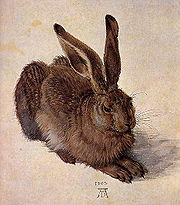 Hasenpfeffer
Hasenpfeffer
Hasenpfeffer is a traditional German stew made from marinated rabbit or hare, cut into stewing-meat sized pieces and braised with onions and wine in a marinade thickened with the animal's blood...
(also spelled Hasenfeffer) is a traditional
German
German cuisine
German cuisine is a style of cooking derived from the nation of Germany. It has evolved as a national cuisine through centuries of social and political change with variations from region to region. The southern regions of Germany, including Bavaria and neighbouring Swabia, share many dishes....
stew
Stew
A stew is a combination of solid food ingredients that have been cooked in liquid and served in the resultant gravy. Ingredients in a stew can include any combination of vegetables , meat, especially tougher meats suitable for slow-cooking, such as beef. Poultry, sausages, and seafood are also used...
made from marinated
rabbit
Rabbit
Rabbits are small mammals in the family Leporidae of the order Lagomorpha, found in several parts of the world...
or hare. Pfeffer is not only the name of a spice, but also of a dish where the animal's blood is used as a gelling agent for the sauce. Wine or vinegar is also a prominent ingredient, to lend a sourness to the recipe.
Jugged hare (known as civet de lièvre in France), is a whole hare, cut into pieces, marinated, and cooked with red wine and juniper berries in a tall jug that stands in a pan of water. It traditionally is served with the hare's blood (or the blood is added right at the very end of the cooking process) and
port wine
Port wine
Port wine is a Portuguese fortified wine produced exclusively in the Douro Valley in the northern provinces of Portugal. It is typically a sweet, red wine, often served as a dessert wine, and comes in dry, semi-dry, and white varieties...
.
Jugged hare is described in the influential 18th century cookbook, The Art of Cookery by
Hannah Glasse
Hannah Glasse
Hannah Glasse was an English cookery writer of the 18th century. She is best known for her cookbook, The Art of Cookery, first published in 1747...
, with a recipe titled, "A Jugged Hare," that begins, "Cut it into little pieces, lard them here and there...." The recipe goes on to describe cooking the pieces of hare in water in a jug that it set within a bath of boiling water to cook for three hours. Beginning in the nineteenth century, Glasse has been widely credited with having started the recipe with the words "First, catch your hare," as in this citation. This attribution is apocryphal.
However, having a freshly caught, or shot, hare enables one to obtain its blood. A freshly killed hare is prepared for jugging by removing its entrails and then hanging it in a
larder
Larder
A larder is a cool area for storing food prior to use.Larders were commonplace in houses before the widespread use of the refrigerator.Essential qualities of a larder are that it should be:*as cool as possible*close to food preparation areas...
by its hind legs, which causes the blood to accumulate in the chest cavity. One method of preserving the blood after draining it from the hare (since the hare itself is usually hung for a week or more) is to mix it with red wine vinegar to prevent it
coagulating
Coagulation
Coagulation is a complex process by which blood forms clots. It is an important part of hemostasis, the cessation of blood loss from a damaged vessel, wherein a damaged blood vessel wall is covered by a platelet and fibrin-containing clot to stop bleeding and begin repair of the damaged vessel...
, and then to store it in a freezer.
Many other British cookbooks from before the middle of the 20th century have recipes for jugged hare. Merle and Reitch have this to say about jugged hare, for example:
The best part of the hare, when roasted, is the loin and the thick part of the hind leg; the other parts are only fit for stewing, hashing, or jugging. It is usual to roast a hare first, and to stew or jug the portion which is not eaten the first day. [...]
To Jug A Hare. This mode of cooking a hare is very desirable when there is any doubt as to its age, as an old hare, which would be otherwise uneatable, may be made into an agreeable dish. [...]
In 2006, a survey of 2021 people for the television channel
UKTV Food
UKTV Food
Good Food is a lifestyle channel broadcasting in the United Kingdom as part of the UKTV network of channels. The channel originally launched on 5 November 2001 and relaunched in its current format on 22 June 2009. Good Food is available on satellite through Sky and on cable services, primarily...
found that only 1.6% of the people under 25 recognized jugged hare by name. 7 of 10 stated they would refuse to eat jugged hare if it were served at the house of a friend or a relative.
The hare (and in recent times, the rabbit) is a staple of
Maltese cuisine
Culture of Malta
The culture of Malta is the culture of the Maltese islanders and reflects various societies that have come into contact with the Maltese Islands throughout the centuries, including neighbouring Mediterranean cultures, and the cultures of the nations that ruled Malta for long periods of time prior...
. The dish was presented to the island's Grandmasters of the Sovereign Military Order of Malta as well as Renaissance
Inquisitors
Inquisition
The Inquisition, Inquisitio Haereticae Pravitatis , was the "fight against heretics" by several institutions within the justice-system of the Roman Catholic Church. It started in the 12th century, with the introduction of torture in the persecution of heresy...
resident on the island, several of whom went on to become
pope
Pope
The Pope is the Bishop of Rome, a position that makes him the leader of the worldwide Catholic Church . In the Catholic Church, the Pope is regarded as the successor of Saint Peter, the Apostle...
.
According to
Jewish tradition
Halakha
Halakha — also transliterated Halocho , or Halacha — is the collective body of Jewish law, including biblical law and later talmudic and rabbinic law, as well as customs and traditions.Judaism classically draws no distinction in its laws between religious and ostensibly non-religious life; Jewish...
, the hare is among mammals deemed not
kosher
Kosher foods
Kosher foods are those that conform to the regulations of the Jewish Halakhic law framework, kosher meaning fit or allowed to be eaten. A list of some kosher foods are found in the book of Leviticus 11:1-47. There are also certain kosher rules found there...
, and therefore not eaten by observant Jews.
In England, a now rarely-served dish is potted hare. The hare meat is cooked, then covered in at least one inch (preferably more) of butter. The butter is a preservative, the dish can stored for up to several months. It is served cold, often on bread or as an appetizer.
Folklore and mythology
The hare in African folk tales is a
trickster
Trickster
In mythology, and in the study of folklore and religion, a trickster is a god, goddess, spirit, man, woman, or anthropomorphic animal who plays tricks or otherwise disobeys normal rules and conventional behavior. It is suggested by Hansen that the term "Trickster" was probably first used in this...
; some of the stories about the hare were retold among African
slaves
Slavery
Slavery is a system under which people are treated as property to be bought and sold, and are forced to work. Slaves can be held against their will from the time of their capture, purchase or birth, and deprived of the right to leave, to refuse to work, or to demand compensation...
in America, and are the basis of the Brer Rabbit stories. The hare appears in
English folklore
English folklore
English folklore is the folk tradition which has developed in England over a number of centuries. Some stories can be traced back to their roots, while the origin of others is uncertain or disputed...
in the saying "as mad as a
March hare
March Hare
Haigha, the March Hare is a character most famous for appearing in the tea party scene in Lewis Carroll's Alice's Adventures in Wonderland.The main character, Alice, hypothesises,...
" and in the legend of the White Hare that alternatively tells of a witch who takes the form of a white hare and goes out looking for prey at night or of the spirit of a broken-hearted maiden who cannot rest and who haunts her unfaithful lover. In
Irish
Irish mythology
The mythology of pre-Christian Ireland did not entirely survive the conversion to Christianity, but much of it was preserved, shorn of its religious meanings, in medieval Irish literature, which represents the most extensive and best preserved of all the branch and the Historical Cycle. There are...
folklore, the hare is often associated with Sidh (Fairy) or other pagan elements. In these stories characters who harm hares often suffer dreadful consequences.
Many cultures, including the
Chinese
China
Chinese civilization may refer to:* China for more general discussion of the country.* Chinese culture* Greater China, the transnational community of ethnic Chinese.* History of China* Sinosphere, the area historically affected by Chinese culture...
,
Japan
Japan
Japan is an island nation in East Asia. Located in the Pacific Ocean, it lies to the east of the Sea of Japan, China, North Korea, South Korea and Russia, stretching from the Sea of Okhotsk in the north to the East China Sea and Taiwan in the south...
ese, and
Mexican
Mexico
The United Mexican States , commonly known as Mexico , is a federal constitutional republic in North America. It is bordered on the north by the United States; on the south and west by the Pacific Ocean; on the southeast by Guatemala, Belize, and the Caribbean Sea; and on the east by the Gulf of...
, see a hare in the pattern of
dark patches
Lunar mare
The lunar maria are large, dark, basaltic plains on Earth's Moon, formed by ancient volcanic eruptions. They were dubbed maria, Latin for "seas", by early astronomers who mistook them for actual seas. They are less reflective than the "highlands" as a result of their iron-rich compositions, and...
in the
moon
Moon
The Moon is Earth's only known natural satellite,There are a number of near-Earth asteroids including 3753 Cruithne that are co-orbital with Earth: their orbits bring them close to Earth for periods of time but then alter in the long term . These are quasi-satellites and not true moons. For more...
(see
Moon rabbit
Moon rabbit
The Moon rabbit, also called the Jade Rabbit, in folklore is a rabbit that lives on the moon, based on pareidolia that identifies the markings of the moon as a rabbit. The story exists in many cultures, particularly in East Asian folklore, where it is seen pounding in a mortar and pestle...
); this tradition forms the basis of the
Angelo Branduardi
Angelo Branduardi
Angelo Branduardi , is an Italian folk singer and composer who scored relevant success in Italy and European countries such as France, Germany, Belgium and the Netherlands.- Biography :...
song "The Hare in the Moon" The constellation
Lepus
Lepus (constellation)
Lepus is a constellation lying just south of the celestial equator, immediately south of Orion. Its name is Latin for hare. Although the hare does not represent any particular figure in Greek mythology, Lepus was one of the 48 constellations listed by the 2nd century astronomer Ptolemy, and it...
represents a hare.
One of
Aesop's fables
Aesop's Fables
Aesop's Fables or the Aesopica are a collection of fables credited to Aesop, a slave and story-teller believed to have lived in ancient Greece between 620 and 560 BCE. The fables remain a popular choice for moral education of children today...
tells the story of
The Tortoise and the Hare
The Tortoise and the Hare
The Tortoise and the Hare is a fable attributed to Aesop and is number 226 in the Perry Index. The story concerns a hare who ridicules a slow-moving tortoise and is challenged by him to a race. The hare soon leaves the tortoise behind and, confident of winning, decides to take a nap midway through...
.
Three hares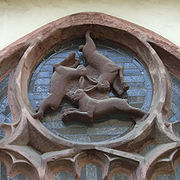 A study in 2004 followed the history and migration of a symbolic image of three hares with conjoined ears. In this image, three hares are seen chasing each other in a circle with their heads near its centre. While each of the animals appears to have two ears, only three ears are depicted. The ears form a triangle at the centre of the circle and each is shared by two of the hares. The image has been traced from
Christian
Christianity
Christianity is a monotheistic religion based on the life and teachings of Jesus as presented in canonical gospels and other New Testament writings...
churches in the English county of
Devon
Devon
Devon is a large county in southwestern England. The county is sometimes referred to as Devonshire, although the term is rarely used inside the county itself as the county has never been officially "shired", it often indicates a traditional or historical context.The county shares borders with...
right back along the
Silk Road
Silk Road
The Silk Road or Silk Route refers to a historical network of interlinking trade routes across the Afro-Eurasian landmass that connected East, South, and Western Asia with the Mediterranean and European world, as well as parts of North and East Africa...
to
China
China
Chinese civilization may refer to:* China for more general discussion of the country.* Chinese culture* Greater China, the transnational community of ethnic Chinese.* History of China* Sinosphere, the area historically affected by Chinese culture...
, via western and eastern Europe and the Middle East. It is possible that before its appearance in China, it was first depicted in the Middle East before being reimported centuries later. Its use is associated with
Christian
Christian
A Christian is a person who adheres to Christianity, an Abrahamic, monotheistic religion based on the life and teachings of Jesus of Nazareth as recorded in the Canonical gospels and the letters of the New Testament...
, Jewish, Islamic and Buddhist sites stretching back to about AD 600.
Place names
The hare has given rise to local place names, as they can often be observed in favoured localities. An example in Scotland is 'Murchland', the
Scots
Scots language
Scots is the Germanic language variety spoken in Lowland Scotland and parts of Ulster . It is sometimes called Lowland Scots to distinguish it from Scottish Gaelic, the Celtic language variety spoken in most of the western Highlands and in the Hebrides.Since there are no universally accepted...
word for a hare being 'murchen'.
Further reading
William George Black

William George Black

William George Black, C.B.E., was an antiquary, lawyer and politician of Glasgow.Black was born 23 December 1857, and died in Glasgow on 21 December 1932....


, F.S.A.Scot. "The Hare in Folk-lore" The Folk-Lore Journal. Volume 1, 1883.
External links