 Bonfire of the Vanities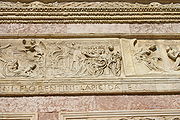 Bonfire of the Vanities refers to the burning of objects that are deemed to be occasions of
sin
Sin
In religion, sin is the violation or deviation of an eternal divine law or standard. The term sin may also refer to the state of having committed such a violation. Christians believe the moral code of conduct is decreed by God In religion, sin (also called peccancy) is the violation or deviation...
. The most infamous one took place on 7 February 1497, when supporters of the
Dominican
Dominican Order
The Order of Preachers , after the 15th century more commonly known as the Dominican Order or Dominicans, is a Catholic religious order founded by Saint Dominic and approved by Pope Honorius III on 22 December 1216 in France...
priest
Girolamo Savonarola
Girolamo Savonarola
Girolamo Savonarola was an Italian Dominican friar, Scholastic, and an influential contributor to the politics of Florence from 1494 until his execution in 1498. He was known for his book burning, destruction of what he considered immoral art, and what he thought the Renaissance—which began in his...
collected and publicly burned thousands of objects like
cosmetics
Cosmetics
Cosmetics are substances used to enhance the appearance or odor of the human body. Cosmetics include skin-care creams, lotions, powders, perfumes, lipsticks, fingernail and toe nail polish, eye and facial makeup, towelettes, permanent waves, colored contact lenses, hair colors, hair sprays and...
,
art
Art
Art is the product or process of deliberately arranging items in a way that influences and affects one or more of the senses, emotions, and intellect....
, and books in
Florence
Florence
Florence is the capital city of the Italian region of Tuscany and of the province of Florence. It is the most populous city in Tuscany, with approximately 370,000 inhabitants, expanding to over 1.5 million in the metropolitan area....
,
Italy
Italy
Italy , officially the Italian Republic languages]] under the European Charter for Regional or Minority Languages. In each of these, Italy's official name is as follows:;;;;;;;;), is a unitary parliamentary republic in South-Central Europe. To the north it borders France, Switzerland, Austria and...
, on the
Mardi Gras
Mardi Gras
The terms "Mardi Gras" , "Mardi Gras season", and "Carnival season", in English, refer to events of the Carnival celebrations, beginning on or after Epiphany and culminating on the day before Ash Wednesday...
festival. Such bonfires were not invented by Savonarola, however. They were a common accompaniment to the outdoor sermons of
San Bernardino di Siena
Bernardino of Siena
Saint Bernardino of Siena, O.F.M., was an Italian priest, Franciscan missionary, and is a Catholic saint.-Early life:...
in the first half of the century.
The focus of this destruction was nominally on objects that might tempt one to sin, including
vanity
Vanity
In conventional parlance, vanity is the excessive belief in one's own abilities or attractiveness to others. Prior to the 14th century it did not have such narcissistic undertones, and merely meant futility. The related term vainglory is now often seen as an archaic synonym for vanity, but...
items such as
mirror
Mirror
A mirror is an object that reflects light or sound in a way that preserves much of its original quality prior to its contact with the mirror. Some mirrors also filter out some wavelengths, while preserving other wavelengths in the reflection...
s, cosmetics, fine dresses, paintings, playing cards, and even musical instruments. Other targets included books that were deemed to be "immoral," such as works by Boccaccio, and manuscripts of secular songs, as well as artworks, including paintings and sculpture.
Although it is widely reported that the Florentine artist
Sandro Botticelli
Sandro Botticelli
Alessandro di Mariano di Vanni Filipepi, better known as Sandro Botticelli was an Italian painter of the Early Renaissance...
burned several of his paintings based on classical mythology in the great Florentine bonfire of 1497, the historical record on this is not clear. The art historian
Giorgio Vasari
Giorgio Vasari
Giorgio Vasari was an Italian painter, writer, historian, and architect, who is famous today for his biographies of Italian artists, considered the ideological foundation of art-historical writing.-Biography:...
said that Botticelli was a partisan of Savonarola: "he was so ardent a partisan that he was thereby induced to desert his painting, and, having no income to live on, fell into very great distress." Writing several centuries later,
Orestes Brownson
Orestes Brownson
Orestes Augustus Brownson was a New England intellectual and activist, preacher, labor organizer, and noted Catholic convert and writer...
, an apologist for Savonarola, mentions artwork only by Fra Bartolomeo,
Lorenzo di Credi
Lorenzo di Credi
Lorenzo di Credi was an Italian Renaissance painter and sculptor. He first influenced Leonardo da Vinci and then was greatly influenced by him.-Life:...
, and "many other painters," along with "several antique statues." Art historian Rab Hatfield argues that one of Botticelli's paintings, The Mystical Nativity, is based on the sermon Savonarola delivered at Christmas Eve 1493.
The Bonfire Of The Vanities in fiction
The event has been represented or mentioned in varying degrees of detail in a number of works of historical fiction, including
George Eliot
George Eliot
Mary Anne Evans , better known by her pen name George Eliot, was an English novelist, journalist and translator, and one of the leading writers of the Victorian era...
's
Romola
Romola
Romola is a historical novel by George Eliot set in the fifteenth century, and is "a deep study of life in the city of Florence from an intellectual, artistic, religious, and social point of view". It first appeared in fourteen parts published in Cornhill Magazine from July 1862 to August 1863...
(1863), E.R. Eddison's
A Fish Dinner in Memison
A Fish Dinner in Memison
A Fish Dinner in Memison is the second novel in the Zimiamvian Trilogy by Eric Rücker Eddison.The story consists of alternating sections set on Earth and in Zimiamvia. The Earth sections focus on the romance of Edward Lessingham and his wife Mary...
(1941),
Irving Stone
Irving Stone
Irving Stone was an American writer known for his biographical novels of famous historical personalities, including Lust for Life, a biographical novel about the life of Vincent van Gogh, and The Agony and the Ecstasy, a biographical novel about Michelangelo.-Biography:In...
's
The Agony and the Ecstasy
(1961),
Chelsea Quinn Yarbro
Chelsea Quinn Yarbro
-Biography:She was born in Berkeley, California. She attended Berkeley schools through high school followed by three years at San Francisco State College .In November 1969 she married Donald Simpson and divorced in February 1982...
's
The Palace
(1978),
Timothy Findley
Timothy Findley
Timothy Irving Frederick Findley, OC, O.Ont was a Canadian novelist and playwright. He was also informally known by the nickname Tiff or Tiffy, an acronym of his initials.-Biography:...
's
Pilgrim
(1999),
Sarah Dunant
Sarah Dunant
Sarah Dunant is the author of many international bestsellers, most recently Sacred Hearts, the completion of her Italian historical trilogy....
's
The Birth of Venus
(2003), Ian Caldwell's and Dustin Thomason's
Rule of Four
Rule of four
The rule of four is a Supreme Court of the United States practice that permits four of the nine justices to grant a writ of certiorari. This is done specifically to prevent a majority of the Court from controlling the Court's docket...
(2004), and
Richelle Meads Succubus Shadows (2010).

It is also depicted in the PBS series,
Empires: The Medici, Godfathers of the Renaissance
(2003) at the end of the second episode.

Mentioned in the video game
Assassin's Creed II
Assassin's Creed II
Assassin's Creed II is a historical third-person action-adventure video game developed by Ubisoft Montreal and published by Ubisoft for PlayStation 3, Xbox 360, Microsoft Windows and Mac OS X. It is the second video game installment of the Assassin's Creed series, and is a sequel to the 2007 video...
,
the 1497 event is a downloadable content

Downloadable content

Downloadable content is official additional content for a video game distributed through the Internet. Downloadable content can be of several types, ranging from a single in-game outfit to an entirely new, extensive storyline, similarly to an expansion pack. As such, DLC may add new game modes,...


portion of the game. In the
Assassin's Creed II
version, Savonarola had stolen the "Apple of Eden" from Ezio Auditore da Firenze at the end of the Battle of Forli DLC, and used it to hyponotize people into supporting him.

As a metaphor, Tom Wolfe

Tom Wolfe

Thomas Kennerly "Tom" Wolfe, Jr. is a best-selling American author and journalist. He is one of the founders of the New Journalism movement of the 1960s and 1970s.-Early life and education:...


used the 15th century event and ritual as the title for his 1987 novel
The Bonfire of the Vanities
The Bonfire of the Vanities
The Bonfire of the Vanities is a 1987 novel by Tom Wolfe. The story is a drama about ambition, racism, social class, politics, and greed in 1980s New York City and centers on four main characters: WASP bond trader Sherman McCoy, Jewish assistant district attorney Larry Kramer, British expatriate...
and its film adaptation

The Bonfire of the Vanities (film)

The Bonfire of the Vanities is a 1990 American film adaptation of the best-selling novel of the same name by Tom Wolfe. The film was directed by Brian De Palma and stars Tom Hanks as Sherman McCoy, Bruce Willis as Peter Fallow, Melanie Griffith as Maria Ruskin, and Kim Cattrall as Judy McCoy,...


.

Margaret Atwood

Margaret Atwood

Margaret Eleanor Atwood, is a Canadian poet, novelist, literary critic, essayist, and environmental activist. She is among the most-honoured authors of fiction in recent history; she is a winner of the Arthur C...


's works allude to the bonfire, as in her dystopian novels
The Handmaid's Tale
The Handmaid's Tale
The Handmaid's Tale is a dystopian novel, a work of science fiction or speculative fiction, written by Canadian author Margaret Atwood and first published by McClelland and Stewart in 1985...
(1985) and
Oryx and Crake
Oryx and Crake
Oryx and Crake is a novel by the Canadian author Margaret Atwood. Atwood has at times disputed the novel being science fiction, preferring to label it speculative fiction and "adventure romance" because it does not deal with 'things that have not been invented yet' and goes beyond the realism she...
(2003).

This event has been also depicted in Jodorowsky

Alejandro Jodorowsky

Alejandro Jodorowsky Prullansky, known as Alejandro Jodorowsky, is a Chilean filmmaker, playwright, actor, author, comic book writer and spiritual guru...


& Manara's

Milo Manara

Maurilio Manara – known professionally as Milo Manara – is an Italian comic book writer and artist, best known for his erotic approach to the medium.-Career:...


Borgia comics.

The tenth episode of Season 2 of the CW's

The CW Television Network

The CW Television Network is a television network in the United States launched at the beginning of the 2006–2007 television season. It is a joint venture between CBS Corporation, the former owners of United Paramount Network , and Time Warner's Warner Bros., former majority owner of The WB...



Gossip Girl
Gossip Girl
Gossip Girl is an American young adult novel series written by Cecily von Ziegesar and published by Little, Brown and Company, a subsidiary of the Hachette Group. The series revolves around the lives and romances of the privileged teenagers at the Constance Billard School for Girls, an elite...
is called "Bonfire of the Vanity".
The first episode of
Season 17
The Simpsons (season 17)
The Simpsons' seventeenth season originally aired between September 2005 and May 2006, beginning on Sunday, September 11, 2005. It broke Fox's tradition of pushing its shows' season premieres back to November to accommodate the Major League Baseball games airing on the network during September...
of
The Simpsons
The Simpsons
The Simpsons is an American animated sitcom created by Matt Groening for the Fox Broadcasting Company. The series is a satirical parody of a middle class American lifestyle epitomized by its family of the same name, which consists of Homer, Marge, Bart, Lisa and Maggie...
is called "
Bonfire of the Manatees
Bonfire of the Manatees
"Bonfire of the Manatees" is the first episode of The Simpsons seventeenth season. It originally aired on September 11, 2005, making it the first Simpsons season premiere to air in September — since the eleventh season opened with "Beyond Blunderdome" on September 26, 1999...
" a play on the name.
"Bonfire of the Vanities" in non-fiction
Classicist historians John Heath, Bruce Snail Thornton, and
Victor Davis Hanson
Victor Davis Hanson
Victor Davis Hanson is an American military historian, columnist, political essayist and former classics professor, notable as a scholar of ancient warfare. He has been a commentator on modern warfare and contemporary politics for National Review and other media outlets...
wrote
Bonfire of the Humanities: Rescuing the Classics in an Impoverished Age
(2001), using the name of the bonfire as a metaphor for declining interest in classic works.