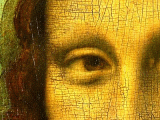 Art
Art
is the product or process of deliberately arranging items (often with
symbol
Symbol
A symbol is something which represents an idea, a physical entity or a process but is distinct from it. The purpose of a symbol is to communicate meaning. For example, a red octagon may be a symbol for "STOP". On a map, a picture of a tent might represent a campsite. Numerals are symbols for...
ic significance) in a way that influences and affects one or more of the senses, emotions, and
intellect
Intellect
Intellect is a term used in studies of the human mind, and refers to the ability of the mind to come to correct conclusions about what is true or real, and about how to solve problems...
.
It encompasses a diverse range of human activities, creations, and modes of expression, including
music
Music
Music is an art form whose medium is sound and silence. Its common elements are pitch , rhythm , dynamics, and the sonic qualities of timbre and texture...
,
literature
Literature
Literature is the art of written works, and is not bound to published sources...
,
film
Film
A film, also called a movie or motion picture, is a series of still or moving images. It is produced by recording photographic images with cameras, or by creating images using animation techniques or visual effects...
,
photography
Photography
Photography is the art, science and practice of creating durable images by recording light or other electromagnetic radiation, either electronically by means of an image sensor or chemically by means of a light-sensitive material such as photographic film...
,
sculpture
Sculpture
Sculpture is three-dimensional artwork created by shaping or combining hard materials—typically stone such as marble—or metal, glass, or wood. Softer materials can also be used, such as clay, textiles, plastics, polymers and softer metals...
, and paintings. The meaning of art is explored in a branch of
philosophy
Philosophy
Philosophy is the study of general and fundamental problems, such as those connected with existence, knowledge, values, reason, mind, and language. Philosophy is distinguished from other ways of addressing such problems by its critical, generally systematic approach and its reliance on rational...
known as
aesthetics
Aesthetics
Aesthetics is a branch of philosophy dealing with the nature of beauty, art, and taste, and with the creation and appreciation of beauty. It is more scientifically defined as the study of sensory or sensori-emotional values, sometimes called judgments of sentiment and taste...
, whereas disciplines such as
anthropology
Anthropology
Anthropology is the study of humanity. It has origins in the humanities, the natural sciences, and the social sciences. The term "anthropology" is from the Greek anthrōpos , "man", understood to mean mankind or humanity, and -logia , "discourse" or "study", and was first used in 1501 by German...
,
sociology
Sociology
Sociology is the study of society. It is a social science—a term with which it is sometimes synonymous—which uses various methods of empirical investigation and critical analysis to develop a body of knowledge about human social activity...
and
psychology
Psychology
Psychology is the study of the mind and behavior. Its immediate goal is to understand individuals and groups by both establishing general principles and researching specific cases. For many, the ultimate goal of psychology is to benefit society...
analyze its relationship with humans and generations.
Traditionally, the term
art
was used to refer to any skill or mastery.
Buy old masters. They fetch a better price than old mistresses.

Max Aitken, recalled on his death (9 June 1964)
Light is impressionism.

Gae Aulenti|Gae Aulenti, On positioning galleries for impressionist and post impressionist paintings at the top of her design for Paris's Musée d'Orsay, Time (8 December 1986)
This museum is a torpedo moving through time, its head the ever-advancing present, its tail the ever-receding past of 50 to 100 years ago.

Alfred Barr, Newsweek (1 June 1964)
Art is made by the alone for the alone.

Luis Barragán, Time (12 May 1980)
Pop art is the inedible raised to the unspeakable.

Leonard Baskin|Leonard Baskin, Publishers Weekly (5 April 1965)
Any great work of art ... revives and readapts time and space, and the measure of its success is the extent to which it makes you an inhabitant of that world — the extent to which it invites you in and lets you breathe its strange, special air.

Leonard Bernstein, "What Makes Opera Grand?" Vogue (December 1958)
If the world were clear, art would not exist.

Albert Camus, The Myth of Sisyphus (1942), "Absurd Creation" (Tr. Justin O'Brien, Vantage International, 1991, ISBN 0-679-73373-6, p. 98)
Art is the triumph over chaos.

John Cheever, The Stories of John Cheever Knopf (1978)
Without tradition, art is a flock of sheep without a shepherd. Without innovation, it is a corpse.

Winston Churchill, To Royal Academy of Arts, Time (11 May 1953)