 William James (naval commander)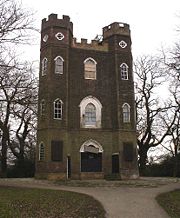 Commodore
Sir William James, 1st Baronet
, FRS (c.1721 – 16 December 1783) was a
British
United Kingdom
The United Kingdom of Great Britain and Northern IrelandIn the United Kingdom and Dependencies, other languages have been officially recognised as legitimate autochthonous languages under the European Charter for Regional or Minority Languages...
naval
Navy
A navy is the branch of a nation's armed forces principally designated for naval and amphibious warfare; namely, lake- or ocean-borne combat operations and related functions...
commander known for his successful campaigns against Indian native navies.
A poor
Welsh
Wales
Wales is a country that is part of the United Kingdom and the island of Great Britain, bordered by England to its east and the Atlantic Ocean and Irish Sea to its west. It has a population of three million, and a total area of 20,779 km²...
miller
Miller
A miller usually refers to a person who operates a mill, a machine to grind a cereal crop to make flour. Milling is among the oldest of human occupations. "Miller", "Milne" and other variants are common surnames, as are their equivalents in other languages around the world...
's son from Haverfordwest,
Pembrokeshire
Pembrokeshire
Pembrokeshire is a county in the south west of Wales. It borders Carmarthenshire to the east and Ceredigion to the north east. The county town is Haverfordwest where Pembrokeshire County Council is headquartered....
, James ran away to sea in 1732 and by 1738 was commanding his own ship and serving in the West Indies. Nine years later, in 1747, he joined the
East India Company
East India Company
The East India Company was an early English joint-stock company that was formed initially for pursuing trade with the East Indies, but that ended up trading mainly with the Indian subcontinent and China...
and was appointed commodore of its Bombay Marine naval forces four years later.
He is particularly associated with an action on 2 April 1755 when, commanding the Bombay Marine Ship
Protector
he attacked and destroyed the fortress of Tulaji Angre (also spelt Tollagee Angria; son of
Kanhoji Angre
Kanhoji Angre
Kanhoji Angre or Conajee Angria or Sarkhel Angre was the first notable chief of the Maratha Navy in 18th century India. He fought successfully all his life against the British, Dutch and Portuguese naval interests in the Indian Ocean during the 18th century, and hence was alleged by them to be a...
, described by English revisionists as a "pirate", by locals as the admiral of the
Maratha Empire
Maratha Empire
The Maratha Empire or the Maratha Confederacy was an Indian imperial power that existed from 1674 to 1818. At its peak, the empire covered much of South Asia, encompassing a territory of over 2.8 million km²....
navy) at Severndroog (an English representation of the latter part of
Janjeera Soowumdroog
or
Suvarnadurg
Suvarnadurg
Suvarnadurg is a fort that is located on a small island in the Arabian Sea, near Harnai in Konkan, along the West Coast of India, in the Indian state of Maharashtra...
), in
Konkan
Konkan
The Konkan also called the Konkan Coast or Karavali is a rugged section of the western coastline of India from Raigad to Mangalore...
, along the western coast of
India
India
India , officially the Republic of India , is a country in South Asia. It is the seventh-largest country by geographical area, the second-most populous country with over 1.2 billion people, and the most populous democracy in the world...
, between
Mumbai
Mumbai
Mumbai , formerly known as Bombay in English, is the capital of the Indian state of Maharashtra. It is the most populous city in India, and the fourth most populous city in the world, with a total metropolitan area population of approximately 20.5 million...
and
Goa
Goa
Goa , a former Portuguese colony, is India's smallest state by area and the fourth smallest by population. Located in South West India in the region known as the Konkan, it is bounded by the state of Maharashtra to the north, and by Karnataka to the east and south, while the Arabian Sea forms its...
. He had initially been instructed only to blockade the stronghold, but through his intimate knowledge of the rocky coastline was able to get close enough to blow up the fortress. Although the East India Company had spent considerable sums providing protection from piracy, he only received £100 in reward.
In February 1756, he supported the capture of Gheriah (now
Vijaydurg
Vijaydurg
Vijaydurg may refer to:* Vijaydurg * Vijaydurg fort...
) by Colonel Robert Clive and Admiral Watson, and was active in numerous skirmishes against the French, helping to consolidate the British position in India.
He returned to England in 1759, settling in
Eltham
Eltham, London
-Parks and open spaces:There is a large variety of open green space in Eltham, in the form of parkland, fields and woodland.*Avery Hill Park is large, open parkland, situated to the east of Eltham. It is most notable for its Winter Garden, a hothouse containing tropical trees and plants from around...
in south-east
London
London
London is the capital city of :England and the :United Kingdom, the largest metropolitan area in the United Kingdom, and the largest urban zone in the European Union by most measures. Located on the River Thames, London has been a major settlement for two millennia, its history going back to its...
, and later became chairman of the directors of the East India Company, a governor of Greenwich Hospital and a fellow of the
Royal Society
Royal Society
The Royal Society of London for Improving Natural Knowledge, known simply as the Royal Society, is a learned society for science, and is possibly the oldest such society in existence. Founded in November 1660, it was granted a Royal Charter by King Charles II as the "Royal Society of London"...
for his contribution to
navigation
Navigation
Navigation is the process of monitoring and controlling the movement of a craft or vehicle from one place to another. It is also the term of art used for the specialized knowledge used by navigators to perform navigation tasks...
. Created a baronet in 1778, he died of a stroke at his daughter's wedding in 1783, and was buried at Eltham. The following year a
folly
Folly
In architecture, a folly is a building constructed primarily for decoration, but either suggesting by its appearance some other purpose, or merely so extravagant that it transcends the normal range of garden ornaments or other class of building to which it belongs...
,
Severndroog Castle
Severndroog Castle
Severndroog Castle is a folly situated in Oxleas Wood, on Shooter's Hill in south-east London in the London Borough of Greenwich. It was designed by architect Richard Jupp in 1784....
(designed by East India Company
architect
Architect
An architect is a person trained in the planning, design and oversight of the construction of buildings. To practice architecture means to offer or render services in connection with the design and construction of a building, or group of buildings and the space within the site surrounding the...
Richard Jupp
Richard Jupp
Richard Jupp was an 18th century English architect, particularly associated with buildings in and around London.He served for many years Richard Jupp (1728 – 17 April 1799) was an 18th century English architect, particularly associated with buildings in and around London.He served for many years...
), was built as a memorial to him by his wife, Lady James of Eltham, on nearby
Shooter's Hill
Shooter's Hill
Shooter's Hill is a district and electoral ward in south London, England, located in the London Borough of Greenwich. It lies east of Blackheath and west of Welling, south of Woolwich and north of Eltham...
in south-east London. His title passed to his son Edward William and became extinct on the latter's own death.