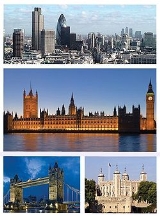 London
London
is the capital city of :England and the :United Kingdom, the largest
metropolitan area
Metropolitan area
The term metropolitan area refers to a region consisting of a densely populated urban core and its less-populated surrounding territories, sharing industry, infrastructure, and housing. A metropolitan area usually encompasses multiple jurisdictions and municipalities: neighborhoods, townships,...
in the United Kingdom, and the largest urban zone in the
European Union
European Union
The European Union is an economic and political union of 27 independent member states which are located primarily in Europe. The EU traces its origins from the European Coal and Steel Community and the European Economic Community , formed by six countries in 1958...
by most measures. Located on the
River Thames
River Thames
The River Thames flows through southern England. It is the longest river entirely in England and the second longest in the United Kingdom. While it is best known because its lower reaches flow through central London, the river flows alongside several other towns and cities, including Oxford,...
, London has been a major settlement for two millennia,
its history
History of London
London, the capital of the United Kingdom , has a recorded history that goes back over 2,000 years. During this time, it has grown to become one of the most significant financial and cultural capitals of the world. It has experienced plague, devastating fire, civil war, aerial bombardment and...
going back to its founding by the
Romans
Roman Empire
The Roman Empire was the post-Republican period of the ancient Roman civilization, characterised by an autocratic form of government and large territorial holdings in Europe and around the Mediterranean....
, who called it
Londinium
. London's ancient core, the
City of London
City of London
The City of London is a small area within Greater London, England. It is the historic core of London around which the modern conurbation grew and has held city status since time immemorial. The City's boundaries have remained almost unchanged since the Middle Ages, and it is now only a tiny part of...
, largely retains its square-mile medieval boundaries.
1066 William the Conqueror is crowned king of England, at Westminster Abbey, London.
1305 William Wallace, who led the Scottish resistance against England, is captured by the English near Glasgow and transported to London where he is put on trial and executed.
1497 Cornish rebels Michael An Gof and Thomas Flamank are executed at Tyburn, London.
1534 The Irish rebel Silken Thomas is executed by the order of Henry VIII in London, England.
1536 Anne Boleyn, Queen of England, stands trial in London on charges of treason, adultery and incest. She is condemned to death by a specially-selected jury.
1559 Elizabeth I is crowned Queen of England in Westminster Abbey, London.
1571 The Royal Exchange opens in London.
1578 Martin Frobisher sails from Harwich, England to Frobisher Bay, Canada, eventually to mine fool's gold, used to pave streets in London.
1604 William Shakespeare's tragedy ''Othello'' is presented for the first time, at Whitehall Palace in London.
1609 Shakespeare's sonnets are first published in London, perhaps illicitly, by the publisher Thomas Thorpe.
London goes beyond any boundary or convention. It contains every wish or word ever spoken, every action or gesture ever made, every harsh or noble statement ever expressed. It is illimitable. It is Infinite London.

Peter Ackroyd|Peter Ackroyd, London: The Biography (2000)
Ah! my poor dear child, the truth is, that in London it is always a sickly season. Nobody is healthy in London, nobody can be.

Jane Austen, Emma (1816)
London is a bad habit one hates to lose.

Anonymous popular saying, as quoted by William Sansom|William Sasom in, Blue Skies, Brown Studies, Hogarth press, (1961)
As I came down the Highgate HillI met the sun's bravado,And saw below me, fold on fold,Grey to pearl and pearl to gold,This London like a land of old,The land of Eldorado.

Henry Howarth Bashford (1880-1961), English physician and writer. London, from Romances (1917)
I've been walking about London for the last thirty years, and I find something fresh in it every day.

Walter Besant|Walter Besant, on his deathbed, June 1901
London is a splendid place to live in for those who can get out of it.

George John Gordon Bruce, 7th Lord Balfour of Burleigh|Lord Balfour of Burleigh. The Observer (UK) newspaper, Sayings of the Week, 1st October 1944
I don't know what London's coming to—the higher the buildings the lower the morals.

Noël Coward (1899-1973), English playwright and actor. 'Law and Order', Collected Sketches and Lyrics
London is a modern Babylon.

Benjamin Disraeli, Tancred, Bk. V. Ch. V. (1847)
London, that great cesspool into which all the loungers and idlers of the Empire are irresistibly drained.

Arthur Conan Doyle (1859–1930), British author. As stated by Dr. Watson, in A Study in Scarlet, Pt. 1. Ch. 1. (1887)
London, thou art the flour of cities all!

William Dunbar (1460?-1520?), London