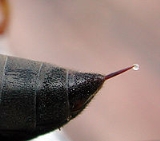 Venom
Venom
is the general term referring to any variety of
toxin
Toxin
A toxin is a poisonous substance produced within living cells or organisms; man-made substances created by artificial processes are thus excluded...
s used by certain types of
animal
Animal
Animals are a major group of multicellular, eukaryotic organisms of the kingdom Animalia or Metazoa. Their body plan eventually becomes fixed as they develop, although some undergo a process of metamorphosis later on in their life. Most animals are motile, meaning they can move spontaneously and...
s that inject it into their victims by the means of a bite or a sting. Unlike
poison
Poison
In the context of biology, poisons are substances that can cause disturbances to organisms, usually by chemical reaction or other activity on the molecular scale, when a sufficient quantity is absorbed by an organism....
, which is ingested or inhaled into the victim's tract, administration of venom is usually directed into the
lymphatic system
Lymphatic system
The lymphoid system is the part of the immune system comprising a network of conduits called lymphatic vessels that carry a clear fluid called lymph unidirectionally toward the heart. Lymphoid tissue is found in many organs, particularly the lymph nodes, and in the lymphoid follicles associated...
itself for faster action.
Diversity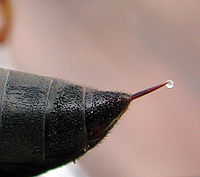 Invertebrates
Among animals using venom are spiders (see
spider bite
Spider bite
A spider bite is an injury resulting from the bites of spiders or other closely related arachnids.Spiders are active hunters and rely heavily on their bites to paralyze and kill their prey before consuming it. They also bite in self defense...
) and
centipede
Centipede
Centipedes are arthropods belonging to the class Chilopoda of the subphylum Myriapoda. They are elongated metameric animals with one pair of legs per body segment. Despite the name, centipedes can have a varying number of legs from under 20 to over 300. Centipedes have an odd number of pairs of...
s, which also inject venom through fangs;
scorpion
Scorpion
Scorpions are predatory arthropod animals of the order Scorpiones within the class Arachnida. They have eight legs and are easily recognized by the pair of grasping claws and the narrow, segmented tail, often carried in a characteristic forward curve over the back, ending with a venomous stinger...
s and stinging
insect
Insect
Insects are a class of living creatures within the arthropods that have a chitinous exoskeleton, a three-part body , three pairs of jointed legs, compound eyes, and two antennae...
s, which inject venom with a sting (which, in insects such as bees and wasps, is a modified egg-laying device – the
ovipositor
Ovipositor
The ovipositor is an organ used by some animals for oviposition, i.e., the laying of eggs. It consists of a maximum of three pairs of appendages formed to transmit the egg, to prepare a place for it, and to place it properly...
). Many
caterpillar
Caterpillar
Caterpillars are the larval form of members of the order Lepidoptera . They are mostly herbivorous in food habit, although some species are insectivorous. Caterpillars are voracious feeders and many of them are considered to be pests in agriculture...
s have defensive venom glands associated with specialized bristles on the body, known as urticating hairs, and can be lethal to humans (e.g., that of the
Lonomia
Lonomia
The genus Lonomia is a moderate-sized group of fairly cryptic saturniid moths from South America, famous not for the adults, but for their highly venomous caterpillars, which are responsible for a few deaths each year , especially in southern Brazil, and the subject of hundreds of published medical...
moth).
Because they are tasked to defend their hives and food stores, bees synthesize and employ an acidic venom (
apitoxin
Apitoxin
Apitoxin, or honey bee venom, is a bitter colorless liquid. The active portion of the venom is a complex mixture of proteins, which causes local inflammation and acts as an anticoagulant. The venom is produced in the abdomen of worker bees from a mixture of acidic and basic secretions. Apitoxin...
) to cause pain in those that they sting, whereas wasps use a chemically different venom designed to paralyze prey, so it can be stored alive in the food chambers of their young. The use of venom is much more widespread than just these examples. Other insects, such as
true bug
Hemiptera
Hemiptera is an order of insects most often known as the true bugs , comprising around 50,000–80,000 species of cicadas, aphids, planthoppers, leafhoppers, shield bugs, and others...
s and many ants also produce venom. At least one ant species (
Polyrhachis dives
) has been shown to use venom topically for the sterilisation of pathogens.
There are many other venomous invertebrates, including
jellyfish
Jellyfish
Jellyfish are free-swimming members of the phylum Cnidaria. Medusa is another word for jellyfish, and refers to any free-swimming jellyfish stages in the phylum Cnidaria...
and cone snails. The box jellyfish is the most venomous jellyfish in the world.
Fish
Venom can also be found in some
fish
Fish
Fish are a paraphyletic group of organisms that consist of all gill-bearing aquatic vertebrate animals that lack limbs with digits. Included in this definition are the living hagfish, lampreys, and cartilaginous and bony fish, as well as various extinct related groups...
, such as the cartilaginous fishes – stingrays,
shark
Shark
Sharks are a type of fish with a full cartilaginous skeleton and a highly streamlined body. The earliest known sharks date from more than 420 million years ago....
s, and
chimaera
Chimaera
Chimaeras are cartilaginous fish in the order Chimaeriformes, known informally as ghost sharks, ratfish , spookfish , or rabbitfishes...
s – and the teleost fishes including
monognathus
Monognathus
Monognathus, or Onejaws, is the only genus of the family Monognathidae of deep sea eel-like fishes. The name comes from the Greek monos meaning one and gnathos meaning jaw; a reference to the large mouth in comparison with the rest of the fish, and also the absence of an upper jaw...
eels, catfishes,
stonefish
Stonefish
Synanceia verrucosa is a fish species, sometimes lethal to humans, which is known as the reef stonefish or simply stonefish. They are carnivorous ray-finned fish with venomous spines that lives on reef bottoms, camouflaged as a rock...
es and waspfishes,
scorpionfish
Scorpionfish
Scorpaenidae, the scorpionfish, are a family of mostly marine fish that includes many of the world's most venomous species. As the name suggests, scorpionfish have a type of "sting" in the form of sharp spines coated with venomous mucus. The family is a large one, with hundreds of members. They are...
es and
lionfish
Pterois
Pterois is a genus of venomous marine fish found mostly in the Indo-Pacific, known collectively as the lionfish. Pterois is characterized by red, white and black stripes, showy pectoral fins and venomous spiky tentacles. Pterois are classified into fifteen different species, but Pterois radiata,...
es,
gurnard
Gurnard
-Fish:*Sea robin, fish of the family Triglidae, including:**Bluefin gurnard**Tub gurnard**Red gurnard**Grey gurnard**Scaly gurnard**Eastern spiny gurnard**Spotted gurnard...
s, rabbitfishes, surgeonfishes,
scats
Scatophagidae
The scats are a small family, Scatophagidae, of fishes in the order Perciformes.They are small fish native to the Indian and western Pacific Ocean that have been popular in the aquarium trade in the last 30 years...
, stargazers,
weever
Weever
Weevers are nine species of fish of family Trachinidae, order Perciformes. They are long , mainly brown and have poisonous spines on their first dorsal fin and gills. During the day, weevers bury themselves in sand, just showing their eyes, and snatch prey as it comes past, which consists of...
, swarmfish.
Snakes and other reptiles
The reptiles most known to use venom are
snake
Snake
Snakes are elongate, legless, carnivorous reptiles of the suborder Serpentes that can be distinguished from legless lizards by their lack of eyelids and external ears. Like all squamates, snakes are ectothermic, amniote vertebrates covered in overlapping scales...
s, some species of which inject venom into their prey via
fang
Tooth
Teeth are small, calcified, whitish structures found in the jaws of many vertebrates that are used to break down food. Some animals, particularly carnivores, also use teeth for hunting or for defensive purposes. The roots of teeth are embedded in the Mandible bone or the Maxillary bone and are...
s.
Snake venom is produced by glands below the eye (the mandibular gland) and delivered to the victim through tubular or channeled fangs. Snake venoms contain a variety of
peptide
Peptide
Peptides are short polymers of amino acid monomers linked by peptide bonds. They are distinguished from proteins on the basis of size, typically containing less than 50 monomer units. The shortest peptides are dipeptides, consisting of two amino acids joined by a single peptide bond...
toxins, including Proteases, which
hydrolyze
Hydrolysis
Hydrolysis is a chemical reaction during which molecules of water are split into hydrogen cations and hydroxide anions in the process of a chemical mechanism. It is the type of reaction that is used to break down certain polymers, especially those made by condensation polymerization...
protein peptide bonds, nucleases, which hydrolyze the phosphodiester bonds of
DNA
DNA
Deoxyribonucleic acid is a nucleic acid that contains the genetic instructions used in the development and functioning of all known living organisms . The DNA segments that carry this genetic information are called genes, but other DNA sequences have structural purposes, or are involved in...
, and neurotoxins, which disable signalling in the nervous system. Snakes use their venom principally for hunting, though they do not hesitate to employ it defensively. Venomous snake bites may cause a variety of symptoms, including pain, swelling, tissue necrosis, low blood pressure, convulsions, hemorrhage (varying by species of snake), respiratory paralysis, kidney failure, coma and death.
Prophylaxis
Doctors treat victims of a venomous bite with antivenom, which is created by dosing an animal such as a sheep,
horse
Horse
The horse is one of two extant subspecies of Equus ferus, or the wild horse. It is a single-hooved mammal belonging to the taxonomic family Equidae. The horse has evolved over the past 45 to 55 million years from a small multi-toed creature into the large, single-toed animal of today...
,
goat
Goat
The domestic goat is a subspecies of goat domesticated from the wild goat of southwest Asia and Eastern Europe. The goat is a member of the Bovidae family and is closely related to the sheep as both are in the goat-antelope subfamily Caprinae. There are over three hundred distinct breeds of...
, or
rabbit
Rabbit
Rabbits are small mammals in the family Leporidae of the order Lagomorpha, found in several parts of the world...
with a small amount of the targeted venom. The immune system of the subject animal responds to the dose, producing antibodies to the venom's active molecules; the antibodies can then be harvested from the animal's blood and injected into bite victims to treat envenomation. This treatment can be used effectively only a limited number of times for a given individual, however, as a bite victim will ultimately develop antibodies to neutralize the foreign animal antigens injected into them as components of the antivenin. This is called sensitization. Even if a bite victim does not suffer a serious allergic reaction to the antivenom, his own, sensitized, immune system may destroy the antivenom before the antivenom can destroy the venom. Though most individuals never require even one treatment of antivenom in their lifetime, let alone several, those routinely exposed to snakes or other venomous animals may become sensitized to antivenom due to previous exposure.
Aristolochia rugosa and Aristolochia trilobata, or "
Dutchman's Pipe
Dutchman's Pipe
Dutchman's Pipe is a common name for some unrelated flowering plants, which have flowers, inflorescences or stems resembling a pipe:* Aristolochia species from the Aristolochiaceae...
", are recorded in a list of plants used worldwide and in the West Indies, South and Central America against snakebites and scorpion stings.
Aristolochic acid
Aristolochic acid
Aristolochic acids are a family of carcinogenic, mutagenic, and nephrotoxic compounds commonly found in the Aristolochiaceae family of plants, including Aristolochia and Asarum, which are commonly used in Chinese herbal medicine. Aristolochic acid I is the most abundant of the aristolochic acids...
inhibits inflammation induced by immune complexes, and nonimmunological agents (carrageenan or croton oil). Aristolochic acid inhibits the activity of snake venom phospholipase (PLA2) by forming a 1:1 complex with the enzyme. Since phospholipase enzymes play a significant part in the cascade leading to the inflammatory and pain response, their inhibition could lead to relief of problems from scorpion envenomation.
Other reptiles
Aside from snakes, venom is found in a few other reptiles such as the Mexican beaded lizard and
Gila monster
Gila monster
The Gila monster is a species of venomous lizard native to the southwestern United States and northwestern Mexican state of Sonora...
,and may be present in a few species of
monitor lizard
Monitor lizard
Monitor lizards are usually large reptiles, although some can be as small as in length. They have long necks, powerful tails and claws, and well-developed limbs. Most species are terrestrial, but arboreal and semiaquatic monitors are also known...
s.
One such reptile that was previously thought of as being nonvenomous is the
Komodo Dragon
Komodo dragon
The Komodo dragon , also known as the Komodo monitor, is a large species of lizard found in the Indonesian islands of Komodo, Rinca, Flores, Gili Motang and Gili Dasami. A member of the monitor lizard family , it is the largest living species of lizard, growing to a maximum length of in rare cases...
,
Varanus komodoensis
. It was then demonstrated through magnetic resonance imaging that the Komodo Dragon possess a mandibular gland with a major posterior compartment and 5 smaller anterior compartments. The scientists used mass spectrometry to show that the mixture of proteins present in the venom was as complex as the proteins found in snake venom.
Due to these recent studies investigating venom glands in squamates, lizards that were previously thought of as being nonvenomous are now being classified by some scientists as venomous because they possess a venom gland. This hypothetical clade,
Toxicofera
Toxicofera
Toxicofera , is a hypothetical clade which represents about 4600 species of extant squamates It encompasses all venomous reptile species, as well as numerous related non-venomous species....
, includes all venomous squamates: the suborders Serpentes and
Iguania
Iguania
Iguania is the suborder of Squamata that contains the iguanas, chameleons, agamids, and "New World lizards" such as anoles and Phrynosomatidae...
and the families
Varanidae
Varanidae
Varanidae is a group of lizards of the superfamily Varanoidea. The family is a group of carnivorous lizards which includes the largest living lizard, the Komodo dragon, and the crocodile monitor. Varanidae contains the living genus Varanus and a number of extinct taxa...
,
Anguidae
Anguidae
The Anguidae is a large and diverse family of lizards native to the northern hemisphere. The group includes the slowworms, glass lizards, and alligator lizards, among others. Anguidae is divided into three subfamilies and contains 94 species in eight genera. Their closest living relatives are the...
, and Helodermatidae.
Mammals
Some mammals are also venomous, including solenodons, shrews, the
slow loris
Slow loris
Slow lorises are a group of five species of strepsirrhine primates which make up the genus Nycticebus. Found in South and Southeast Asia, they range from Northeast India in the west to the Philippines in the east, and from the Yunnan province in China in the north to the island of Java in the south...
, and the male
platypus
Platypus
The platypus is a semi-aquatic mammal endemic to eastern Australia, including Tasmania. Together with the four species of echidna, it is one of the five extant species of monotremes, the only mammals that lay eggs instead of giving birth to live young...
.
Amphibians
There are only a few species of venomous amphibians; certain
salamandrid
Salamandridae
Salamandridae is a family of salamanders consisting of true salamanders and newts. Currently, 74 species have been identified in the northern hemisphere - Europe, Asia, the northern tip of Africa and North America...
salamanders can extrude sharp venom-tipped ribs.
Dinosaurs
Sinornithosaurus
Sinornithosaurus
Sinornithosaurus is a genus of feathered dromaeosaurid dinosaur from the early Cretaceous Period of the Yixian Formation in what is now China. It was the fifth non–avian feathered dinosaur genus discovered by 1999...
, a genus of feathered
dromaeosaurid
Dromaeosauridae
Dromaeosauridae is a family of bird-like theropod dinosaurs. They were small- to medium-sized feathered carnivores that flourished in the Cretaceous Period. The name Dromaeosauridae means 'running lizards', from Greek dromeus meaning 'runner' and sauros meaning 'lizard'...
dinosaur, may have had a venomous bite. This theory is still being disputed. The
theropod
Theropoda
Theropoda is both a suborder of bipedal saurischian dinosaurs, and a clade consisting of that suborder and its descendants . Dinosaurs belonging to the suborder theropoda were primarily carnivorous, although a number of theropod groups evolved herbivory, omnivory, and insectivory...
Dilophosaurus
Dilophosaurus
Dilophosaurus was a theropod dinosaur from the Sinemurian stage of the Early Jurassic Period, about 193 million years ago. The first specimens were described in 1954, but it was not until over a decade later that the genus received its current name...
is commonly depicted in popular culture as being venomous, but this portrayal is not considered likely by the scientific community.
See also