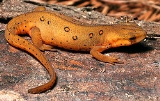 Salamandridae
Salamandridae
is a
family
Family (biology)
In biological classification, family is* a taxonomic rank. Other well-known ranks are life, domain, kingdom, phylum, class, order, genus, and species, with family fitting between order and genus. As for the other well-known ranks, there is the option of an immediately lower rank, indicated by the...
of
salamander
Salamander
Salamander is a common name of approximately 500 species of amphibians. They are typically characterized by a superficially lizard-like appearance, with their slender bodies, short noses, and long tails. All known fossils and extinct species fall under the order Caudata, while sometimes the extant...
s consisting of
true salamanders
and
newt

Newt

A newt is an aquatic amphibian of the family Salamandridae, although not all aquatic salamanders are considered newts. Newts are classified in the subfamily Pleurodelinae of the family Salamandridae, and are found in North America, Europe and Asia...


s
. Currently, 74
species
Species
In biology, a species is one of the basic units of biological classification and a taxonomic rank. A species is often defined as a group of organisms capable of interbreeding and producing fertile offspring. While in many cases this definition is adequate, more precise or differing measures are...
(with more expected) have been identified in the northern hemisphere -
Europe
Europe
Europe is, by convention, one of the world's seven continents. Comprising the westernmost peninsula of Eurasia, Europe is generally 'divided' from Asia to its east by the watershed divides of the Ural and Caucasus Mountains, the Ural River, the Caspian and Black Seas, and the waterways connecting...
,
Asia
Asia
Asia is the world's largest and most populous continent, located primarily in the eastern and northern hemispheres. It covers 8.7% of the Earth's total surface area and with approximately 3.879 billion people, it hosts 60% of the world's current human population...
, the northern tip of
Africa
Africa
Africa is the world's second largest and second most populous continent, after Asia. At about 30.2 million km² including adjacent islands, it covers 6% of the Earth's total surface area and 20.4% of the total land area...
and
North America
North America
North America is a continent wholly within the Northern Hemisphere and almost wholly within the Western Hemisphere. It is also considered a northern subcontinent of the Americas...
. Salamandrids are distinguished from other salamanders by the lack of rib or costal grooves along the sides of the body and by their rough skin.
With a few exceptions, salamandrids have patterns of bright and contrasting colours. They have four well-developed limbs, with four toes on the forelimbs, and (in most cases) five toes on the hindlimbs. They vary from 7 centimetres (2.8 in) to 30 centimetres (11.8 in) in length.
The
Alpine salamander
Alpine Salamander
The Alpine Salamander is a shiny black salamander. It is found in the Central, Eastern and Dinaric Alps, at altitudes above 700 meters. The Western Alps are inhabited by a similar species Salamandra lanzai in only one small area. There are no differences in length between sexes and sex ratio...
and Lanza's fire salamander give birth to live young, without a
tadpole
Tadpole
A tadpole or polliwog is the wholly aquatic larval stage in the life cycle of an amphibian, particularly that of a frog or toad.- Appellation :...
stage, but the other species lay their
eggs
Egg (biology)
An egg is an organic vessel in which an embryo first begins to develop. In most birds, reptiles, insects, molluscs, fish, and monotremes, an egg is the zygote, resulting from fertilization of the ovum, which is expelled from the body and permitted to develop outside the body until the developing...
in water. Some newts are neotenic, being able to reproduce before they are fully metamorphosed.
Taxonomy
The
genera
Genus
In biology, a genus is a low-level taxonomic rank used in the biological classification of living and fossil organisms, which is an example of definition by genus and differentia...
Chioglossa, Lyciasalamandra, Mertensiella and Salamandra are grouped in the subfamily Salamandrinae, the rest in Pleurodelinae. Those with a more thoroughly aquatic lifestyle are referred to as "newts", but this is not a formal taxonomic description.
Family
SALAMANDRIDAE
Subfamily Pleurodelinae
Subfamily Salamandrinae
External links