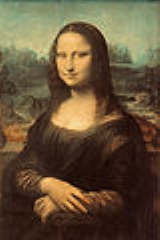 Mona Lisa
Mona Lisa
is a portrait by the
Italian
Italian Renaissance
The Italian Renaissance began the opening phase of the Renaissance, a period of great cultural change and achievement in Europe that spanned the period from the end of the 13th century to about 1600, marking the transition between Medieval and Early Modern Europe...
artist
Leonardo da Vinci
Leonardo da Vinci
Leonardo di ser Piero da Vinci was an Italian Renaissance polymath: painter, sculptor, architect, musician, scientist, mathematician, engineer, inventor, anatomist, geologist, cartographer, botanist and writer whose genius, perhaps more than that of any other figure, epitomized the Renaissance...
. It is a painting in oil on a
poplar
Poplar
Populus is a genus of 25–35 species of deciduous flowering plants in the family Salicaceae, native to most of the Northern Hemisphere. English names variously applied to different species include poplar , aspen, and cottonwood....
panel
Panel painting
A panel painting is a painting made on a flat panel made of wood, either a single piece, or a number of pieces joined together. Until canvas became the more popular support medium in the 16th century, it was the normal form of support for a painting not on a wall or vellum, which was used for...
, completed circa 1503–1519. Property of the
French State
France
The French Republic , The French Republic , The French Republic , (commonly known as France , is a unitary semi-presidential republic in Western Europe with several overseas territories and islands located on other continents and in the Indian, Pacific, and Atlantic oceans. Metropolitan France...
, it is on permanent display at the Musée du Louvre in
Paris
Paris
Paris is the capital and largest city in France, situated on the river Seine, in northern France, at the heart of the Île-de-France region...
.
The painting is a half-length portrait and depicts a seated woman,
Lisa del Giocondo
Lisa del Giocondo
Lisa del Giocondo , also known as Lisa Gherardini, Lisa di Antonio Maria Gherardini and Mona Lisa, was a member of the Gherardini family of Florence and Tuscany in Italy...
, whose facial expression has been frequently described as enigmatic. The ambiguity of the subject's expression, the monumentality of the composition, and the subtle modeling of forms and atmospheric illusionism were novel qualities that have contributed to the continuing fascination and study of the work.