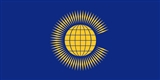 Commonwealth of Nations
For other uses, see Commonwealth (disambiguation)

Commonwealth (disambiguation)

Commonwealth is a term meaning a political community.Commonwealth or Common Wealth may also refer to:* Commonwealth , term for a person of black race living in England...


.
The
Commonwealth of Nations
, normally referred to as
the Commonwealth
and formerly known as the
British Commonwealth
, is an intergovernmental organisation of fifty-four independent
member state
Member state
A member state is a state that is a member of an international organisation.The World Trade Organization has members that are sovereign states and members that are not, thus WTO members are not called member states.- Worldwide :...
s. All but two of these countries (
Mozambique
Mozambique
Mozambique, officially the Republic of Mozambique , is a country in southeastern Africa bordered by the Indian Ocean to the east, Tanzania to the north, Malawi and Zambia to the northwest, Zimbabwe to the west and Swaziland and South Africa to the southwest...
and
Rwanda
Rwanda
Rwanda or , officially the Republic of Rwanda , is a country in central and eastern Africa with a population of approximately 11.4 million . Rwanda is located a few degrees south of the Equator, and is bordered by Uganda, Tanzania, Burundi and the Democratic Republic of the Congo...
) were formerly part of the
British Empire
British Empire
The British Empire comprised the dominions, colonies, protectorates, mandates and other territories ruled or administered by the United Kingdom. It originated with the overseas colonies and trading posts established by England in the late 16th and early 17th centuries. At its height, it was the...
, out of which it developed.
The member states cooperate within a framework of common values and goals as outlined in the
Singapore Declaration
Singapore Declaration
The Singapore Declaration of Commonwealth Principles was a declaration issued by the assembled Heads of Government of the Commonwealth of Nations, setting out the core political values that would form the main part of the Commonwealth's membership criteria...
.