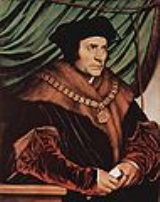 Thomas More
Sir Thomas More
also known by Catholics as
Saint Thomas More
, was an English lawyer, social philosopher, author,
statesman
Statesman
A statesman is usually a politician or other notable public figure who has had a long and respected career in politics or government at the national and international level. As a term of respect, it is usually left to supporters or commentators to use the term...
and noted
Renaissance humanist
Renaissance humanism
Renaissance humanism was an activity of cultural and educational reform engaged by scholars, writers, and civic leaders who are today known as Renaissance humanists. It developed during the fourteenth and the beginning of the fifteenth centuries, and was a response to the challenge of Mediæval...
. He was an important councillor to
Henry VIII of England
Henry VIII of England
Henry VIII was King of England from 21 April 1509 until his death. He was Lord, and later King, of Ireland, as well as continuing the nominal claim by the English monarchs to the Kingdom of France...
and, for three years toward the end of his life,
Lord Chancellor
Lord Chancellor
The Lord High Chancellor of Great Britain, or Lord Chancellor, is a senior and important functionary in the government of the United Kingdom. He is the second highest ranking of the Great Officers of State, ranking only after the Lord High Steward. The Lord Chancellor is appointed by the Sovereign...
. He is recognised as a
saint
Saint
A saint is a holy person. In various religions, saints are people who are believed to have exceptional holiness.In Christian usage, "saint" refers to any believer who is "in Christ", and in whom Christ dwells, whether in heaven or in earth...
within the Catholic Church and is commemorated by the Church of England as a "Reformation martyr". He was an opponent of the
Protestant Reformation
Protestant Reformation
The Protestant Reformation was a 16th-century split within Western Christianity initiated by Martin Luther, John Calvin and other early Protestants. The efforts of the self-described "reformers", who objected to the doctrines, rituals and ecclesiastical structure of the Roman Catholic Church, led...
and in particular of
Martin Luther
Martin Luther
Martin Luther was a German priest, professor of theology and iconic figure of the Protestant Reformation. He strongly disputed the claim that freedom from God's punishment for sin could be purchased with money. He confronted indulgence salesman Johann Tetzel with his Ninety-Five Theses in 1517...
and
William Tyndale
William Tyndale
William Tyndale was an English scholar and translator who became a leading figure in Protestant reformism towards the end of his life. He was influenced by the work of Desiderius Erasmus, who made the Greek New Testament available in Europe, and by Martin Luther...
.
More coined the word "
utopia
Utopia
Utopia is an ideal community or society possessing a perfect socio-politico-legal system. The word was imported from Greek by Sir Thomas More for his 1516 book Utopia, describing a fictional island in the Atlantic Ocean. The term has been used to describe both intentional communities that attempt...
" – a name he gave to the ideal and imaginary island nation, the political system of which he described in
Utopia
Utopia (book)
Utopia is a work of fiction by Thomas More published in 1516...
published in 1516.
Now there was a young gentleman which had married a merchant's wife. And having a little wanton money, which him thought burned out the bottom of his purse, in the first year of his wedding took his wife with him and went over sea, for none other errand but to see Flanders and France and ride out one summer in those countries.

Works (c. 1530) Sometimes paraphrased "A little wanton money, which burned out the bottom of his purse."
For men use, if they have an evil turn, to write it in marble: and whoso doth us a good turn we write it in dust.

Richard III and His Miserable End (1543)
And when the devil hath seen that they have set so little by him, after certain essays, made in such times as he thought most fitting, he hath given that temptation quite over. And this he doth not only because the proud spirit cannot endure to be mocked, but also lest, with much tempting the man to the sin to which he could not in conclusion bring him, he should much increase his merit.

Dialogue of Comfort Against Tribulation (1553), Book Two, Section XVI
See me safe up: for in my coming down, I can shift for myself.

On ascending the platform to his execution, as quoted in History of England (1856-1870) by James Anthony Froude|James Anthony Froude
This hath not offended the king.

As he drew his beard aside upon placing his head on the block. As quoted in Apothegms by Francis Bacon, no. 22 :s:Utopia|Full text at Wikisource