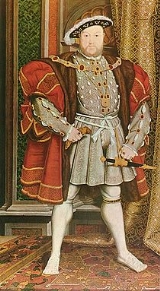 Henry VIII of England
Henry VIII
was King of England from 21 April 1509 until his death. He was
Lord
Lordship of Ireland
The Lordship of Ireland refers to that part of Ireland that was under the rule of the king of England, styled Lord of Ireland, between 1177 and 1541. It was created in the wake of the Norman invasion of Ireland in 1169–71 and was succeeded by the Kingdom of Ireland...
, and later
King
King of Ireland
A monarchical polity has existed in Ireland during three periods of its history, finally ending in 1801. The designation King of Ireland and Queen of Ireland was used during these periods...
, of Ireland, as well as continuing the nominal
claim
English claims to the French throne
The English claims to the French throne have a long and complex history between the 1340s and the 19th century.From 1340 to 1801, with only brief intervals in 1360-1369 and 1420–1422, the kings and queens of England, and after the Acts of Union in 1707 the kings and queens of Great Britain, also...
by the English monarchs to the Kingdom of France. Henry was the second monarch of the House of Tudor, succeeding his father,
Henry VII
Henry VII of England
Henry VII was King of England and Lord of Ireland from his seizing the crown on 22 August 1485 until his death on 21 April 1509, as the first monarch of the House of Tudor....
.
Besides his six marriages, Henry VIII is known for his role in the separation of the
Church of England
Church of England
The Church of England is the officially established Christian church in England and the Mother Church of the worldwide Anglican Communion. The church considers itself within the tradition of Western Christianity and dates its formal establishment principally to the mission to England by St...
from the Roman Catholic Church.
1501 Catherine of Aragon (later Henry VIII's first wife) meets Arthur Tudor, Henry VIII's older brother – they would later marry.
1509 Henry VIII ascends the throne of England on the death of his father, Henry VII.
1509 Henry VIII of England marries Catherine of Aragon.
1509 Henry VIII and Catherine of Aragon are crowned King and Queen of England.
1510 Henry VIII of England, then 18 years old, appears incognito in the lists at Richmond, and is applauded for his jousting before he reveals his identity.
1513 Edmund de la Pole, Yorkist pretender to the English throne, is executed on the orders of Henry VIII.
1531 Henry VIII of England is recognized as supreme head of the Church of England.
1532 Henry VIII and François I sign a secret treaty against Emperor Charles V.
1532 Lady Anne Boleyn is made Marchioness of Pembroke by her fiancé, King Henry VIII of England.
1533 Henry VIII of England secretly marries his second wife Anne Boleyn.