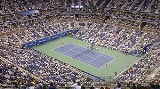 Tennis
Tennis is a
sport
Sport
A Sport is all forms of physical activity which, through casual or organised participation, aim to use, maintain or improve physical fitness and provide entertainment to participants. Sport may be competitive, where a winner or winners can be identified by objective means, and may require a degree...
usually played between two players (singles) or between two teams of two players each (doubles). Each player uses a
racket
Racquet
A racquet or racket is a sports implement consisting of a handled frame with an open hoop across which a network of cord is stretched tightly. It is used for striking a ball in such games as squash, tennis, racquetball, and badminton...
that is strung to strike a hollow rubber
ball
Tennis ball
A tennis ball is a ball designed for the sport of tennis,approximately 6.7 cm in diameter. Tennis balls are generally bright green, but in recreational play can be virtually any color. Tennis balls are covered in a fibrous fluffy felt which modifies their aerodynamic properties...
covered with felt over a net into the opponent's
court
Tennis court
A tennis court is where the game of tennis is played. It is a firm rectangular surface with a low net stretched across the center. The same surface can be used to play both doubles and singles.-Dimensions:...
. Tennis is an
Olympic
Olympic Games
The Olympic Games is a major international event featuring summer and winter sports, in which thousands of athletes participate in a variety of competitions. The Olympic Games have come to be regarded as the world's foremost sports competition where more than 200 nations participate...
sport and is played at all levels of society at all ages. The sport can be played by anyone who can hold a racket, including people
in wheelchairs
Wheelchair Tennis
Wheelchair tennis is one of the forms of tennis adapted for those who have disabilities in their lower bodies. The size of courts, balls, and rackets are same, but there are two major differences from pedestrian tennis; they use specially designed wheelchairs and the ball may bounce up to two times...
.
The modern game of tennis originated in
Birmingham
Birmingham
Birmingham is a city and metropolitan borough in the West Midlands of England. It is the most populous British city outside the capital London, with a population of 1,036,900 , and lies at the heart of the West Midlands conurbation, the second most populous urban area in the United Kingdom with a...
,
England
England
England is a country that is part of the United Kingdom. It shares land borders with Scotland to the north and Wales to the west; the Irish Sea is to the north west, the Celtic Sea to the south west, with the North Sea to the east and the English Channel to the south separating it from continental...
in the late 19th century as "lawn tennis" which has close connections to various field/lawn games as well as to the ancient game of
real tennis
Real tennis
Real tennis – one of several games sometimes called "the sport of kings" – is the original indoor racquet sport from which the modern game of lawn tennis , is descended...
.