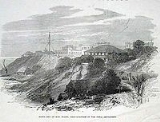 Port Blair
Port Blair
is the largest town and a
municipal council
Municipal council
A municipal council is the local government of a municipality. Specifically the term can refer to the institutions of various countries that can be translated by this term...
in
Andaman district
Andaman district
Andaman district was a district of India, one of three districts in the Indian Union Territory of Andaman and Nicobar Islands. The district's administrative territory encompasses all of the Andaman Islands, which are located in the Indian Ocean...
in the
Andaman Islands
Andaman Islands
The Andaman Islands are a group of Indian Ocean archipelagic islands in the Bay of Bengal between India to the west, and Burma , to the north and east...
and the capital of the
Andaman and Nicobar Islands
, a
union territory
Union Territory
A Union Territory is a sub-national administrative division of India, in the federal framework of governance. Unlike the states of India, which have their own elected governments, union territories are ruled directly by the federal government; the President of India appoints an Administrator or...
of
India
India
India , officially the Republic of India , is a country in South Asia. It is the seventh-largest country by geographical area, the second-most populous country with over 1.2 billion people, and the most populous democracy in the world...
. It lies on the east coast of
South Andaman Island
South Andaman Island
South Andaman Island is the southernmost island of the Great Andaman and is home to the majority of the population of the Andaman Islands. Port Blair, the capital of the islands, is located on the southern part of this island. Some areas of the island are restricted areas for non-Indians; however,...
and is the main entry point to the islands.
Port Blair is the headquarters for the
Indian district
Districts of India
A district is an administrative division of an Indian state or territory. Districts are further subdivided, in some cases into Sub-Divisions, and otherwise directly into tehsils or talukas.District officials include:...
of
South Andaman
Andaman district
Andaman district was a district of India, one of three districts in the Indian Union Territory of Andaman and Nicobar Islands. The district's administrative territory encompasses all of the Andaman Islands, which are located in the Indian Ocean...
, and the local administrative sub-division (
tehsil
Tehsil
A Tehsil or Tahsil/Tahasil , also known as Taluk and Mandal, is an administrative division of some country/countries of South Asia....
), which is also called
Port Blair
Port Blair tehsil
Port Blair tehsil is one of 5 local administrative divisions of the Indian district of Andaman, part of the Indian union territory of Andaman and Nicobar Islands....
. It is home to several museums and a major base for the Indian Navy and the
Indian Coast Guard
Indian Coast Guard
The Indian Coast Guard is a branch of the Indian Armed Forces. Its mission is the protection of India's maritime interests and maritime law enforcement with jurisdiction over both territorial and international waters....
. It is also the headquarters of the Tri Services Command.
History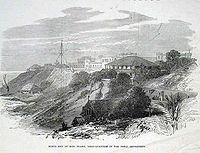 In 1789 the government of Bengal established a penal colony on Chatham Island in the southeast bay of
Great Andaman
Great Andaman
Great Andaman is the main archipelago of the Andaman Islands of India. It comprises five major islands. From north to south, these are North Andaman, Middle Andaman, South Andaman, Baratang and Rutland Island...
, named Port Blair to honor
Lieutenant Archibald Blair
Archibald Blair
Archibald Blair was a naval surveyor in the Bombay Marine.He joined the Bombay Marine, received his first commission in 1771 and in 1792 was promoted captain. In 1772, as a midshipman, he went on his first survey mission along the coasts of India, Iran and Arabia. In 1780 he was lieutenant on a...
of the
British East India Company
East India Company
The East India Company was an early English joint-stock company that was formed initially for pursuing trade with the East Indies, but that ended up trading mainly with the Indian subcontinent and China...
. After two years, the colony moved to the northeast part of Great Andaman and was named Port Cornwallis after Admiral
William Cornwallis
William Cornwallis
Admiral the Honourable Sir William Cornwallis GCB was a Royal Navy officer who fought in the Napoleonic Wars. He was the brother of Charles Cornwallis, the 1st Marquess Cornwallis, governor-general of India...
. However, there was much disease and death in the penal colony, and the government ceased operating it in May 1796.
In 1824 Port Cornwallis was the
rendezvous
Rendezvous
-Computing:* Virtual Rendezvous, an open software project* Bonjour , formerly Rendezvous, a computer network technology* Rendezvous, a method of synchronizing two concurrent tasks for communicating data in Ada...
of the fleet carrying the army to the First Anglo-Burmese War. In the 1830s and 1840s, shipwrecked crews who landed on the Andamans were often attacked and killed by the natives, alarming the British government. In 1855, the government proposed another settlement on the islands, including a convict establishment, but the
Indian Rebellion of 1857
Indian Rebellion of 1857
The Indian Rebellion of 1857 began as a mutiny of sepoys of the British East India Company's army on 10 May 1857, in the town of Meerut, and soon escalated into other mutinies and civilian rebellions largely in the upper Gangetic plain and central India, with the major hostilities confined to...
forced a delay in its construction.
However, since the rebellion provided the British with a lot of new prisoners, it made the new Andaman settlement and prison an urgent necessity. Construction began in November 1857 at the renovated Port Blair, avoiding the vicinity of a salt swamp which seemed to have been the source of many of the old colony's problems. The penal colony was originally on Viper Island, named after Lieutenant Blair's vessel,
The Viper
. The convicts, mostly
political prisoner
Political prisoner
According to the Longman Dictionary of Contemporary English, a political prisoner is 'someone who is in prison because they have opposed or criticized the government of their own country'....
s, suffered
life imprisonment
Life imprisonment
Life imprisonment is a sentence of imprisonment for a serious crime under which the convicted person is to remain in jail for the rest of his or her life...
at hard labor under cruel and degrading conditions. Many were hanged, while others died of disease and starvation. Between 1864 and 1867 a penal establishment was also built with convict labor on the northern side of Ross Island. These structures are now in ruins.
As the Indian freedom movement continued to grow in the late 19th Century, an enormous
Cellular Jail
Cellular Jail
The Cellular Jail, also known as Kālā Pānī , was a colonial prison situated in the Andaman and Nicobar Islands, India. The prison was used by the British especially to exile political prisoners to the remote archipelago...
was constructed between 1896 and 1906 to house Indian convicts, mostly political prisoners, in
solitary confinement
Solitary confinement
Solitary confinement is a special form of imprisonment in which a prisoner is isolated from any human contact, though often with the exception of members of prison staff. It is sometimes employed as a form of punishment beyond incarceration for a prisoner, and has been cited as an additional...
. The Cellular Jail is also known as
Kala Pani
(translated as "Black Waters"), a name given to it due to the torture and general ill-treatment towards its Indian convicts.
From 1943-1944 during
World War II
World War II
World War II, or the Second World War , was a global conflict lasting from 1939 to 1945, involving most of the world's nations—including all of the great powers—eventually forming two opposing military alliances: the Allies and the Axis...
, Port Blair was the headquarters of the Azad Hind government under
Subhash Chandra Bose
Subhash Chandra Bose
Subhas Chandra Bose known by name Netaji was an Indian revolutionary who led an Indian national political and military force against Britain and the Western powers during World War II. Bose was one of the most prominent leaders in the Indian independence movement and is a legendary figure in...
.
Although affected by the Tsunami and
2004 Indian Ocean earthquake
2004 Indian Ocean earthquake
The 2004 Indian Ocean earthquake was an undersea megathrust earthquake that occurred at 00:58:53 UTC on Sunday, December 26, 2004, with an epicentre off the west coast of Sumatra, Indonesia. The quake itself is known by the scientific community as the Sumatra-Andaman earthquake...
, Port Blair survived sufficiently to act as a base for relief efforts in the islands.
Geography and climate
Port Blair has a
tropical monsoon climate
Tropical monsoon climate
Tropical monsoon climate, occasionally also known as a tropical wet climate or tropical monsoon and trade-wind littoral climate in climate classification, is a relatively rare type of climate that corresponds to the Köppen climate classification category "Am."Tropical monsoon climates have monthly...
, with little variation in average temperature and large amounts of precipitation throughout the year. All months except January, February and March receive substantial rainfall.
Demographics
India
census
Census
A census is the procedure of systematically acquiring and recording information about the members of a given population. It is a regularly occurring and official count of a particular population. The term is used mostly in connection with national population and housing censuses; other common...
, Port Blair had a population of 100,186. Males constitute 52% of the population and females 48%. Port Blair has an average literacy rate of 81%, higher than the national average of 59.9%: male literacy is 81%, and female literacy is 72%. In Port Blair, 11% of the population is under 6 years of age. But the current population could differ by much because of the 2004 Indian Ocean earthquake.
Education and Institutions
There are a number of both government and private schools and colleges. Some of the better known schools are:-
Mahatma Gandhi International School
Carmel Senior Secondary School
Naval Children School
Vivekananda Kendra Vidyalaya
Kendriya Vidyalaya-1
Kendriya Vidyalaya-2
Nirmala Sr. Sec. School
Kamaraj senior secondary school
Govt. Model sr. sec. School
ummat public school
st.mary's school
Colleges and Institutes at Port Blair
Jawaharlal Nehru Rajkeeya Mahavidyalaya (JNRM), Port Blair
Mahatma Gandhi Government College, Mayabunder

Mayabunder

Mayabunder is one of 5 local administrative divisions of the Indian district of Andaman, part of the Indian union territory of Andaman and Nicobar Islands....


, North-Middle Andaman
Govt. Teachers Training Institute, Port Blair
Dr BR Ambedkar Government Polytechnic, Port Blair
Tagore Government College of Education, MG Road, Middle Point, Port Blair (http://tgce.and.nic.in/)
Regional Medical Research Institute (RMRI), Port Blair
t
Port
Port Blair is a notified port by the Indian Government and is classified as an "intermediate port". It serves as the main port of call for services from the mainland to the Union territory and is also the principal hub for shipping in the islands. The Directorate of Shipping Services has a fleet of 80 ships based here which provide four kinds of service:
Mainland to Island service.
Inter-island service.
Foreshore service.
Harbour ferry services.
Travel to Port Blair
Port Blair is connected to mainland India through flight and ship. Daily flights operate from Chennai, Kolkata & Bhubaneswar to Port Blair's Veer Savarkar Airport. Charter flights operate from Bangalore about once a week during tourist seasons (based on demand). There is also a regular Jetlite flight from New Delhi via Kolkata during tourist seasons. Further, Jet Airways operate to Hyderabad via Chennai.
Shipping services are available from the Indian cities of Chennai, Kolkata or Vishakapatnam to Port Blair. There is a sailing generally twice or thrice a month from Chennai/Kolkata/Vizag to Port Blair.
Travel within the Andaman Islands and Port Blair
Ferry Boats link Port Blair to outlying islands. Private and state-owned "State transport service" buses are available for intra- and inter-island travel. Inter- island buses are available for Baratang,
Rangat
Rangat
Rangat is one of 5 local administrative divisions of the Indian district of Andaman, part of the Indian union territory of Andaman and Nicobar Islands....
, Mayabunder and Diglipur.
Places of interest
There are several places of interest in the Port Blair. Travelers can choose their favorite destination and plan their trip accordingly. Port Blair is very popular for Museums and other landmarks in the city which makes it unique place for the tourists.
Port Blair
Rangat Island
Havelock Island
Jolly Buoy Island
Cinque Island
Red Skin Island
Long Island
Chatham Island
Ross Island
Mayabunder
Barren Island
Diglipur
Neil Island
Little Andaman Island
Some other Top Visiting Sights are:
Chatham
Zsi Museum
Chidiya Tapu
Sippighat Farm
Gandhi Park
Visit all the top attractions and have fun!
Images
External links