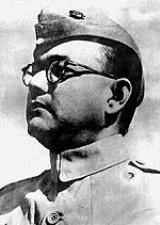 Subhash Chandra Bose
Subhas Chandra Bose
known by name
Netaji
(Hindi: "Respected Leader") was an Indian revolutionary who led an Indian national political and military force against Britain and the Western powers during World War II. Bose was one of the most prominent leaders in the
Indian independence movement
Indian independence movement
The term Indian independence movement encompasses a wide area of political organisations, philosophies, and movements which had the common aim of ending first British East India Company rule, and then British imperial authority, in parts of South Asia...
and is a legendary figure in India today. Bose was born on 23 January 1897 in
Cuttack
Cuttack
Cuttack is the former capital of the state of Orissa, India. It is the headquarters of Cuttack district and is located about 20 km to the north east of Bhubaneswar, the capital of Orissa. The name of the city is an anglicised form of Kataka that literally means The Fort, a reference to the...
,
Orissa
Orissa
Orissa , officially Odisha since Nov 2011, is a state of India, located on the east coast of India, by the Bay of Bengal. It is the modern name of the ancient nation of Kalinga, which was invaded by the Maurya Emperor Ashoka in 261 BC. The modern state of Orissa was established on 1 April...
to Janakinath Bose and Prabhabati Devi.
He is presumed to have died
"in absentia"
Death in absentia
Death in absentia is a legal declaration that a person is deceased in the absence of remains attributable to that person...
on 18 August 1945 from injuries sustained in an alleged aircraft crash in Taihoku (
Taipei
Taipei
Taipei City is the capital of the Republic of China and the central city of the largest metropolitan area of Taiwan. Situated at the northern tip of the island, Taipei is located on the Tamsui River, and is about 25 km southwest of Keelung, its port on the Pacific Ocean...
).
An Indian Pilgrim : An unfinished autobiography -- My Faith (Philosophical) "Reality is, after all , too big for our frail understanding to fully comprehend. Nevertheless, we have to build our life on the theory which contains the maximum truth.We cannot sit still because we cannot, or do not , know the Absolute Truth."