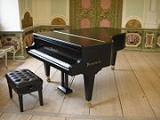 Piano
The
piano
is a
musical instrument
Musical instrument
A musical instrument is a device created or adapted for the purpose of making musical sounds. In principle, any object that produces sound can serve as a musical instrument—it is through purpose that the object becomes a musical instrument. The history of musical instruments dates back to the...
played by means of a
keyboard
Musical keyboard
A musical keyboard is the set of adjacent depressible levers or keys on a musical instrument, particularly the piano. Keyboards typically contain keys for playing the twelve notes of the Western musical scale, with a combination of larger, longer keys and smaller, shorter keys that repeats at the...
. It is one of the most popular instruments in the world. Widely used in
classical
Classical music
Classical music is the art music produced in, or rooted in, the traditions of Western liturgical and secular music, encompassing a broad period from roughly the 11th century to present times...
and
jazz
Jazz
Jazz is a musical style that originated at the beginning of the 20th century in African American communities in the Southern United States. It was born out of a mix of African and European music traditions. From its early development until the present, jazz has incorporated music from 19th and 20th...
music for solo performances, ensemble use,
chamber music
Chamber music
Chamber music is a form of classical music, written for a small group of instruments which traditionally could be accommodated in a palace chamber. Most broadly, it includes any art music that is performed by a small number of performers with one performer to a part...
and
accompaniment
Accompaniment
In music, accompaniment is the art of playing along with an instrumental or vocal soloist or ensemble, often known as the lead, in a supporting manner...
, the piano is also very popular as an aid to
composing
Musical composition
Musical composition can refer to an original piece of music, the structure of a musical piece, or the process of creating a new piece of music. People who practice composition are called composers.- Musical compositions :...
and
rehearsal
Rehearsal
For other uses, see Rehearsal or Dress rehearsal A rehearsal is a preparatory event in music and theatre that is performed before the official public performance, as a form of practice, and to ensure that all details of the performance are adequately prepared and coordinated for professional...
. Although not portable and often expensive, the piano's versatility and ubiquity have made it one of the world's most familiar musical instruments.
Pressing a key on the piano's keyboard causes a
felt
Felt
Felt is a non-woven cloth that is produced by matting, condensing and pressing woollen fibres. While some types of felt are very soft, some are tough enough to form construction materials. Felt can be of any colour, and made into any shape or size....
-covered hammer to strike
steel
Steel
Steel is an alloy that consists mostly of iron and has a carbon content between 0.2% and 2.1% by weight, depending on the grade. Carbon is the most common alloying material for iron, but various other alloying elements are used, such as manganese, chromium, vanadium, and tungsten...
strings.