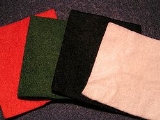 Felt
Felt
is a non-woven cloth that is produced by matting, condensing and pressing
woollen
Wool
Wool is the textile fiber obtained from sheep and certain other animals, including cashmere from goats, mohair from goats, qiviut from muskoxen, vicuña, alpaca, camel from animals in the camel family, and angora from rabbits....
fibres. While some types of felt are very soft, some are tough enough to form construction materials. Felt can be of any colour, and made into any shape or size.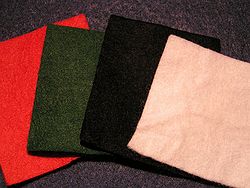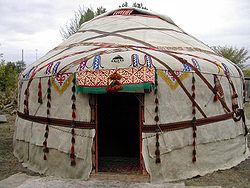 Many cultures have legends as to the origins of feltmaking.
Sumer
Sumer
Sumer was a civilization and historical region in southern Mesopotamia, modern Iraq during the Chalcolithic and Early Bronze Age....
ian legend claims that the secret of feltmaking was discovered by
Urnamman
Urnamman
Urnamman was a Sumerian warrior hero. Originally hailing from Lagash, he travelled widely and was hailed for his courage, compassion and inventiveness....
of
Lagash
Lagash
Lagash is located northwest of the junction of the Euphrates and Tigris rivers and east of Uruk, about east of the modern town of Ash Shatrah. Lagash was one of the oldest cities of the Ancient Near East...
. The story of
Saint Clement
Clement of Metz
Saint Clement of Metz is venerated as the first Bishop of Metz. According to tradition, he was sent by Saint Peter to Metz during the 1st century, with two disciples: Celestius and Felix , who are listed as his successors in that see...
and
Saint Christopher
Saint Christopher
.Saint Christopher is a saint venerated by Roman Catholics and Orthodox Christians, listed as a martyr killed in the reign of the 3rd century Roman Emperor Decius or alternatively under the Roman Emperor Maximinus II Dacian...
relates that while fleeing from persecution, the men packed their sandals with wool to prevent blisters. At the end of their journey, the movement and sweat had turned the wool into felt socks.
Feltmaking is still practised by nomadic peoples in
Central Asia
Central Asia
Central Asia is a core region of the Asian continent from the Caspian Sea in the west, China in the east, Afghanistan in the south, and Russia in the north...
and northern parts of
East Asia
East Asia
East Asia or Eastern Asia is a subregion of Asia that can be defined in either geographical or cultural terms...
, where
rug
Carpet
A carpet is a textile floor covering consisting of an upper layer of "pile" attached to a backing. The pile is generally either made from wool or a manmade fibre such as polypropylene,nylon or polyester and usually consists of twisted tufts which are often heat-treated to maintain their...
s,
tent
Tent
A tent is a shelter consisting of sheets of fabric or other material draped over or attached to a frame of poles or attached to a supporting rope. While smaller tents may be free-standing or attached to the ground, large tents are usually anchored using guy ropes tied to stakes or tent pegs...
s and
clothing
Clothing
Clothing refers to any covering for the human body that is worn. The wearing of clothing is exclusively a human characteristic and is a feature of nearly all human societies...
are regularly made. Some of these are traditional items, such as the classic
yurt
Yurt
A yurt is a portable, bent wood-framed dwelling structure traditionally used by Turkic nomads in the steppes of Central Asia. The structure comprises a crown or compression wheel usually steam bent, supported by roof ribs which are bent down at the end where they meet the lattice wall...
, while others are designed for the tourist market, such as decorated slippers. In the Western world, felt is widely used as a medium for expression in
textile
Textile
A textile or cloth is a flexible woven material consisting of a network of natural or artificial fibres often referred to as thread or yarn. Yarn is produced by spinning raw fibres of wool, flax, cotton, or other material to produce long strands...
art as well as design, where it has significance as an ecological textile.
Wet felting
Felt is made by a process called
wet felting
, where the natural
wool
Wool
Wool is the textile fiber obtained from sheep and certain other animals, including cashmere from goats, mohair from goats, qiviut from muskoxen, vicuña, alpaca, camel from animals in the camel family, and angora from rabbits....
fibre are stimulated by friction and lubricated by moisture (usually soapy water), and the fibres move at a 90 degree angle towards the friction source and then away again, in effect making little "tacking" stitches. Only 5% of the fibres are active at any one moment, but the process is continual, and so different 'sets' of fibres become activated and then deactivated in the continual process.
This "wet" process uses the inherent nature of wool and other animal hairs, because the hairs have scales on them which are directional. The hairs also have kinks in them, and this combination of scales (like the structure of a pine cone) is what reacts to the stimulation of friction and causes the phenomenon of felting. It tends to work well with woollen fibres, as their scales, when aggravated, bond together to form a cloth.
Cheaper felt is usually artificial. Artificial felt, if made using the wet method, has a minimum of 30% of wool fibres combined with other artificial fibres. This is the minimum required to hold a fabric together with the fibres alone. It would be difficult to achieve a stable fabric by hand at this ratio. All other wholly artificial felts are actually needle-felts.
An alternative way of creating felt is to have a steam roller go over the unwoven fabrics in a shallow pool of water with the cloth rotating as the steam roller goes over it. This method is widely used in small towns in
India
India
India , officially the Republic of India , is a country in South Asia. It is the seventh-largest country by geographical area, the second-most populous country with over 1.2 billion people, and the most populous democracy in the world...
where mass manufacturing of
clothing
Clothing
Clothing refers to any covering for the human body that is worn. The wearing of clothing is exclusively a human characteristic and is a feature of nearly all human societies...
is done.
Needle Felt
Needle felting is a popular fibre arts craft conducted without the use of water. Special barbed felting needles that are used in industrial felting machines are used by the artist as a sculpting tool. Using a single needle or a small group of needles (2-5) in a hand-held tool, these needles are used to sculpt the wool fibre. The barbs catch the scales on the fibre and push them through the layers of wool, tangling them and binding them together, much like the wet felting process. Fine details can be achieved using this technique, and it is popular for 2D and 3D felted work.
Carroting
From the mid-17th to the mid-20th centuries, a process called "carroting" was used in the manufacture of good quality felt for making men's hats. Beaver, rabbit or hare skins were treated with a dilute solution of the
mercury
Mercury (element)
Mercury is a chemical element with the symbol Hg and atomic number 80. It is also known as quicksilver or hydrargyrum...
compound mercuric nitrate. The skins were dried in an oven where the thin fur at the sides turned orange --- the color of carrots. Pelts were stretched over a bar in a cutting machine and the skin sliced off in thin shreds, the fleece coming away entirely. The fur was blown onto a cone-shaped colander, treated with hot water to consolidate it, the cone peeled off and passed through wet rollers to cause the fur to felt. These 'hoods' were then dyed and blocked to make hats. This toxic solution and the vapours it produced resulted in widespread cases of
mercury poisoning
Mercury poisoning
Mercury poisoning is a disease caused by exposure to mercury or its compounds. Mercury is a heavy metal occurring in several forms, all of which can produce toxic effects in high enough doses...
among
hatter
Hatter
A hatter is a person engaged in hatmaking.Hatter also may refer to:*The Hatter, a fictional character in Alice's Adventures in Wonderland* Luton Town F.C., team a.k.a. "The Hatters"* Stockport County F.C., team a.k.a. "The Hatters"...
s, possibly giving rise to the expression "Mad as a Hatter".
Uses
Felt is used everywhere from the
automotive industry
Automotive industry
The automotive industry designs, develops, manufactures, markets, and sells motor vehicles, and is one of the world's most important economic sectors by revenue....
, to musical instruments and
home construction
Home construction
Home construction is the process of constructing a home. Beginning with simple pre-historic shelters, home construction techniques have evolved to produce the vast multitude of living accommodations available today. Different levels of wealth and power have warranted various sizes, luxuries, and...
. It is often used as a
damper
Damper
A damper is a device that deadens, restrains, or depresses.Damper may refer to:* Dashpot, a type of hydraulic or mechanical damper,* Shock absorber , a mechanical device designed to dissipate kinetic energy...
. In the automotive industry, for example, it damps the vibrations between interior panels and also stops dirt entering into some ball/cup joints. Felt is used on the underside of a car bra to protect the body.
Many musical instruments use felt. On drum cymbal stands, it protects the cymbal from cracking and ensures a clean sound. It is used to wrap
bass drum
Bass drum
Bass drums are percussion instruments that can vary in size and are used in several musical genres. Three major types of bass drums can be distinguished. The type usually seen or heard in orchestral, ensemble or concert band music is the orchestral, or concert bass drum . It is the largest drum of...
and timpani mallets. Felt is used extensively in pianos; for example, piano hammers are made of wool felt around a wooden core. The density and springiness of the felt is a major part of what creates a piano's tone. As the felt becomes grooved and "packed" with use and age, the tone suffers. Felt is placed under the piano keys on
accordion
Accordion
The accordion is a box-shaped musical instrument of the bellows-driven free-reed aerophone family, sometimes referred to as a squeezebox. A person who plays the accordion is called an accordionist....
s to control touch and key noise; it is also used on the
pallets
to silence notes not sounded by preventing air flow. Though the
ukulele
Ukulele
The ukulele, ; from ; it is a subset of the guitar family of instruments, generally with four nylon or gut strings or four courses of strings....
is most commonly plucked, the pick, or
plectrum
Plectrum
A plectrum is a small flat tool used to pluck or strum a stringed instrument. For hand-held instruments such as guitars and mandolins, the plectrum is often called a pick, and is a separate tool held in the player's hand...
, is made of felt.
A felt-covered board can be used in storytelling to small children. Small felt cutouts or figures of animals, people, or other objects will adhere to a felt board, and in the process of telling the story, the storyteller also acts it out on the board with the animals or people.
Puppet
Puppet
A puppet is an inanimate object or representational figure animated or manipulated by an entertainer, who is called a puppeteer. It is used in puppetry, a play or a presentation that is a very ancient form of theatre....
s can also be made with felt.
German artist Josef Beuys used felt in a number of works.
In the early part of the 20th century, felt hats, such as fedoras,
trilbies
Trilby
A trilby hat is a type of fedora. The trilby is viewed as the rich man's favored hat; it is commonly called the "brown trilby" in England and is much seen at the horse races. It is described as a "crumpled" fedora...
and
homburg
Homburg (hat)
A homburg is a felt hat, a Tyrolean hat-style fedora, characterized by a single dent running down the center of the crown and a stiff brim shaped in a "kettle curl". The Homburg is a stiff, formal felt hat....
s, were worn by many men in the western world.
Art and crafts. 3-D needle-felted sculptures (such as animals and humans) and 2-D needle-felted wall-hangings.
The use of the term felt can also refer to a material that does not have a rubberised/synthetic feel. This use is most common in Ireland
See also
Bowler hat

Bowler hat

The bowler hat, also known as a coke hat, derby , billycock or bombin, is a hard felt hat with a rounded crown originally created in 1849 for the English soldier and politician Edward Coke, the younger brother of the 2nd Earl of Leicester...



Fuzzy felt

Fuzzy felt

Fuzzy Felt is a simple fabric toy intended for very young children, but enjoyable by people of any age. It was created in 1950 by Lois Allan of the United Kingdom. The toys consist of a flocked backing board onto which a number of felt shapes are placed to create different pictures. Felt pieces...



Nuno felting

Nuno felting

Nuno felting is a fabric felting technique developed by Polly Stirling, a fiber artist from New South Wales, Australia, around 1992. The name is derived from the Japanese word "nuno" meaning cloth . The technique bonds loose fibre, usually wool, into a sheer fabric such as silk gauze, creating a...



Roofing felt
Valenki

Valenki

Valenki are traditional Russian winter footwear, essentially felt boots: the name valenok literally means "made by felting". Valenki are made of wool felt. They are not water-resistant, and are often worn with galoshes to keep water out and protect the soles from wear and tear...



External links
Wtifelt.com, What is felt, felt history, how felt is made