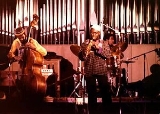 Jazz
Jazz
is a musical style that originated at the beginning of the 20th century in
African American
African American
African Americans are citizens or residents of the United States who have at least partial ancestry from any of the native populations of Sub-Saharan Africa and are the direct descendants of enslaved Africans within the boundaries of the present United States...
communities in the
Southern United States
Southern United States
The Southern United States—commonly referred to as the American South, Dixie, or simply the South—constitutes a large distinctive area in the southeastern and south-central United States...
. It was born out of a mix of African and European music traditions. From its early development until the present, jazz has incorporated music from 19th and 20th century
American popular music
American popular music
American popular music had a profound effect on music across the world. The country has seen the rise of popular styles that have had a significant influence on global culture, including ragtime, blues, jazz, swing, rock, R&B, doo wop, gospel, soul, funk, heavy metal, punk, disco, house, techno,...
. Its West African pedigree is evident in its use of
blue note
Blue note
In jazz and blues, a blue note is a note sung or played at a slightly lower pitch than that of the major scale for expressive purposes. Typically the alteration is a semitone or less, but this varies among performers and genres. Country blues, in particular, features wide variations from the...
s,
improvisation
Improvisation
Improvisation is the practice of acting, singing, talking and reacting, of making and creating, in the moment and in response to the stimulus of one's immediate environment and inner feelings. This can result in the invention of new thought patterns, new practices, new structures or symbols, and/or...
,
polyrhythm
Polyrhythm
Polyrhythm is the simultaneous sounding of two or more independent rhythms.Polyrhythm in general is a nonspecific term for the simultaneous occurrence of two or more conflicting rhythms, of which cross-rhythm is a specific and definable subset.—Novotney Polyrhythms can be distinguished from...
s,
syncopation
Syncopation
In music, syncopation includes a variety of rhythms which are in some way unexpected in that they deviate from the strict succession of regularly spaced strong and weak but also powerful beats in a meter . These include a stress on a normally unstressed beat or a rest where one would normally be...
, call-response, and the swung note.
The
word "jazz"
Jazz (word)
The origin of the word jazz is one of the most sought-after word origins in modern American English. The word's intrinsic interest — the American Dialect Society named it the Word of the Twentieth Century — has resulted in considerable research, and its history is well documented...
(in early years also spelled "jass") began as a
West Coast
West Coast of the United States
West Coast or Pacific Coast are terms for the westernmost coastal states of the United States. The term most often refers to the states of California, Oregon, and Washington. Although not part of the contiguous United States, Alaska and Hawaii do border the Pacific Ocean but can't be included in...
slang term and was first used to refer to music in Chicago at about 1915.
From its beginnings in the early 20th century jazz has spawned a variety of subgenres: New Orleans
Dixieland
Dixieland
Dixieland music, sometimes referred to as Hot jazz, Early Jazz or New Orleans jazz, is a style of jazz music which developed in New Orleans at the start of the 20th century, and was spread to Chicago and New York City by New Orleans bands in the 1910s.Well-known jazz standard songs from the...
dating from the early 1910s,
big band
Big band
A big band is a type of musical ensemble associated with jazz and the Swing Era typically consisting of rhythm, brass, and woodwind instruments totaling approximately twelve to twenty-five musicians...
-style swing from the 1930s and 1940s,
bebop
Bebop
Bebop differed drastically from the straightforward compositions of the swing era, and was instead characterized by fast tempos, asymmetrical phrasing, intricate melodies, and rhythm sections that expanded on their role as tempo-keepers...
from the mid-1940s,
free jazz
Free jazz
Free jazz is an approach to jazz music that was first developed in the 1950s and 1960s. Though the music produced by free jazz pioneers varied widely, the common feature was a dissatisfaction with the limitations of bebop, hard bop, and modal jazz, which had developed in the 1940s and 1950s...
and a variety of
Latin jazz
Latin jazz
Latin jazz is the general term given to jazz with Latin American rhythms.The three main categories of Latin Jazz are Brazilian, Cuban and Puerto Rican:# Brazilian Latin Jazz includes bossa nova...
fusions
Jazz fusion
Jazz fusion is a musical fusion genre that developed from mixing funk and R&B rhythms and the amplification and electronic effects of rock, complex time signatures derived from non-Western music and extended, typically instrumental compositions with a jazz approach to lengthy group improvisations,...
, such as
Afro-Cuban
Afro-Cuban jazz
Afro-Cuban jazz is an early form of Latin jazz that mixes Afro-Cuban rhythms with harmonies and musical timbre typical of Bebop. It was developed in the early 1940s by both Cuban musicians and Jazz musicians, with Dizzy Gillespie, Mario Bauza, Machito and Stan Kenton among some of the most notable...
, from the 1950s and 1960s,
jazz fusion
Jazz fusion
Jazz fusion is a musical fusion genre that developed from mixing funk and R&B rhythms and the amplification and electronic effects of rock, complex time signatures derived from non-Western music and extended, typically instrumental compositions with a jazz approach to lengthy group improvisations,...
from the 1970s,
acid jazz
Acid jazz
Acid jazz is a musical genre that combines elements of jazz, funk and hip-hop, particularly looped beats. It developed in the UK over the 1980s and 1990s and could be seen as tacking the sound of jazz-funk onto electronic dance: jazz-funk musicians such as Roy Ayers, Donald Byrd and Grant Green are...
from the 1980s (which combines
funk
Funk
Funk is a music genre that originated in the mid-late 1960s when African American musicians blended soul music, jazz and R&B into a rhythmic, danceable new form of music. Funk de-emphasizes melody and harmony and brings a strong rhythmic groove of electric bass and drums to the foreground...
and hip-hop elements), and
nu jazz
Nu jazz
Nu jazz is an umbrella term coined in the late 1990s to refer to music that blends jazz elements with other musical styles, such as funk, soul, electronic dance music, and free improvisation...
in the 1990s.
"By and large, jazz has always been like the kind of a man you wouldn't want your daughter to associate with."

Duke Ellington
"Jazz is the false liquidation of art—instead of utopia becoming reality it disappears from the picture."

Theodor Adorno, quoted in The Sociology of Rock by Simon Frith, 1978. ISBN 0094602204.
"Jazz is something Negroes invented, and it said the most profound things—not only about us and the way we look at things, but about what modern democratic life is really about. It is the nobility of the race put into sound ... jazz has all the elements, from the spare and penetrating to the complex and enveloping. It is the hardest music to play that I know of, and it is the highest rendition of individual emotion in the history of Western music."

Wynton Marsalis
"There is nothing but jazz."

Konrad Stragier in a poem
"Jazz is not a 'form' but a collection of tags and tricks."

Ernest Newman. The Sunday Times, "The World of Music", 4 September 1927.
"If you have to ask, you'll never know."

Louis Armstrong when asked to define the rhythmic concept of "swing", quoted in Jazz 101: A Complete Guide to Learning and Loving Jazz by John F. Szwed, 2000. ISBN 0786884967.
"Jazz is not dead, it just smells funny."

Lyric from Frank Zappa's "Be-Bop Tango"
"Music is a journey. Jazz is getting lost."

John O'Farrell 'The Best a Man Can Get' (1999)
"Jazz is sex."

Katherine Boeyen (2007 Midnight Jazz Project)