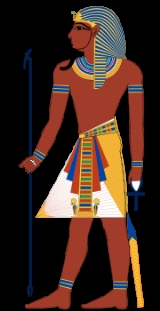 Pharaoh
Pharaoh
is a title used in many modern discussions of the
ancient Egypt
Ancient Egypt
Ancient Egypt was an ancient civilization of Northeastern Africa, concentrated along the lower reaches of the Nile River in what is now the modern country of Egypt. Egyptian civilization coalesced around 3150 BC with the political unification of Upper and Lower Egypt under the first pharaoh...
ian rulers of all periods. The title originates in the term "pr-aa" which means "great house" and describes the royal palace. The title of Pharaoh started being used for the king during the
New Kingdom
New Kingdom
The New Kingdom of Egypt, also referred to as the Egyptian Empire is the period in ancient Egyptian history between the 16th century BC and the 11th century BC, covering the Eighteenth, Nineteenth, and Twentieth Dynasties of Egypt....
, specifically during the middle of the
eighteenth dynasty
Eighteenth dynasty of Egypt
The eighteenth dynasty of ancient Egypt is perhaps the best known of all the dynasties of ancient Egypt...
.
Pharaoh, meaning "Great House", or "High House" originally referred to the
king
King
- Centers of population :* King, Ontario, CanadaIn USA:* King, Indiana* King, North Carolina* King, Lincoln County, Wisconsin* King, Waupaca County, Wisconsin* King County, Washington- Moving-image works :Television:...
's
palace
Palace
A palace is a grand residence, especially a royal residence or the home of a head of state or some other high-ranking dignitary, such as a bishop or archbishop. The word itself is derived from the Latin name Palātium, for Palatine Hill, one of the seven hills in Rome. In many parts of Europe, the...
, but by the reign of
Thutmose III
Thutmose III
Thutmose III was the sixth Pharaoh of the Eighteenth Dynasty. During the first twenty-two years of Thutmose's reign he was co-regent with his stepmother, Hatshepsut, who was named the pharaoh...
(ca.