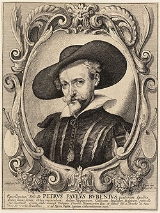 Peter Paul Rubens
Sir Peter Paul Rubens
(ˈrybə(n)s; 28 June 1577 – 30 May 1640), was a Flemish Baroque painter, and a proponent of an extravagant
Baroque
Baroque
The Baroque is a period and the style that used exaggerated motion and clear, easily interpreted detail to produce drama, tension, exuberance, and grandeur in sculpture, painting, literature, dance, and music...
style that emphasised movement, colour, and sensuality. He is well-known for his
Counter-Reformation
Counter-Reformation
The Counter-Reformation was the period of Catholic revival beginning with the Council of Trent and ending at the close of the Thirty Years' War, 1648 as a response to the Protestant Reformation.The Counter-Reformation was a comprehensive effort, composed of four major elements:#Ecclesiastical or...
altarpiece
Altarpiece
An altarpiece is a picture or relief representing a religious subject and suspended in a frame behind the altar of a church. The altarpiece is often made up of two or more separate panels created using a technique known as panel painting. It is then called a diptych, triptych or polyptych for two,...
s,
portrait
Portrait
thumb|250px|right|Portrait of [[Thomas Jefferson]] by [[Rembrandt Peale]], 1805. [[New-York Historical Society]].A portrait is a painting, photograph, sculpture, or other artistic representation of a person, in which the face and its expression is predominant. The intent is to display the likeness,...
s, landscapes, and
history painting
History painting
History painting is a genre in painting defined by subject matter rather than an artistic style, depicting a moment in a narrative story, rather than a static subject such as a portrait...
s of mythological and allegorical subjects.
In addition to running a large studio in
Antwerp
that produced paintings popular with nobility and art collectors throughout Europe, Rubens was a classically educated
humanist scholar
Renaissance humanism
Renaissance humanism was an activity of cultural and educational reform engaged by scholars, writers, and civic leaders who are today known as Renaissance humanists. It developed during the fourteenth and the beginning of the fifteenth centuries, and was a response to the challenge of Mediæval...
, art collector, and diplomat who was
knight
Knight
A knight was a member of a class of lower nobility in the High Middle Ages.By the Late Middle Ages, the rank had become associated with the ideals of chivalry, a code of conduct for the perfect courtly Christian warrior....
ed by both
Philip IV
Philip IV of Spain
Philip IV was King of Spain between 1621 and 1665, sovereign of the Spanish Netherlands, and King of Portugal until 1640...
, King of Spain, and
Charles I
Charles I of England
Charles I was King of England, King of Scotland, and King of Ireland from 27 March 1625 until his execution in 1649. Charles engaged in a struggle for power with the Parliament of England, attempting to obtain royal revenue whilst Parliament sought to curb his Royal prerogative which Charles...
, King of England.
Rubens was born in
Siegen
Siegen
Siegen is a city in Germany, in the south Westphalian part of North Rhine-Westphalia.It is located in the district of Siegen-Wittgenstein in the Arnsberg region...
,
Westphalia
Westphalia
Westphalia is a region in Germany, centred on the cities of Arnsberg, Bielefeld, Dortmund, Minden and Münster.Westphalia is roughly the region between the rivers Rhine and Weser, located north and south of the Ruhr River. No exact definition of borders can be given, because the name "Westphalia"...
, to Jan Rubens and Maria Pypelincks.