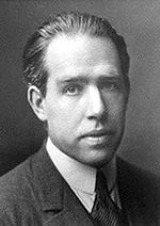 Niels Bohr
Niels Henrik David Bohr
(ni:ls ˈboɐ̯ˀ; 7 October 1885 – 18 November 1962) was a
Danish
Denmark
Denmark is a Scandinavian country in Northern Europe. The countries of Denmark and Greenland, as well as the Faroe Islands, constitute the Kingdom of Denmark . It is the southernmost of the Nordic countries, southwest of Sweden and south of Norway, and bordered to the south by Germany. Denmark...
physicist
Physicist
A physicist is a scientist who studies or practices physics. Physicists study a wide range of physical phenomena in many branches of physics spanning all length scales: from sub-atomic particles of which all ordinary matter is made to the behavior of the material Universe as a whole...
who made foundational contributions to understanding atomic structure and
quantum mechanics
Quantum mechanics
Quantum mechanics, also known as quantum physics or quantum theory, is a branch of physics providing a mathematical description of much of the dual particle-like and wave-like behavior and interactions of energy and matter. It departs from classical mechanics primarily at the atomic and subatomic...
, for which he received the Nobel Prize in
Physics
Physics
Physics is a natural science that involves the study of matter and its motion through spacetime, along with related concepts such as energy and force. More broadly, it is the general analysis of nature, conducted in order to understand how the universe behaves.Physics is one of the oldest academic...
in 1922. Bohr mentored and collaborated with many of the top physicists of the century at his institute in
Copenhagen
Copenhagen
Copenhagen is the capital and largest city of Denmark, with an urban population of 1,199,224 and a metropolitan population of 1,930,260 . With the completion of the transnational Øresund Bridge in 2000, Copenhagen has become the centre of the increasingly integrating Øresund Region...
. He was part of a team of physicists working on the
Manhattan Project
Manhattan Project
The Manhattan Project was a research and development program, led by the United States with participation from the United Kingdom and Canada, that produced the first atomic bomb during World War II. From 1942 to 1946, the project was under the direction of Major General Leslie Groves of the US Army...
. Bohr married Margrethe Nørlund in 1912, and one of their sons, Aage Bohr, grew up to be an important physicist who in 1975 also received the Nobel Prize.
The great extension of our experience in recent years has brought light to the insufficiency of our simple mechanical conceptions and, as a consequence, has shaken the foundation on which the customary interpretation of observation was based.

"Atomic Physics and the Description of Nature" (1934)
Isolated material particles are abstractions, their properties being definable and observable only through their interaction with other systems.

"Atomic Physics and the Description of Nature" (1934)
Physics is to be regarded not so much as the study of something a priori given, but rather as the development of methods of ordering and surveying human experience. In this respect our task must be to account for such experience in a manner independent of individual subjective judgement and therefor objective in the sense that it can be unambiguously communicated in ordinary human language.

"The Unity of Human Knowledge" (October 1960)
Every valuable human being must be a radical and a rebel, for what he must aim at is to make things better than they are.

As quoted in The World of the Atom;; (1966) by Henry Abraham Boorse and Lloyd Motz, p. 741
How wonderful that we have met with a paradox. Now we have some hope of making progress.

As quoted in Niels Bohr : The Man, His Science, & the World They Changed (1966) by Ruth Moore, p. 196