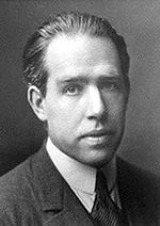 Niels Bohr
Posts 1 - 2 of 2

mariannemcd
How can the Bohr model of an atomic structure be used to explain the reactivity of alkali metals?
replied to: mariannemcd

miamibeach
Replied to: How can the Bohr model of an atomic structure be used...
Atoms are stable with a full shell of electrons, so the alkali metals only need to lose one electron to get a full shell, so they are very reactive. Moreover the reactivity increases as you go down the group as the electron you lose is further from the positive nucleus attracting it. This is shielded by the electrons in between. This makes it easier for the outer electron to be lost.

Alkali metals have free unpaired electrons in their valance energy level on the bohr diagram. They're reactive because the unpaired electrons want to gain electrons so that they'll be stable and in pairs.

If you look at the Bohr model of say Lithium, which is an alkali metal, you would see that Lithium only has one valence electron (electron on outermost ring). Since it only has to give away one electron to become stable, that makes it highly reactive (the less electrons you have the less you need to give away, so you are not willing to take any and instead you want to give them away).