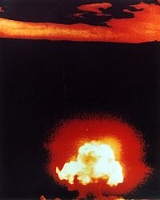 Manhattan Project
The
Manhattan Project
was a research and development program, led by the United States with participation from the United Kingdom and Canada, that produced the first atomic bomb during
World War II
World War II
World War II, or the Second World War , was a global conflict lasting from 1939 to 1945, involving most of the world's nations—including all of the great powers—eventually forming two opposing military alliances: the Allies and the Axis...
. From 1942 to 1946, the project was under the direction of
Major General
Major general (United States)
In the United States Army, United States Marine Corps, and United States Air Force, major general is a two-star general-officer rank, with the pay grade of O-8. Major general ranks above brigadier general and below lieutenant general...
Leslie Groves
Leslie Groves
Lieutenant General Leslie Richard Groves, Jr. was a United States Army Corps of Engineers officer who oversaw the construction of the Pentagon and directed the Manhattan Project that developed the atomic bomb during World War II. As the son of a United States Army chaplain, Groves lived at a...
of the US Army Corps of Engineers. The Army component of the project was designated the
Manhattan District
; "Manhattan" gradually superseded the official codename, "
Development of Substitute Materials
", for the entire project.