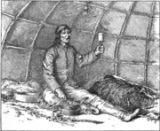 Ethnobotany
Ethnobotany
is the
scientific study
Scientific method
Scientific method refers to a body of techniques for investigating phenomena, acquiring new knowledge, or correcting and integrating previous knowledge. To be termed scientific, a method of inquiry must be based on gathering empirical and measurable evidence subject to specific principles of...
of the relationships that exist between
people
Person
A person is a human being, or an entity that has certain capacities or attributes strongly associated with being human , for example in a particular moral or legal context...
and plants.
Ethnobotanists aim to document, describe and explain complex relationships between cultures and (uses of) plants, focusing primarily on how plants are used, managed and perceived across human societies. This includes use for food, clothing, currency, ritual, medicine, dye, construction, cosmetics and more.
History of ethnobotany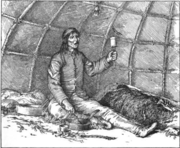 Though the term "ethnobotany" was not coined until 1895 by the US botanist
John William Harshberger
John William Harshberger
John W. Harshberger, was the US botanist who in 1895 coined the term "Ethnobotany".-References:...
, the history of the field begins long before that. In A.D. 77, the Greek surgeon Dioscorides published "
De Materia Medica
", which was a catalog of about 600 plants in the Mediterranean. It also included information on how the Greeks used the plants, especially for medicinal purposes. This illustrated herbal contained information on how and when each plant was gathered, whether or not it was poisonous, its actual use, and whether or not it was edible (it even provided recipes). Dioscorides stressed the economic potential of plants. For generations, scholars learned from this herbal, but did not actually venture into the field until after the Middle Ages.
In 1542
Leonhart Fuchs
Leonhart Fuchs
Leonhart Fuchs , sometimes spelled Leonhard Fuchs, was a German physician and one of the three founding fathers of botany, along with Otto Brunfels and Hieronymus Bock .-Biography:...
, a
Renaissance
Renaissance
The Renaissance was a cultural movement that spanned roughly the 14th to the 17th century, beginning in Italy in the Late Middle Ages and later spreading to the rest of Europe. The term is also used more loosely to refer to the historical era, but since the changes of the Renaissance were not...
artist, led the way back into the field. His "
De Historia Stirpium
" cataloged 400 plants native to Germany and Austria.
John Ray
John Ray
John Ray was an English naturalist, sometimes referred to as the father of English natural history. Until 1670, he wrote his name as John Wray. From then on, he used 'Ray', after "having ascertained that such had been the practice of his family before him".He published important works on botany,...
(1686–1704) provided the first definition of "
species
Species
In biology, a species is one of the basic units of biological classification and a taxonomic rank. A species is often defined as a group of organisms capable of interbreeding and producing fertile offspring. While in many cases this definition is adequate, more precise or differing measures are...
" in his "
Historia Plantarum
": a species is a set of individuals who give rise through reproduction to new individuals similar to themselves.
In 1753
Carl Linnaeus
Carolus Linnaeus
Carl Linnaeus , also known after his ennoblement as , was a Swedish botanist, physician, and zoologist, who laid the foundations for the modern scheme of binomial nomenclature. He is known as the father of modern taxonomy, and is also considered one of the fathers of modern ecology...
wrote "
Species Plantarum
", which included information on about 5,900 plants. Linnaeus is famous for inventing the
binomial method of nomenclature
Binomial nomenclature
Binomial nomenclature is a formal system of naming species of living things by giving each a name composed of two parts, both of which use Latin grammatical forms, although they can be based on words from other languages...
, in which all species get a two part name (
genus
Genus
In biology, a genus is a low-level taxonomic rank used in the biological classification of living and fossil organisms, which is an example of definition by genus and differentia...
,
species
Species
In biology, a species is one of the basic units of biological classification and a taxonomic rank. A species is often defined as a group of organisms capable of interbreeding and producing fertile offspring. While in many cases this definition is adequate, more precise or differing measures are...
).
The 19th century saw the peak of botanical exploration.
Alexander von Humboldt
Alexander von Humboldt
Friedrich Wilhelm Heinrich Alexander Freiherr von Humboldt was a German naturalist and explorer, and the younger brother of the Prussian minister, philosopher and linguist Wilhelm von Humboldt...
collected data from the new world, and the
James Cook
James Cook
Captain James Cook, FRS, RN was a British explorer, navigator and cartographer who ultimately rose to the rank of captain in the Royal Navy...
's voyages brought back collections and information on plants from the South Pacific. At this time major botanical gardens were started, for instance the
Royal Botanic Gardens, Kew
Royal Botanic Gardens, Kew
The Royal Botanic Gardens, Kew, usually referred to as Kew Gardens, is 121 hectares of gardens and botanical glasshouses between Richmond and Kew in southwest London, England. "The Royal Botanic Gardens, Kew" and the brand name "Kew" are also used as umbrella terms for the institution that runs...
.
Edward Palmer collected artifacts and botanical specimens from people in the North American West (Great Basin) and Mexico from the 1860s to the 1890s.
Once enough data existed, the field of "aboriginal botany" was founded. Aboriginal botany is the study of all forms of the vegetable world which
aboriginal peoples
Indigenous peoples
Indigenous peoples are ethnic groups that are defined as indigenous according to one of the various definitions of the term, there is no universally accepted definition but most of which carry connotations of being the "original inhabitants" of a territory....
use for food, medicine, textiles, ornaments, etc.
The first individual to study the emic perspective of the plant world was a German physician working in Sarajevo at the end of 19th Century: Leopold Glueck. His published work on traditional medical uses of plants done by rural people in Bosnia (1896) has to be considered the first modern ethnobotanical work.
The term "ethnobotany" was first used by a botanist named John W. Harshberger in 1895 while he was teaching at the University of Pennsylvania. Although the term was not used until 1895, practical interests in ethnobotany go back to the beginning of civilization when people relied on plants for survival.
Other scholars analyzed uses of plants under an indigenous/local perspective in the 20th century: e.g.
Matilda Coxe Stevenson
Matilda Coxe Stevenson
Matilda Coxe Stevenson was an American ethnologist, born at San Augustine, Tex.-Bio:In 1872 she was married to James Stevenson, an ethnologist , with whom she spent 13 years in explorations of the Rocky Mountain region....
, Zuni plants (1915);
Frank Cushing
Frank Hamilton Cushing
Frank Hamilton Cushing was an American anthropologist and ethnologist...
, Zuni foods (1920);
Keewaydinoquay Peschel
Keewaydinoquay Peschel
Keewaydinoquay Pakawakuk Peschel was a scholar, ethnobotanist, herbalist, medicine woman, teacher and author. She was an Anishinaabeg Elder of the Crane Clan...
, Anishinaabe fungi (1998), and the team approach of Wilfred Robbins, JP Harrington, and
Barbara Freire-Marreco
Barbara Freire-Marreco
Barbara Freire-Marreco was an English anthropologist and folklorist.She was born to a family of St Mawes in Cornwall, originally from Portugal, and spent her childhood in Horsell, Surrey. Barbara married Charles Aitken during World War I, meeting while they were employed at the War Trade...
, Tewa pueblo plants (1916).
In the beginning, ethonobotanical specimens and studies were not very reliable and sometimes not helpful. This is because the botanists and the anthropologists did not collaborate their work. The botanists focused on identifying species and how the plants were used instead of concentrating upon how plants fit into people's lives. On the other hand, anthropologists were interested in the cultural role of plants and not the scientific aspect. Therefore, early ethnobotanical data does not really include both sides. In the early twentieth century, botanists and anthropologists finally collaborated and the collection of reliable, detailed data began.
Modern ethnobotany
Beginning in the 20th century, the field of ethnobotany experienced a shift from the raw compilation of data to a greater methodological and conceptual reorientation. This is also the beginning of academic ethnobotany. The so called "father" of this discipline is
Richard Evans Schultes
Richard Evans Schultes
Richard Evans Schultes may be considered the father of modern ethnobotany, for his studies of indigenous peoples' uses of plants, including especially entheogenic or hallucinogenic plants , for his lifelong collaborations with chemists, and...
even though he did not actually coin the term "Ethnobotany". Today the field of ethnobotany requires a variety of skills: botanical training for the identification and preservation of plant specimens; anthropological training to understand the cultural concepts around the perception of plants; linguistic training, at least enough to transcribe local terms and understand native morphology, syntax, and semantics.
A great deal of information about the traditional uses of plants is still intact with the tribals. But the native healers are often reluctant to accurately share their knowledge to outsiders. Schultes actually apprenticed himself to an Amazonian shaman, which involves a long term commitment and genuine relationship. In
Wind in the Blood: Mayan Healing & Chinese Medicine
by Garcia et al. the visiting acupuncturists were able to access levels of Mayan medicine that anthropologists could not because they had something to share in exchange. Cherokee medicine priest
David Winston
David Winston
David Winston RH is an American herbalist and ethnobotanist. He has been in practice and teaching since 1977 and has written several books on the subject. He works in the Cherokee, Chinese and the Western eclectic herbal traditions...
describes how his uncle would invent nonsense to satisfy visiting anthropologists.
Scientific journals covering ethnobotanical research
The Latin American and Caribbean Bulletin of Medicinal and Aromatic Plants (Abbreviated BLACPMA) or
Boletin latinoamericano y del caribe de plantas medicinales y aromaticas
(ISSN-0717 7917) is a bimonthly scientific publication directed to diverse professionals and technicians linked to the field of medicinal and aromatic plants. It accepts papers related with the Bulletin's areas of interest, which are
agronomy
Agronomy
Agronomy is the science and technology of producing and using plants for food, fuel, feed, fiber, and reclamation. Agronomy encompasses work in the areas of plant genetics, plant physiology, meteorology, and soil science. Agronomy is the application of a combination of sciences like biology,...
,
anthropology
Anthropology
Anthropology is the study of humanity. It has origins in the humanities, the natural sciences, and the social sciences. The term "anthropology" is from the Greek anthrōpos , "man", understood to mean mankind or humanity, and -logia , "discourse" or "study", and was first used in 1501 by German...
and ethnobotany, industrial applications,
botany
Botany
Botany, plant science, or plant biology is a branch of biology that involves the scientific study of plant life. Traditionally, botany also included the study of fungi, algae and viruses...
, quality and normalization,
ecology
Ecology
Ecology is the scientific study of the relations that living organisms have with respect to each other and their natural environment. Variables of interest to ecologists include the composition, distribution, amount , number, and changing states of organisms within and among ecosystems...
and
biodiversity
Biodiversity
Biodiversity is the degree of variation of life forms within a given ecosystem, biome, or an entire planet. Biodiversity is a measure of the health of ecosystems. Biodiversity is in part a function of climate. In terrestrial habitats, tropical regions are typically rich whereas polar regions...
, economy and markets,
pharmacology
Pharmacology
Pharmacology is the branch of medicine and biology concerned with the study of drug action. More specifically, it is the study of the interactions that occur between a living organism and chemicals that affect normal or abnormal biochemical function...
,
phytochemistry
Phytochemistry
Phytochemistry is in the strict sense of the word the study of phytochemicals. These are chemicals derived from plants. In a narrower sense the terms are often used to describe the large number of secondary metabolic compounds found in plants. Many of these are known to provide protection against...
,
legislation
Legislation
Legislation is law which has been promulgated by a legislature or other governing body, or the process of making it...
, information and diffusion of events, courses, prizes, regulations, news, market questions, reports, bibliography, or any other material type that is important to publish.
See also the following peer-reviewed journals:
Journal of Ethnobiology
Ethnobotany Research and Applications
Journal of Ethnobiology and Ethnomedicine http://www.ethnobiomed.com/
Journal of Ethnopharmacology

Journal of Ethnopharmacology

The Journal of Ethnopharmacology is an academic journal dealing with the traditional medicinal use of plants and other substances....



Economic Botany

Economic Botany

Economic Botany is an academic journal that deals with the commercial uses of plants, or economic botany. It covers fields such as ethnopharmacology as well as potential new commercial crops....



Ethnobotany Research and Applicationshttp://www.ethnobotanyjournal.org/
Ethnobotanical database
Some ethnobotanical database are as follows
Dr. Duke's Phytochemical and Ethnobotanical Databases
Ethnobotanical Database of Bangladesh (EDB)
Native American Ethnobotany: http://herb.umd.umich.edu/
See also
External links