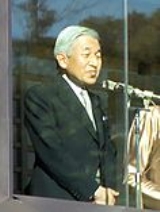 Emperor of Japan
The
Emperor of Japan
is, according to the 1947
Constitution of Japan
Constitution of Japan
The is the fundamental law of Japan. It was enacted on 3 May, 1947 as a new constitution for postwar Japan.-Outline:The constitution provides for a parliamentary system of government and guarantees certain fundamental rights...
, "the symbol of the state and of the unity of the people." He is a ceremonial figurehead under a form of
constitutional monarchy
Constitutional monarchy
Constitutional monarchy is a form of government in which a monarch acts as head of state within the parameters of a constitution, whether it be a written, uncodified or blended constitution...
and is head of the
Japanese Imperial Family
Imperial House of Japan
The , also referred to as the Imperial Family or the Yamato Dynasty, comprises those members of the extended family of the reigning Emperor of Japan who undertake official and public duties. Under the present Constitution of Japan, the emperor is the symbol of the state and unity of the people...
with functions as
head of state
Head of State
A head of state is the individual that serves as the chief public representative of a monarchy, republic, federation, commonwealth or other kind of state. His or her role generally includes legitimizing the state and exercising the political powers, functions, and duties granted to the head of...
. He is also the highest authority of the
Shinto
Shinto
or Shintoism, also kami-no-michi, is the indigenous spirituality of Japan and the Japanese people. It is a set of practices, to be carried out diligently, to establish a connection between present day Japan and its ancient past. Shinto practices were first recorded and codified in the written...
religion. In his dual role as head of a religion and head of state the Emperor resembles the British monarch, who is "supreme governor" of the
Church of England
Church of England
The Church of England is the officially established Christian church in England and the Mother Church of the worldwide Anglican Communion. The church considers itself within the tradition of Western Christianity and dates its formal establishment principally to the mission to England by St...
.
The Emperor is called the
Tennō
(天皇) in Japanese, literally meaning "heavenly sovereign".
1308 The reign of Emperor Hanazono, emperor of Japan, begins.
1586 Emperor Go-Yozei becomes Emperor of Japan.
1867 The 15th and the last military Shogun of the Tokugawa shogunate resigns in Japan, returning his power to the Emperor of Japan and thence to the re-established civil government of Japan
1869 The Japanese daimyō begin returning their land holdings to the emperor as part of the Meiji Restoration reforms. (Traditional Japanese Date: June 17, 1869).
1945 Japan accepts the Allied terms of surrender in World War II and the Emperor records the Imperial Rescript on Surrender (August 15 in Japan standard time).
1959 Akihito, future Emperor of Japan, weds Michiko.
1992 Emperor Akihito becomes the first Emperor of Japan to stand on Chinese soil.