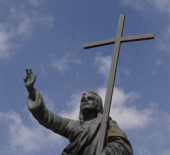 Crusades
The
Crusades
were a series of
religious wars
Religious war
A religious war; Latin: bellum sacrum; is a war caused by, or justified by, religious differences. It can involve one state with an established religion against another state with a different religion or a different sect within the same religion, or a religiously motivated group attempting to...
, blessed by the
Pope
Pope
The Pope is the Bishop of Rome, a position that makes him the leader of the worldwide Catholic Church . In the Catholic Church, the Pope is regarded as the successor of Saint Peter, the Apostle...
and the Catholic Church with the main goal of restoring Christian access to the holy places in and near
Jerusalem
. The Crusades were originally launched in response to a call from the leaders of the
Byzantine Empire
Byzantine Empire
The Byzantine Empire was the Eastern Roman Empire during the periods of Late Antiquity and the Middle Ages, centred on the capital of Constantinople. Known simply as the Roman Empire or Romania to its inhabitants and neighbours, the Empire was the direct continuation of the Ancient Roman State...
for help to fight Muslim Seljuk Turks expansion into
Anatolia
Anatolia
Anatolia is a geographic and historical term denoting the westernmost protrusion of Asia, comprising the majority of the Republic of Turkey...
; these Turks had cut off access to Jerusalem.