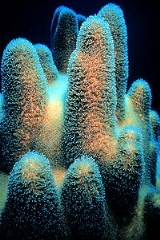 Coral
Corals
are marine animals in
class
Class (biology)
In biological classification, class is* a taxonomic rank. Other well-known ranks are life, domain, kingdom, phylum, order, family, genus, and species, with class fitting between phylum and order...
Anthozoa
Anthozoa
Anthozoa is a class within the phylum Cnidaria that contains the sea anemones and corals. Unlike other cnidarians, anthozoans do not have a medusa stage in their development. Instead, they release sperm and eggs that form a planula, which attaches to some substrate on which the cnidarian grows...
of
phylum
Phylum
In biology, a phylum The term was coined by Georges Cuvier from Greek φῦλον phylon, "race, stock," related to φυλή phyle, "tribe, clan." is a taxonomic rank below kingdom and above class. "Phylum" is equivalent to the botanical term division....
Cnidaria
Cnidaria
Cnidaria is a phylum containing over 9,000 species of animals found exclusively in aquatic and mostly marine environments. Their distinguishing feature is cnidocytes, specialized cells that they use mainly for capturing prey. Their bodies consist of mesoglea, a non-living jelly-like substance,...
typically living in compact
colonies
Colony (biology)
In biology, a colony reference to several individual organisms of the same species living closely together, usually for mutual benefit, such as stronger defense or the ability to attack bigger prey. Some insects live only in colonies...
of many identical individual "
polyp
Polyp
A polyp in zoology is one of two forms found in the phylum Cnidaria, the other being the medusa. Polyps are approximately cylindrical in shape and elongated at the axis of the body...
s". The group includes the important
reef
Coral reef
Coral reefs are underwater structures made from calcium carbonate secreted by corals. Coral reefs are colonies of tiny living animals found in marine waters that contain few nutrients. Most coral reefs are built from stony corals, which in turn consist of polyps that cluster in groups. The polyps...
builders that inhabit tropical
ocean
Ocean
An ocean is a major body of saline water, and a principal component of the hydrosphere. Approximately 71% of the Earth's surface is covered by ocean, a continuous body of water that is customarily divided into several principal oceans and smaller seas.More than half of this area is over 3,000...
s and secrete
calcium carbonate
Calcium carbonate
Calcium carbonate is a chemical compound with the formula CaCO3. It is a common substance found in rocks in all parts of the world, and is the main component of shells of marine organisms, snails, coal balls, pearls, and eggshells. Calcium carbonate is the active ingredient in agricultural lime,...
to form a hard skeleton.
A coral "head" is a colony of myriad
genetically identical
Cloning
Cloning in biology is the process of producing similar populations of genetically identical individuals that occurs in nature when organisms such as bacteria, insects or plants reproduce asexually. Cloning in biotechnology refers to processes used to create copies of DNA fragments , cells , or...
polyps. Each polyp is a spineless animal typically only a few millimeters in diameter and a few centimeters in length.