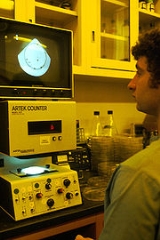 Colony (biology)
In
biology
Biology
Biology is a natural science concerned with the study of life and living organisms, including their structure, function, growth, origin, evolution, distribution, and taxonomy. Biology is a vast subject containing many subdivisions, topics, and disciplines...
, a
colony
reference to several individual
organism
Organism
In biology, an organism is any contiguous living system . In at least some form, all organisms are capable of response to stimuli, reproduction, growth and development, and maintenance of homoeostasis as a stable whole.An organism may either be unicellular or, as in the case of humans, comprise...
s of the same
species
Species
In biology, a species is one of the basic units of biological classification and a taxonomic rank. A species is often defined as a group of organisms capable of interbreeding and producing fertile offspring. While in many cases this definition is adequate, more precise or differing measures are...
living closely together, usually for mutual benefit, such as stronger defense or the ability to attack bigger prey. Some insects (
ant
Ant
Ants are social insects of the family Formicidae and, along with the related wasps and bees, belong to the order Hymenoptera. Ants evolved from wasp-like ancestors in the mid-Cretaceous period between 110 and 130 million years ago and diversified after the rise of flowering plants. More than...
s and
honey bee
Honey bee
Honey bees are a subset of bees in the genus Apis, primarily distinguished by the production and storage of honey and the construction of perennial, colonial nests out of wax. Honey bees are the only extant members of the tribe Apini, all in the genus Apis...
s, for example) live only in colonies. The
Portuguese Man o' War
Portuguese Man o' War
The Portuguese Man o' War , also known as the Portuguese man-of-war, man-of-war, or bluebottle, is a jelly-like marine invertebrate of the family Physaliidae...
is an example of a colony of four different
polyp
Polyp
A polyp in zoology is one of two forms found in the phylum Cnidaria, the other being the medusa. Polyps are approximately cylindrical in shape and elongated at the axis of the body...
forms.
A colony of single-celled organisms is known as a
colonial organism
.