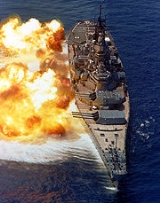 Battleship
A battleship is a large
armored
Armour
Armour or armor is protective covering used to prevent damage from being inflicted to an object, individual or a vehicle through use of direct contact weapons or projectiles, usually during combat, or from damage caused by a potentially dangerous environment or action...
warship
Warship
A warship is a ship that is built and primarily intended for combat. Warships are usually built in a completely different way from merchant ships. As well as being armed, warships are designed to withstand damage and are usually faster and more maneuvrable than merchant ships...
with a main
battery
Artillery battery
In military organizations, an artillery battery is a unit of guns, mortars, rockets or missiles so grouped in order to facilitate better battlefield communication and command and control, as well as to provide dispersion for its constituent gunnery crews and their systems...
consisting of heavy
caliber
Caliber
In guns including firearms, caliber or calibre is the approximate internal diameter of the barrel in relation to the diameter of the projectile used in it....
gun
Gun
A gun is a muzzle or breech-loaded projectile-firing weapon. There are various definitions depending on the nation and branch of service. A "gun" may be distinguished from other firearms in being a crew-served weapon such as a howitzer or mortar, as opposed to a small arm like a rifle or pistol,...
s. Battleships were larger, better armed and armored than
cruiser
Cruiser
A cruiser is a type of warship. The term has been in use for several hundreds of years, and has had different meanings throughout this period...
s and
destroyer
Destroyer
In naval terminology, a destroyer is a fast and maneuverable yet long-endurance warship intended to escort larger vessels in a fleet, convoy or battle group and defend them against smaller, powerful, short-range attackers. Destroyers, originally called torpedo-boat destroyers in 1892, evolved from...
s. As the largest armed ships in a fleet, battleships were used to attain
command of the sea
Command of the sea
A naval force has command of the sea when it is so strong that its rivals cannot attack it directly. Also called sea control, this dominance may apply to its surrounding waters or may extend far into the oceans, meaning the country has a blue-water navy...
and represented the apex of a nation's naval power from about 1875 up until
World War II
World War II
World War II, or the Second World War , was a global conflict lasting from 1939 to 1945, involving most of the world's nations—including all of the great powers—eventually forming two opposing military alliances: the Allies and the Axis...
. With the rise of air power, guided missiles, and guided bombs, large guns were no longer deemed necessary to establish naval superiority.
Battleship design evolved to incorporate and adapt technological advances to maintain an edge.