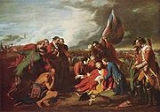 Battle of the Plains of Abraham
The
Battle of the Plains of Abraham
, also known as the
Battle of Quebec
, (
Bataille des Plaines d'Abraham
or
Première bataille de Québec
in French) was a pivotal battle in the
Seven Years' War
Seven Years' War
The Seven Years' War was a global military war between 1756 and 1763, involving most of the great powers of the time and affecting Europe, North America, Central America, the West African coast, India, and the Philippines...
(referred to as the
French and Indian War
French and Indian War
The French and Indian War is the common American name for the war between Great Britain and France in North America from 1754 to 1763. In 1756, the war erupted into the world-wide conflict known as the Seven Years' War and thus came to be regarded as the North American theater of that war...
in the United States). The battle, which began on 13 September 1759, was fought between the British Army and Navy, and the French Army, on a
plateau
Plateau
In geology and earth science, a plateau , also called a high plain or tableland, is an area of highland, usually consisting of relatively flat terrain. A highly eroded plateau is called a dissected plateau...
just outside the walls of
Quebec City
Quebec City
Quebec , also Québec, Quebec City or Québec City is the capital of the Canadian province of Quebec and is located within the Capitale-Nationale region. It is the second most populous city in Quebec after Montreal, which is about to the southwest...
, on land that was originally owned by a farmer named Abraham Martin, hence the name of the battle.
The battle involved fewer than 10,000 troops between both sides, but proved to be a deciding moment in the conflict between France and
Britain
Kingdom of Great Britain
The former Kingdom of Great Britain, sometimes described as the 'United Kingdom of Great Britain', That the Two Kingdoms of Scotland and England, shall upon the 1st May next ensuing the date hereof, and forever after, be United into One Kingdom by the Name of GREAT BRITAIN. was a sovereign...
over the fate of New France, influencing the later creation of Canada.
The culmination of a three-month
siege
Siege
A siege is a military blockade of a city or fortress with the intent of conquering by attrition or assault. The term derives from sedere, Latin for "to sit". Generally speaking, siege warfare is a form of constant, low intensity conflict characterized by one party holding a strong, static...
by the British, the battle lasted about 15 minutes.