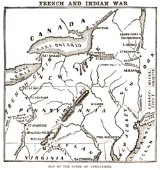 French and Indian War
The
French and Indian War
is the common
American
United States
The United States of America is a federal constitutional republic comprising fifty states and a federal district...
name for the war between
Great Britain
Kingdom of Great Britain
The former Kingdom of Great Britain, sometimes described as the 'United Kingdom of Great Britain', That the Two Kingdoms of Scotland and England, shall upon the 1st May next ensuing the date hereof, and forever after, be United into One Kingdom by the Name of GREAT BRITAIN. was a sovereign...
and
France
Early Modern France
Kingdom of France is the early modern period of French history from the end of the 15th century to the end of the 18th century...
in
North America
North America
North America is a continent wholly within the Northern Hemisphere and almost wholly within the Western Hemisphere. It is also considered a northern subcontinent of the Americas...
from 1754 to 1763. In 1756, the war erupted into the world-wide conflict known as the
Seven Years' War
Seven Years' War
The Seven Years' War was a global military war between 1756 and 1763, involving most of the great powers of the time and affecting Europe, North America, Central America, the West African coast, India, and the Philippines...
and thus came to be regarded as the North American theater of that war. In
Canada
Canada
Canada is a North American country consisting of ten provinces and three territories. Located in the northern part of the continent, it extends from the Atlantic Ocean in the east to the Pacific Ocean in the west, and northward into the Arctic Ocean...
, it is usually just referred to as the
Seven Years' War
, although French Canadians often call it
La guerre de la Conquête
("The War of Conquest").