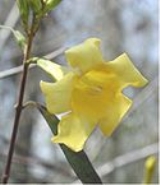 Yellow Jessamine
Gelsemium sempervirens
is a twining
vine
Vine
A vine in the narrowest sense is the grapevine , but more generally it can refer to any plant with a growth habit of trailing or scandent, that is to say climbing, stems or runners...
in the family
Gelsemiaceae
Gelsemiaceae
Gelsemiaceae is a family of flowering plants, belonging to order Gentianales. The family contains only two genera: Gelsemium and Mostuea. Gelsemium has three species, one native to Southeast Asia and southern China and two native to Southeastern United States, Mexico and Central America...
, native to warm temperate and tropical
America
Americas
The Americas, or America , are lands in the Western hemisphere, also known as the New World. In English, the plural form the Americas is often used to refer to the landmasses of North America and South America with their associated islands and regions, while the singular form America is primarily...
from
Guatemala
Guatemala
Guatemala is a country in Central America bordered by Mexico to the north and west, the Pacific Ocean to the southwest, Belize to the northeast, the Caribbean to the east, and Honduras and El Salvador to the southeast...
north to the
Southeastern United States
Southeastern United States
The Southeastern United States, colloquially referred to as the Southeast, is the eastern portion of the Southern United States. It is one of the most populous regions in the United States of America....
. It has a number of common names including
yellow jessamine
or
jasmine
,
Carolina jasmine
or
jessamine
,
evening trumpetflower
,
gelsemium
and
woodbine
.
It can grow to 3–6 m high when given suitable climbing support in
tree
Tree
A tree is a perennial woody plant. It is most often defined as a woody plant that has many secondary branches supported clear of the ground on a single main stem or trunk with clear apical dominance. A minimum height specification at maturity is cited by some authors, varying from 3 m to...
s, with thin stems. The
leaves
Leaf
A leaf is an organ of a vascular plant, as defined in botanical terms, and in particular in plant morphology. Foliage is a mass noun that refers to leaves as a feature of plants....
are
evergreen
Evergreen
In botany, an evergreen plant is a plant that has leaves in all seasons. This contrasts with deciduous plants, which completely lose their foliage during the winter or dry season.There are many different kinds of evergreen plants, both trees and shrubs...
, lanceolate, 5–10 cm long and 1-1.5 cm broad, and lustrous, dark green.