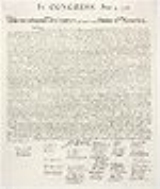 United States Declaration of Independence
The
Declaration of Independence
was a statement adopted by the
Continental Congress
Second Continental Congress
The Second Continental Congress was a convention of delegates from the Thirteen Colonies that started meeting on May 10, 1775, in Philadelphia, Pennsylvania, soon after warfare in the American Revolutionary War had begun. It succeeded the First Continental Congress, which met briefly during 1774,...
on July 4, 1776, which announced that the
thirteen American colonies
Thirteen Colonies
The Thirteen Colonies were English and later British colonies established on the Atlantic coast of North America between 1607 and 1733. They declared their independence in the American Revolution and formed the United States of America...
then at war with
Great Britain
Kingdom of Great Britain
The former Kingdom of Great Britain, sometimes described as the 'United Kingdom of Great Britain', That the Two Kingdoms of Scotland and England, shall upon the 1st May next ensuing the date hereof, and forever after, be United into One Kingdom by the Name of GREAT BRITAIN. was a sovereign...
regarded themselves as independent states, and no longer a part of the
British Empire
British Empire
The British Empire comprised the dominions, colonies, protectorates, mandates and other territories ruled or administered by the United Kingdom. It originated with the overseas colonies and trading posts established by England in the late 16th and early 17th centuries. At its height, it was the...
.
John Adams
John Adams
John Adams was an American lawyer, statesman, diplomat and political theorist. A leading champion of independence in 1776, he was the second President of the United States...
put forth a resolution earlier in the year which made a formal declaration inevitable. A
committee
Committee of Five
The Committee of Five of the Second Continental Congress drafted and presented to the Congress what became known as America's Declaration of Independence of July 4, 1776...
was assembled to draft the formal declaration, which was to be ready when congress voted on independence.