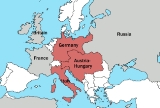 Triple Alliance (1882)
The
Triple Alliance
was the military alliance between
Germany
German Empire
The German Empire refers to Germany during the "Second Reich" period from the unification of Germany and proclamation of Wilhelm I as German Emperor on 18 January 1871, to 1918, when it became a federal republic after defeat in World War I and the abdication of the Emperor, Wilhelm II.The German...
, Austria–Hungary, and
Italy
Kingdom of Italy (1861–1946)
The Kingdom of Italy was a state forged in 1861 by the unification of Italy under the influence of the Kingdom of Sardinia, which was its legal predecessor state...
, (as opposing the
Triple Entente
Triple Entente
The Triple Entente was the name given to the alliance among Britain, France and Russia after the signing of the Anglo-Russian Entente in 1907....
which consisted of an alliance between Britain, France and Russia), that lasted from 1882 until the start of
World War I
World War I
World War I , which was predominantly called the World War or the Great War from its occurrence until 1939, and the First World War or World War I thereafter, was a major war centred in Europe that began on 28 July 1914 and lasted until 11 November 1918...
in 1914. Each member promised mutual support in the event of an attack by any other
great power
Great power
A great power is a nation or state that has the ability to exert its influence on a global scale. Great powers characteristically possess military and economic strength and diplomatic and cultural influence which may cause small powers to consider the opinions of great powers before taking actions...
s, or for Germany and Italy, an attack by
France
French Third Republic
The French Third Republic was the republican government of France from 1870, when the Second French Empire collapsed due to the French defeat in the Franco-Prussian War, to 1940, when France was overrun by Nazi Germany during World War II, resulting in the German and Italian occupations of France...
alone. In a supplementary declaration, Italy specified that its undertakings could not be regarded as being directed against
Great Britain
United Kingdom
The United Kingdom of Great Britain and Northern IrelandIn the United Kingdom and Dependencies, other languages have been officially recognised as legitimate autochthonous languages under the European Charter for Regional or Minority Languages...
.